BU Academy Mix It Up Series Introduces Its Students to University's Network of Knowledge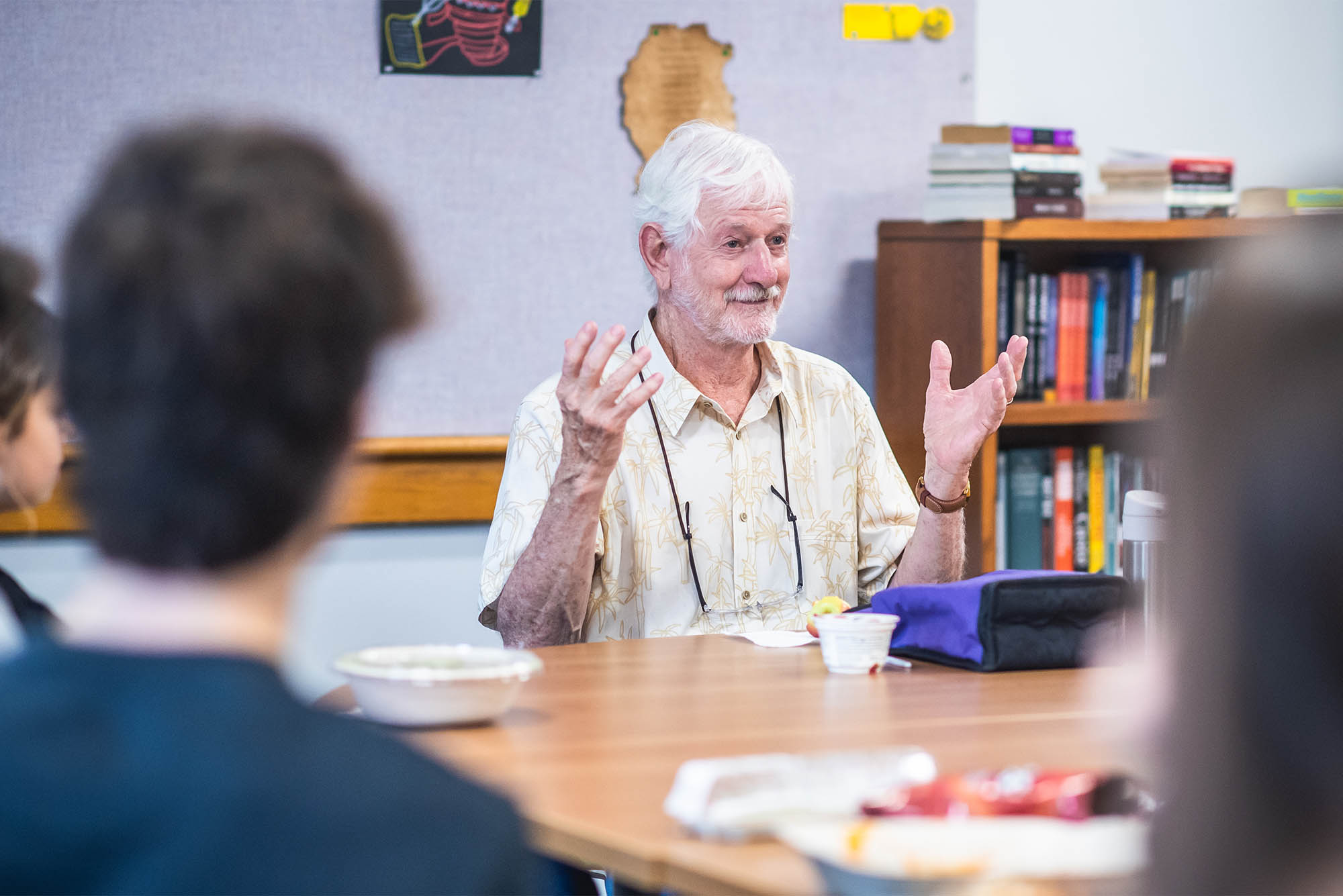 BU Academy
BU Academy Mix It Up Series Introduces Its Students to University's Network of Knowledge
BU professors and professionals connect with high school students
As an earth and environment professor in the College of Arts and Sciences, Lawford Anderson loves rocks.
Specifically, the longtime petrologist loves igneous rocks—formed when molten rock cools and solidifies—and asking questions of those rocks. Questions such as: Who are you? What are you made of? Where have you been?
That was the explanation of his work Anderson gave at a fall Mix It Up lunch event at BU Academy (BUA), Boston University's on-campus private high school. He also shared anecdotes about the Vietnam War, advice about not needing a set life plan, and the environmental benefits of vegetarianism.
That's precisely the type of information session Mix It Up events are designed for, says Victoria Perrone, BU Academy director of student life and BU partnerships, who piloted the event series.
Mix It Up events bring together BUA students and faculty and staff from across the University. Over lunch, the faculty and staff visitors chat about their respective fields and interested students have the opportunity to ask questions about their work and life. So far, the high school has hosted 10 Mix It Up events since it launched in spring 2022. In addition to Anderson, guests have included Barbara Rotger (MET'11), assistant director of Metropolitan College's Gastronomy Program, Majd Mayyasi (GRS'13,'13), a senior research scientist at the CAS Center for Space Physics, and Subramanian Sundaram, a postdoctoral associate in the College of Engineering Biological Design Center.
The series stemmed from the idea that BUA is part of the BU community, including its academics, Perrone explains. BUA juniors can already take up to two BU courses a semester, and seniors can take four. And while those opportunities expose the high school upperclassmen to a wide range of classes and fields, there's always more to be explored—and especially so for freshmen and sophomores who cannot yet take college courses.
Mix It Up fills in the gaps between the two institutions.
"We really wanted to get more of our students involved with programs around BU that are not within our academic programming," says Perrone, who also teaches chemistry at the high school. "One of the ways we thought to do that was to get more BU professors and professionals to come to our building, meet our students, and see how capable and curious they are." The end goal? "Creating partnerships or opportunities for our students to connect with their departments," she says.
And sometimes, that's exactly what happens.
BUA senior Anna Augart-Welwood has long had an interest in biology and knew she wanted to focus her senior thesis project somewhere in the discipline. After hearing Sundaram speak about cardiac tissue engineering at a Mix It Up lunch last spring, she knew she'd landed on her thesis topic.
"I didn't think that lunch would lead to a thesis project—I was just excited to talk with someone who was knowledgeable about an area of research that fascinated me," says Augart-Welwood, who is researching for her thesis the use of stem cells and porcine cardiac extracellular matrices in growing bioartificial hearts.
Since then, she says, Sundaram has been an advisor for her project and has offered direction regarding areas to focus on. "I've loved talking to someone who has done enough research to answer pretty much every question—even the crazy hypothetical ones—I have about biology and cardiac tissue engineering."
From a professor standpoint, Mix It Up is the perfect arena to kindle academic interest in young, capable students. Anderson often has BUA students in his earth and environment classes and says he counts them among his best pupils. By partnering with BUA for the event series and more—prior to Mix It Up, Anderson spoke about his work at a school assembly—he's interfacing with the next generation of fixers and thinkers.
"These are opportunities to be part of the solutions of the world," he told students at Mix It Up, speaking about efforts to combat climate change. "I encourage you all to find those solutions."
And if students pick up a life lesson or two along the way—so be it.
With Mix It Up, "we also want the students to see there are so many pathways to end up where you are," Perrone says. "Barbara Rotger studied Ukrainian history while getting a degree in Russian studies, and through some series of events, ended up leading MET's gastronomy department." And, as he explained to the students, Anderson calls himself "No Plan Anderson" in a nod to switching from engineering to geology before joining the army.
"I want the kids to understand that there's not one straight path in life," Perrone says. "You don't have to know where you're going—you can figure it out along the way."