Communicating Science and Research—through Puppets
SCIENCE COMMUNICATION
Communicating Science and Research—through Puppets
Cross-College Challenge class uses play and creativity to make science more accessible and improve researchers' communication skills
Stephen Caron, a Boston University biology doctoral student, is used to communicating his research on environmental change in New England forests through weighty journal articles and serious presentations aimed at other scientists, those who want to know the "technical, nitty-gritty details" of his experiments. He rarely, though, gets to discuss his work with people outside his field. And definitely not through…puppets?
So, when asked if he would explain his research to a team of undergraduates who would then make a puppet show based on it, Caron (CAS'16, GRS'24) immediately said yes. Collaborating with the undergrads seemed like a valuable opportunity to practice speaking to a nontechnical audience—and it sounded fun.
"If someone comes to you and wants to make your science into puppets," he says, "why not?"
The undergrads who later toured BU's Templer Lab, where Caron is based, were enrolled in Thinking through Puppets and Performing Objects, one of several classes offered as part of BU's Cross-College Challenge (XCC). The XCC courses, which are cotaught by professors from different disciplines, bring together juniors and seniors from a mix of majors to engage in team projects that address real-world problems—in this case, the problem of making science accessible to lay audiences.
For their final project, the undergrads in the class were paired with graduate students in various BU research labs. The undergrad teams then created puppet shows that conveyed some aspect of their assigned lab's research, covering topics as diverse as lung and breast cancer, mechanical design, walking function, and forest ecology.
Aspects of the class have evolved in the five years it's been offered, including the form of the final project. Originally, students ended the semester with a live puppetry performance. This year, they were asked to create a video of their performance, which their grad student partners would be able to share on websites and through social media to help promote their work.
Emma Conrad-Rooney, a fellow doctoral student who helped Caron educate the puppeteers about the Templer Lab, often trains undergrads to work as lab technicians. They say the video will be a useful tool for helping those young technicians understand the broader work of the lab.
"In their overview training, we normally talk about the studies that they're helping with," says Conrad-Rooney (GRS'26), "but how cool to get to show them a puppet show about the research they're doing. And then they will have access to that video to then send to their friends, send to their family, to say, 'Look, I'm helping with this experiment.'"
One of the class' coteachers, Suzanne Sarfaty, a Chobanian & Avedisian School of Medicine associate professor, hopes the researchers who participate in Thinking through Puppets take away more than just a video file.
"Most of our researchers are also teachers," says Sarfaty (CAS'84, CAMED'88), who has a deep-rooted interest in helping doctors and scientists be more effective communicators. "I think teachers can become better teachers when they open their minds to alternative methods of connecting. Not everyone is going to take on puppetry, but I think it can enhance teaching skills to realize that messages can be communicated in different ways."
Her coteacher, Felice Amato, a College of Fine Arts assistant professor of art and art education, is a former K–12 visual arts specialist who has long been interested in the pedagogy of play and the role of playfulness in the research process. She developed the class while finishing an arts-led dissertation and sees research labs as creative spaces that generate new insights and knowledge—spaces that can benefit from playful disruptions to their routines.
During class sessions, Sarfaty leads students through skill-building activities in teamwork and communication, and Amato teaches the art and history of puppetry. Students spend the remainder of their class time cutting, stitching, gluing, drawing, and painting puppets and sets.
"I often feel this busy joy in the classroom when everybody's making things," Amato says. "The more we can continue to tap into that throughout our lives, the healthier and happier we'll be."
Biology major Caroline Odia (CAS'24) enrolled in Thinking through Puppets primarily because she was interested in visiting a lab and learning about the research process. The hands-on nature of the class was a nice surprise, she says: "You really do make everything from scratch." But the most challenging aspect of the course was learning to compromise and work as a team. The final project required constant group decision-making: Should the script tell a story or imitate an infomercial? What should the set look like? Should we use shadow puppets, finger puppets, hand puppets? These beads for eyes? What material for hair?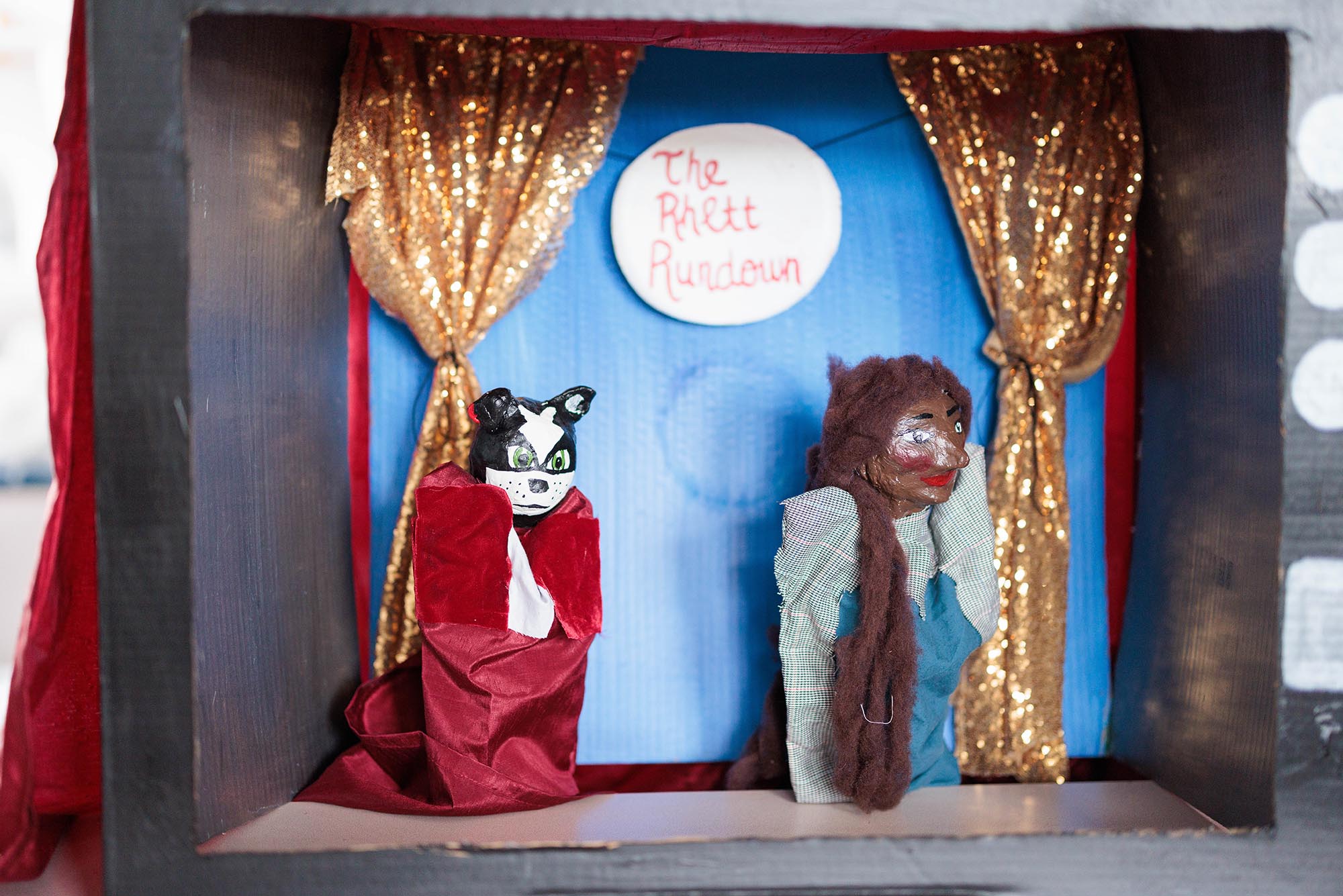 "We come from totally different backgrounds and had totally different ideas," Odia says of herself and her three teammates. "We all brought something to the table, but we all had to leave something out just to make it work together."
And that cross-disciplinary experience, says Daniel Kleinman, BU's associate provost for graduate affairs, is what makes the course so worthwhile. He's been a fan of Thinking through Puppets since its inception and helps recruit researchers and labs to participate.
"This class does so many things that are important in a 21st-century university, and it does them so well," Kleinman says. "Most immediately, it offers important and valuable communications training for PhD students. But I think what I really love about the course is that it breaks down disciplinary boundaries. It breaks down the boundary between undergraduate and graduate students. It breaks down the boundary between art and science."