BU's Resident Assistants Move to Unionize, Ask for Stipend, Support
"We are the first line of support for residents," one RA says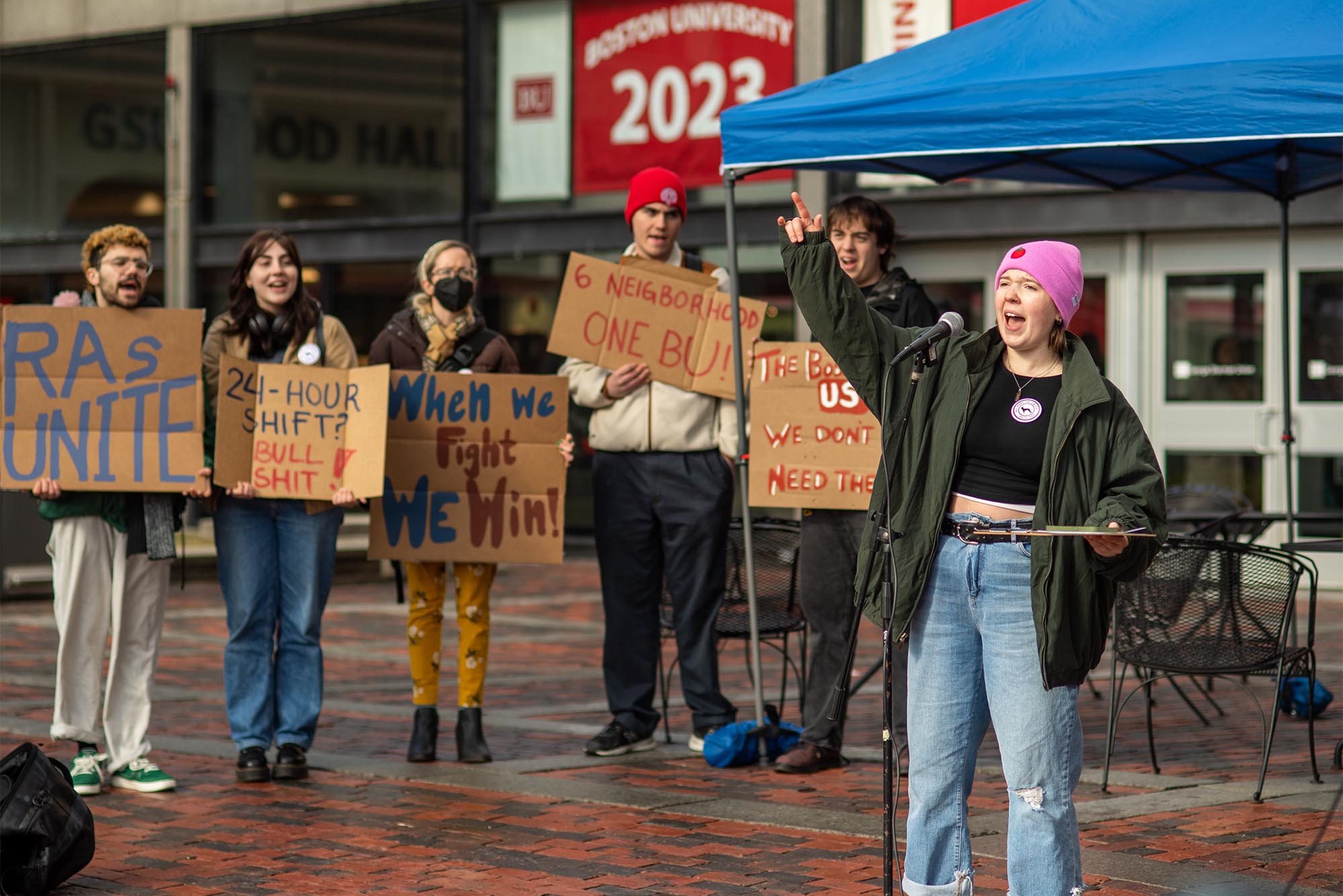 University News
BU's Resident Assistants Move to Unionize, Ask for Stipend, Support
 "We are the first line of support for residents," one RA says
About 50 Boston University resident assistants and supporters, some holding signs saying "ResLifeUnion," "Workers Rights for RAs," and "RA's UNITE," rallied in front of the George Sherman Union on Wednesday to support their drive for a union on campus.
Organizers say a majority of about 280 resident assistants have signed union authorization cards and are asking the University to voluntarily recognize their joining SEIU Local 509 of the Service Employees International Union.
Resident assistants (RAs), graduate resident assistants (GRAs), and graduate hall assistants (GHAs) are University sophomores, juniors, seniors, and graduate students chosen for leadership and community-building abilities. They are responsible for addressing residence hall rules and building community among students in the dorms. They are often the first University workers to deal with student conflicts and crises. In return, they receive housing (worth approximately $11,000 to $20,000), and some also receive meal plans.
The issues the group wants addressed include compensation, better University support when facing difficult situations with students, and an improved supervisory process.
"The RAs are asking to feel recognized and receive proper compensation for what we do," says Andrew Severance (CAS'25), an economics major and an RA in Warren Towers and member of the organizing committee seeking a union.
BU spokesman Colin Riley says the University generally does not publicly comment on labor matters.
The resident assistants say they will ask the University to equalize compensation—those in apartment-style residences with kitchens receive housing, but not a meal plan—and to offer a direct stipend.
Organizing committee member Sam Betsko (CAS'24), an English major currently working as an RA in a Bay State Road residence, says she has taken a retail job on top of her RA duties to pay for groceries: "That's an issue—we're full-time students and we're RAs and we have to take another job?"
The students also want paid training and better support for dealing with issues that arise among students. "We are the first line of support for residents" who may need assistance in areas such as mental health, arising from personal or academic situations, Severance says. "More resources would be extremely beneficial to us and our residents."
And RAs may need additional support for themselves, Betsko says, as they are essentially first responders for their peers. "Handling some of these situations can be very taxing in itself," she says, "and we want to have resources for RAs to vent and de-stress afterwards."
Additionally they want changes in procedures that they say currently leave RAs vulnerable to the policies and decisions of individual supervisors, with little recourse.
This is the second unionization effort at BU in recent months. BU graduate students voted overwhelmingly in December to join SEIU Local 509, part of a small but growing movement on campuses. Local 509 says it currently represents around 4,000 workers at BU and 20,000 Massachusetts educators and human service workers.
The effort by RAs has been underway in a low-key fashion since the middle of last year, says Betsko, one of the original organizers. Now that it has gone public, they hope the University will voluntarily recognize the union, but if not they are prepared to file for an election with the National Labor Relations Board.
"At BU, Residence Life workers play a unique and important role in ensuring students receive the quality academic experience that BU promises, yet their work remains undervalued," David Foley, president of SEIU Local 509, said in a union statement. "Like all workers, they deserve fair compensation, workload protections, and a voice at work. Today, they're showing their commitment to fighting for that together."