Mathemalchemy: Art and Math Converge in New Show at 808 Gallery
Visual Arts
Mathemalchemy: Art and Math Converge in New Show at 808 Gallery
Two dozen artistic mathematicians and mathematical artists celebrate the fun, creativity, and beauty in math
The question behind the new exhibition on view at the 808 Gallery through March 4 isn't how math influences art.
If you can picture the tessellated ceiling of an antique mosque, a meticulously counterbalanced classical sculpture, or Leonardo Da Vinci's Vitruvian Man, then you're already somewhat familiar with the concept.
The question is how art influences math.
Mathemalchemy is the brainchild of 24 people from across North America, all existing "somewhere on this spectrum from mathematician to artist," according to collaborator Li-Mei Lim, a research professor of number theory at the College of Arts & Sciences.
The sum total of their efforts is a sprawling, panoramic exploration of mathematical concepts using various media, including fiber arts, ceramics, wood- and metalwork, origami, 3D-printed material, and more. Unrepentantly geeky, and earnest to a fault, Mathemalchemy's ultimate goal is "to show people that math is all around them."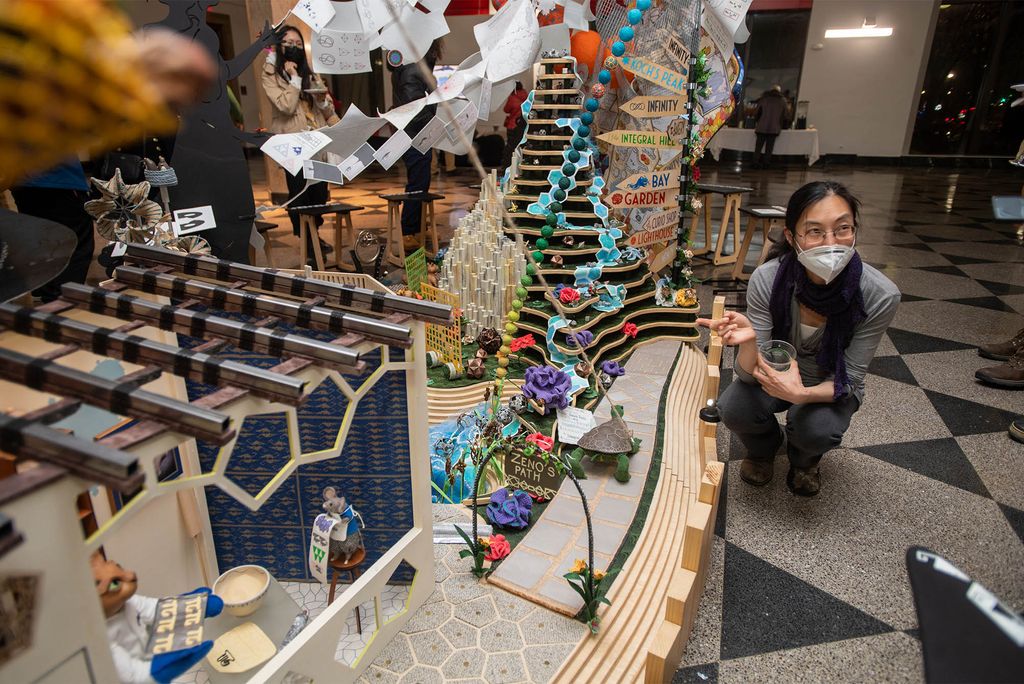 "As I worked on this, I found myself asking, how do I take something that I think is really exciting and make it more engaging for other people? How do I present it in a way that other people will understand?" Lim says.
The answer becomes obvious as you move through the exhibition. In an area designated as "the garden," ceramic squirrels search for prime numbers, while three-dimensional polyhedra (in this case, origami flowers) grow around them. In another area, Zeno's Paradoxes (philosophical problems that state that a moving object on a course may never reach its destination, as the course can be divided into infinite halfway points) are demonstrated by an ever-shrinking garden path, which snakes past a geometry-themed bakery, where a ceramic kitty named Arnold (after Russian mathematician Vladimir Arnold) holds a tray of pi-shaped cookies. Look east of Zeno's path, toward the mountains, and get a lesson in vertical and horizontal integrals, look south toward the bay and see how the knitted starfish demonstrate five-point radial symmetry. 
"We were trying to be really intentional about not just including a Fibonacci spiral [the visual representation of a sequence of integers where each number is the sum of the previous two] and calling it 'mathematical,'" Lim says. "We're trying to take the math and make it meaningful to the story we're trying to tell."
The BU mathematician became involved in creating the show after seeing a presentation by founding members Dominique Ehrmann and Ingrid Daubechies at the 2020 Denver Joint Mathematics Meetings, the world's largest mathematics gathering. There, Ehrmann, a fiber artist from Canada, and Daubechies, a mathematics professor at Duke, presented their idea for an installation piece that would use art to "celebrat[e] the fun, beauty and creativity in mathematics." The pair recruited 11 initial volunteers, including Lim, and just like that, the newly minted Mathemalchemists began their journey.
Lim says that Mathemalchemy uses two methods to demonstrate a principle. The first is to embed math into the creation of an object, as with the crocheted flowers found throughout the landscape. "One of the principles of hyperbolic surfaces is exponential growth, and crochet is a really good medium to show this," she says. "If you crochet in circles, in each subsequent round you could double the number of stitches by putting two stitches into each stitch from the previous round. What you'll end up with is this beautiful, ruffly object."
The other method is to create a figurative representation of the concept, like having a team of squirrels sort prime and composite numbers.
Hidden details abound in Mathemalchemy. Every available surface is fair game for a mathematical reference—or two, or three. The mathematicians among the project's collaborators span a variety of disciplines, and according to Lim, there's no way that a single person could catch every single allusion—hidden or otherwise—that's been jam-packed into the installation.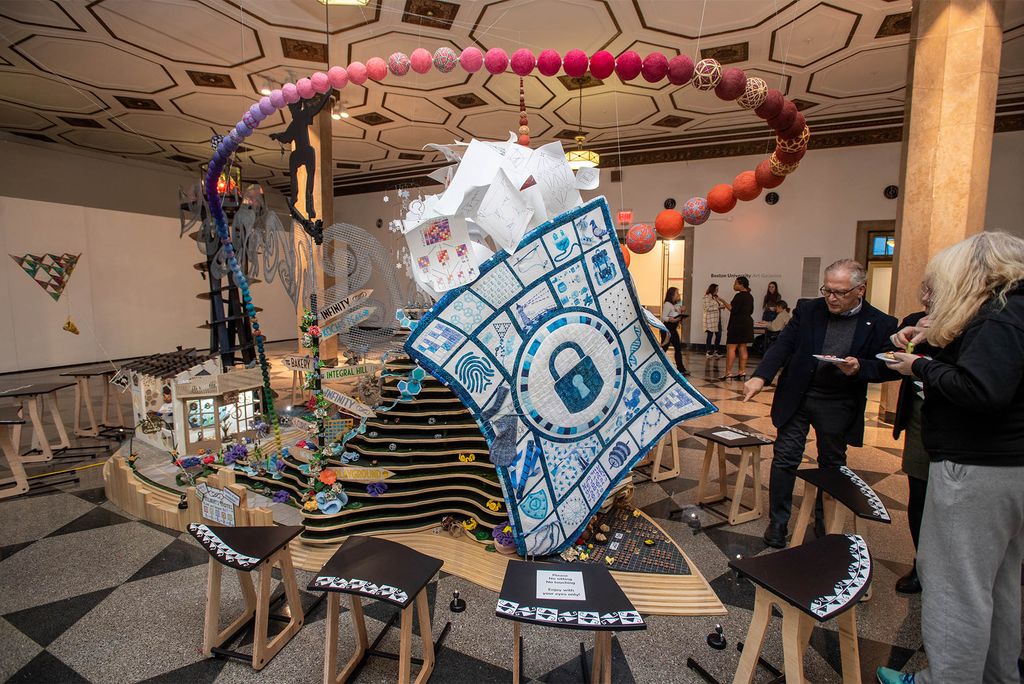 It might seem improbable that 24 artists, mathematicians, and mathematician-artists could come together across disciplines and time zones to create a numerical fantasy world; in fact, the show began with much more modest aspirations, involving fewer collaborators. When the pandemic struck, a long-term project and weekly collaborator meetings became more appealing, and as the pandemic continued, it became clear that no one was in a rush to finish Mathemalchemy.
"In the original timeline, it was going to be finished by the end of summer 2020," Lim says. "Our first [in-person] meeting was supposed to be mid-March at Duke." Forced to pivot, the core group began a regimen of Sunday Zoom sessions. Lim had initially offered to knit a few things for the project, but found herself dedicating more and more of her time to it.
"The pandemic really allowed me to be a lot more involved than I had been originally planning," she says. "I always thought of myself as having this math side and then this hobby side, but I never seriously combined the two."
Mathemalchemy owes its attention to detail to the collaborative spirit of its creators. Teams were developed around each of the installation's 14 sections, tasked with constantly brainstorming, fabricating, editing, fabricating some more, editing some more, until the design process became "this constant iteration of, what more can we add in here?" Lim says. Each week, teams would present their progress to the group, and the process would begin anew.
"There are very few individual components," Lim says. "Every piece is touched by so many people."
It took a year and a half, roughly 400 hours of videoconferencing and 8,000 emails to finalize and install the exhibition, with Lim knitting, quilting, woodworking, doing origami, and overseeing the garden team.
She was also instrumental in bringing Mathemalchemy to BU. It debuted last January at the National Academy of Sciences in Washington, D.C., before heading to the Juniata College Museum of Art in Pennsylvania.
Ty Furman, BU Arts Initiative managing director, secured funding to bring the show to BU and oversaw the logistics of shipping the installation. He worked with Lissa Cramer, BU Art Galleries director, who got the show mounted at the 808 Gallery in time for those attending the 2023 Boston JMM to get a sneak preview.
Lim sent Furman an email saying, please advise, she says, "and he emailed me right back. It was really fortuitous timing, because Ty had been trying to find some math- or science-related art to bring to BU [with] all this energy within the University for STEM right now around the opening of the new [Computing & Data Sciences] building."
The most common reaction to Mathemalchemy has been "joy," in Furman's observation. "I am occasionally frustrated when I see things touted as the intersection of arts and fill-in-the-blanks, when it is clear the art is really just in service of the other discipline—a pretty design or infographic," he says. "Mathemalchemy is so much more; it stands alone as a beautiful, fun exhibit and a wonderful entryway, or continuation, of someone's exploration of mathematical concepts."
The installation has proven a popular draw: it has been the subject of high-school field trips and an object of fascination for top mathematicians and third graders alike. It will be the subject of a day-long Math, Art, & Education Symposium on February 24, and there will be a family day on February 25 and an artist talk with Ehrmann on March 3.
Mathemalchemy is on view at the 808 Gallery, 808 Commonwealth Ave., through March 4. The gallery is free and open to the public Tuesday through Saturday from 11 am to 5 pm. Find more information about the installation here.