2023 Perkins Award Winners Have a Combined Century of Service to BU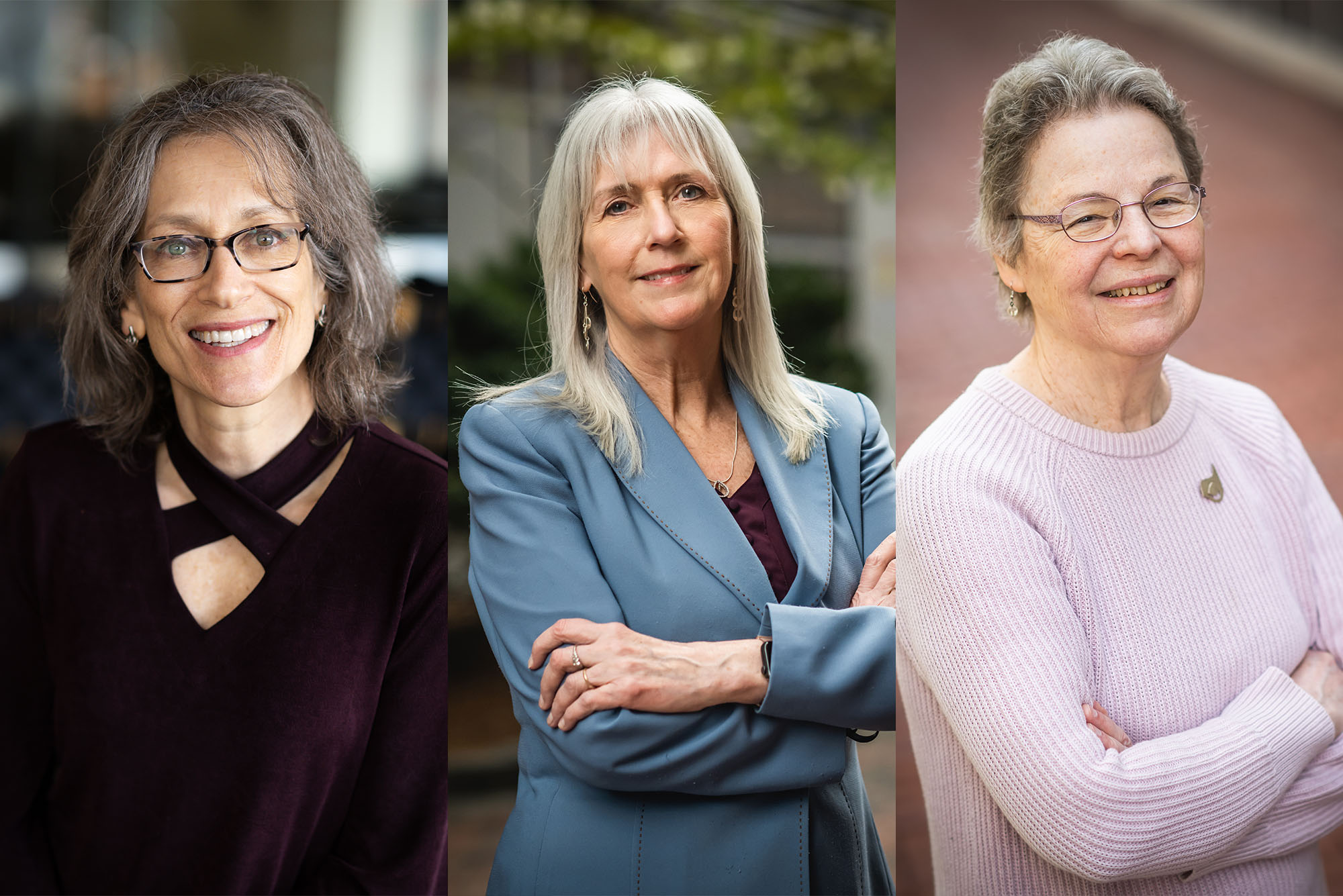 PERKINS AWARDS
2023 Perkins Award Winners Have a Combined Century of Service to BU
Stacy Godnick, Patricia (Trysha) Ahern, and Susan Norris honored at annual ceremony
Nominating Stacy Godnick for a 2023 John F. Perkins Award for Distinguished Service, a former student at the College of General Studies wrote this: "When I was a student, she helped me to find my voice and always went above and beyond to provide me with direct, constructive feedback that helped me grow as a young leader. She was able to see qualities in me that I could not see in myself."
That heartfelt comment speaks to one of many responsibilities for Godnick, who is retiring next month after 35 years at BU. Currently CGS' associate dean for student academic life, she oversees the college's advising and registration services. On May 2, Godnick was honored at a ceremony along with this year's two other Perkins winners, Patricia (Trysha) Ahern and Susan Norris. The three awardees combined represent more than a century of service to the University. Established in 1981, the Perkins Award is administered by BU's Faculty Council and funded by an endowment from the estate of John S. Perkins, a late BU trustee, administrator, and faculty member. It comes with a $500 honorarium. 
Patricia (Trysha) Ahern, associate director of pediatric infectious diseases and neonatal medicine research, Chobanian & Avedisian School of Medicine
BU has been Ahern's sole employer since she graduated high school almost four decades ago. More than a veteran at the University, "She is easily the most dedicated and hard working person I have ever met," says the nominating letter from Elisha Wachman, associate professor of pediatrics at the medical school.
"She manages a multi-million dollar grant portfolio, including all of the COVID-19 vaccine trials over the past three years, the COVID-19 biorepository, as well as my substance use disorders in pregnancy research program portfolio," writes Wachman, who also directs pediatric academic research at Boston Medical Center's neonatology division.
Ahern's work ethic goes beyond the workplace time clock. She has raised approximately $500,000 over the years for SPARK, BMC's pediatric center for behavioral, developmental, and HIV/AIDS issues.
Martha Vibbert, licensed senior psychologist at SPARK and a clinical associate professor at BU's medical school, wrote that Ahern achieved this by "designing and leading fundraising events, networking, and educating people throughout our communities about our special mission to take care of Boston's most fragile young children living with HIV/AIDS and with other complex developmental, health, and psychosocial needs."
The most joyful part of her job, Ahern says, is participating "in every aspect of what makes our division a success. The secret to doing my job well is to try to plan, prioritize, and organize. I seriously have a 'things to do' list on my desks in both my work and home offices, in my backpack, and on a Post-it notepad next to my bed."
Susan Norris, senior policy officer, Office of Student Affairs, Chobanian & Avedisian School of Medicine
Every medical student knows the "Match" process, which pairs graduates with residency programs. Norris knows it better than most. The 27-year employee of the medical school, a fan of superhero comics and movies, is "without a doubt a Wonder Woman" compiling student evaluations for residencies, writes Ellen J. DiFiore, the medical school's assistant dean and registrar.
Match—"scary, stressful, and full of unknowns for the student"—is less so because of how Norris guides the approximately 150 students in each graduating class through the process, DiFiore says. Writes Joyce Lee (CAMED'23): "She does an incredible amount of work to make sure that those of us (people like me) who complete important rotations near the deadline to apply for residencies have evaluations that are included in this letter to send to residency programs."
Shepherding fourth-year students through their final lap in school, Norris is the indispensable traffic cop, "sending frequent email reminders to our students about the schedule of meetings and workshops and continues with a subsequent follow-up email to the fourth-year class, detailing the noteworthy aspects of each meeting and/or workshop," writes Jackson.
"One of the most fulfilling parts of my job," Norris says, "is the opportunity to assist the medical students by presenting information on completing necessary work for school requirements, career advising, and residency applications…allowing students to complete this work as quickly as possible so they can focus nearly all of their time on their current studies and on preparing for future residency training. I would not be able to accomplish any of this without the entire Student Affairs office—we are all there for each other."
Stacy Godnick, associate dean for student academic life, College of General Studies
In her Perkins nomination letter, Natalie McKnight, CGS dean, writes that Godnick has been a go-to employee on heavy logistical lifts, "from making sure that all our courses are approved for three HUB areas each, to launching and growing our January admissions model with both the Boston-London and the Boston-New England programs, to navigating the difficult first two years of the pandemic.
"Stacy helped us manage the many challenges of going fully remote in spring 2020, offering a remote summer semester instead of the semester in London that is key to our first-year program, and then shifting to hybrid teaching and working in fall 2020."
Two aspects of her job that she finds especially fulfilling, Godnick says, are the "spectacular colleagues and students" who value "the individual spirit, along with the emphasis on collaboration, community, diversity, and innovation," and planning and implementing the changes McKnight wrote about. Her secret to a Perkins-winning career? "Striking a delicate balance between meeting the structural and human needs of the work…I have tried my best and know I failed at times, but I think I got it right most of the time by being open-minded, flexible, nimble, compassionate, and kind, with a little patience sprinkled in."
Adam Sweeting, CGS associate professor of humanities, adds another plaudit about Godnick, celebrating "her musical performances at our annual Art Show/Coffee House, her stellar play during the faculty/student basketball game, and her key role organizing the first-generation student event. We are a healthier, happier, and more connected community because of Stacy."