Women's Tennis Riding High into This Weekend's Patriot League Tournament
Top seed Terriers enter conference play as reigning champs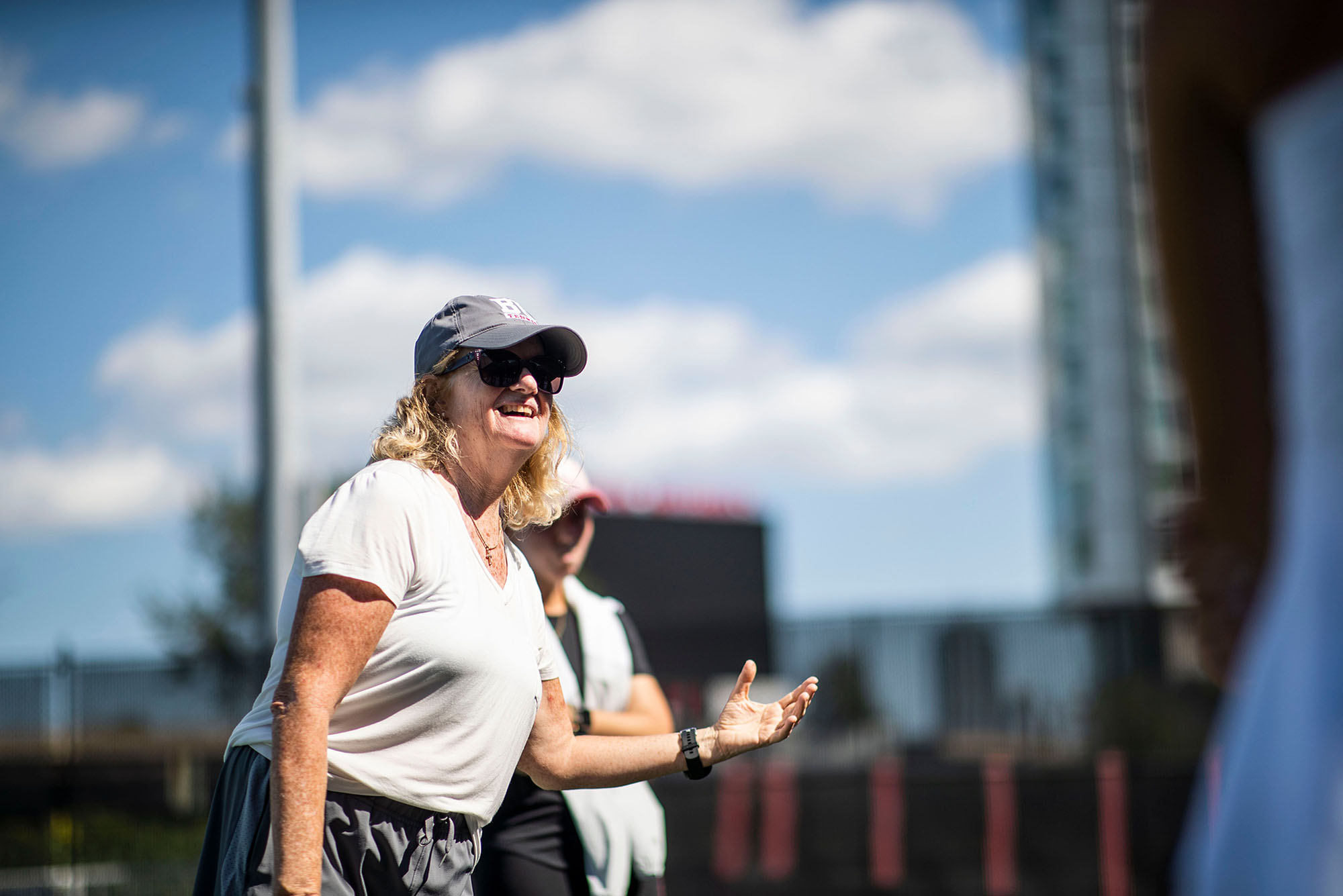 Varsity Sports
Women's Tennis Riding High into This Weekend's Patriot League Tournament
Top-seed Terriers enter conference play as reigning champs
Championships seem to come in bunches for the BU women's varsity tennis program.
After winning the program's first title in America East in 1990, the Terriers won 22 consecutive conference trophies through the 2011 season. Then, immediately following their entry into the Patriot League, the Terriers claimed four straight league championships, from 2014 to 2017.
Now, the team is on the verge of notching another set of consecutive trophies. After defeating Navy 4-3 last year to capture the 2021 Patriot League championship, the Terriers, currently the league's top-seeded team, are vying for another title this weekend at the 2022 Patriot League tournament at Lehigh University in Bethlehem, Pa.
"We have a shot at going to the NCAAs, and not every school can say that," head coach Lesley Sheehan (CGS'82, Wheelock'84) says. "Between the history and the expectations, this is what we want to do, and this is what we have to do."
The Terriers have won seven matches in a row, highlighted by their 5-2 victory on April 16 in the season finale against Navy, a rematch of the 2021 championship matchup. The BU win wrested the regular season trophy and number one seed from Navy ahead of this weekend's tournament.
"Navy is a strong team, and they've had a great year. We knew they were going to be really tough," Sheehan says. "They were up 1-0, and the team did an amazing job in singles to come back and win five out of the six singles."
The formula was similar to a year ago, when the Terriers rode six straight wins to the top spot in the league tournament. There, BU overpowered Lafayette and Bucknell with a pair of 4-0 decisions, setting the stage for the 4-3 victory against Navy in the title-clinching match.
Then a freshman, Kaitlin Tan (Sargent'24) was named 2021 Tournament MVP and Rookie of the Year, contributing to the title-winning effort alongside former captain Lily Burchell (Questrom'21) and current Terriers Victoria Carlsten (ENG'24) and Erica Di Battista (Sargent'23), all of whom earned singles wins to take down Navy.
Tan, Carlsten, and Di Battista have returned as key players this year. Carlsten in particular has turned in a breakout season, holding a perfect 5-0 record in conference play. Shelly Yaloz (SHA'22) and Sydney Sharma (CAS'25) have also earned multiple Patriot League wins.
Sheehan has been pleased by the number of players contributing to the team's success this season. "We have very good depth this year," she says. "We've had some people out due to injuries or sickness, and other people have stepped up. It's been a great season for us."
The Terriers will begin their title defense on Friday, April 22, with a quarterfinal bout against Lafayette, which defeated Holy Cross in the first match of the tournament on Thursday. The winner of the Friday match will meet four-seed Loyola Maryland or five-seed Bucknell in the semifinal on Saturday, April 23, while two-seed Navy, three-seed Army West Point, six-seed Colgate, and seven-seed Lehigh battle on the other side of the bracket. The championship match will be held Sunday, April 24.
Sheehan says that while the team will focus on winning one match at a time, she'll be keeping an eye on fellow contenders and fierce rivals Army West Point and Navy as they progress through the tournament. "Any time you can get them playing each other, it's really a plus."
Each team contest comprises three doubles matches and six singles matches. In terms of strategy, the coach says a strong doubles showing can set up singles success.
"You really want to get the doubles point because it gives you a leg up, but if you don't win the doubles point, you still have six more singles points after that," she says. "I think our singles has been strong and consistent in the past, and I think our doubles is good as well."
Fans can follow along with the 2022 Patriot League Women's Tennis Championship through PatriotLeague.org and keep up with the Terriers through GoTerriers.com and on Twitter @TerrierWTennis and @BUGameDay.