In Alum Weike Wang's New Novel, Joan Is Okay, a Chinese American Doctor Navigates Job and Family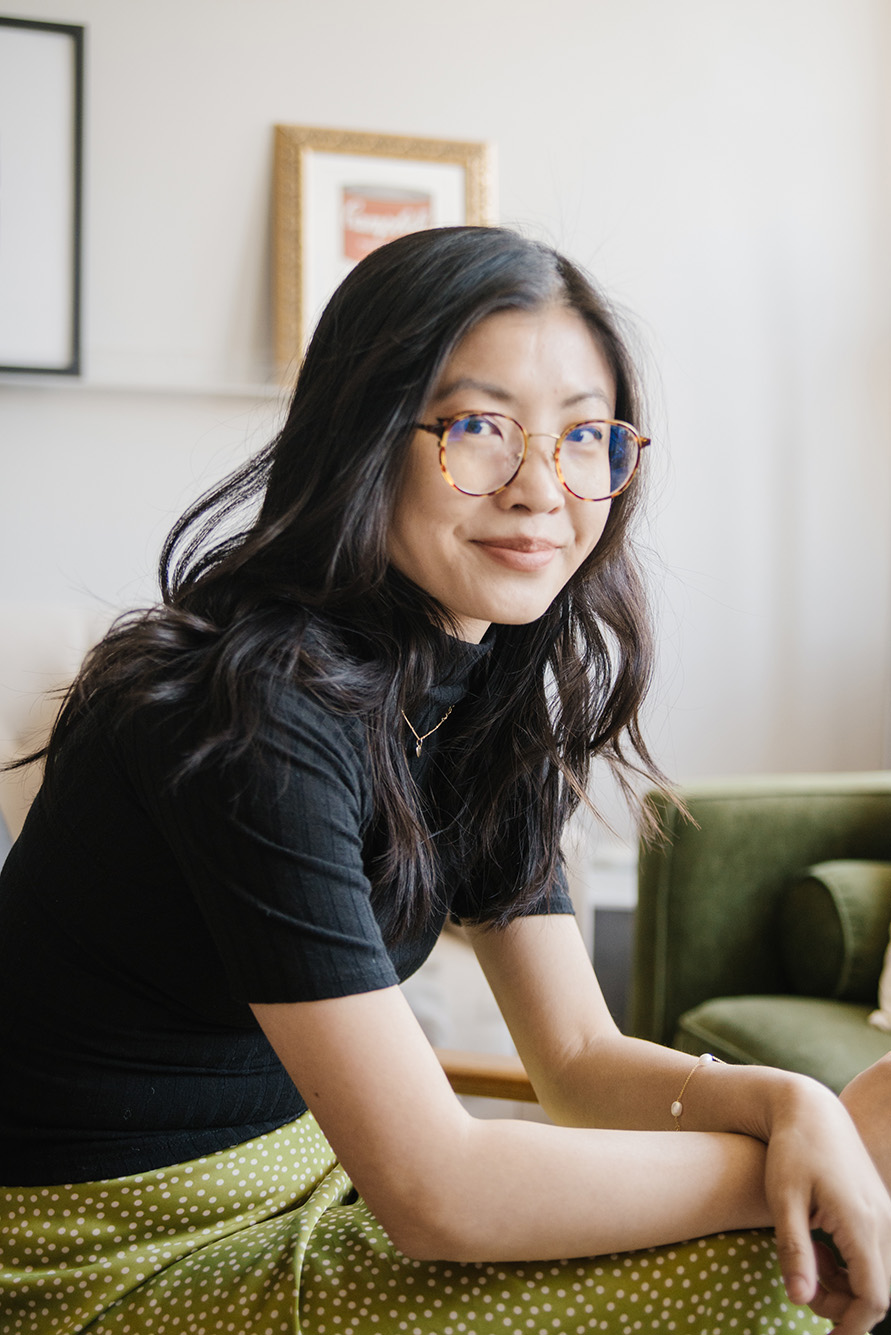 Books
In Alum Weike Wang's New Novel, Joan Is Okay, a Chinese American Doctor Navigates Job and Family
"I wanted to use this character to investigate aspects about her identity," says the author
In February 2020, after more than two years of work, Weike Wang turned in her eagerly anticipated second novel to her publisher.
Less than a month later, New York City was overtaken by the pandemic—and so, essentially, was Wang's book, Joan Is Okay (Random House, 2022). The heroine, Joan, is a self-effacing, misunderstood, workaholic Chinese American physician who is deeply devoted to her job in the intensive care unit of a Manhattan hospital.
That first version of Wang's 224-page novel contained no mention of the word COVID.
But Wang (GRS'15), who lives in Manhattan with her husband and their cockadoodle, Biscuit, didn't freak out. This was perhaps not surprising for an author who earned a PhD in public health from Harvard and an MFA from Boston University at the same time, whose acclaimed first novel Chemistry (Knopf, 2017) won the PEN/Hemingway and Whiting awards, and whose writing has appeared in The New Yorker. Instead, she got to work interviewing her Asian American physician friends who were on the front lines of the pandemic and making revisions.
"I realized I couldn't write about this occupation without recognizing this big event," Wang says.
Two years after Wang first turned in the manuscript, Joan Is Okay hit the bookshelves earlier this year. Naming it one of 16 books to watch for in January, the New York Times wrote: Joan "is solitary, literal-minded and extremely awkward—all of which contributes to the hilarity of this novel."
From Kirkus Reviews: "A character study about otherness set partly against the backdrop of early-pandemic anti-Asian sentiment that manages to be both profound and witty."
Joan tells her story in the first person, her rich inner life flowing beneath deadpan humor. The first time I put on my white coat, it felt like home. From having moved around so much and with no childhood or ancestral home to return to, I didn't think myself capable. I didn't prioritize home or comfort, because if everyone did, then immigrants like my parents, brother, and sister-in-law couldn't exist.
The novel opens with the death of Joan's father back in Shanghai, and the bereaved Joan navigating between the ICU and her family—her rich financier brother, Fang, who doesn't understand why she doesn't want to open a lucrative practice in Greenwich, Conn., where he lives, and her sister-in-law, who wants Joan to get married and have children, as she did. Then her newly widowed mother arrives at Fang's house in Greenwich, and jet-lagged and unable to sleep, startles Joan by calling her at 2 am, wanting a heart-to-heart.
"Joan-na, I would've chatted with you before, but I didn't want to waste your time. More mothers should learn to let go, but what I hoped for you was a busy life…. I'd like to be there for you…so feel free to call me anytime…."
Wang, who was born in Nanjing, China, and grew up in Australia, Canada, and the United States, earned her undergraduate degree in chemistry from Harvard and was on the path to becoming a cancer epidemiologist when, practically on a whim, she applied to BU's MFA program, and got in.
Chemistry was a coming-of-age tale about a female scientist whose academic career blows up. "I knew after Chemistry that I wanted to write a doctor character," says Wang via Zoom from her apartment in Manhattan, with Biscuit sprawled at her feet. "I had shadowed a lot of doctors because I'd been premed. Doctors are so fascinating to me. It's wild what they do. They talk about patients and it's the numbers, the stats, the vitals.
"I was sort of able to adapt the voice of Joan to that," says Wang, who teaches creative writing at the University of Pennsylvania. "I like thinking about machines and that's why I picked the ICU in the first place. Joan would lean into that robotic stereotype that's often placed upon someone like her. I wanted to play with that perception. I wanted to use this character to investigate aspects about her identity, or placing model minority clichés around that."
Joan's family worries about her returning to the hospital amid the rising anti-Asian sentiment over what then-President Donald Trump called "the China virus." (Wang herself hasn't been a target, but the media reports made her more cautious around the city.)
Videos had started circulating online, most I couldn't even watch through. Clips of Asian people being attacked in the street and on the subways. Being kicked, pushed, and spat on for wearing masks and being accused of having brought nothing else into the country except disease…. I was going back because, for better or worse, this was the job.
Near the end of Wang's novel, Joan's mother wants to go home to Shanghai, but flights keep getting canceled because of COVID. Wang knew about this firsthand. Her 87-year-old grandmother, who lives in Nanjing, had been visiting Wang's parents in Detroit before the pandemic hit. Wang chronicled her grandmother's months-long struggle to fly home in an essay, "Flight Home," which appeared in The New Yorker in April 2020.
With China closing its borders, says Wang, "I hope I see my grandmother again, but who knows?"
At BU, her mentors were National Book Award winners Sigrid Nunez, a College of Arts & Sciences creative writing lecturer, and Ha Jin (GRS'94), a CAS professor of English and creative writing. "Ha Jin told me the second novel is the hardest one to write," Wang says. "The second one was pretty hard.
"Sometimes you want to say something and you don't know why you can't say it right. even though you've been staring at the sentence for a day or two. And sometimes it comes easily. But that's just making art. That's the path."