University to End Asymptomatic COVID-19 Testing; Lab Will Continue to Process Specimens for Those with Symptoms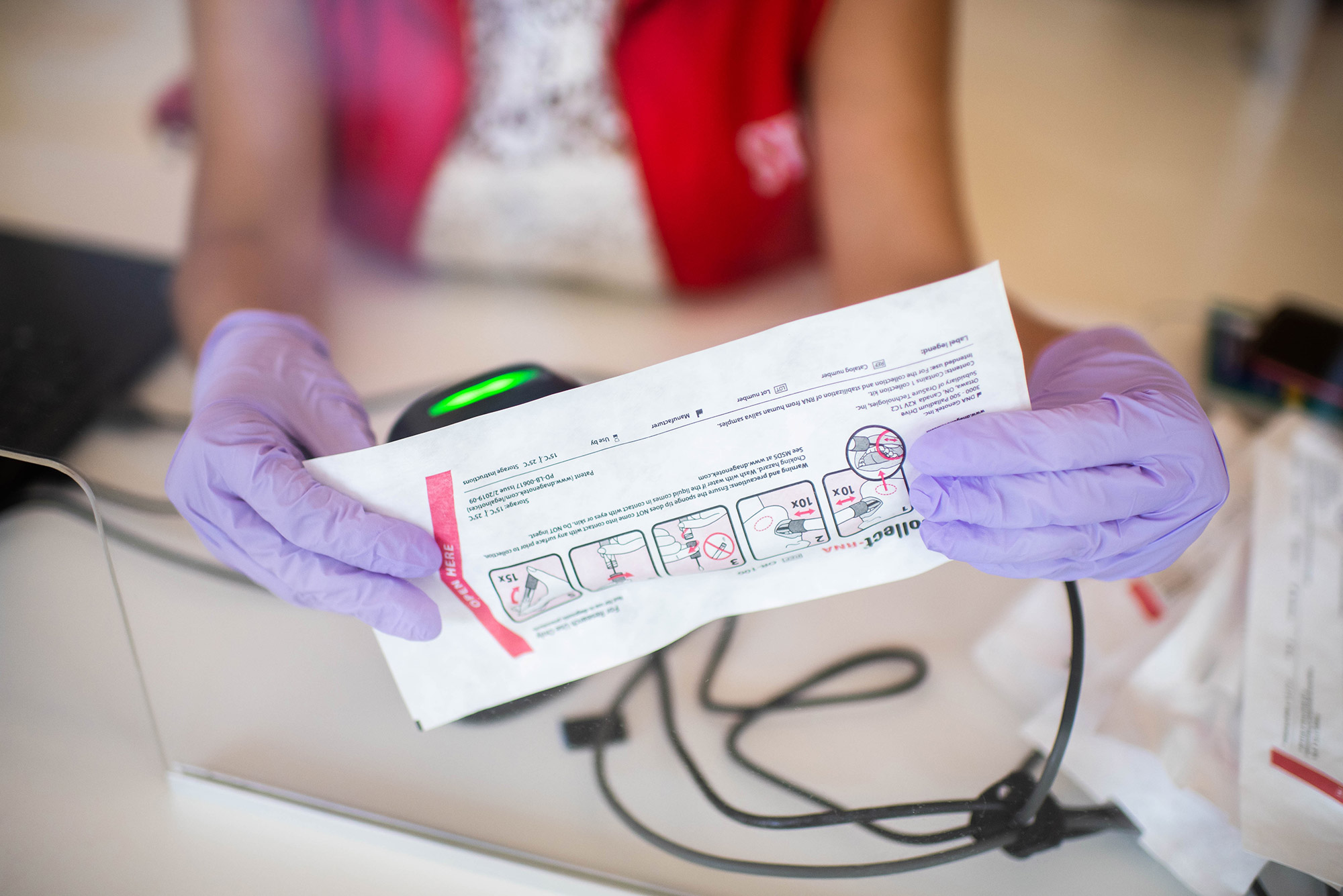 University News
University to End Asymptomatic COVID-19 Testing; Lab Will Continue to Process Specimens for Those with Symptoms
Evolving protocols reflect changing pandemic conditions
BU will discontinue asymptomatic testing for COVID-19 and close its current test collection sites on May 23, Judy Platt, BU's chief health officer and Student Health Services director, announced in an email to the University community April 29.
Testing for BU community members with symptoms or who have been in close contact with infected people will continue, but locations for test kit pickup and drop-off will change on May 24 to Student Health Services (881 Commonwealth Ave.) for students and the Occupational Health Center (930 Comm Ave.), for faculty and staff, Platt's memo said.
The changes—continuing signs of medical experts' confidence that the pandemic is easing in the United States despite the infectiousness of the BA.2 variant—continue the evolution of the University's safety protocols that include the ending of mask mandates in classrooms and of mandatory weekly student testing as of May 13. (Mask mandates remain in effect on the BU Shuttle [the BUS] and in healthcare settings until further notice, Platt's memo noted.)
Anthony Fauci (Hon.'18), President Joe Biden's chief health advisor, said last month that the United States is "out of the pandemic phase" of COVID, in that infections, hospitalizations, and deaths from the virus are low.
"I believe the comment was meant to indicate that we have clearly moved to a new phase," Platt tells BU Today, "given primary vaccination, boosters, and a variety of testing options, and perhaps most importantly, more widespread and available treatments to combat severe illness and death. It's important to note that not all countries and not all populations are in the same place with the pandemic."
As part of the University's changing protocols, BU Healthway, the organization managing COVID cases and selective contact tracing, will close May 25, along with its email and phone number (617-353-0550). "This important work will be integrated into the University's health services offices," Platt wrote in her recent email. "After May 25, 2022, students with any COVID-related concerns, including vaccination compliance, should contact Student Health Services. Faculty and staff with COVID-related medical concerns should contact the Occupational Health Center."
Other changes announced in Platt's memo:
After May 25, employees with nonmedical COVID-19 concerns can reach out to a representative at the Human Resources Service Center line at 617-358-4990 or via email at covidhelp@bu.edu each weekday from 9 am to 5 pm.
Mask mandates beyond the BU Shuttle and healthcare settings "may be periodically enacted in terms of broader mandates depending on transmission dynamics, future variants, and City of Boston regulations." The memo encouraged the proper use of high-quality masks—N95s, KN95s, KF94s, and FFP2s—"in crowded settings or for individuals who are at increased risk of severe illness from COVID-19." Masking reduces the risk of transmission even among unmasked people, she wrote.
After May 23, on-campus students who test positive will isolate at their assigned campus residence, not BU's campus isolation facility, which will close on June 1. "When possible, students are strongly encouraged to return to their permanent residence by private car to complete their isolation period," Platt wrote. "Since the Omicron surge, Boston University has been allowing on-campus students in apartment and suite-style housing to isolate in place with suitemates. To date, with proper mask use and precautions, we are pleased that in over 95 percent of cases, our on-campus students have been able to isolate in place without transmission to other suitemates."
The University will continue requiring community members to be up-to-date on vaccinations: i.e., vaccinations plus a single booster. The University strongly urges campus visitors to be up-to-date as well. "At this time," Platt wrote, "we do not have plans to require 'second boosters' or 'fourth doses,' but we encourage individuals who meet the criteria to consider an additional booster dose. We are planning to offer Moderna COVID-19 vaccinations as part of our fall immunization clinics." The purpose of those clinics will be to provide first-round vaccinations and first boosters, Platt says. BU will not offer a fourth booster at those clinics.
The University's public COVID-19 dashboard will be taken down after May 13, 2022. Campus trends and other information will be reported by BU Today.