The Weekender: October 20 to 23
A pop-up market, a film festival, and a world-famous regatta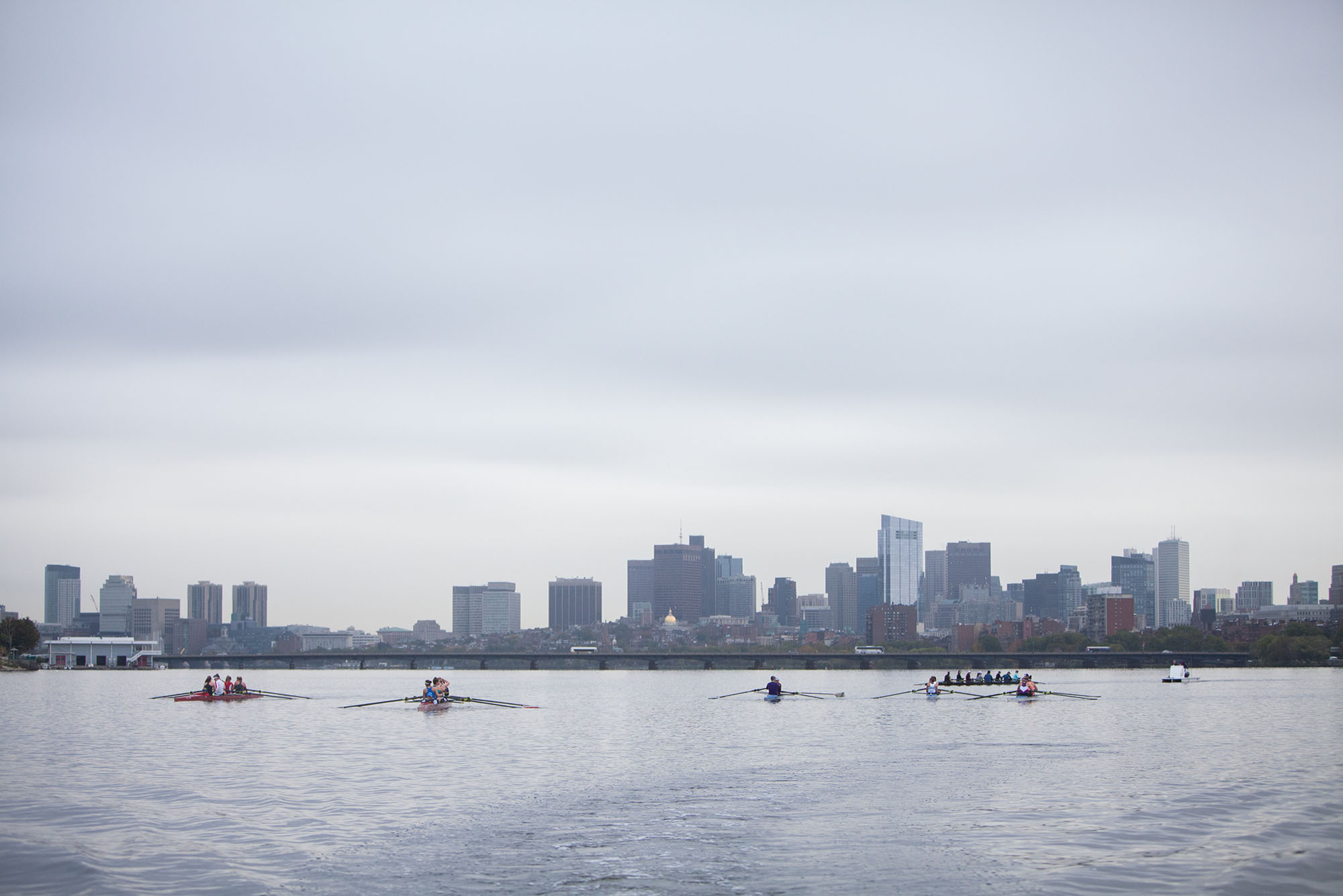 You can expect BU to be bustling with people and activities this Family & Friends Weekend. Whether or not you have visitors stopping by, be sure to check out the BU Fringe Festival and the Head of the Charles Regatta, or venture off campus for some sushi, a pop-up market, or a showing of the musical Hairspray.
Since opening in 2017, Fat Baby has established itself as the place for sushi and cocktails. Split fusion appetizers for the table—like the coconut shrimp with mango habanero sauce or scallion pancakes with edamame dip—and choose from an array of traditional and specialty sushi rolls for your main dish. Wash it down with a cheeky cocktail like the "Baby Got Back," a boozy adult lemonade. A late-night menu is available.
Fat Baby Sushi, 118 Dorchester St., South Boston, is open from 4 to 10 pm Monday through Wednesday, 4 pm to 1 am Thursday and Friday, 11 am to 11 pm Saturday, and 11 am to 10 pm Sunday.
Head down to South Boston for a curated shopping and dining experience at the site of the historic South Boston Iron Works. Now a trendy retail center, the Iron Works hosts a weekly, four-day pop-up with a wide range of retailers. Browse ButtaH Beauty for natural skincare products, Solar Flair for affordable eyewear, or With Love, Paint for custom-painted sneakers. 

C Street Pop-Up at Iron Works, 64 C St., South Boston, is open 5 to 8 pm on Thursday and Friday, noon to 8 pm on Saturday, and noon to 6 pm on Sunday, rain or shine. Changes to regularly scheduled hours will be announced on Instagram here.
The first fringe festival took place in Edinburgh in 1947, showcasing unique and unusual artistic talent across the Scottish city. Since then, similar festivals have popped up all over the world, and have even made their way to campus. A multiple-week affair of College of Fine Arts theater and opera productions, the 26th annual Boston University Fringe Festival takes the stage this weekend with two shows. Transport yourself to the Italian city of Padua in La hija de Rappaccini, or feast your eyes on a fresh rendition of the famous Frog Prince fairy tale in Against a Village.
Performances of La hija de Rappaccini, at CFA Studio One, begin at 7:30 on Friday, October 21, and 2 pm on Saturday and Sunday, October 22 and 23. Against a Village can be seen at Studios on 3 at 7:30 pm on Saturday, and 11 am on Sunday.
The storied Head of the Charles Regatta returns this weekend with over 70 races on the Charles River from Friday through Sunday. Since 1965, this famous rowing competition has drawn in competitors and crowds from across the world. Great views of the race can be seen from BU Beach, the BU Bridge, or the DeWolfe Boathouse. The BU men's and women's teams, as well as BU alumni, will compete throughout the weekend. Read our full story Friday to see the times they will appear.
The 2022 Head of the Charles Regatta runs from Friday, October 21, through Sunday, October 23. Boats will launch between 7:45 and 10:16 am on Friday; 7:45 am and 3:22 pm on Saturday; and 7:45 am and 3:38 pm on Sunday.Find a complete racing schedule here. 
Calling all musical theater lovers: Tony Award–winning Hairspray is coming to Boston this weekend. Journey back in time to 1960s Baltimore by belting out all of your favorite classics, like "Welcome to the 60's," "Good Morning Baltimore," and "You Can't Stop the Beat." 
Hairspray runs through Sunday, October 30, at the Citizens Bank Opera House, 539 Washington St., Boston. Tickets start at $20 and can be purchased here.
ArtsEmerson is hosting the Boston Asian American Film Festival (BAAFF), which will feature both virtual and live film screenings. The largest Asian American film festival in New England, BAAFF shows a range of film genres, including a war documentary, a psychological thriller, and an experimental art short. Showings will be followed by Q&A sessions with the filmmakers. 

The Boston Asian American Film Festival is Thursday, October 20, through Monday, October 31. All in-person events will be held at the Emerson Paramount Center, 559 Washington St., Boston, except for opening night events, which will be held at the Brattle Theatre, 40 Brattle St., Cambridge. Purchase tickets here, and find a screening schedule here.