Terriers in Charge: Sydney Bechtel (CAS'23)
Sydney Bechtel started figure skating when she was just five, but soon became hooked on ice hockey after moving to Warrenton, Pa., and watching three older cousins play.
"I thought it was really fun," Bechtel says. Getting her parents' permission, she joined a boys travel team, the Winter Sport Royals, where she competed from age 7 to 12. She was one of two girls on the team, which traveled across Pennsylvania and to Delaware and New Jersey to play.
"It was great. I still keep in touch with some of the guys," she says.
The experience only deepened her love of the sport. As a high school student at the Lawrenceville School in Princeton, Bechtel played defense on the varsity women's ice hockey team. When it came time to apply to colleges, she knew she didn't have the skill level to compete on a Division One varsity team, so she looked for colleges that had women's club ice hockey teams. She googled to see if BU had one, found it did, applied, and after being accepted, enrolled.
The team began in 2014 as an independent organization, not sanctioned by BU (that came at the start of the 2016-2017 season). It was spearheaded by a recent transfer from Villanova, Emily Lafond (CAS'16), now a club team assistant coach, who was looking for other women interested in playing.
"There was a group of us who kind of all found each other and a lot of it was just word of mouth," recalls Lafond, who arranged scrimmages with local schools. Transportation and ice time were funded by donations from parents, some of whom drove the students to games. And because the team wasn't yet officially recognized by BU, they had to practice at Daly Rink in Brighton.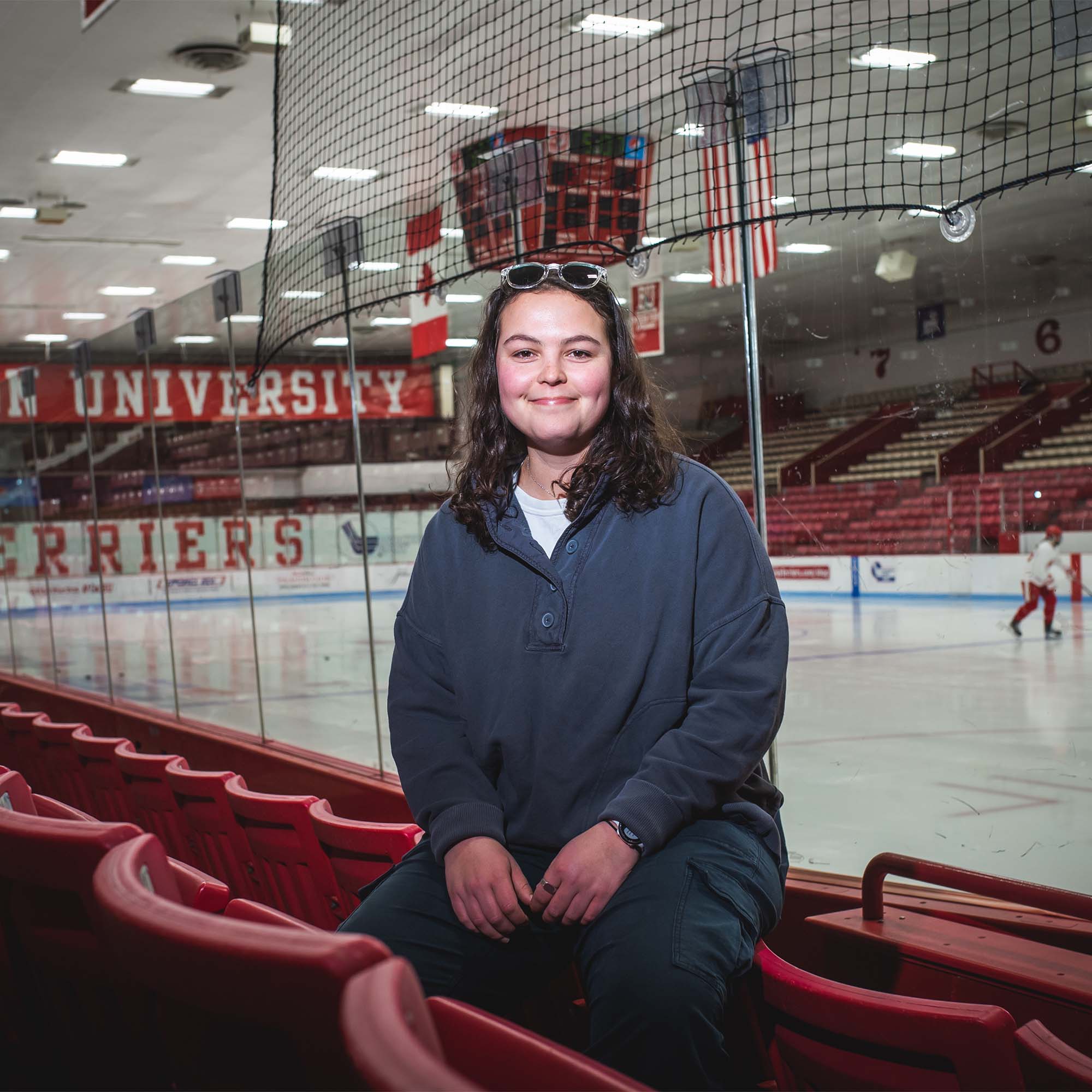 By the time Bechtel arrived, the team was competing in the American Collegiate Hockey Association (ACHA) women's division two. The club now numbers approximately 23 students, is coached by Luke Stanton, practices twice a week at Walter Brown Arena, and competes weekly against schools like St. Anselm's, Northeastern, UConn, Providence, Merrimack, Holy Cross, Assumption, and Boston College, a team they'll play on Saturday, November 12, at Walter Brown Arena.
"What I love about the sport is that when you're out on the ice, you don't worry about anything else in your life," says Bechtel, now team president. "You can just focus on the task at hand, whether it's catching a pass, trying to make a pass, or trying to score."
But the best part of being on the women's club ice hockey team, she says, is the sense of community it's given her. "Some of my best friends are on the team and I live with two of them. And I've gained some amazing mentors, folks who were on the team and who have graduated and have stayed in touch. My coaches have also given me a lot of support and worked hard to help me succeed."
Bechtel acknowledges that it was daunting when she took over the team last fall as president. COVID had prevented them from competing the year before, and they were only able to practice. As president, she had to navigate all of the ongoing pandemic's challenges. "The team had to wear masks at practice and during games, in the locker room, and traveling to games," she says. "We had to make sure every player showed a green badge before they could enter the locker room and had to do contact tracing anytime a player tested positive. Some games had to be canceled when teams at other schools had COVID outbreaks."
Now back to playing a regular competitive season, she and her teammates are striving to compete in the top five teams in their region, Bechtel says, so that they can earn a bye to the ACHA Division 2 national tournament in Malborough, Mass., in March. If they win, it would be their first championship.
After graduation, Bechtel plans to join Mastercard as an associate sales analyst. But she knows that she'll continue to stay in touch with her coaches and fellow players.
"Not only are we teammates, we're a family…a family for life," she says.
Interested in learning more about the women's club ice hockey team? Email buwclubhockey@gmail.com
The BU women's club ice hockey team hosts Boston College on Saturday, November 12, at Walter Brown Arena, at 4:30 pm. Admission is free and open to the public.
Join the conversation