Richard Mark Laursen, Long-Serving Head of BU's Athletic Training Services, Retires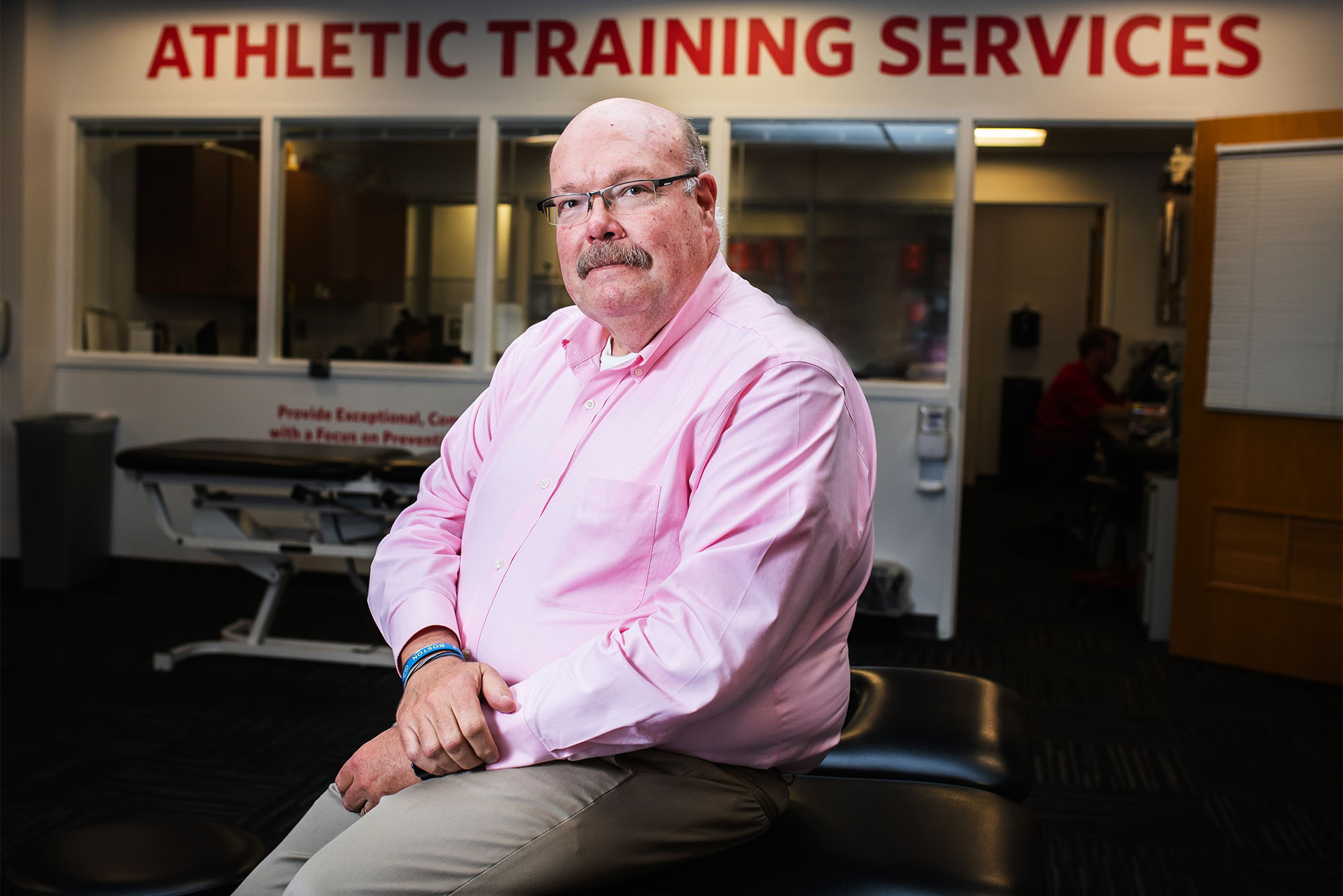 BU Athletics
Richard Mark Laursen, Long-Serving Head of BU's Athletic Training Services, Retires
Colleagues, students recall his caring for, and mentoring, a generation of Terriers
The photo is an icon, like those of the flag-raising on Iwo Jima or of Vietnamese villagers fleeing a napalm attack: a first responder in a cowboy hat and two others, one of them Devin Pao (Sargent'14), helping a man gravely hurt in the 2013 Boston Marathon bombings. The wounded man would become a double amputee—but they saved his life.
Parrying unwanted media attention after the famous photo while grappling with her own grief from that day became an ordeal for Pao. But her instinct to rush toward a human being in need amid chaos and confusion owed to a BU mentor: Richard Mark Laursen.
Laursen, director of BU's Athletic Training Services (AT), taught Pao's first athletic training class at Sargent College of Health & Rehabilitation Sciences (athletic trainers tend to sick and injured athletes). Those early lessons were more prosaic than treating bomb victims—taping an ankle, writing notes—but "his passion for the profession was very apparent, as well as how he engaged with students to be the best possible clinicians," remembers Pao, who is now a physician assistant. "What I take away from how Mark influenced me during my time at BU, especially on that [Marathon] day, was: regardless what the task is, show up, do your job, and be selfless. Your patients are the priority, and their safety is paramount."
On June 3, his fifth wedding anniversary, Laursen will finally tend to his own well-being. He'll move in full-time with his wife for the first time in their marriage, after retiring from BU the day before. He's relocating to Indiana, where she works at a university.
During his 24 years with AT, the last 14 of them as director—a tenure interrupted only by a 10-month stint at the University of South Carolina—Laursen and his staff of almost 30 have bound fractures, cleaned gashes, taped sprains, and examined concussions among BU's 1,600 student athletes playing varsity and club sports yearly. He's taking his leave at an apt time educationally as well as maritally. He is also a Sargent clinical associate professor of athletic training, and the college just graduated its last-ever students in athletic training. The program is being discontinued amid declining enrollments.
His retirement follows two-plus years of protecting AT's charges against COVID-19, "the largest public health crisis we've had in athletics, ever—larger than concussion," Laursen says during an interview in his Case Athletic Center office.
"We don't know the sequelae of this virus," he says. "I have colleagues, and we have patients, who were infected a year ago and are still having side effects." In the pandemic's early, raging days, Laursen recalls, "teams didn't use the locker rooms, they dressed at home," showering there after home games.
Away-games precluded being able to take such precautions, but BU Athletics and AT implemented other anti-COVID strategies. They adopted telehealth, "de-densified buses, so instead of taking one bus with somebody in every seat, the larger teams would take two buses," he says, and implemented rigorous COVID testing, up to two or three times a week during the pandemic's worst days.
The University does not disclose infection rates among particular groups, such as athletes. But "given the complexity of student athlete schedules, which routinely involve travel to other schools, and the natural social groups that form, there were understandably some clusters within our athletic teams," says Judy Platt, chief health officer and executive director of Student Health Services, which includes AT. "Ensuring regular testing cadences could be adhered to along with any NCAA requirements involved significant coordination between Athletic Training medical leadership and the athletics department."
Laursen's father coached basketball at a small North Carolina college, and his passion as an athletic healer stems from growing up around sports, as opposed to playing them. ("I'm a terrible athlete," he concedes.) In recent years, Laursen has had less hands-on time treating students. "I treat some patients," he says, "although less and less as the job has gotten bigger and bigger." The University reorganized AT when he became director, bringing together an array of services that had sprawled across various BU schools and programs.
"He's still called upon if we've got a tough case," says Jennifer Chadburn (Wheelock'99), AT assistant director. And because of his concern, and kindness, his role as mentor never waned. Chadburn recalls the time she neglected to share information that she should have given to one of her concussion patients. Laursen's approach to supervising, guided by the The One Minute Manager, involves "a positivity sandwich. So you say something positive, then you give the constructive feedback, and you end with something positive. So I got one minute managed… Even though I had made a mistake," Chadburn says, "I walked away from it having learned something.
"Our department is going to mourn the loss of him, but because of him, we'll be OK," she says.
Stories like hers abound. Ryan Stach (Sargent'22), one of Sargent's final four athletic training graduates—she's becoming an athletic trainer at Santa Clara University—recalls Laursen bucking her up before her final clinical training. "I was worried there would be expectations set for me that I couldn't meet or that I would disappoint people," she says. "He laughed at me and then said, 'Ryan, you could never disappoint me, no matter how hard you tried. Sure, you'll mess up and make mistakes, but you will never disappoint me.'"
Harvard athletic trainer Pietra Sweeney (Sargent'19,'21) benefited from BU AT's ministrations as a Terrier soccer player. "I knew athletic training was what I wanted to do," she says. "The ATs at BU, including Mark, are all so amazing and I trusted them—and still do trust them—with my life. I wanted to have the same impact on athletes that they all had on me."
"I wouldn't be here if it wasn't for Mark," says BU athletic trainer Amy Ludovici (Sargent'18). "He makes everyone feel extremely valued and important. So anyone that has come through this program—as a student, as a student athlete, as a young professional—everyone feels like they almost are an expert, because he makes you feel like everything you're doing is great. It makes you want to come to work every day. And it made me want to come back [after graduation] and work here."
Christopher Moore, dean of Sargent, notes that while the athletic training instruction is ending, "Mark has been a valued member of the Sargent faculty for many years. He is an incredibly talented classroom instructor and an experienced clinician. I can't imagine anyone better prepared to work with our students.
"His focus on student clinicians and student athletes has been key, not only to training future athletic trainers, but also to keeping our athletes safe, healthy, and at the sustainable top of their games."