Massachusetts US Attorney Rachael Rollins Tells LAW Grads, This Is "the Fight of Our Lives"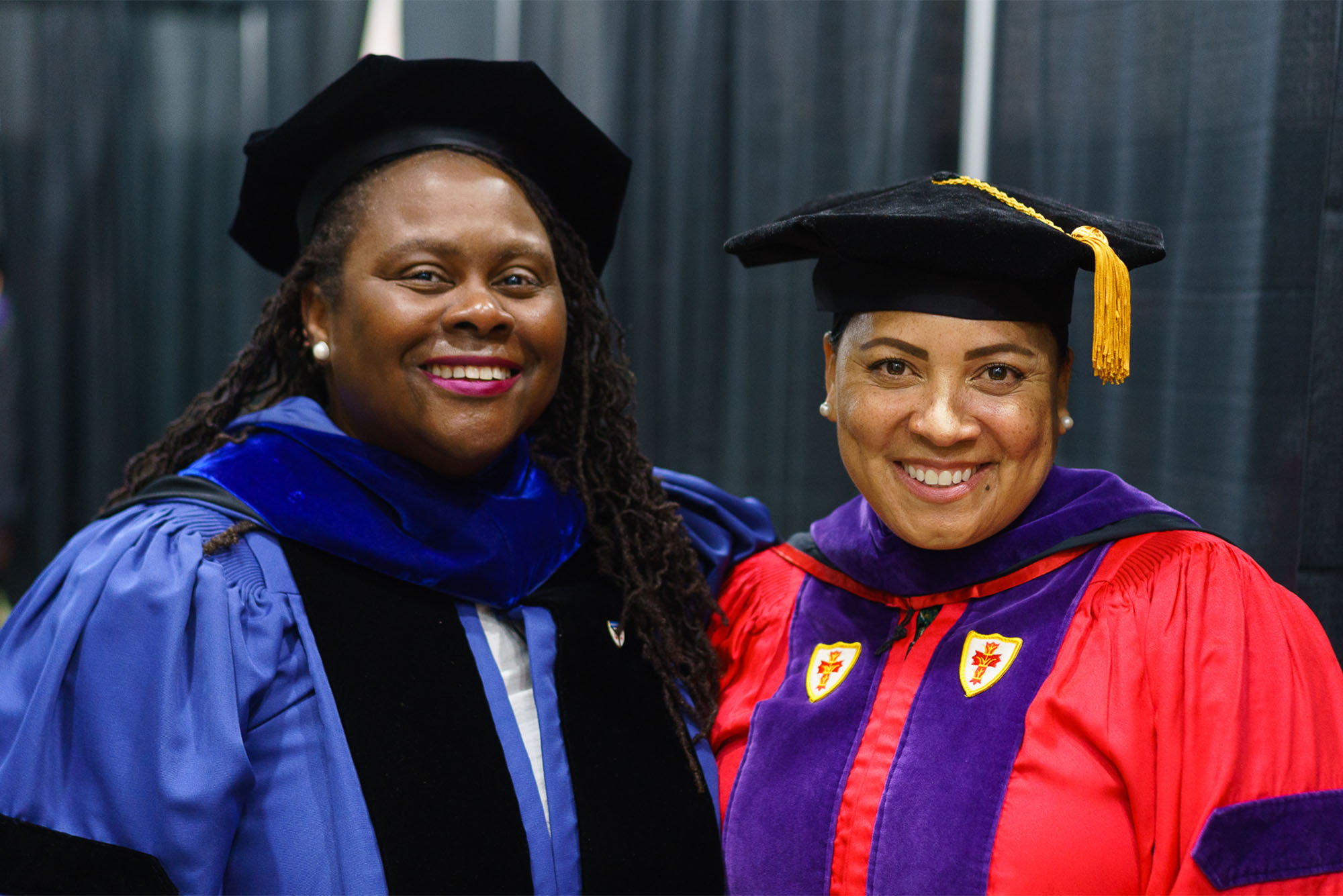 Commencement 2022
Massachusetts US Attorney Rachael Rollins Tells LAW Grads, This Is "the Fight of Our Lives"
The law is a noble profession, don't be afraid to fail, and get in the game, she said
The law is a noble profession whose practitioners have always been "on the front lines of change." Don't be afraid to fail. Get in the game—even when people say you can't and shouldn't.
That was the advice on Sunday from Massachusetts US Attorney Rachael Rollins to the Boston University School of Law's graduating Class of 2022, as she delivered the school's first in-person convocation address in two years at BU's Track & Tennis Center. The COVID-19 pandemic caused the past two convocation ceremonies to be held virtually.
"At every critical moment in our nation's history, and we are at a critical moment right now, I believe we may be in the fight of our lives—lawyers have been…on the front lines, changing laws, sparking conversations, and starting movements, striving to always make our great nation even better and more inclusive," Rollins said. "Every single person deserves to live their life fully and authentically as who they are. And I need to be clear, nobody's authentic self is entitled to be harmed or humiliated or certainly not killed. There is no hierarchy as to who is more entitled to a full and authentic life. We all are."
Rollins, who was sworn in as US Attorney for the District of Massachusetts in January 2022 and is the first Black woman to hold that position, underlined her third point, about getting in the game, this way: "If I listened to all of the people that told me that I couldn't or shouldn't do anything—like, for example, run for district attorney in Suffolk County, Massachusetts, which includes Boston, because a woman had never won since the office opened in 1806—I wouldn't be standing here as the first woman…"
The audience interrupted her with a roar of applause. It wasn't the only time.
Her listeners also cheered when Rollins, in talking about the growth opportunities that come with failure and rejection, got personal. "I can't tell you how many times I've been overlooked or what I came to think of as underappreciated," she said. "But in every one of those failures and missed opportunities, I got exactly where I am today."
Rollins, who earned her Juris Doctor from Northeastern University School of Law and Master of Laws from Georgetown University Law Center, was nominated as US Attorney by President Biden in 2021 and confirmed by the Senate later that year. As the chief federal law enforcement officer for the District of Massachusetts, her top priorities are human trafficking, white collar crime, healthcare, healthcare fraud, and national security.
As LAW's newest graduates—who numbered about 450, split roughly between Juris Doctor and LLM (Master of Laws) degree holders—sweltered in the 92 degree heat, Rollins also injected a note of humor. "I'm always amused by the introductions people receive before they speak or win an award," she said. "It's usually, 'graduated at the top of their class, witty, strikingly handsome, won the Nobel Peace Prize, a scholar and a gentleman, reached out to the elderly in their spare time.' I want real introductions: 'He's been fired two times. She thinks she's balding. He's on his fifth marriage.'"
Ignore the haters and complainers, and stay focused, Rollins urged the graduates. "I promise you there are so many things that I was told I could never do," she said. "You can make a difference—even at your young age."
LAW's Class of 2022 members were urged to use their degrees to make a difference by not one, but two Black women who have broken barriers. Angela Onwuachi-Willig, who was appointed dean of LAW four years ago and is the first Black woman to serve in that position, delivered the opening remarks at the convocation and introduced Rollins.
"Over the past two years, we have frequently been reminded of the many inequities in our society and law's failure to address those inequities," said Onwuachi-Willig, who was named the inaugural Ryan Roth Gallo and Ernest J. Gallo Professor of Law in 2021. She listed several events—"the disparate impacts of the global pandemic on communities of color and the working poor," the rise in "incidents of anti-Asian hate and violence fueled in part by inflammatory rhetoric about the causes of COVID-19," and the "contested election resulting in an insurrection at the US Capitol." All of them, she said, "highlight failures of power and government."
"They may cause us to question whether this nation's commitment to equal protection under the law, which is fundamental to our democracy, will ever be lived up to," Onwuachi-Willig said. "But my message to you today is one of hope. It's about the power of the law—and [the power] of lawyers, despite the many ways in which those powers may be flawed. And it's about the great need that our society has for you to hold on to the ideals, the very hope, that brought you to law school in the first place."
Onwuachi-Willig recalled that when she entered law school, she had been convinced "that the law had limitless power" and that "with proper legal knowledge and an unwavering commitment to justice, we can right many of society's wrongs."
She quickly learned that the law is imperfect, she said. "Law is a product of its time. More so, it's a product of people, and in many cases, a limited group of people whose own worldview may not include people who stand on the margins of society."
By the time she graduated, she said, she had "lost that sense of idealism that had driven me to pursue a legal career in the first place.
"I imagine that some of you have witnessed a similar change in yourself," Onwuachi-Willig said. "Today, I want to encourage you to embrace the change in your knowledge about the law, including its limits, but to do so while holding on to hope."
Despite all of its limitations, the dean said, the law, in the right hands, can be a catalyst for change. "It is up to you, a new generation of lawyers, to advocate for justice and advance law so that it may catch up [to], and perhaps one day surpass, the changes in our society and our common values.
"These common values and ideals that we strive for need not be divisive," she said. "They are neither progressive nor conservative. They are not Republican or Democratic. Though flawed in the way they were articulated and practiced at the outset, the ideals of equality, unity, and justice were among the very ideals set forth when this nation was founded. Even when we disagree about particular matters of law and policy, there are founding principles and fundamental values we all share. In today's highly polarized environment, too often we are pitted against one another—win or lose, us or them, good or evil—but despite it all, I still believe there is often more that brings us together than there is that drives us apart."
Do good work, Onwuachi-Willig told the graduates, and engage in your community. "Advocate for what you believe is right. Use the tools and knowledge you've gained as a student at BU LAW to make a difference in the world."