White House Honors Angela Onwuachi-Willig, Other Law School Deans for Helping to Avert Eviction Crisis
Addressing senior Biden administration officials at event, BU LAW dean talks of the toll of losing "your home, your community, your stability – all that you have known, all at once"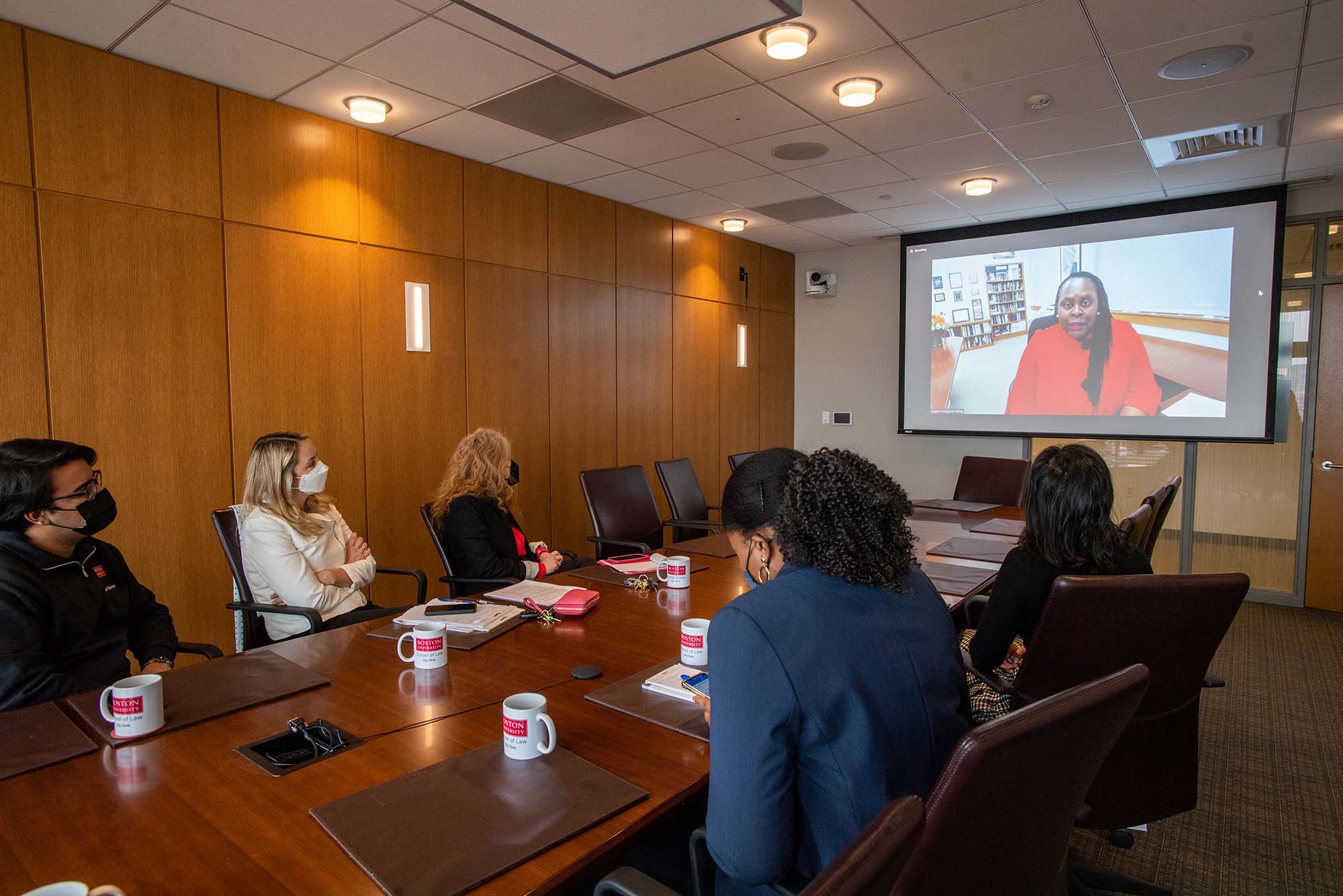 Government & Law
White House Honors Angela Onwuachi-Willig, Other Law School Deans for Helping to Avert Eviction Crisis
Addressing senior Biden administration officials, BU LAW dean on the toll of losing "your home, your community, your stability—all that you have known, all at once"
When US Attorney General Merrick Garland called on the legal community last fall to help prevent millions of Americans from losing their homes during a nationwide eviction crisis, Angela Onwuachi-Willig, dean of the Boston University School of Law, was one of the first law deans to answer the challenge.
On Friday, January 28, Garland and other Biden administration officials honored Onwuachi-Willig and the small army—99 law school deans and more than 2,000 law students—whose efforts, Garland said, had helped keep eviction filings below 60 percent of historic averages nationally, and well below the 3.7 million evictions filed in a typical year. Invited to speak at the virtual event, Onwuachi-Willig described the emotional, psychological, and financial toll an eviction takes on a person's life.
"You lose your home, your community, your stability—basically, with an eviction, you lose all that you have known, all at once," she said. "Eviction affects your mental health and well-being, even when you're not in the midst of a global pandemic. And it's a hundred times worse when you are. Eviction begins a cycle of economic hardship that is frequently impossible to find one's way out of. And, for some, eviction can become a death sentence."
Onwuachi-Willig, who joined BU LAW as dean in summer 2018 and was named the first Ryan Roth Gallo and Ernest J. Gallo Professor of Law in 2021, was invited to the event after she spoke out last September on the eviction crisis. She told BU Today: "For some people, [eviction] results in a certain death sentence, and for no reason but poverty or the fact that they lost their job or lost their daycare."
In her remarks Friday, she said: "I know these pains from personal experience because I have seen family members suffer the sting of eviction, including through illegal tactics like lockouts."
In a conference room at LAW on Friday, a small group of professors and students, who had tuned in together to watch the event on a large screen, cheered for Onwuachi-Willig when she spoke and took selfies of themselves with their dean, who was appearing at the White House virtually and was sitting at her office computer only a few doors away.
Garland's call to law firms, legal aid groups, and law schools to help fight evictions came after a divided US Supreme Court lifted the administration's moratorium on evictions, saying it was causing landlords "irreparable harm." The moratorium was meant to protect more than six million tenants who had fallen behind on rent payments during the pandemic. Half of those tenants believed they could be evicted within two months, Garland wrote in his letter to the legal community.
"Eviction filings were expected to spike and millions of Americans were expected to lose their homes," Garland said at the Friday gathering, addressing Onwuachi-Willig and the other deans and law students who joined the event. "I called on you to use your skills or education or experience and your time to help the most vulnerable among us. Today we are celebrating the way in which you answered the call. You assisted clients and communities at a time when they needed it the most, when our country needed it the most."
Senior White House advisor Gene Sperling, who hosted Friday's event, said law deans began offering to help immediately. An early phone call was with William Treanor, Georgetown University Law Center dean, and Trevor Morrison, New York University School of Law dean, said Sperling. "They said, 'Well, one partner we're going to have is Angela Onwuachi-Willig, the dean of BU's law school. She is tremendous and inspired and ready to go."
That was on a Friday. "We were hoping to have 10 or maybe 15 deans join us by Monday," Sperling said. "We were absolutely overwhelmed—99 schools answered the call to action."
At Friday's event Onwuachi-Willig said that BU's School of Law, "with its history of providing pro bono representation to families facing eviction, beginning with the founding of LAW's first Legal Aid Clinic more than 50 years ago—it's now known as the Civil Litigation & Justice Program—was prepared to heed the attorney general's call."
In Boston, pandemic-prompted court and help desk closures, along with COVID mitigation protocols, made access to legal representation for low-income families more challenging than usual. So, Jade Brown (LAW'16), a LAW lecturer and clinical instructor, and students turned to technology platforms, launching a pro bono project using the online MA Defense for Eviction Protocol, available through Greater Boston Legal Services. That helped to connect trained law students and translators with tenants who needed assistance drafting and filing legal pleadings quickly to avoid immediate eviction. 
"For students who were inspired to action during the eviction crisis, I hope they have learned how fulfilling it can be to help others, to help give voice to the voiceless," Onwuachi-Willig said. "I hope they have learned that many landlords fail to follow eviction law because their tenants often do not know their rights and often do not have lawyers to represent them."
However, she was also quick to acknowledge that tenants were not alone in facing hardship from the crisis. "In no way do I mean to discount the financial losses to landlords," she said. "Their losses are very real, and contrary to popular belief, some landlords are only a paycheck ahead of their tenants. Because a global pandemic is the root cause of the current eviction crisis, we must seek a solution that both protects tenants' rights and reimburses landlords for their losses."
Sperling credited law students and law school clinicians across the country with serving more than 10,000 families at risk of losing their homes during the eviction crisis. The students helped families apply for federal Emergency Rental Assistance, volunteered with legal aid providers, and assisted courts in implementing eviction diversion programs, among other services, he said.
Sperling, Garland, and the other speakers, among them First Gentleman Douglas Emhoff, husband of Vice President Kamala Harris, emphasized that much work lies ahead for the US Justice Department and the legal community. "One hundred and fifty years after the Justice Department was founded, the promise of equal justice under the law remains our most urgent and unfinished mission," Garland said. "We know that without equal access to justice, families are fractured, tenants are evicted, jobs are lost, veterans and immigrants are left homeless, children lose support, domestic violence victims lose safety."
"It is a simple fact that legal services are financially out of reach for many middle-class, working-class, and low-income individuals," Onwuachi-Willig said. "Approximately 80 percent of people who would qualify for free legal assistance cannot obtain it. Therefore, it is absolutely essential for law schools to play a role in expanding access to legal representation for underserved populations, both directly through our clinical work and indirectly by instilling in our students and alumni a responsibility to serve the most vulnerable people among us."