New Boot Camp Pairs Local Businesses with BU Faculty
Small Businesses
New Boot Camp Pairs Local Businesses with BU Faculty
Virtual program helps Brookline, Brighton businesspeople hurt by pandemic become more digital savvy
It was an unusual assignment for an unusual group of students. The task, given by Patricia Hambrick, a Questrom School of Business master lecturer in marketing: describe your "why," your passion or mission in life—"what gets you up every morning."
The students: 20 businesspeople from Brookline and Brighton, who tapped BU brains during a recent session of a Zoomed, 13-week "boot camp" aimed at helping businesses bounce back from COVID-19's brutal blow to their bottom line. The students represented all sorts of workplaces and professions—restaurants, nonprofits, property management, cleaning services, and gift and game shops. Plus, puppeteers, a chocolatier, and a mobile beer vendor.
During class discussions, some participants said that unusual exercise took them to a deeper level of self-reflection than they'd experienced before.
"I feel like I had a mini-breakthrough within the last 20 minutes," said Keli Masuck, who owns the Bunny Boutique in Brighton. "I don't feel like I'm fueled with passion every day to wake up and fulfill my 'why.' But with the clothing business I have, it's really sparking joy through fashion. The reason I keep going back to it, because it's really kind of small money for me, is because I do have a lot of fun connecting with the people, the feels of the fabric, the way they make me feel when I wear them."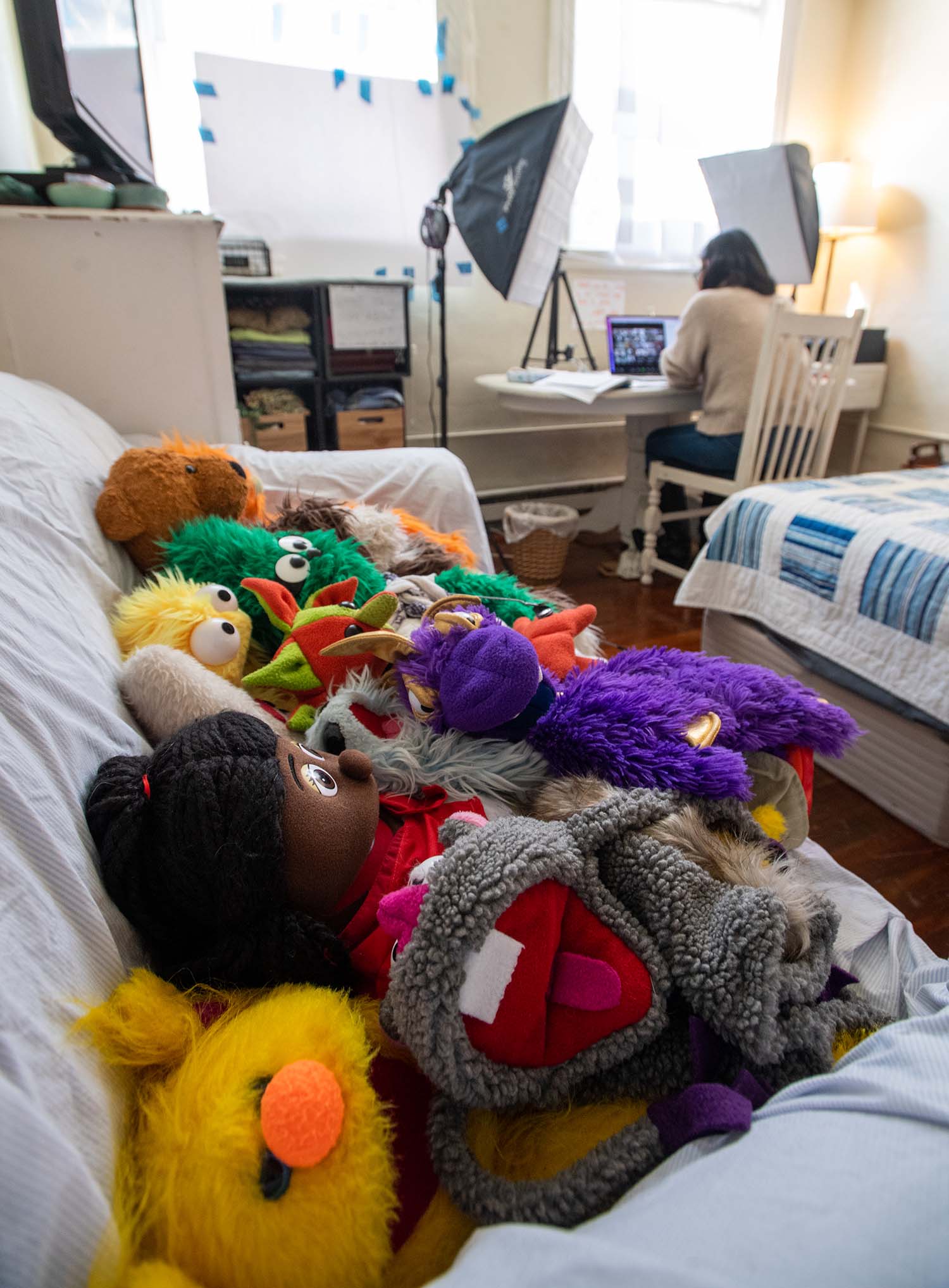 Gordon Szerlip, founder and CEO of e-VOLV Senior Connections in Brighton, provides streaming programs and services to seniors at home to ward off loneliness and isolation, which can be conduits to dementia. "I'm hoping to stimulate lifelong learning," he explained.
Hambrick promised that future classes would help these businesspeople and nonprofit workers connect their passion to their target customers and users: "Who loves that you love that [mission], and how does that show up in how you communicate that to the world?"
Drilling those communication and branding skills, particularly through online outreach, into small business and nonprofit employees is the mission of the boot camp, which concludes in late May. Debbie Miller, executive director of the Brookline Chamber of Commerce, conceived the program last fall as Delta and then Omicron prolonged COVID-19's gut punch to businesses. When Brookline sought a grant for the boot camp from the state, it encouraged her to collaborate with another community. Cecilia Nardi of BU Government & Community Affairs, a member of the Brookline Chamber of Commerce board, is also on the board of the business group Brighton Main Streets. Nardi helped link up the two groups and facilitated BU's involvement.
The camp has been running virtual workshops Mondays and Fridays on marketing, public relations, and cybersecurity. Besides Hambrick, the participating BU scholars are Kim Donlan, a Questrom lecturer in marketing, Susan Jung Grant, a Questrom clinical associate professor of marketing, and Amy Shanler, a College of Communication associate professor of the practice of public relations. Boston College scholar Joanna Baltes led a workshop on cybersecurity.
The instructors' expertise was welcome relief for small businesses seeking help in creating a customized approach to reach customers and clients.
"The past two years have been challenging," Miller says, pointing to the difference between the business haves and the have-nots in terms of being digital savvy. "In March 2020, when businesses unexpectedly had to shut down, the businesses that had an online presence and were able to sell services and products online had an advantage."
Brick-and-mortar storefronts, of course, had long waged a desperate fight for customers with Amazon and online retailers. Those lacking an online presence were further handcuffed by COVID, Miller says, as "businesses that could sell merchandise from their websites had an advantage when it wasn't clear which businesses were open or closed.
---

You'll never look at your business the same again.

---
"Some who had put off leveraging social media had to learn new skills. In short, online marketing, branding, and cybersecurity were no longer topics to explore on a rainy day. Customers had to be reached on their computers and phones."
During a virtual information session before the camp's coursework commenced, Donlan assured the businesspeople: "You'll never look at your business the same again" after the boot camp. "We're not guaranteeing you'll all be millionaires and gazillionaires, but if everything goes well, you'll all have a more profitable business."
Even before its collaboration with BU and BC, the Brookline Chamber of Commerce had aggressively hosted online workshops to help its members deal with COVID's hit to business. It even made this past December's annual First Light Festival virtual, an event that pre-pandemic had been held in person at dozens of businesses.
For all the chamber's activism, its members, as demonstrated by Hambrick's class, aren't mutely taking spoon-fed assistance. Their active participation in class conversation was an intentional design feature. At the information session, Hambrick, referring to her fellow faculty, told the assembled businesspeople that the session "will probably be the most that we'll talk to you."
Indeed, the students also learned from one another. The owner of a property management company confessed in Hambrick's class that he had never thought of his firm as all that different from competitors. In reply, Szerlip shared a bit of wisdom from his oral surgeon father: "'The difference between me and the competition is the attention to detail.' In a property management business, I would think detail is very important."