Photo Essay: What My Faith Means to Me
BU students, faculty, and staff reflect on the intimate role religion, prayer, and meditation play in their daily life
Religion
Photo Essay: What My Faith Means to Me
BU students, faculty, and staff reflect on the intimate role religion, prayer, and meditation play in their daily life
Boston University began as a Methodist seminary, the Newbury Biblical Institute, in Newbury, Vt., in 1839. And since its beginnings in Boston in 1869 as Boston University, it has been open to people of all sexes and all religions, many who carve out time from their daily studies and work to find moments to pray, meditate, and reflect.
BU photographer Cydney Scott has long wanted to capture the many ways members of the BU community express their faith.
"One of the great things about being a photographer is that I have the privilege of stepping into aspects of life that are unfamiliar to me," Scott says. "Religious faith is one of them. Religion and faith give people solace, guidance, and a sense of community, among other things."
Last fall BU Today invited members of the BU community to reach out to Scott directly, and within days, she had heard from people who identified as Christian, Jewish, Buddhist, Hindu, Mormon, and more. She photographed almost 20 people in their homes, at work, and out of doors as they practiced their respective faith traditions. The COVID pandemic made it impossible to photograph most of them in their churches, temples, mosques, and other places of worship, so instead, Scott sought to capture each one in ways that reflect how they pray, worship, and integrate their faith into their daily lives. Each participant also wrote a short essay describing what their faith means to them.
The resulting photos are deeply personal and intimate, speaking to the breadth and diversity of the BU community and the myriad ways people observe and celebrate faith in their lives.
---
Emily Mantz (Sargent'21,'23), Christian
"There are many ways that I practice my faith on a daily basis. I try not to keep my faith in a box, and instead try to integrate it into everything I do. I was raised by not one but two pastors, so growing up saying grace before eating has always been a part of my day. During my undergraduate years I was heavily involved with BU's Inner Strength Gospel Choir. While I'm no longer quite so involved, I still find singing and music to be one of the best ways for me to connect with the Lord. I attend church every Sunday and volunteer at the nursery there as well. Finally, I pray and read my Bible every day, twice a day. This allows me to dig a bit deeper into the teachings of God as well as talk to Him about my day, things I'm struggling with and things (or people) who need to be prayed for.
"To me, my faith is my lifeline. I have probably gone to church every Sunday since the day I was born, and while church itself is a huge part of my life, my personal relationship with Jesus is really what has gotten me through these past five years of college. Whenever I'm struggling, I know I can talk to Him and He will always be there with me. Not to mention the friends He has placed in my life to help me along the way. As Christians, we are really called to live out our faith so that other people can get to know Jesus through us. I try to exude that by upholding values of kindness, forgiveness, and patience in all aspects of my life, no matter how hard it may be."
---
Aimee Mein (COM'22), Buddhist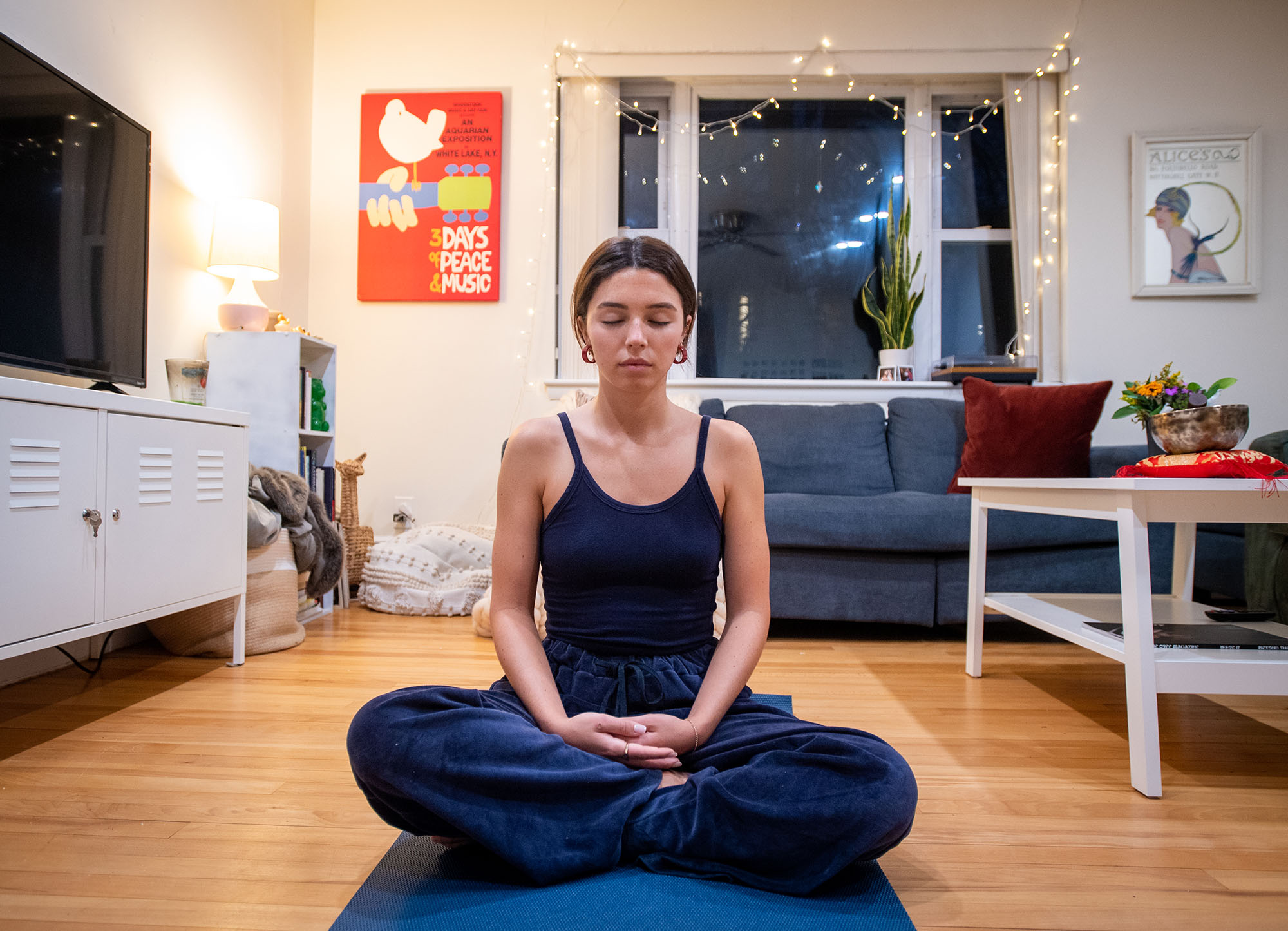 "My faith is the lens through which I see the world. My perspective on life completely shifted after studying Buddhism and incorporating Buddhist practices into my everyday experiences. Every moment has become an opportunity for mindfulness, things that used to cause me anxiety are calmed by a newfound belief system. Even my struggles with mental health have improved. Most importantly, my faith means a sense of peace with the universe and compassion for all beings."
---
Binyomin Abrams, College of Arts & Sciences research associate professor of chemistry, Jewish/Hasidic/Chabad Lubavitch
"I'm Jewish, specifically a Lubavitcher (Chabad) chossid. Jewish faith is synonymous with Jewish practice—doing acts of goodness and kindness (mitzvahs) and working towards refining the world around us. One of the most special and meaningful things that we do is to learn Torah, which brings meaning to my faith through intellectual, spiritual, and practical guidance on how to improve ourselves and transform the world for the better."
---
Martha Schick (STH'22), United Church of Christ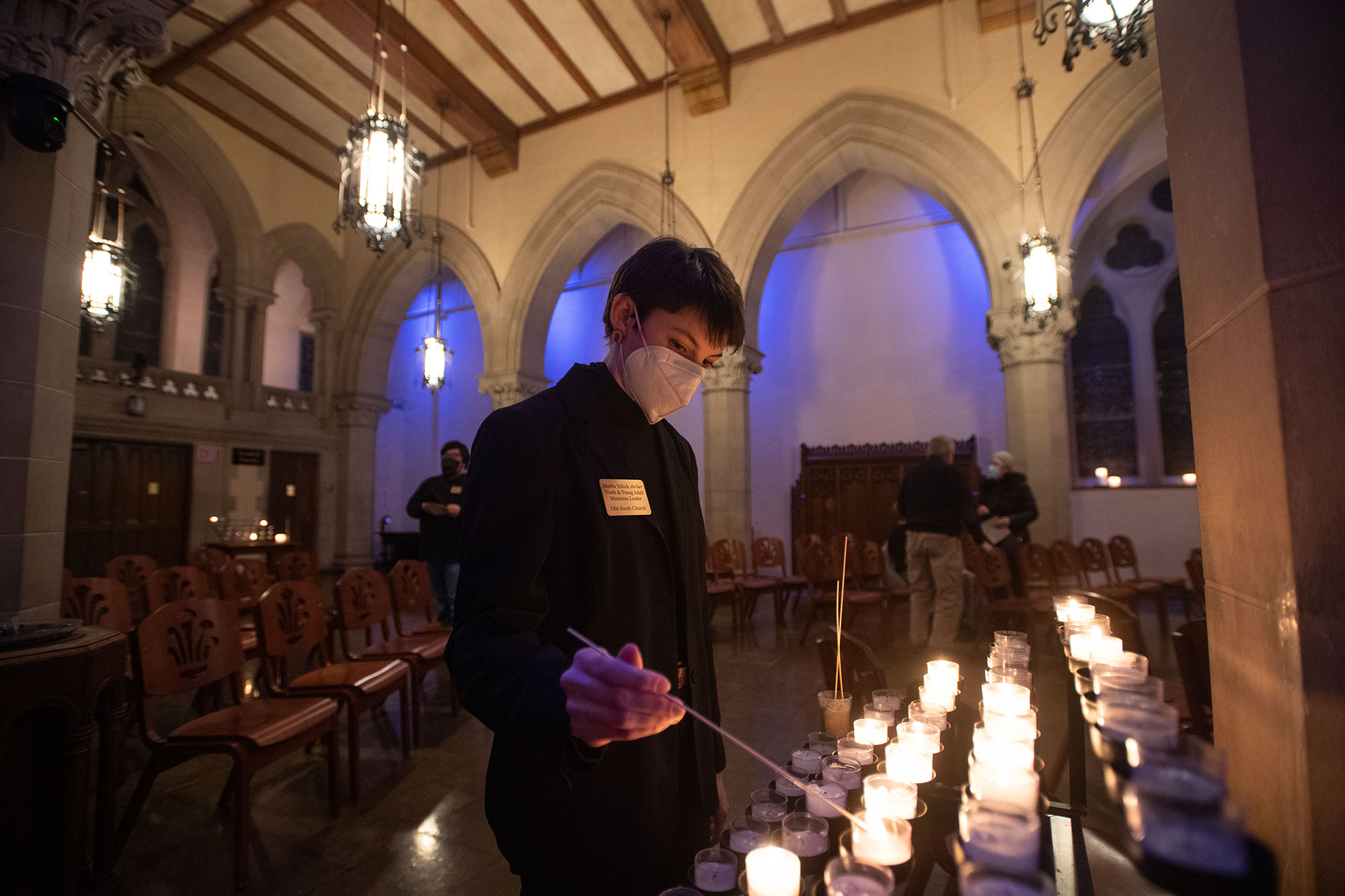 "My progressive Christian faith is where I find hope, solace, rest, and motivation. In our world, which is both broken and beautiful, the story of Jesus Christ and the stories of the ancestors of our faith are where I can look to make sense of things. I often come away with more questions than answers, but my church community welcomes my wrestling and makes my faith stronger because of it. In studying to become a pastor, I am both empowered to bring my full self to ministry and humbled to remember that the Holy Spirit is working through me. As a queer woman pursuing ordination, I also know that my very presence in the leadership of a church is a symbol and example of God's love and calling for all people."
---
Muhammad Zaman, College of Engineering professor of biomedical engineering and of materials science and engineering and Howard Hughes Medical Institute Professor, Muslim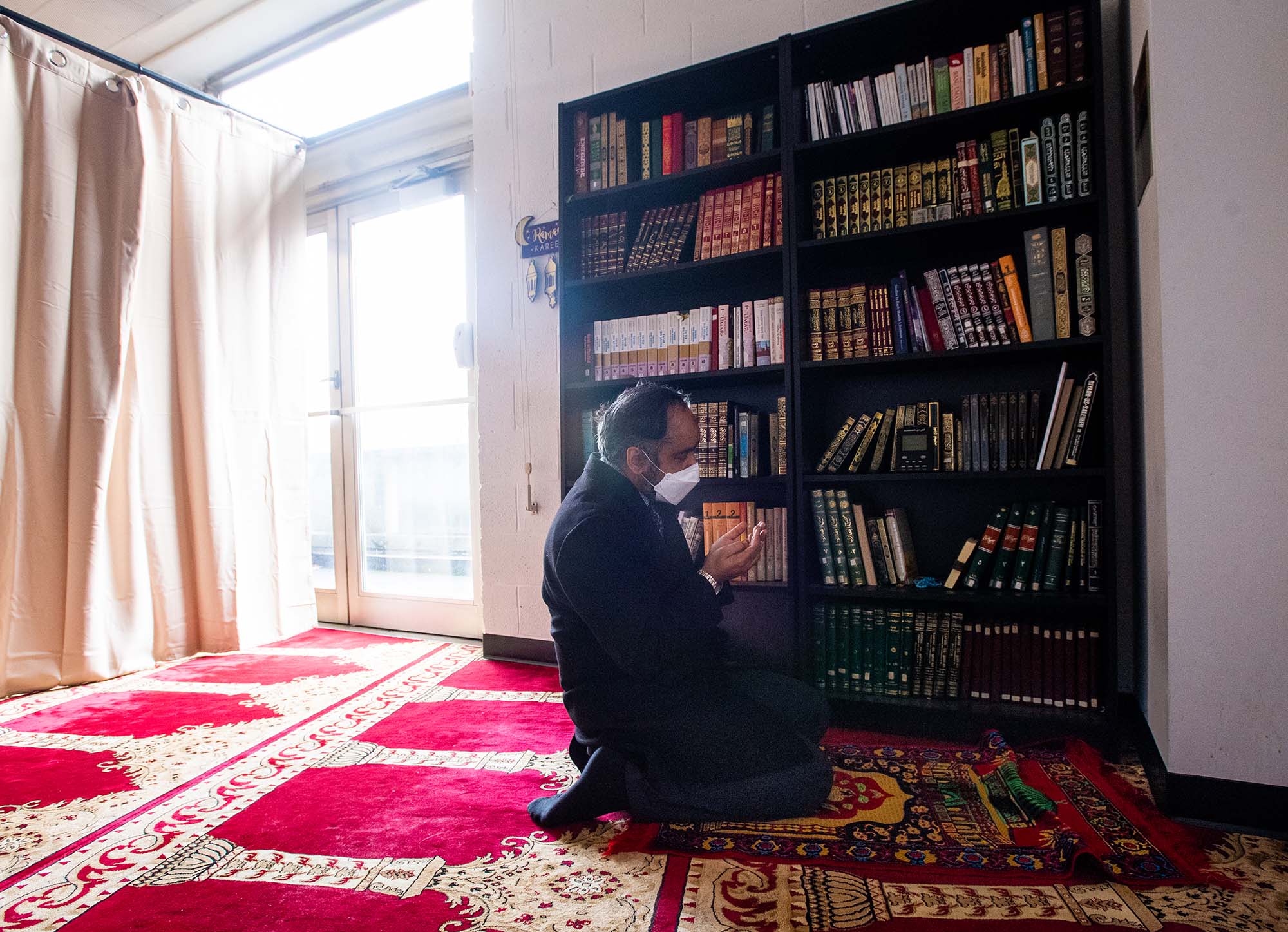 "I am a practicing Muslim and consider my faith as a driver for my work. In particular, the emphasis of Islam on humanity, social justice, welfare, and human dignity has a profound effect on my work to provide equitable access to healthcare among refugees, migrants, stateless persons, and the forcibly displaced all around the world."
---
Chloe McLaughlin (STH'22), United Methodist Church
"Faith has always been a huge part of my life. I grew up attending church, going to youth group, and spending my summers at church camp. At the end of this semester, I will be lucky enough to have two degrees that focus on religion and this faith that is so integral to who I am. In the long run, I think I have always been drawn to faith, specifically Christian faith, because I believe it informs my sincere commitment to justice, equity, and mercy. Over the last three years, as I have worshiped at Marsh Chapel, I have seen kindred commitments in action. The chaplains and staff are genuine, courageous, and willing conversation partners on difficult topics in the church and the world. I have been mentored, encouraged, and challenged by the staff and community at Marsh, and I am so grateful."
Mich'lene Davis (SSW'25), Christian/Pentecostal
"'Faith is the substance of things hoped for and the evidence of things not seen' (Hebrews 11:1). The wind blows, no one can see it, but you feel it and know that it is there. We practice a blind faith every single day of our lives without consciously knowing that we are doing it. We have 'faith' that the chair we sit in will support our weight and not send us tumbling to the floor in an embarrassing manner. We place 'faith' in our vehicles that they will get us from point A to point B without having some catastrophic failure or breakdown that will leave us stranded in the middle of nowhere. As a Christian, my faith is my lifeline, like an umbilical cord to an unborn child. Everything I believe about God and His one and only son, Jesus Christ of Nazareth, is what feeds my mind, soul, and spirit. I have faith to believe that Jesus Christ died on the cross via crucifixion, but rose again three days later, and because of this I no longer will have to face an eternal death, but will instead have eternal life with Him in heaven. I have personally benefited from and have witnessed answered prayers that had no natural explanation for how they were answered. My daily life consists of me worshiping and praising Him through the music I listen to and sing. Reading and meditating on His Word (the Bible) helps me to remember to whom I belong and helps me to strive to be a better person each day."
---
Caitlyn Wise (Sargent'23), Church of Jesus Christ of Latter-Day Saints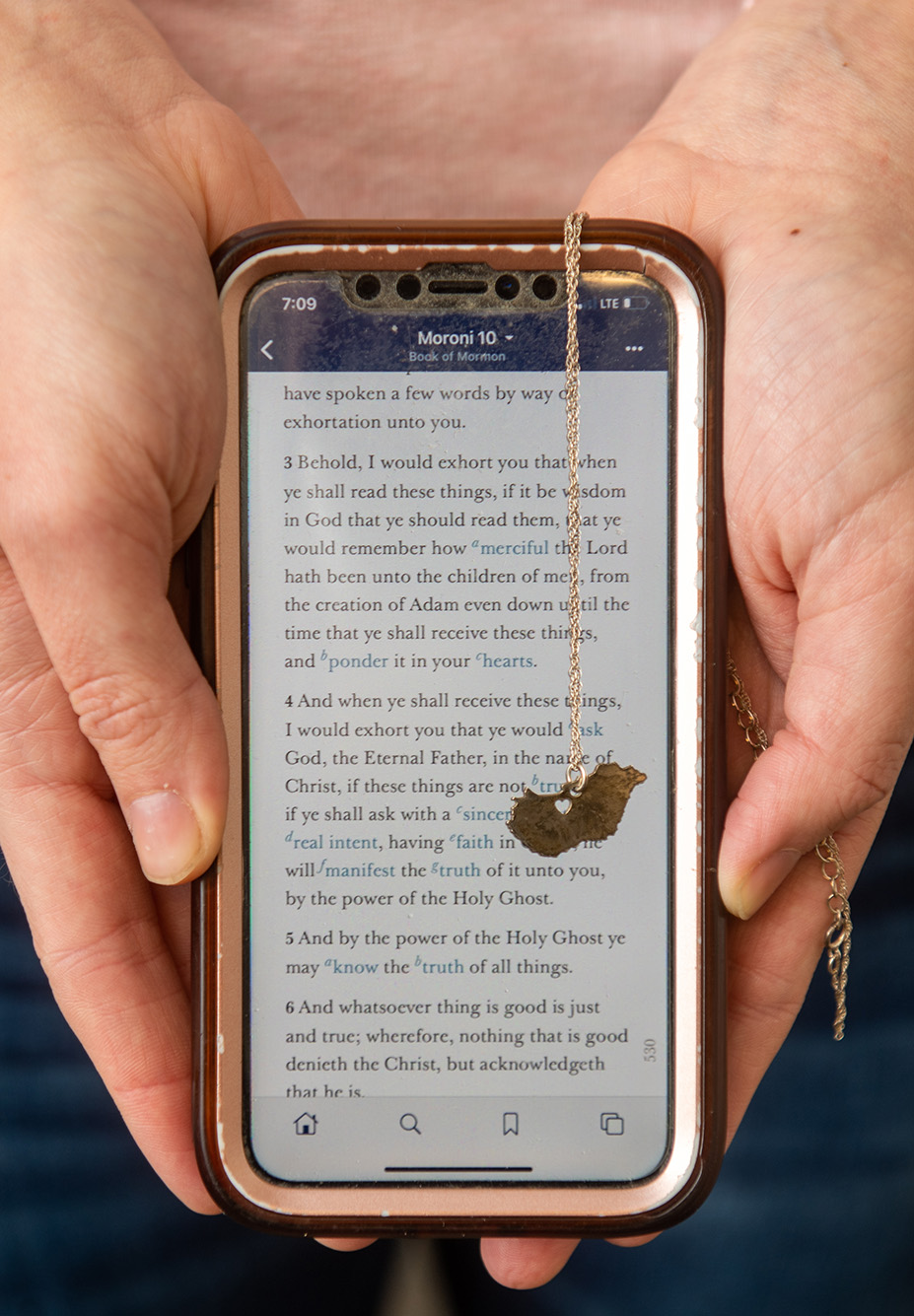 "Faith gives me the confidence to live courageously each day. Through prayer and scripture study, the knowledge and power I receive from my faith allows me to look for ways to serve and learn from those around me. Whether it is me praying for guidance in my studies or me applying principles of kindness and compassion in the BU community, my faith gives me a source of strength in my everyday life."
---
Adit Mehta (CAS'22), Jainism
"I was brought up in a Jain household and always had it around me, but in college, separated from my parents, I've explored my faith and consciously made decisions to follow ahimsa (nonviolence), aparigraha (non-possessiveness), and anekantavada (multiplicity of viewpoints), the three As of Jainism. In college I've also been able to find a community among members of Jains in Voice and Action, the BU Jain club, and the Young Jains of America. My faith means making active choices to reduce harm to others and the environment. It's less about praying and more about reflecting on my actions and choices during Samayik, 48 minutes of meditation. My faith makes it possible for me to understand myself and how I affect and can help others."
---
Zowie Rico (CAS'23), Lunar Witchcraft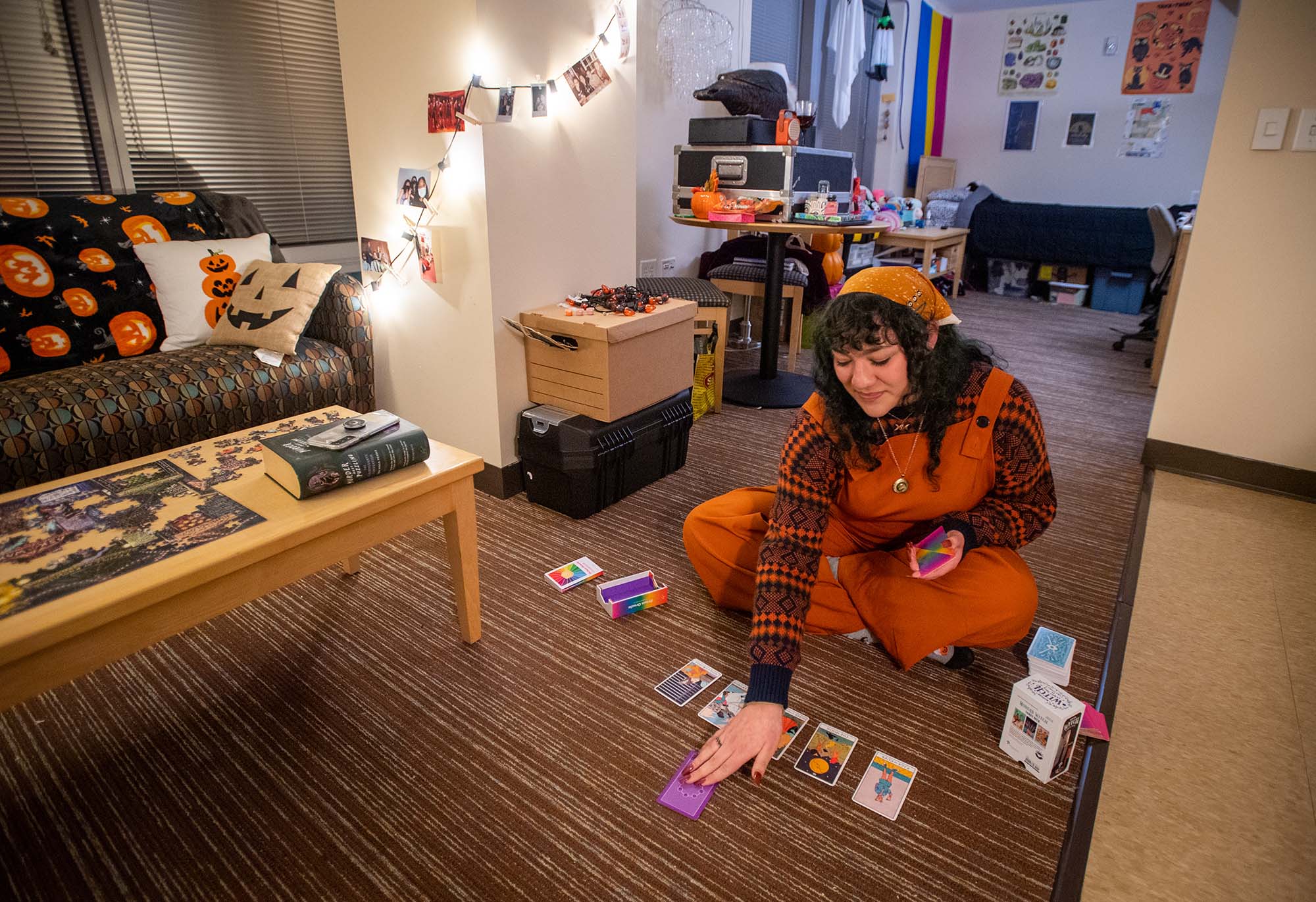 "My spirituality is something very new for me. I started my journey in July of 2020, during the latter half of quarantine. Before that, I wasn't really a spiritual person. Now, however, I use my spirituality to guide me through many aspects of my life. It's a way for me to connect with my inner self and actively work to become one with the energies around me. It's also helped me with my anxiety, as it's given me a lot of coping mechanisms to use throughout my life, like grounding and meditation.
"My spirituality is a part of many aspects of my daily life. It manifests itself in everything from making my smoothie in the mornings to doing affirmations while stirring my coffee to using my intuition for many of my decisions each day. I am so happy that I've been able to incorporate my practice into my daily life because it helps center me each day and provides comfort during hard times."
---
Jewel Cash, BU Summer Term program manager, Christian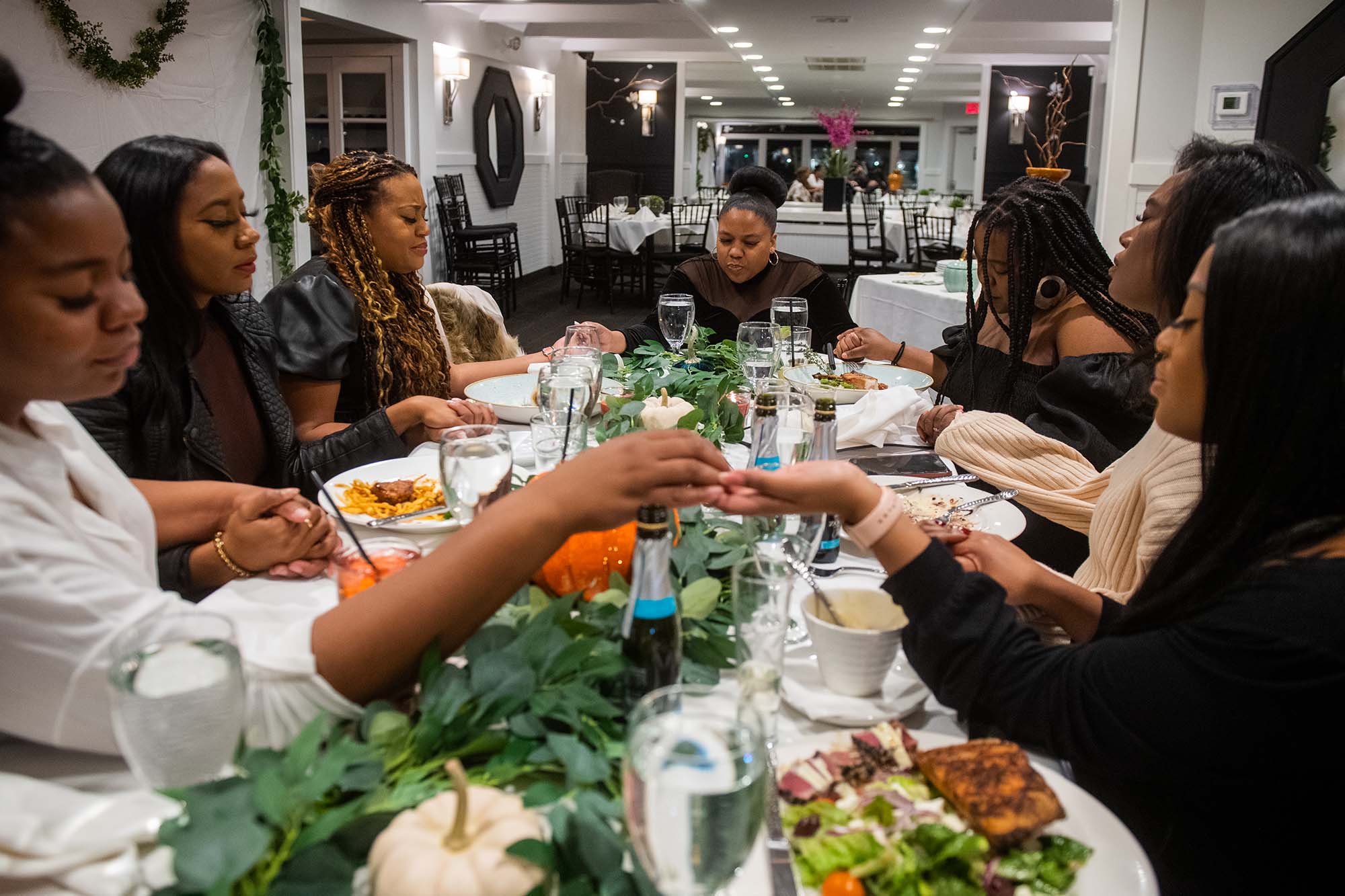 "I grew up in a Christian household, served within the church as a choir member, dance ministry leader, and director of Christian education over the course of my life. My faith has always been an important part of my life. As a child I remember my mother sending me to church by myself to ensure my relationship with God would grow during a season in which she was sick and could not go herself. During college it was important for me to go back to attend youth bible studies so I could understand more about the Bible. As a professional, I remember interviewing at BU, being asked, 'What do you do to manage stress?' and surprisingly responding without hesitation 'Pray. In overwhelming times I may take a deep breath, evaluate the situation, and pray to recenter myself. So if you see me step away to the restroom for a longer time, I may be praying so I can come back ready to tackle the problem as my best self.'
"My religious faith means a lot to me. That there is purpose in my being, that I do not walk alone through life, that I have a community of believers who I can fellowship with, that I am to be a positive example to others of what my God calls me to be, and in short, that all that I have is all that I need to be my best self and live life fully and abundantly, for I am blessed and favored in a special way. It means I am not perfect, but as I pray, praise, and push, I am progressing. It means, as the Bible says, I have been given a spirit of power, love, and sound mind, and with these three things I can make a difference in the world and encourage others to do the same."
---
Ray Joyce (Questrom'91), STH assistant dean for Development and Alumni Relations, Catholic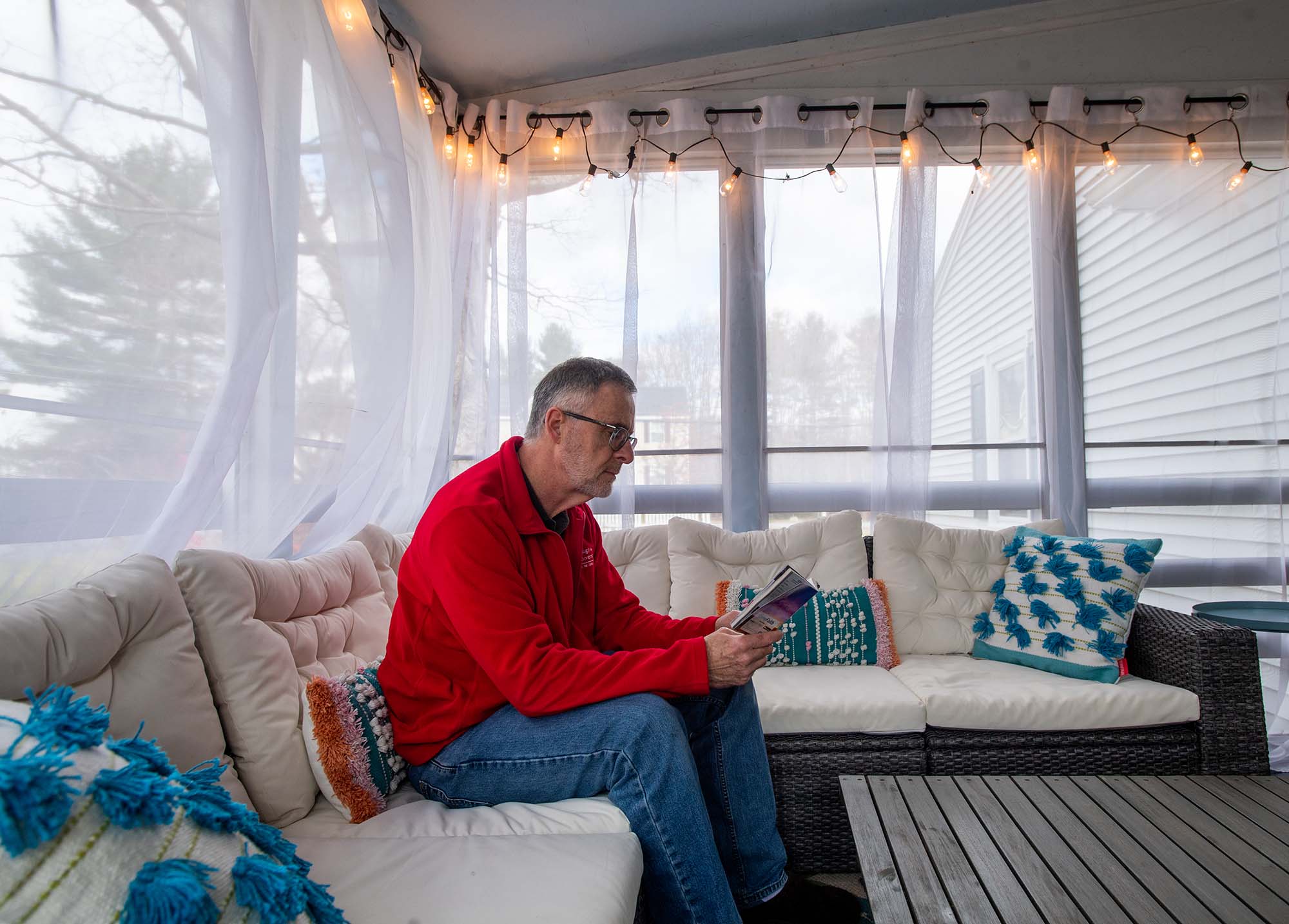 "My faith really means everything to me. It's how I live through each day, the good and the bad. In the current political climate, I find it's essential to keep centered. For example, when I hear people who are eligible, but refuse to get the COVID vaccine to protect themselves and others, a part of me wants to say: 'Then let them die,' but I know that's wrong. As it happens, today's reading in the Bible from 1 Corinthians 3:16 includes the words '…and the Spirit of God dwells in you.' As my daily reflection from Terence Hegarty (editor of Living with Christ) states '…not only does the Spirit of God dwell in us, but in everyone…' So I hold onto that and try to understand where someone might be coming from to reach such a conclusion as to refuse a potentially lifesaving vaccination. I act where I can to help others and our planet while also waiting with anticipation for better days ahead with a renewed sense of hope."
Mary Choe (CAS'24), Baptist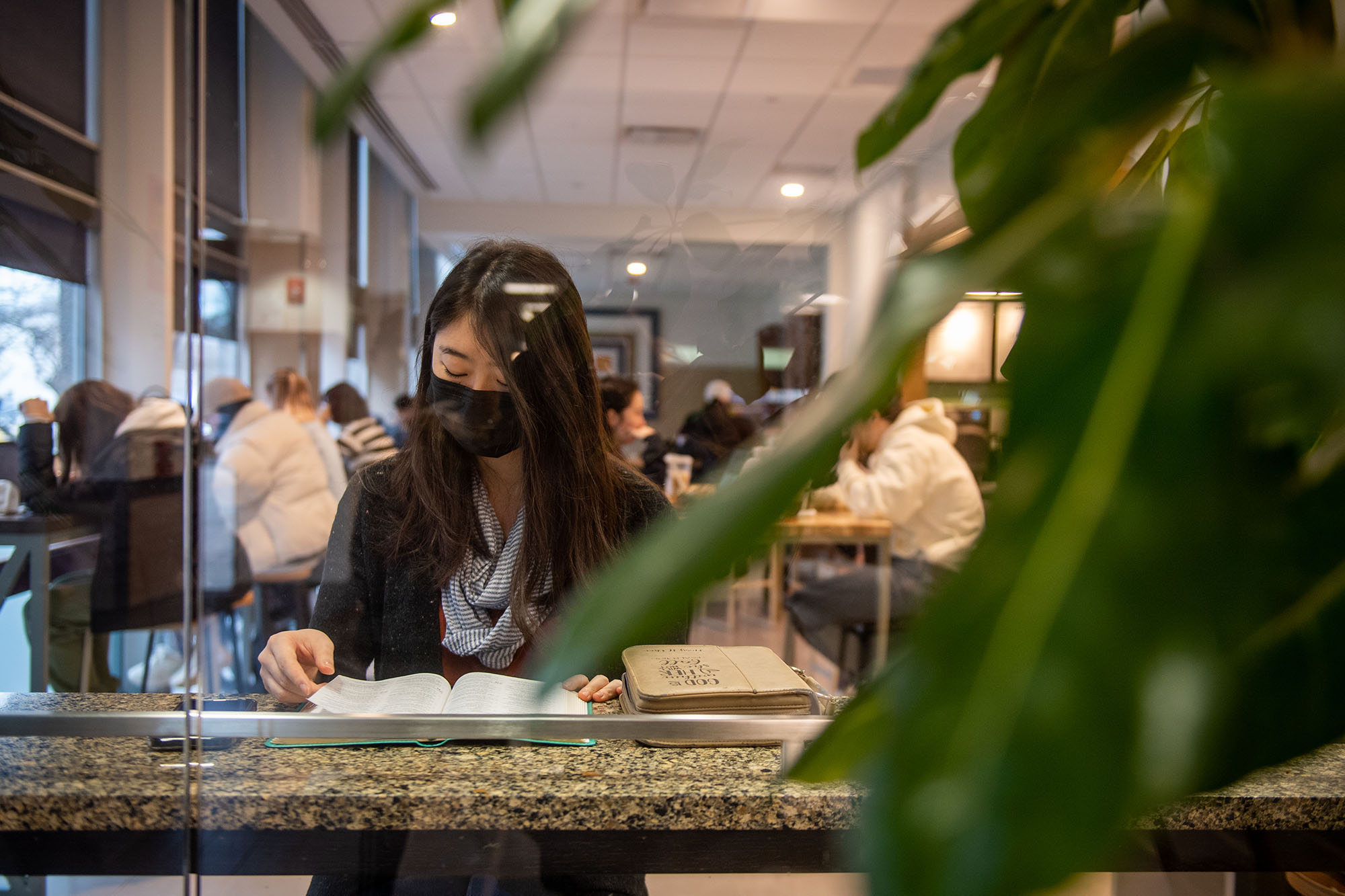 "Hebrews 11 states: 'Now faith is the assurance of things hoped for, the conviction of things not seen.' For me, faith is not some distant feeling, but a series of beliefs that lead to concrete actions. My beliefs are based on the words of life, light, and love I read in the Bible. Much like life itself, faith is hardly easy or linear. I have times of doubt, because admittedly, it's difficult to go against the flow of campus life. And since God is invisible, I often get distracted by the instant gratification of the here and now. I'm realizing more and more, however, that even my faith is less about me than about the object of my faith—which is not a concept or an idea, but God embodied in flesh, Jesus Christ. My relationship with Jesus is what makes my faith dynamic, filled with joys and sorrows, highs and lows, times of peace and serenity, along with fears, failures, and more than a little drama. But I take comfort in knowing I'm not on this journey alone. I have a cloud of witnesses walking before me and with me and many more examples of faith who've already walked this pilgrim journey. Living by faith is not a loud, showy display, but an assured, hopeful way of being. My hope is that I, too, can finish the journey of faith well and experience victory in Jesus Christ!"
---
Swati Gupta (SDM'23), Hindu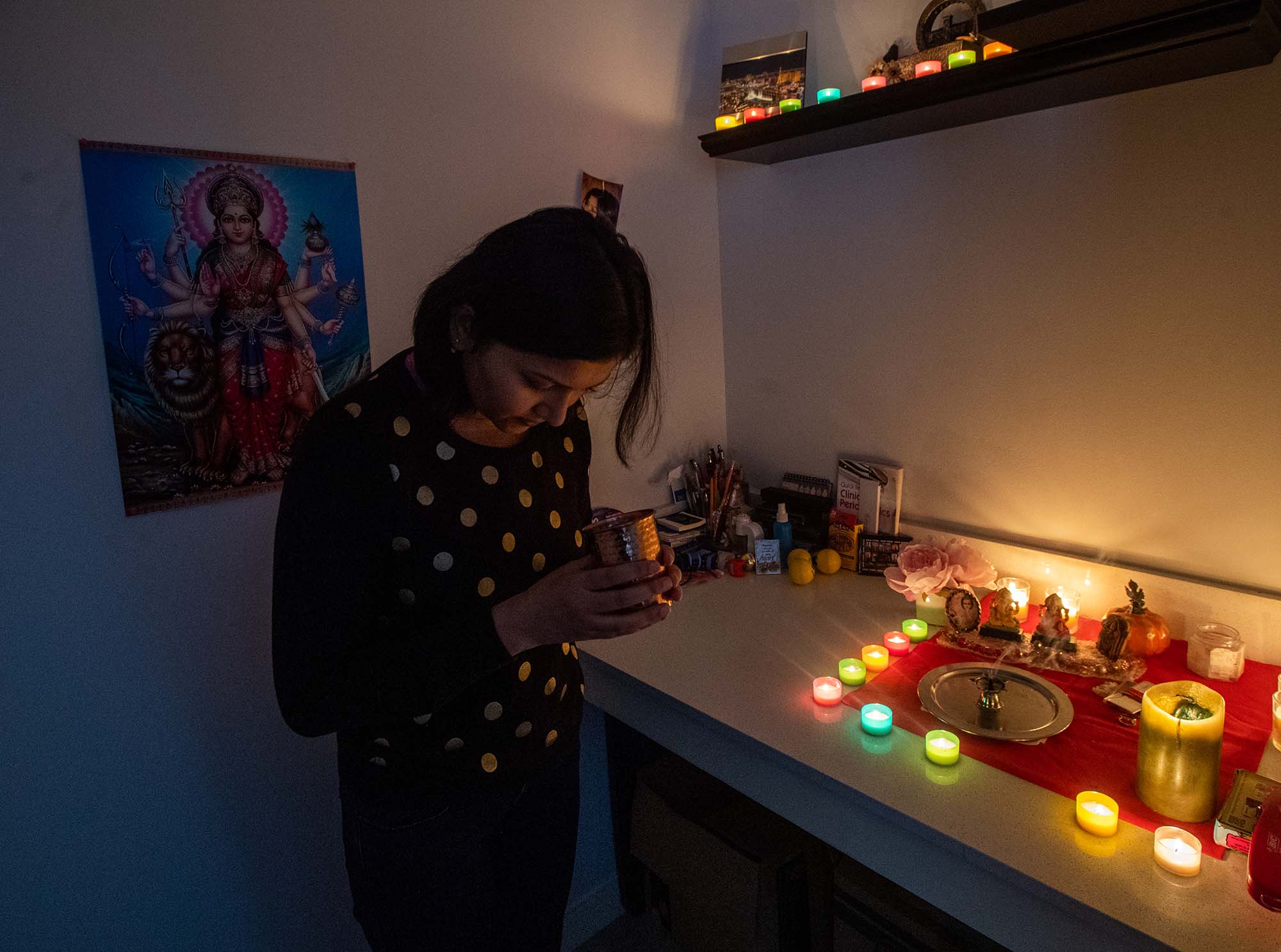 "The first letter of the word 'faith' is very important to me and that is what describes my belief. For me, 'f' stands for flaw. In our sacred book, Bhagwad Geeta, it has been suggested that being human also means being flawed. Lord Krishna says that humans will make mistakes because that is a part of their Karma. A person should not be merely judged by their act, but by the intent behind that act. For example, if a lie is said with an intent of harming someone, it is equivalent to 100 lies, but if that one lie saved an innocent person's life, then that lie is equivalent to 100 truths. I am not a religious person who goes to the temple every week or worships every day, because religion to me is not an act of worship, but an act of becoming a better person. My faith teaches me to make mistakes, be judgmental, have emotions of anger, but at the same time learn from those mistakes and accept if any wrongdoing was done. Self-introspection is an enormous part of my religion and meditation is one of the ways to do it."
---
Kristen Hydinger (STH'15), ordained minister and research fellow, Albert and Jessie Danielsen Institute, Baptist
"The faith in which I was raised and eventually ordained taught me that every created thing reflects a Divine image back into the world, that the created world is 'fearfully and wonderfully made.' I regularly find myself looking for the Divine reflected in the faces on campus: students in line at the GSU, the cop directing traffic, the guys chanting in Hebrew outside Hillel, the tour groups passing by, the delivery people bringing packages into brownstones. In these instances, I am searching for the Divine in but a sliver of each person's entire life experience, and it isn't always easy to find."
---
Kristian C. Kohler (STH'25), ordained minister, Evangelical Lutheran Church in America
"As a Lutheran, faith to me is a bold trust in the amazing grace of God. In short, God is love. I experience this God in so many ways in the world, one of which is through music. Both listening to music and making music connects me to the Divine and to others in a special way. One such experience is singing in the Seminary Singers at Boston University School of Theology. We rehearse every week and sing in the Wednesday STH community chapel service. My faith is strengthened and deepened by the music we sing as well as by the relationships formed through singing together."
---
Jonathan Allen (LAW'19), BUild Lab Innovator-in-Residence, Interfaith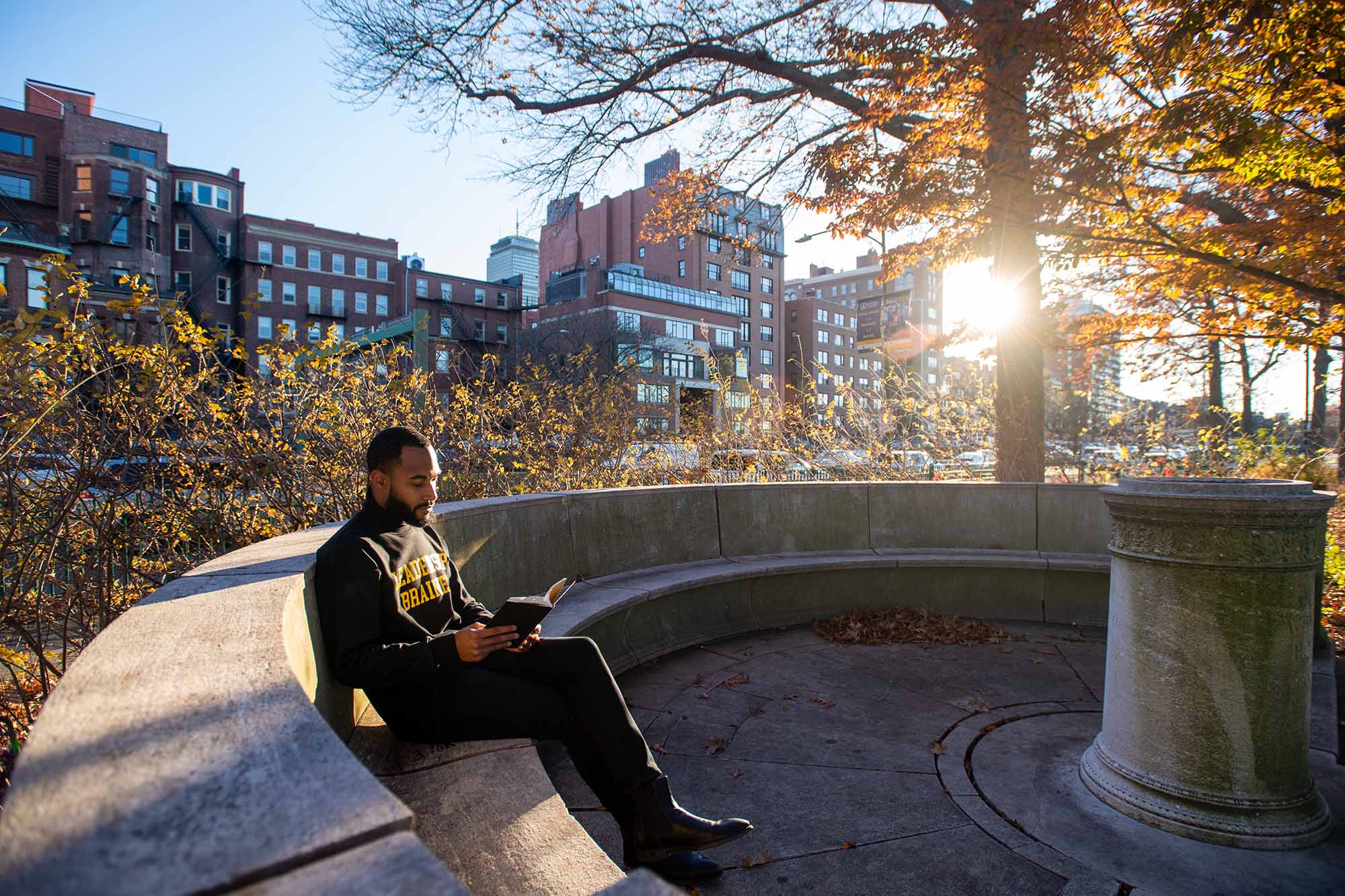 "As an interfaith leader concerned with social transformation, I practice taking care of myself by developing self-awareness, social awareness, and spiritual awareness. Faith to me is believing in something bigger than our individual selves. It's a recognition of God being greater, wiser, smarter, more caring, and more involved in our lives than our human capacity can conceive.
"Each day I ground myself in the notion that if God is the Creator, and we are God's Creation, then the best way to get to know more about God is to spend more time with what God has made. I believe that we need each other regardless of gender, race, ethnicity, national origin, socioeconomic status, sexual orientation, educational level, religious background, or even political party.
"Irrespective of our religious affirmations, God's love and heart for justice transcends doctrine. We have an obligation, a collective responsibility, to treat all living things with dignity and respect. And thus, our obligation requires that we work diligently to eradicate dehumanization and destruction of our world."
---
Kayla Marks (Pardee'23), Jewish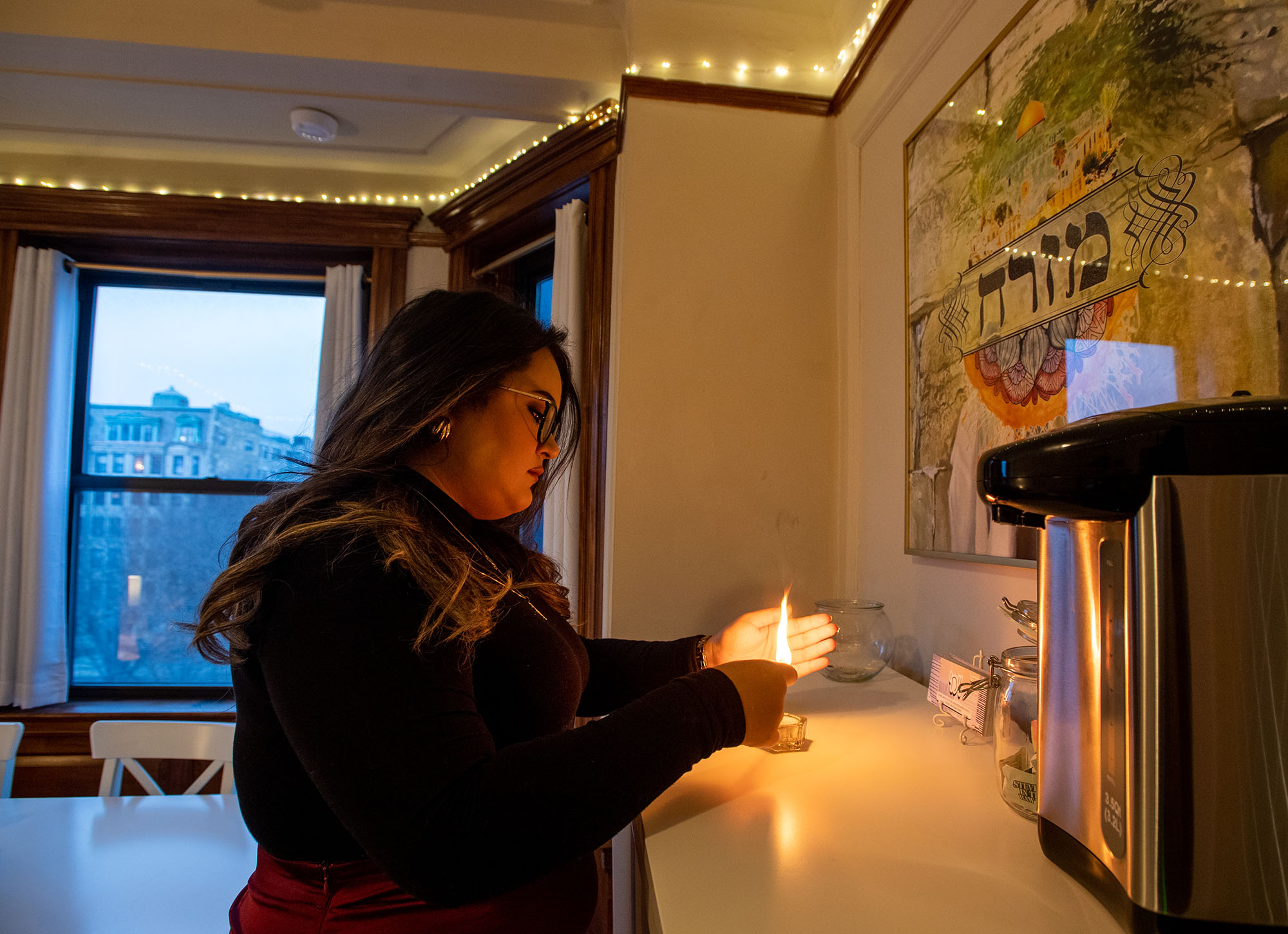 "My religion, Judaism, beyond defining my beliefs, provides me with guidelines for living a meaningful life. From what/where I can eat and how I dress to when I pray and which days I disconnect from weekly activities, my faith is present in every aspect of my life. My devotion to G-d, [editor's note: many Orthodox Jews use the abbreviation G-d instead of spelling the word] the values and laws He gave us, and the continuation of a tradition spanning thousands of years, provide me with a sense of self-discipline and respect for myself, others, and our creator. Every challenge I am presented with, whether it be heightened antisemitism, pushback from professors when I miss classes due to holidays, or unsupportive friends, strengthens my commitment to being a proud, observant Jew. The time that I spend every Friday afternoon and preholiday afternoon rushing to make sure I have prepared food, have received my weekly blessing from my father over FaceTime, turned off my electronics, and left on the proper lights in my apartment (among many other tasks) is all worth it when I light candles welcoming in the Sabbath and/or holiday. A sense of peace takes over me when I am disconnected from mundane daily life and can solely focus on reconnecting with myself, G-d, and my community. Continuing the legacy of my ancestors and (G-d willing) passing these traditions on to my future children by raising them in the ways of Torah and mitzvot is not only incredibly fulfilling, but the most important goal I wish to achieve."