Enrollment Now Open for 2022 First-Year Student Outreach Project (FYSOP)
Weeklong volunteer service program offers new students a chance to make friends and help others. Plus, you get to move in early!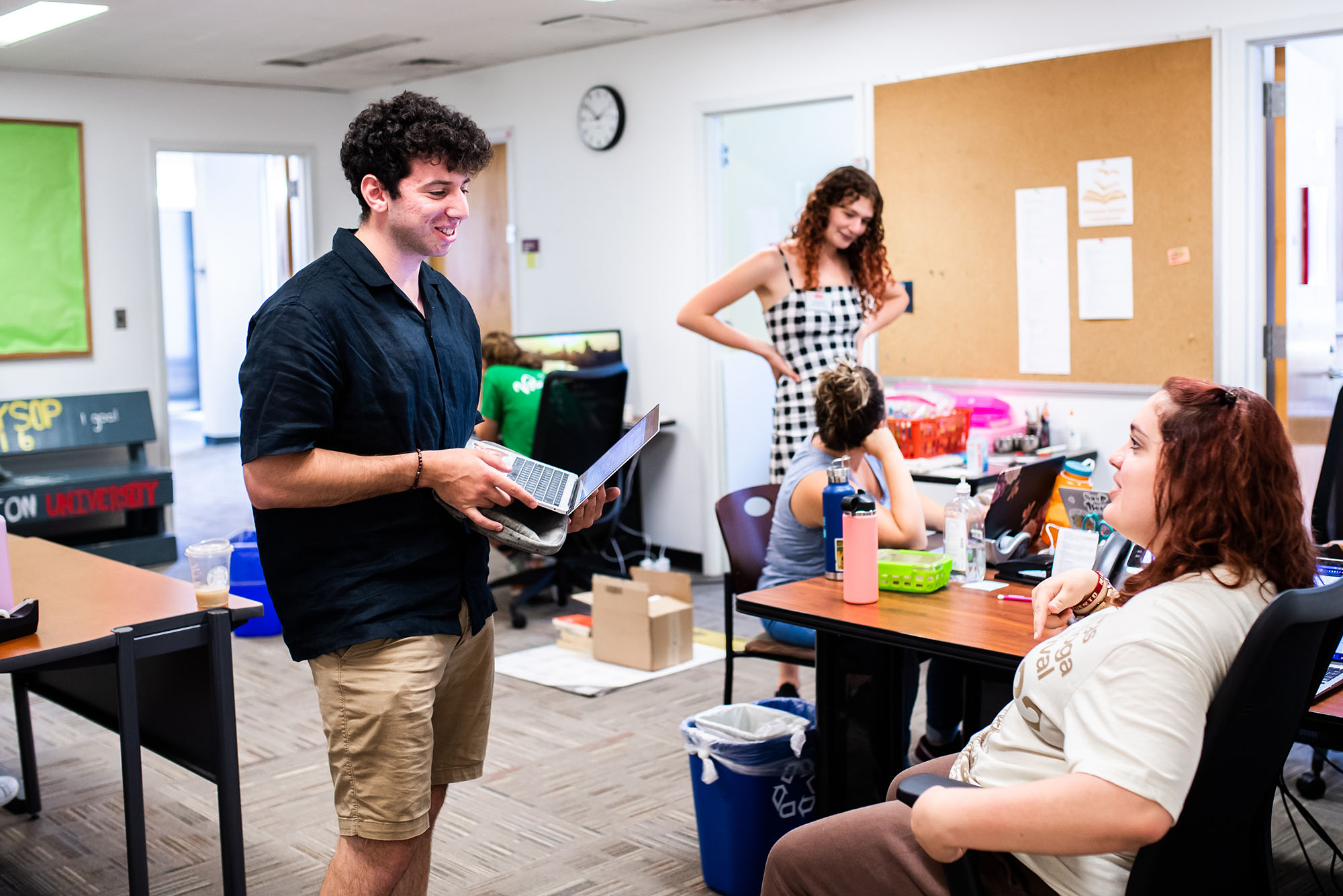 FYSOP
Enrollment Now Open for 2022 First-Year Student Outreach Project (FYSOP)
Weeklong volunteer service program offers new students a chance to make friends and help others. Plus, you get to move in early!
Emma Neary didn't volunteer for FYSOP as a freshman entering BU, which is kind of funny, because now she's running it.
"It's one of my biggest regrets," says Neary (Wheelock'23), one of two student program managers in charge of what is properly called the First-Year Student Outreach Project. "I didn't want to move in early. I was stressed about going to college. But it's so worth it."
Worth it how? Well, the five-day FYSOP program—August 29 to September 2 this year—welcomes entering students with opportunities for community service in and around the city and a head start in learning about campus life. And fun stuff like excursion night in Greater Boston. Plus, you get to move into your dorm a week early.
Register here via Eventbrite if you're already sold.
But Neary and fellow program manager Jacob Nesson (CAS'23) say one of the best parts of FYSOP is simply the chance to get to know other first-years in small groups before the whole big-urban-campus vibe takes over.
"It's so scary when you're 17 or 18 and it's your first week at college," Neary says. "FYSOP is just a wonderful program to get you feeling that you have people at BU."
"I really, really bonded with the other people in my group," says Nesson, who did participate as an entering student in August 2019. "My freshman-year friend group was basically me and the people in my FYSOP group and our roommates. Sophomore year I roomed with one of the people in my group. I consider those five people some of my best friends at BU. My college life would have been a lot different if I didn't do FYSOP."
Just ask Neary.
"This is such a visceral memory for me: it's my first week at BU, who do I go to the dining hall with? One of the most magical things about FYSOP is that after that Friday, you have Saturday, Sunday, Monday, and Tuesday until classes start, and you know who you're going to the dining hall with."
A long-running success
First launched in 1989 and run by BU's Community Service Center (CSC), FYSOP has been a highlight for thousands of entering students (the program is also open to new transfer students), attracting between 400 and 700 Terriers each year. Neary heard so many good things about it during her first year that she signed up as a staff leader for the next summer—and ended up working with Nesson.
The participating students are divided into small groups of 6 to 10, based in part on how they rank various social justice interests. The seven focus areas for this year's FYSOP are Community Initiatives, Education, Food Justice, Human Rights, Public Health, Sustainability, and Youth & Family Advocacy.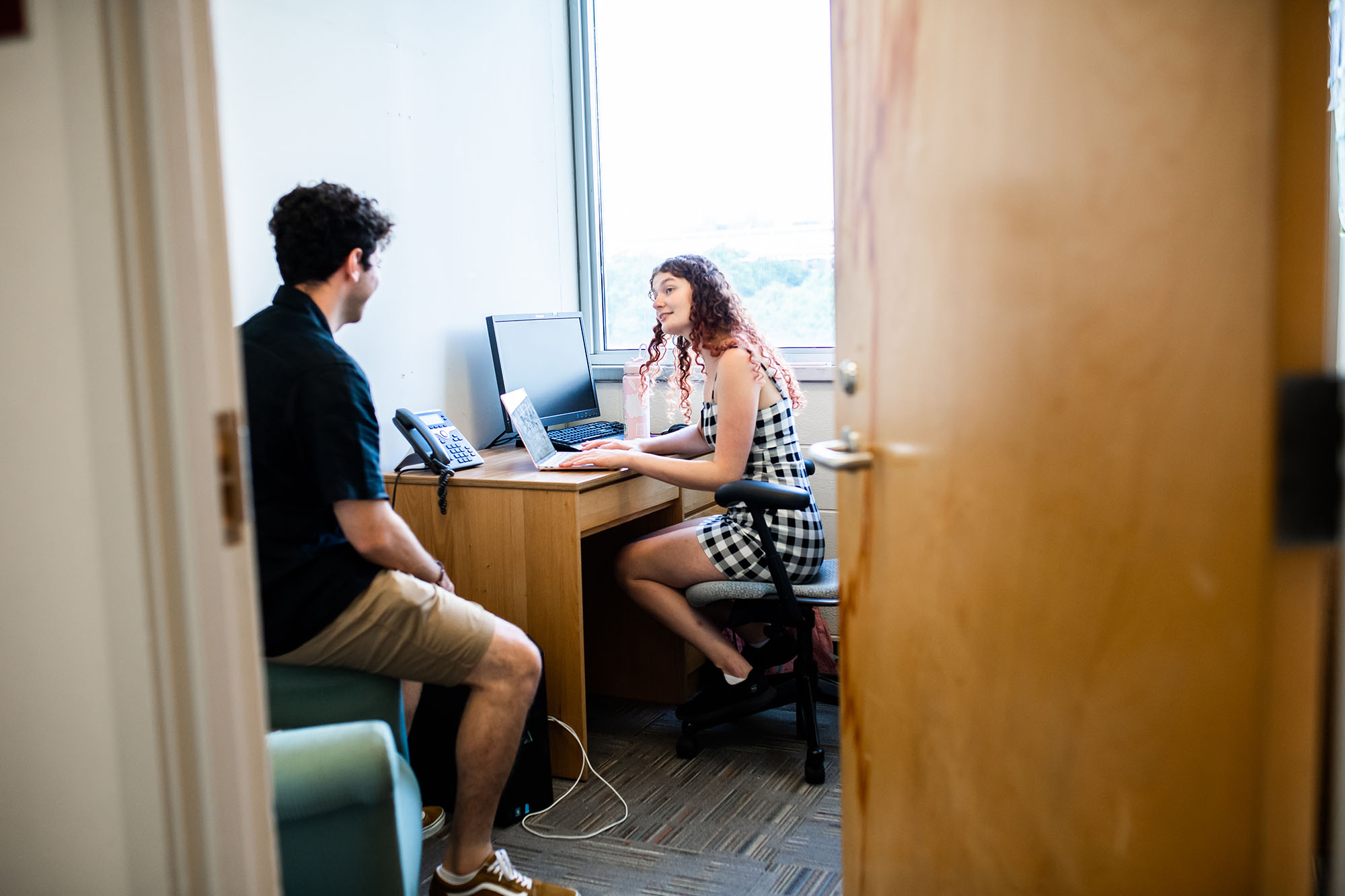 Each group spends the week together, along with two to four staff leaders. Team-building exercises and "foundational" learning about campus life, as well as hangout and discussion time, precede the Wednesday through Friday community service days, where students volunteer with local nonprofits in and around the city.
"People hear about it and think they have to be someone who loves community service and someone who is very reflective and neither of those things is true," Neary says. "You can be someone who's never done community service and learn what that is, and you'll also learn who you are as a student in Boston and how to make friends in unique ways. It's especially good for people in really large schools and colleges to meet people you never would have met otherwise."
FYSOP's primary purpose, of course, is to introduce students to community service and get them familiar with the CSC, which is on the fourth floor of the George Sherman Union and offers many other programs during the year.
Nesson looks back happily on his FYSOP service hours helping clean up a community farm in the Boston suburbs, preparing the Perkins School for the Blind for its own incoming students, and socializing with residents of an elderly housing site. "These are places I would never go, people I would never have met, if not for FYSOP," he says.
---

My college life would have been a lot different if I didn't do FYSOP.

---
The students mean a lot to the community organizations they visit, too, says Suzanne Ryan, director of volunteer services for Northeast Arc in Danvers, Mass., a FYSOP partner for many years. "They come [to BU] a week early and give themselves up for service, and I don't take it lightly," Ryan says.
Northeast Arc serves people with developmental challenges and intellectual disabilities, she says, and this year, FYSOP students will join clients for life skills classes, cooking, puzzles, and games—socializing being the most important part.
"Our folks are in a program center with staff, and many of them live in residential homes," Ryan says, "and when a group of students comes in it's just such a positive experience for them. Meeting new people is a big deal for them."
Did we mention the cheers?
Neary and Nesson have really enjoyed being staff leaders, even though 2020 was the year of COVID, when activities were all virtual. In 2021, they moved up to coordinator roles as many activities returned to in-person or hybrid formats.
"A lot of people were saying FYSOP was their first in-person experience where everyone was in one space, so it was intense and overwhelming," Nesson says. "I think a lot of people felt that sense of community for the first time in a while, which was really cool to see and be a part of."
Stepping up as program managers in 2022 was only logical for the two. They've got a lot planned. Did we mention the night with Boston performers entertaining at the GSU? The guest speakers? Or the festive opening and closing ceremonies? Or the cheering?
"We are a very big cheering community, but it's not like cheerleading," Neary says. "We have cheers that we teach to get each other pumped up, and we cheer all week long. I think everyone comes into FYSOP and the first time they hear a cheer they think it's cheesy, and by the end of week, they are really cheering too."
FYSOP is also open to a different kind of "first-year" student at BU. The program managers put transfer students in groups with other transfers, as they are likely older and in a different place than students entering BU directly from high school.
Find all the details at FYSOP FAQ. The cost to participate in the program is $450, but Neary and Nesson emphasize that scholarships are available for students who might find it difficult to come up with the fee.
"It's our mission to make sure that everyone who wants to participate can participate," Neary says.