Donate Your Old Clothes, Housewares during Move-Out
Sustainability initiative Goodwill, Not Landfill honors BU alum founder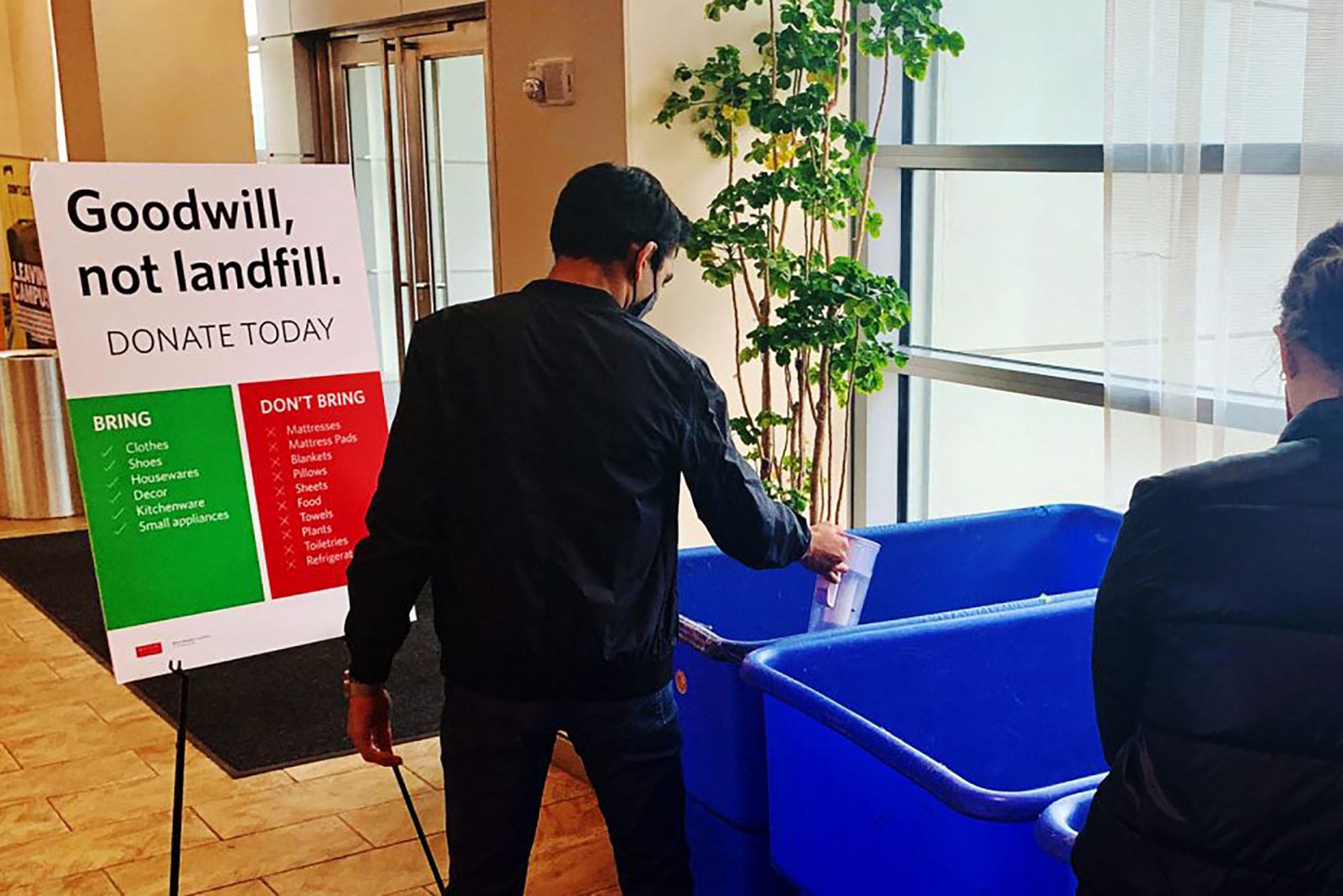 Sustainability
Donate Your Old Clothes, Housewares during Move-Out
Sustainability initiative Goodwill, Not Landfill honors BU alum founder
Are you stressing about how you will lug a winter coat, boots, and six sweaters across the country for that new job you just took? Are you moving in with new roommates and have extra coffeepots or Keurigs? Donate the items to a Boston-area nonprofit instead. It's easy, thanks to BU Sustainability's Goodwill, Not Landfill initiative.
Goodwill, Not Landfill diverts student belongings from landfills to promote environmental sustainability. Through May 23, students can donate clothing, shoes, housewares, decorations, kitchenware, and small appliances. Donation bins are located in every major residence hall, plus at 509 Park Drive and 518 Park Drive on South Campus and 890 and 1019 Commonwealth Ave.
"We're making a connection to students' well-being, in that your well-being is not just tied to your coursework or the student organizations you're a part of or the job you may have," says Lisa Tornatore (CAS'02), director of BU Sustainability. "Your well-being is tied to how well you can contribute to your community. It's also tied to knowing you're doing something good for the environment, as well as providing excellent resources through Goodwill to folks in the greater Boston area who are in need."
Goodwill was founded in 1902 in the Boston area by Reverend Edgar J. Helms (STH 1893). Students piling tons of goods into donation bins in their residence halls is a far cry from Helms going door-to-door searching for donations—according to his official Goodwill bio—to help a South Boston mission in the late 1800s and early 1900s.
The program saw 754 tons of items donated to Boston's Morgan Memorial Goodwill between 2009 and 2019, according to the Goodwill, Not Landfill website. James Harder, director of Morgan Memorial Goodwill's communications and public affairs, says the donated items are sold in stores and the proceeds help the company run social programs that help find jobs for people with barriers to employment. Specifically, it funds Goodwill's career center and workforce development program.
Harder says Morgan Memorial Goodwill values its relationship with BU, because beyond the Goodwill, Not Landfill initiative, the nonprofit also works with the College of Communication's student-run PRLab every semester. He adds that other Goodwill organizations across the country and beyond have looked at Goodwill, Not Landfill as a model for similar donation drives.
"The program we have here at BU is unique in that many universities have move-out donation programs, but they're perhaps less convenient because they're not in the residence halls," Tornatore says. "They might have a donation bin in a couple of locations outside on campus, but students have to plan for that in advance."
BU works closely with Morgan Memorial Goodwill to improve the initiative each year, which Tornatore says is a sign of how much Goodwill appreciates the program. The placement of the bins and signs is intentional, so that students see the option to donate for a few weeks before Move-out.
"It's an outlet for students to do something good with the community," Tornatore says. "We can think about how [Goodwill] started as a seedling idea here at BU and how it developed into this amazing nonprofit organization, and bringing it back home to BU."
Goodwill, Not Landfill bins are located in Danielsen Hall, Myles Standish Hall, Kilachand Hall, The Towers, Warren Towers, Student Village I, Student Village II, Claflin Hall, Sleeper Hall, and Rich Hall, and at 509 Park Drive, 518 Park Drive, 890 Commonwealth Ave., and 1019 Commonwealth Ave. Donations of clothing, shoes, decorations, kitchenware, housewares, and small appliances are accepted.