Big Papi Visits BU: "I Am So Proud of This Town"
David Ortiz (Hon.'17) tells a audience at Questrom about his love for Boston and what kept him going in 2004
Questrom Speaker
Big Papi Visits BU: "I Am So Proud of This Town"
David Ortiz (Hon.'17) tells an audience at Questrom about his love for Boston and what kept him going in 2004
Ahead of his induction into the National Baseball Hall of Fame on July 24, Boston Red Sox legend David Ortiz (Hon.'17) came to the Questrom School of Business Thursday to talk about his brand, forged out of a career as one of the greatest clutch hitters in the game's history. But it was events outside baseball that brought out Big Papi's emotions the most.
Host Susan Fournier, Allen Questrom Professor and Dean, asked about the epochal moment in 2013, just days after the Boston Marathon bombings, when Ortiz stepped to the microphone during a pregame ceremony at Fenway Park and issued a defiant, off-color declaration that sealed his legend: "This is our [expletive] city. And nobody's going to dictate our freedom. Stay strong."
"I was born and raised in the Dominican Republic," Ortiz, who became an American citizen in 2008, told an audience of more than 100 students at the Questrom Auditorium. "I came to the States when I was 17, and I am so proud of this country, so grateful and thankful that I came to this country, because this country gave me so much, I was able to give my family so much, give the country where I'm from so much, that I would do anything for this country, I am telling you right now.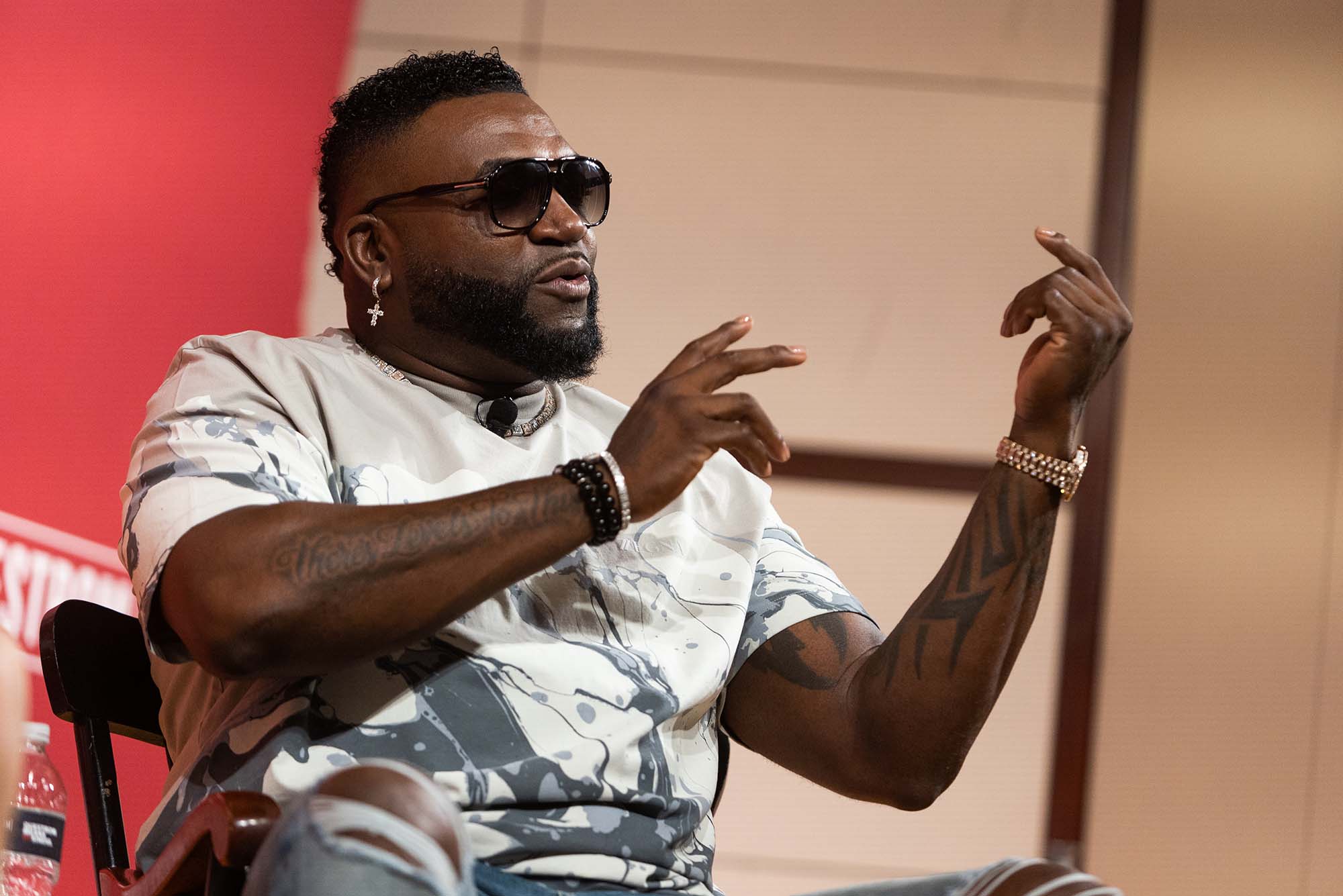 "And when that went down here, it felt like somebody stabbed me right in the heart," he said. "In this country, especially at the Marathon, especially in New England, where there is so much history, those bastards, what they did, that was something that really hit home for me.
"I think it was a time for someone to step in, bottom of the ninth, bases loaded, and win that game."
Stepping in to win the game at the ultimate moment was, of course, Big Papi's specialty. The kicker: his Fenway remarks were completely off the cuff. "They told me like five minutes before, like, 'Hey, we want you to go out and say something to the crowd.' I'm like, 'What?!'"
The Questrom crowd roared with laughter.
"I am so proud of this town," he concluded, "because after that, everything was legit, I have never seen people unite so fast like we did."
Ortiz was ostensibly at Questrom to talk about branding and his successes in business: as a commentator with Fox Sports, as a spokesman for Eastern Bank and many others, and with his own lines of cigars and wines. But mostly he demonstrated the personal qualities that make him so popular: he was heartfelt, serious, and very funny.
---

I think it was a time for someone to step in, bottom of the ninth, bases loaded, and win that game.

---
Red Sox fans in attendance may have been surprised to learn that the team's 2004 comeback against the New York Yankees in the American League Championship Series—when Ortiz smacked game-winning, extra-inning, elimination-avoiding walk-off hits on back-to-back nights at Fenway Park to lead the Red Sox to the greatest comeback in sports history and soon to the world championship—was inspired by…wait for it…
"A little animal. How do you call it?" Ortiz said, holding his hands about 18 inches apart.
"A squirrel?" someone said.
"A squirrel!" An old friend of Ortiz's called him up after the Sox lost their third straight to the Yankees, facing almost certain elimination. And that friend reminded him of a time when they'd played in the minor leagues and were waiting for a bus to the game. The friend started chasing a squirrel that was running around them, until he had it cornered, so the squirrel did the only thing it could—it jumped right on him.
"And I was like, 'What are you trying to tell me?'" Ortiz recounted, laughing. "And he said, 'You are the squirrel now. And you've got nowhere to go but jump on the Yankees.' And I am thinking, that's a little bit right."
In between the grand slam stories and the Boston pride, Ortiz, who was awarded an honorary Doctorate of Humane Letters at BU's 2017 Commencement, did have some advice for the students. He talked about discipline, dedication, and determination, and how wanting to be the best from the beginning can shape a career.
"You get to be a brand based on the things you do. At the same time, you have to have that personality in you," he said. "I'm outspoken, I'm very emotional, I don't hide anything. What you see is what you're gonna get. I try to be honest, I try to show people who I really am. That's what really works on the business side of things—you connect with people."
In 2005, Ortiz founded the David Ortiz Children's Fund to help children in New England and the Dominican Republic who lack access to pediatric services. At Questrom he spoke movingly of the many times he visited patients at Boston Children's Hospital in hopes of brightening their day. And it wasn't until he was hospitalized himself that he realized how much it meant.
"Two years ago something happened to me, and I had to be in the hospital for two months," he said, referring to his still-mysterious shooting at a nightclub in the Dominican Republic. "People came to see me and it made me so happy; they were like my eyes to the outside world."
Even Wordle seemed to celebrate the slugger's visit to the Questrom School of Business. The word of the day (spoiler alert!) in the popular online game was HOMER.