You Answered: Are You Ready to Start Living with the Virus?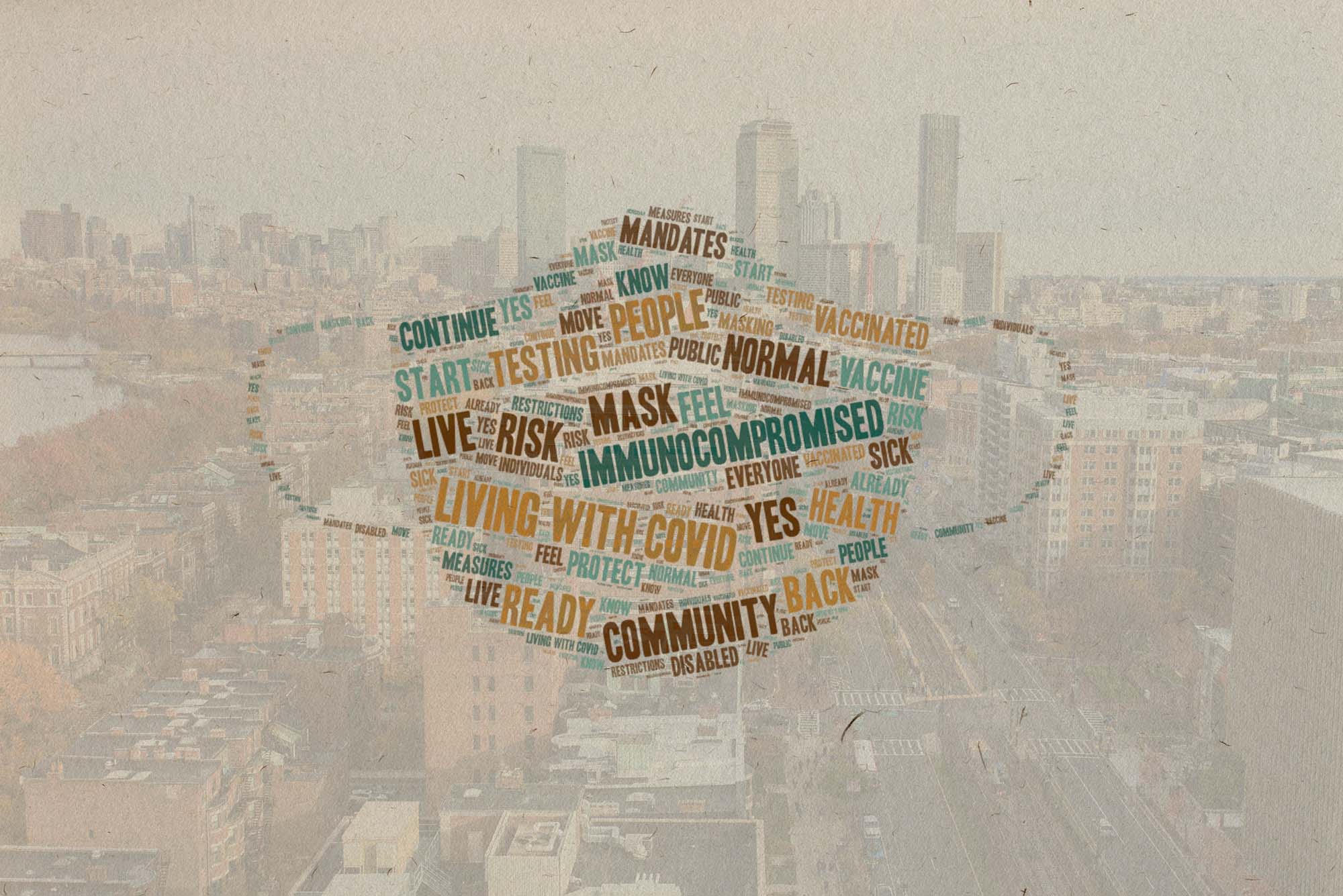 Community Voices
You Answered: Are You Ready to Start Living with the Virus?
Hundreds of responses poured in, expressing anxiety, worry, and hesitation, as well as elation, relief, and exhaustion
We posed a question to the Boston University community: As coronavirus mask mandates loosen or go away entirely (BU's mask policy loosens March 7), and vaccination rates seem to have plateaued, are you ready to move forward and live with the virus in our midst? We hoped to hear lots of opinions. If you are ready, what does that mean for you? If you're not ready yet, what's holding you back?
You didn't disappoint. Within hours, hundreds of responses came in from students, faculty, staff, and alums, as if we had poked a hole in a giant rain cloud overhead, unleashing a downpour of sentiments. "Yes. Back to business as usual." Others? "Absolutely not. People are still dying from this are simply not ready yet."
Scroll below to see what your classmates, colleagues, and friends are feeling. And remember—this is a complicated question with no easy answer. We've removed names, but identified people by their community status.
---
Yes! The virus is already living with us. It will continue to evolve and diversify, influenced by our immunity (infection- or vaccine-induced) and our ecology (transmission control measures), but remain near-impossible to predict. Living with the virus means that I acknowledge that both viral illness and transmission control have inherent benefits and harms, and that my personal impact on the global state of the virus is minimal. Living with the virus means that we should direct policies at reducing inequality (the main predictor of disease morbidity and mortality) and away from simple transmission control. Living with the virus means that we recognize the much greater existential threats to humanity are climate change and biodiversity loss, and should be met with much greater collective and policy effort than control of SARS-CoV-2. —ENG sophomore
Covid restrictions are making me lose my mind. As a college campus with a vaccine requirement, it's time we start weighing mental health consequences with health risks. Please. — COM freshman
I would have said no but after having contracted the Omicron variant and understanding the symptoms I am ready to live with it. Initially it was the fear of the unknown—what's the virus like? Does it result in long-lasting effects? I think the benefits to transitioning from pandemic to endemic and having a society that lives with it and returns to normality outweigh the costs. — IS&T developer
Society is made up of many different people, and the disabled, immunocompromised, and chronically ill members of society can't just decide to "start living with COVID" because COVID can still kill them. And to our the burden of safety on those individuals is ableist to the extreme as it privileges the abled. Disabled individuals have already expressed feeling forgotten by society as the pandemic continues, and things like dropping vaccine and mask mandates show that still to be the case. I, like many disabled individuals (who make up 1/4 of the world's population, not a small number), am sick of being forgotten. — CAS junior
I have been ready to start living with the virus since April of 2020, and indeed, that's what I've been doing. I've spent the last two years waiting for the rest of the world to catch up with me. Exercising, boosting my immune system, and yes, catching COVID. Three miserable days. Not fun, but I'll take it over living in fear. — CAS assistant director
I've already stopped taking precautions and live my life the way it used to be, traveling, visiting friends, going to parties. The pandemic is no longer seen as a threat anymore. — CAS freshman
I don't think we have a choice. The virus is here and we are here. We should, however, be vaccinated and boosted. We should also wear face masks as long as experts think they will help and where they think masks will help. — LAW lecturer
If you are asking whether I am ready to go back to doing all things the way they have been done before the pandemic, then the answer is no. The vaccine mandate and frequent testing, together with indoor masking when not alone, create a sense of safety. I could see combining any two of those three, especially while fast spreading variants like Omicron are around. I would not be comfortable with just one or none of these measures in place, because none of us live exclusively within a BU bubble and have countless other contacts in our daily lives. I am concerned about my own health as well as being the one who transmits the virus to someone else who could face a severe or deadly outcome. Same reason why I either drink OR drive, not both. — GMS assistant profesor
I will not be pretending that the pandemic does not exist and that it didn't kill my family members. I am not ready to start acting as if the pandemic doesn't kill the disabled, the chronically ill, the young, the old, the homeless, the otherwise vulnerable. Can you people stop pretending as if this will go away if we all stick our heads in the sand and ignore it? — CAS sophomore
I will be ready when there are almost no deaths from COVID-19. — SAR senior
I think a majority of the people who are going to say they are ready to live with the virus are the same people who have been too selfish to put in the work to stop the spread. This virus isn't like the flu or a common cold. There are otherwise healthy people who are dying, even with the vaccine, and I think it is unfair to decide to begin "living" with the virus when there is a part of the population who can't just "live" with the virus. It's selfish to exclude immunocompromised people from society because you are tired of wearing masks and taking covid-19 tests. — Questrom senior
Thanks to the vaccine, it *is* possible to rejoin public life, and we should, for our mental and civic health. In 2020, right-wingers pretended Covid was no worse than the regular flu, and they were dead wrong. Now, the virus largely* only sickens and kills the unvaccinated-by-choice. Sadly, only so much can be done about those people. (*I have an autoimmune disorder, so I get some of the lingering fear. And no, kids under age 5 aren't vaxxed yet, but that's coming.) Yes, we should be prepared to mask up in certain circumstances. Certainly, anyone should feel free to wear an N95 or KN95 mask at any time without judgment. And we should *all* take common-sense measures, like staying home when sick, keeping kids home when they're sick — even employers seem to understand that now. But it is not realistic to mask and avoid crowds forever. — ENG editor
I was ready to live with the virus in April of 2020 once we figured out the virus largely affects senior citizens and people with several comorbidities. College-aged students have never been at severe risk from COVID, and BU's policies regarding quarantine protocol, green badges, vaccine, booster, and mask mandates have been an absolute travesty. BU has fear mongered their students into STILL believing that they need to wear masks, OUTSIDE. I've walked past several incoming tour guide groups this week and every single person is wearing masks including the BU student employee leading it. Would you like to send me the science that supports this nonsense? — BU Senior
Absolutely not. People are still dying from this and it still impacts disabled & BIPOC communities disproportionately. We still have a collective responsibility to protect each other. — SSW junior
Although the virus is here to stay, we are not yet in a position to relax mask mandates. Most of our BU community has been vaccinated and boosted, but that is not the case in the rest of the world. As long as those in other countries are unable to access the vaccine, we will continue to see new variants arise. Rather than relaxing masking mandates, we should be working hard to improve vaccination rates worldwide. BU should continue its mask mandate at least through the end of the semester. — CAS lecturer
Yes!! Free the teeth!!! — Questrom senior
I personally feel that we're acting prematurely on these steps to return to pre-pandemic behavior, although I can understand why: we're burnt out in the face of another war and a burning planet. Many would say we're even traumatized by it all. But many studies show that 1/4 to a 1/3 of people that contract COVID will end up with indefinite symptoms of "long COVID," making this pandemic a mass disabling event. When this country isn't ready to handle a massive cut in their labor force, then, it only makes sense to maintain COVID safety measures until this disease reaches endemic status. This way, we're more likely to reduce long-term economic fallout. — COM sophomore
Not if by "living with the virus" you mean removing mask mandates and vaccine requirements that protect the most vulnerable members of our community (children under 5, the immunocompromised, etc). Even as a young, healthy, vaccinated person, COVID is not the same as the flu. The pandemic is not over. If we pretend it is, then we only have ourselves to blame when cases surge again. — ENG junior
No, I'm not ready to start living with it, I'm ready to live adjacent to it as I have been and will continue to do so. Masks provide no additional purpose when students are sitting in an enclosed classroom for hours at a time and socializing, maskless, outside of class. All students are required to be vaccinated and boosted, and a large portion have had the virus. We do not have a mask mandate for influenza or the common cold, which has become akin to COVID-19. At one point we must consider the majority over the minority, immunocompromised individuals have the ability to protect themselves against the virus, and at one point society will have to return to normal (within appropriate boundaries). For these reasons it is imperative that we remove the mask mandate, while still requiring vaccines and testing. — LAW first year
I think I am. I'm not expecting things to go back to the pre-pandemic normal, but I am hoping that we learn some practices from this that make us more sensitive to public health. The main thing that means for me is: continued testing (at BU at least), mostly continued masking unless I'm with people I know, but reopening most spaces. Testing will probably peter out after a while as well, but I'd be happy if it just became the norm in America that you wear a mask whenever you're feeling sick. That sort of post-pandemic world might be a world with fewer visible faces, but it will also be a world with fewer sick people, which is a trade I'm totally willing to make. — CAS sophomore
I'm only ready to start "living with the virus" if it means we are all actively participating in mitigation efforts and acting like the virus still exists. For many people, "living with the virus" feels like a carefree lifestyle where they might get COVID, might not, but they don't care! For me, I'm still worried and I still have people in my life who could become very sick, so I'm not ready to live with reckless abandon right now. — MED research specialist II
I am ready for the mask mandate to be lifted: I know fewer and fewer people by the week that are testing positive, and if the virus is becoming manageable, I think we should treat it as we treat other viruses. There is an inherent risk of getting sick by just going about your day, and given that hospitalizations have gone down so much, I think that we need to accept that risk as a new part of our lives. — CFA sophomore
Going to some public places. Standing closer, even hugging, trusted friends. Not incessantly disinfecting my area whenever someone comes in to sit or uses my desk. Not wearing gloves when handling student IDs. But continuing to wear a mask everywhere but when I eat or at home. — Residential Safety/Senior Security Assistant
Yes but if another variant comes up, I'll put my mask back on. I am still wearing them inside public places but will look forward to taking it off. I will discriminate where and when I wear them as mandates lift. — Research coordinator, Slone Epidemiology Center
It feels a bit premature to me. The current variant does not seem to represent a significant death threat to vaccinated individuals, but I think it is a mistake to assume that this is the last variant – and that future variants will be less of a threat. Last I looked, the death rate is still high. (Boston reported 133 new confirmed deaths yesterday, 2/23 according to the Boston Globe). I also think about my yet-to-be-vaccinated 4-year-old grandson, and don't want to bring the disease to him. I realize we are all tired and frustrated with the disease – and that it has caused a lot of stress, anxiety, and mental health challenges across our community. But I still feel that we should move cautiously so we don't find ourselves facing yet another surge from a new variant. — Questrom lecturer
Yes. As scary as it is, I think our hospitals are more equipped with pharmaceutical interventions and understand how to treat COVID-19, and there is now a vaccine that people can receive to take additional steps to protect themselves. Masks are still able to be used for another layer of protection, but I don't think that mandates are appropriate anymore at this stage of the virus. — SPH junior
Absolutely not. There are immunocompromised people on our campus and in our community that would be severely impacted by the loosening of COVID protections. There is still much unknown about this virus and it feels imprudent to lift restrictions. Living with COVID, for me, would mean a higher level of vaccination globally, consistent messaging from the federal government about the risks of COVID, and robust treatments for immunocompromised people. I recognize the difficulty COVID protections place on individuals, but this is the time to think collectively and protect our most vulnerable community members. — Assistant director, Office of Financial Assistance
Yes. It's time. We have made significant scientific advancements to prevent further deaths. I didn't wear a mask before the pandemic and I expect not to wear one long after it ends. — Questrom senior
No—I think lifting of mask mandates is premature. What does "living with the virus" mean to me? We live with viruses all the time, but those are viruses that are seasonal and do not cause significant long-term effects on our bodies. That's not the case with COVID-19 yet. So to say this for this virus means that people are allowing their impatience with mildly annoying avoidance strategies (like mask mandates and testing) get the better of them. We are a stupid species. — CAS senior lecturer
The "Tools phase" of the pandemic has begun. We have the tools: Vaccinate, Boost, Test & Mask when required, or when the risk level is too high. I live in the city of Newton and have a child in the high school. She has missed 0 instructional days, because the school is 95% student vaccinated and teachers 100%. She had a full varsity swim season, with no meets canceled. No outbreaks on her team. I'm living my life and my family is too, but with caution and good care. We need to start to build back our muscle memory as it relates to compassion for others. Perhaps if we begin to live our lives more fully, that will show the unvaccinated that lives are being lived, and they may consider – finally – vaccinating for the good of the community. — Wheelock adjunct professor
No, I was boosted and became severely ill with COVID in January. No one should have to go through an illness that intense. We should continue to do things to protect one another like distance and wear masks. — GRS junior
Yes. There has been an overreaction to this "pandemic" and people need to be allowed to live their lives. The general public should not be mandated to cater to the terrified few. Accommodations should be extended to those individuals, not the other way around. We've lived with the flu forever. Why can't we do that with this too? Mandates and masking is not a proportional response, especially when greater than 60% of current hospitalizations are from vaccinated individuals. Vaccine or not (just like the flu) people will still get it and it has a <.01% death rated. — ENG junior
I am ready to be on campus without masks. But living with Covid means hybrid work and being ready to mask up when the next wave comes. — GSDM HP & HSR, Instructor
Ready? We are living with the virus. At this point, everyone that is going to be vaccinated is vaccinated. We need to trust the science and move on. — Scene shop manager
I am not a pessimist but I think relaxing the wearing of masks during the winter season is risky. We should continue with the fight now that we seem to be having an upper hand over the pandemic. Notwithstanding my views, I respect the scientists, they know best whatever they say goes for me. — CAS senior
Haven't we already been living with the virus? We've had the virus twice, it's indistinguishable from a head cold. As a family we've moved on long ago. Very ready for BU to institutionally move on and stop testing, remove mask mandates and stop forcing isolation. — CAS assistant professor
I am absolutely ready. Yesterday, in a class we got to go outside, and for the first time I saw my professor and classmates wearing no mask and it was a beautiful sight. Everyone was smiling and commenting on how different we all looked. It added this new layer of connection with them that I hadn't got to experience before. I can't wait for this to be the new norm and to experience life the way it is meant to be lived. — CGS freshman
Because the vaccine is generally accessible to the BU population, and because the mildness is extremely higher with the vaccine, it doesn't make sense to keep disrupting life because of what feels like a common cold. — COM junior
I think the whole concept of "living with the virus" is utterly abhorrent. Not only are disabled and immunocompromised people not able to choose to "live with the virus", but no children under the age of 5 are vaccinated, and children have consistently been shown to be at risk for severe COVID cases. All of these people deserve to participate in society to the same extent as everyone else, and their ability to do so is directly predicated on the measures the rest of us take to limit the risk of transmission in public spaces. Furthermore, even fully vaccinated and boosted people can go on to develop severe lifelong disabilities, so "living with the virus" means choosing to condemn people to a life of disability in a country that even before the pandemic actively made it difficult for disabled people to do just about anything. — GRS sophomore
Yes, I am ready to start living with this virus because the alternative- forever living in fear of it – is not okay. I will wear a mask in situations that feel it is warranted (large gatherings, around my elderly relatives). I plan to continue with other precautions depending on the situation, but I would like to be the one making the decisions rather then following blanket mandates. Most importantly, I would like to see our students have some normalcy again. I hope for them that the mask mandate will be lifted and weekly testing discontinued. — Kilachand Honors College administrative assistant
We have been living with the virus. I don't think that means it's time to cast aside all safety precautions and just let it be the worries and problems of the at-risk population. Everyone talks about getting "back to normal" but that will never happen again. We need to find a more empathetic future where everyone can live safely and happily. If mask mandates go down in Boston I personally will have to choose between my job and my health. I work in foodservice and its already so hard to deal with the stress of possible exposure from those who are more careless, if mask mandates go away that risk will increase even more. I can only hope that once I graduate I can get a less public-facing job and have some level of protection, especially if the world is deciding to "move on." — CAS senior
I am ready to start living with the virus. To me, this means continued caution when feeling ill (calling out of work/school, wearing a mask in public) and continued support by employers/schools for engaging in these safety measures (because people cannot practice pro-health behaviors without a system that supports them in doing so). Additional accommodations for such pro-health behaviors (virtual/remote learning and meeting) should continue for all students/employees who wish to engage in spread-slowing safety precautions, regardless of the illness they may have. Such responsibility on behalf of the system and the individual should allow for the removal of all public mask mandates, vaccine mandates, or other policies that are not/have not been in place for other common illnesses. — SSW senior
No. It means that older, disabled, compromised immune staff become second class members of the university, the way they are second class members of society. The idea that we risk the lives of those who are most impacted by Covid so that the people least impacted by Covid can go back to "normal" is ableist and classist. — COM part-time faculty
I am cautiously ready to "start" living as I trust science and medicine. However I think it will take some time before I feel even remotely comfortable in a packed/full space – whether that's public transportation, in a classroom or in the grocery store. I do think that workplaces and schools should still offer a hybrid option because there are a lot of situations that families have where health risks pose a huge concern (like my parents!). We've proven we can be effective at remote and hybrid learning so why can't that be our new norm if it accommodates everyone at their own need? — BUSM senior faculty
I don't think anyone can sanely live with the virus. I know I'm prepared to wear my mask to keep myself and those around me safe but as of now I can barely remember what it was like pre-pandemic. I get anxious when people come too close to me and sitting next to a stranger feels strange. Oftentimes seeing someone without a mask makes me upset. However, people are not doing what they need to do to help fight this pandemic and at the end of the day I am willing to stay inside, wear my mask, and do whatever I can do so that our younger generation do not have to live like this. — SAR freshman
Yes, but I will still wear a mask indoors during the winter season in certain settings. This will help protect me from respiratory pathogens. — Pathology professor
I want there to be more flexibility with school and the virus/future viruses. LFA was really beneficial because it allowed students that wanted/needed to be in person to do so, but it also allowed students from further away, or from lower income backgrounds, to live at a much lower cost, such as with a family member or a less expensive area than Boston. If BU really values equity, they need to realize that the rising costs of education already puts lower income people at a disadvantage, and forcing them to move to an expensive area makes it that much harder. PLEASE bring back LFA, especially in graduate programs. We really need the flexibility! — MET junior
I think I will forever wear a mask in public because I have multiple comorbidities for COVID. But I'm still not as afraid for myself as I am for my friends and acquaintances who are immunocompromised. Society has shown with the push to normal that it really doesn't care about disabled people or other vulnerable communities. Especially when those who refuse to get vaccinated claim it's okay b/c it's their choice, but they're really taking the lives of disabled people into their hands. Disabled people are talking publically all over the internet about how they feel their lives don't matter. Add to that the fact that long COVID is a disabling event and now there's going to be SO many more people in this group that society has proven it doesn't care about or want to protect. — Alumnus
Absolutely. There is no such thing as ZERO RISK. Actions such as getting booster shots, along with taking additional precautions if/when there may be future surges helps mitigate risks. But during periods where COVID presents lower risk, I'm willing to accept the risk if it means no mandates of any kind. — Alumnus
I am not ready to start living with the virus. I am not ready to return to "normal". I am not ready to give up on public health measures. This pandemic has taken an enormous toll on my mental, physical, and emotional health. It has put a strain on my relationships and has increased the stress of being in school, which was already unhealthily high. We are all tired of the pandemic, but I strongly believe we cannot and should not give up. Wearing a mask may be uncomfortable, yes, but it is a key preventative measure. Regular testing may be inconvenient, but it's worth it. I don't know my classmates' lives and they don't know mine, yet our lives depend on one another. A classmate's weekend activities could result in my being infected with COVID, and vice versa. Regular testing and mask wearing is a must. No if, ands, or buts about it. — SPH freshman
"Living with the virus" sounds like we should be ready to consider it as no big deal. Most of the focus seems to be on the mildness of symptoms at the time of infection and the ease of spreading it. But a disease that leaves some people fighting to recover normal function for weeks, months, or indefinitely is not something we should just accept. Until we know how to predict who is most at risk of long COVID and can treat those symptoms, I don't think this is a disease we should regard on the same level as the common cold. Of course, if a disease that has killed over 966,000 Americans couldn't get us all on the same page then there's little hope that we'll band together to avoid a long-term affliction with such a wide range of effects and severity. — ENG junior
No. School settings are cramped and stuffy and I would not feel comfortable in them without masks and testing. "Living with the virus" is a frustrating phrase originally peddled by the same folks peddling medical misinformation that has prolonged this pandemic. Regardless, to the extent we choose to "live with the virus," we must continue with basic, non-disruptive mitigation measures like masking and regular testing. Proceeding without these things is not "living with the virus" but pretending that the virus doesn't exist, and will put students at risk. Disabled or immunocompromised students will be especially at risk considering the abysmal response they have received from the university and the hardships they have endured trying and failing to achieve reasonable accommodations from the institution which only seems concerned with money. — LAW second year
I have a toddler who cannot yet be vaccinated. The existence of this group of humans, and the large number of families with young children, has been repeatedly ignored by people talking about Covid-19 and how things are "normal" because of vaccination. The idea of mask mandates disappearing is rather troubling. Every time I think about doing something simple, like bringing my toddler to the grocery store, I have to do so many mental calculations about his safety. Mask mandates disappearing makes things that much harder. If we had not had mask mandates in BU classrooms this year, I really don't know if I would have chosen to teach. — Part-time instructor and research assistant, Wheelock
No, not really. For most healthy, abled people, the virus won't be a big deal if they're vaxxed, but it's pretty ableist to assume we can relax our protocols and act like the virus isn't still among us just because *most* people don't suffer that much from getting the virus. It's still an issue for a lot of people and it's a huge issue for people who are chronically ill. It's our duty to continue to stay vigilant to protect our community. — CFA freshman
Yes. Masks are still a hindrance and many states have seen success without them. — ENG freshman
It is time to move on. Everyone who has wanted to get vaccinated and boosted has (BU has mandated it). Continuing to test people with no symptoms is also a waste. It is time to move on. One can get any other sickness or get hit by a car or the T on the way to class. We do not need to still be forcing people to live like it's April 2020 at this point in time. — Questrom senior
"Living with the virus" is a vague phrase that has come to mean "drop all public health preventive measures." No, I am not ready to drop all public health preventive measures. Widespread transmission of SARS-CoV-2 will continue to result in death, illness, and disability, for everyone and particularly for the socially and medically vulnerable. Widespread transmission and infection also provide opportunities for the virus to mutate in unpredictable ways. There is no evidence that widespread transmission of SARS-CoV-2 will result in long-term immunity or less-virulent strains of the virus. The responsible path forward at BU is to continue regular testing, use of high-quality masks, vaccine mandates, support for sick and caregiving community members to stay home, and opportunities for hybrid participation. — SPH sophomore
ABSOLUTELY – no masks, no testing, no restrictions, no guidelines. — Questrom junior
Yes, we can move forward but mask mandates still need to be up. Masks should still be required in crowded public places and on public transportation. — MET junior
I am ready to start living with the virus in the sense that I want to be doing all the fun things I can do as a senior in Boston without the guilt or fear of doing something wrong. I think we are seeing many things begin to loosen and operate in pre-pandemic ways. While I am fortunate enough to be healthy, I understand that everyone is not. Even though someone like me would not be scared of getting it, I also understand that not everyone has this situation. So while I personally am ready, I certainly understand the many reasons not to because we must still look out for each other. — CAS senior
Yes. We are all boosted. No masks mandated. Just if you personally want to. Symptomatic testing only. — Staff, Sargent College of Health and Rehabilitation.
While I do trust human ingenuity and technology, I believe that COVID-19 will always be smarter than us. Just like the flu virus, it will likely circumvent complete vaccination for years to come due to mutations in its genome. I believe we should begin to embrace this new normal. While we should continue to protect vulnerable individuals, we can't live with masks on our faces forever. — CAS freshman
Yes, absolutely. I think that we should learn from New York and remove mask mandates. It would mean I get to live a more natural life, with things being back to normal again. Not having to wear a mask would make a huge difference when I go to the gym. It would also make a huge difference in being able to see the full appearance of people. — Questrom junior
I'm looking forward to when the vaccinated can go without masks in the classroom and other everyday contexts. It'll be so much easier to match my students' names to their faces when I can see more than just their eyes and foreheads. I also personally find masks sweaty and annoying. I've been willing to tolerate wearing them these past two years as a needed public health precaution, but once the risks of COVID begin to approximate that of other endemic diseases (and I think we passed that point some time ago), I'm off the train. — CAS associate professor of linguistics
It is long overdue that we embraced the Covid-19 virus as just another virus in our midst. In my mind, the risk for me ended once I got vaccinated in Spring 2021. I feel absolutely no need to wear a mask on this campus or anywhere else in the City of Boston, and haven't for a long time now. Boston University should immediately drop its indoor mask mandate. Those who wish to, or need to, wear a mask should continue to do so without judgment. This is long overdue for a community of 95%+ vaccinated individuals. To this day, I do not recognize many of the students in my department. I have never seen the faces of many of our student employees! Release us and allow us to take confidence in the vaccinations and in one another. — CAS financial administrator
Realizing that the willingly unvaccinated are never going to change their minds (unless they are hospitalized), and that they make up enough of the US population to prevent herd immunity, then we must learn to live with Covid. We have no choice, as it has been forced upon us. Let's hope that as the Omicron variant continues to decline, that a more deadly variant doesn't rise up. We were lucky that Omicron was less deadly. Imagine if it was super contagious. — IS&T, senior automation administrator
I'm tired of watching people who barely cooperated with the most basic of measures in the first place attempt to strong arm the entire group into giving up altogether. I've patiently waited, gotten my vaccine doses and booster shot, observed all of the guidelines, and tried to model good behavior to my friends and family as they revealed themselves to be believers in magical thinking rather than the scientific method. The pandemic is not over, but we missed our opportunity to stop it before it became endemic. At this point, I'd prefer not to automatically know that someone disregards my safety and well-being through a casual glance at their face. — Desktop support specialist
No. My wife is immunocompromised (and I have conditions that put me at higher risk for severe illness). We don't know if she's protected at all, despite getting four vaccine shots. To us, relaxing now may be no different than relaxing before vaccines were in place. I get wanting to return to normal, but it essentially says "oh well, guess it's time to see if this is something you'll survive or not. We're tired of protecting you, so good luck, hope you don't die." — Staff, College of Arts and Sciences
We kind of already are! Though long covid and lung scarring still scare me, and I'll be keeping my guard up. — Associate director, ENG career development office
Unfortunately, yes. When people refused to wear masks or get vaccinated I began to resign myself to this reality. However, I hope that one day we can live without COVID-19. — GRS junior