Class of 2026 Hopefuls: BU's Largest Applicant Pool Ever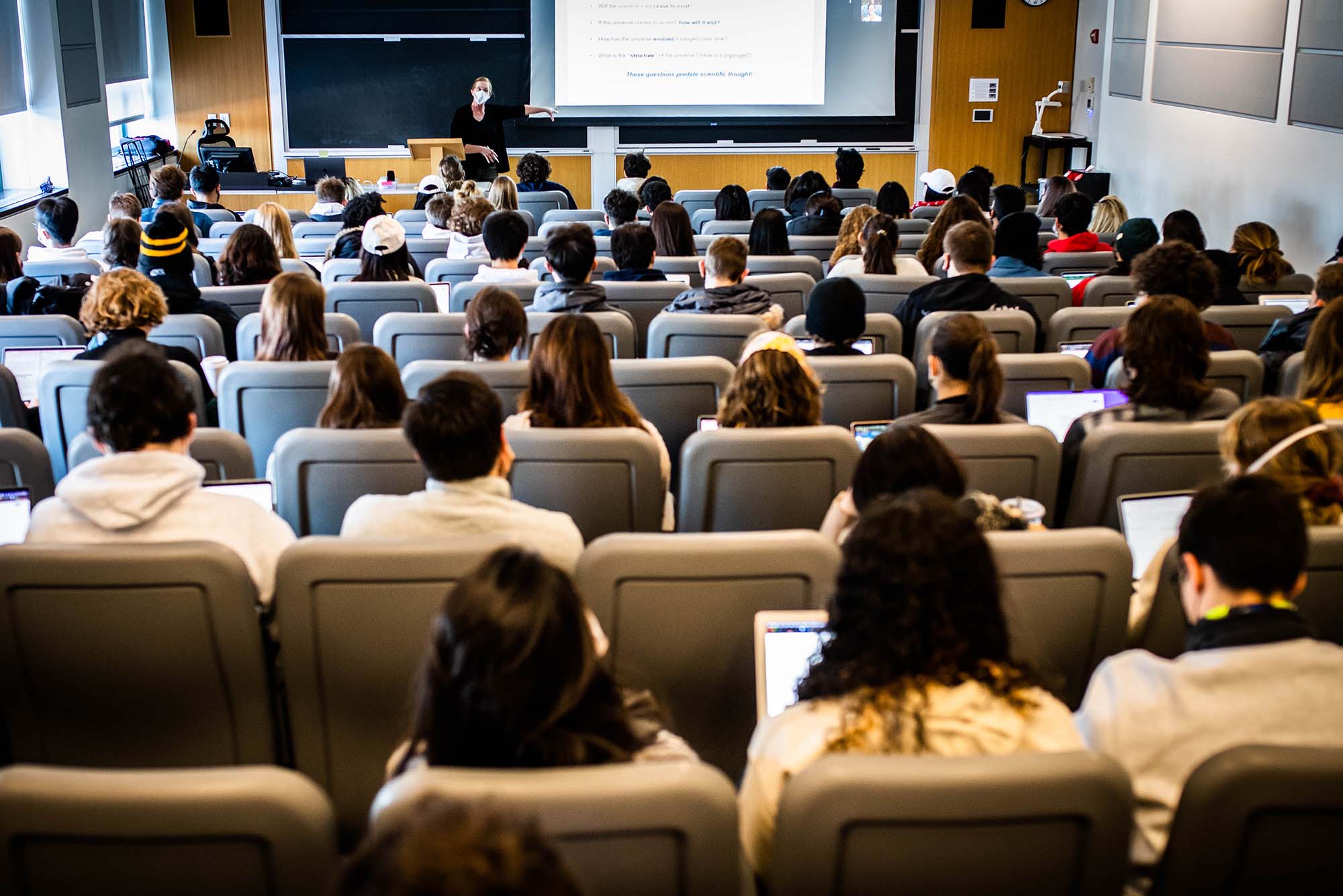 Admissions
Class of 2026 Hopefuls: BU's Largest Applicant Pool Ever
Number of underrepresented and first-gen students increases significantly, early decision applicants up 11.5 percent   
Danicka Joseph knew her college destiny a lot sooner than many of her high school peers. Joseph applied for early decision to Boston University and learned in January that she had been accepted to BU's Class of 2026.
"It took me a few minutes to process when I heard that I got in," says Joseph, who was also named a QuestBridge Scholar (a well-respected nonprofit program that matches high-achieving low-income students with colleges around the country). "I was in pure shock. I was at school so I told my teachers and college advisors first, and I made a lot of people cry that day."
Joseph (Sargent'26) was one of the more than 6,300 students who applied to BU early decision, an 11.5 percent increase from last year's number of 5,663. In total, a record-setting 80,797 students have applied to the Class of 2026. BU saw a 6.7 percent rise in applications overall, "not only making this the largest applicant pool we've ever had, but also the strongest," says Kelly Walter (Wheelock'81), BU's associate vice president for enrollment and dean of admissions. "How we're going to select the top students, from a pool of applicants with an A- average, is the daunting task that lies ahead for me and my team."
The University joins a nationwide trend of schools seeing record-breaking numbers of applications, and admissions officials, Walter included, believe this is partly because many schools (BU among them) made the SAT and ACT standardized tests optional for the second year in a row (the same will hold true for next year's applicants, the University just announced).
For the 43.7 percent of applicants who chose to submit scores this year, the average SAT score is 1442, 4 points higher than last year's 1438 average, and the average ACT score is 33, the same as last year's. The average high school GPA for those applying for admission is 3.81 (compared to last year's 3.70).
Geographically speaking, applicants to Class of 2026 come from, well, pretty much everywhere. International applications rose 10.8 percent, with applicants hailing from 168 countries. The top five countries and regions outside of the United States represented by the prospective freshmen are China, India, South Korea, Canada, and Taiwan. Domestically, applicants came from all 50 US states, with most calling New York, California, Massachusetts, New Jersey, and Texas home.
Applications from African American/Black students increased 21 percent, from 4,143 to 5,017, and from Hispanic/Latinx students 12 percent, from 9,552 to 10,695. And 23 percent are first-generation college students.
After a pause in campus tours and visits because of COVID-19, both have rebounded to pre-pandemic numbers, Walter says. Admissions is still holding virtual events too, since they work well and ensure access to all applicants, including those who might not be able to afford to travel.
While Walter is thrilled by the size of BU's applicant pool, she says, she is most proud of the diversity and composition of the candidates. "The fact that we've not only seen more students from underrepresented groups applying to BU, but also a record-number of applications from first-generation students," she says, "speaks volumes about BU's position in the marketplace as well as the strong appeal of our academic programs for students from such a wide variety of backgrounds."
Many of this year's applicants came by way of QuestBridge, Walter says. The college access program recruits applicants and selects finalists, who name the member institutions they'd like to attend. QuestBridge then forwards their applications to those participating schools for consideration. If students are selected, the institution covers the full cost of attendance, including tuition, room and board, and travel expenses.
According to Walter, 1,764 high school students applied for one of BU's QuestBridge scholarships via early decision, and 30 were selected. She describes the future freshmen as exceptional: they rank in the top 3 percent of their high school class, have an average GPA of 3.9, 97 percent are first-generation, and 70 percent are students from underrepresented groups. "I am honored to welcome the inaugural group of QuestBridge scholars to BU and proud that the University made such an extraordinary commitment to this college access program," she says.
Nikolai Rodrigues (CAS'26) is a QuestBridge scholar from Fall River, Mass. He applied at the suggestion of his high school guidance counselor and his sister (a QuestBridge student at Yale).
He says he found out that he was selected while at school, five minutes before the bell rang, and he couldn't contain his excitement—he stood up in the middle of a silent study hall to read off the email announcing the news, and his classmates were thrilled. When he arrived home, his parents met him at the door. "My dad is an immigrant from Angola," Rodrigues says, "and he said it was his happiest moment in America."