Introducing the Class of 2026: Matthew Garcia
Student Profile
Introducing the Class of 2026: Matthew Garcia
Questrom student talks about finding himself and what he's looking forward to at BU
A quick snapshot of the Class of 2026, the highest achieving and most diverse class in BU history: of the 3,620 entering freshmen, 19.4 percent are first-generation students and 21.2 percent are from underrepresented groups. They hail from 47 states (with Mississippi, West Virginia, and North Dakota the exceptions) and 65 countries and regions (23 percent are international students). The class is 59 percent female, 41 percent male, and has an average GPA of 3.9 percent.

But those are just numbers. To give you a better sense of just how accomplished the Class of 2026 is, this week we introduce four students who share their inspiring stories.
If there's one place Matthew Garcia feels the most like himself, it's on the pole.
The incoming freshman and QuestBridge scholar stumbled into pole dancing during his junior year of high school, when a neighbor invited him to tag along to one of her classes in their hometown of Miami. By the end of the class, Garcia (Questrom'26) realized he'd unearthed a new passion.
The athleticism it requires, the diverse community it attracts, the mental recharge it provides—every aspect of the sport is enjoyable, says Garcia, who takes classes almost daily and has even taught once or twice at a friend's studio. "I don't think about anything when I'm at the pole studio," he says. "You're so focused on what you're doing when you're dancing. All your problems? Gone."
Fashion, too, delivers similar bouts of clarity. After undergoing a less-than-ideal coming-out experience his sophomore year of high school—Garcia identifies as gay—he decided to fully lean into his identity the following year. He had just switched schools, going from a charter high school to a dual-enrollment school that allowed him to earn an associate's degree by taking classes at a local community college, and he no longer had to wear a uniform. That freedom allowed him to "really explore what I wanted to do," he says.
"I'd been questioning myself in terms of spirituality and all of these other things, and then COVID hit and I had so much alone time. I started changing my wardrobe and dyeing my hair and became a whole new version of myself," Garcia explains. "By the time junior year started, no one recognized me."
The new Garcia started rocking bleached hair, denim-on-denim, crop tops, and high-waisted pants, even the occasional pair of heels—all things the shy, "regular high school kid" version of himself would never have worn. The reaction from his peers was swift, he recalls, and overall, gratifying. "Once my style developed, everyone noticed me, and that's how I drew people to me at my new school, especially my closest friends now," Garcia says. "I decided that I didn't need to tell all these new people [my sexual identity], I could just dress a certain way and express a message without having to say anything."
Of course, he enjoyed the many compliments he received about his style, he says. But even better were comments from other queer kids, some of whom had quietly come out and told Garcia he was an inspiration for so freely being himself.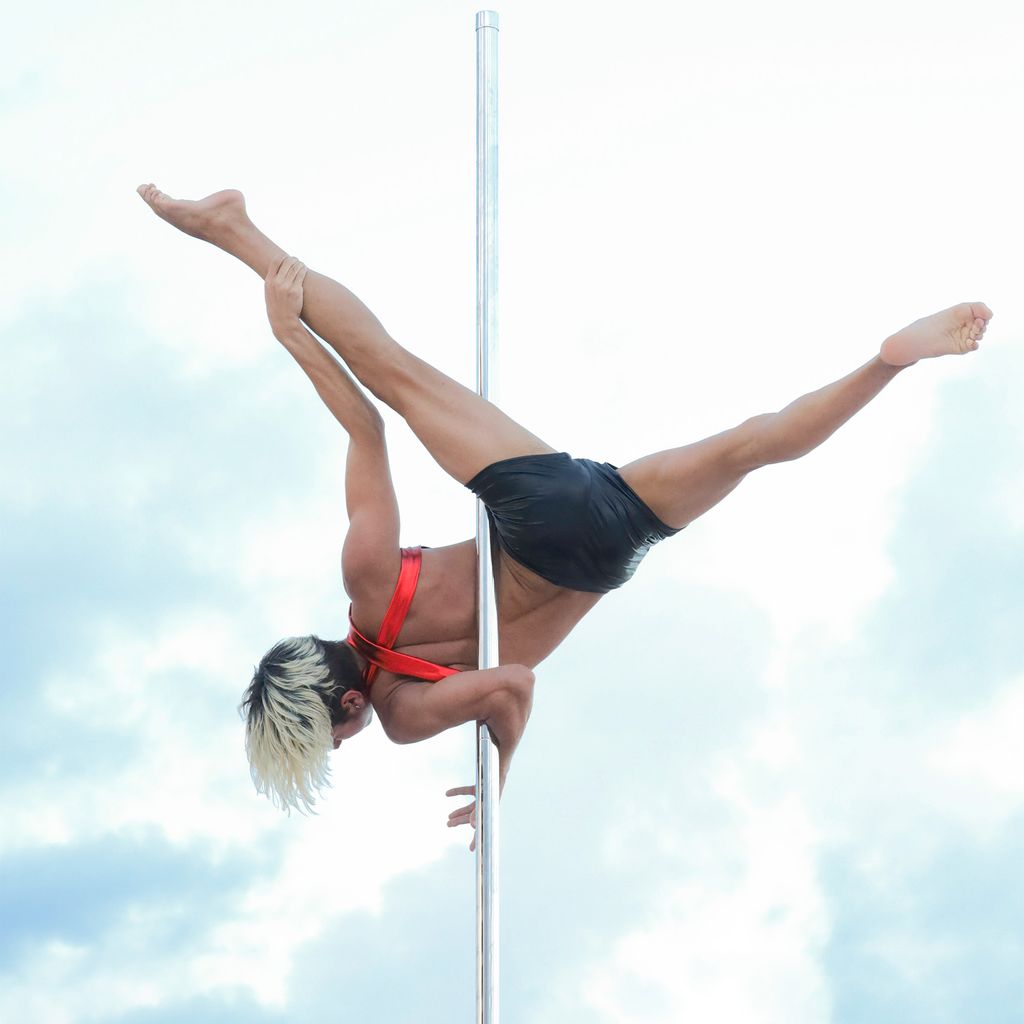 Much of that newfound freedom circles back to pole dancing. It's where he's really discovered himself as well as dissolved ideas of who's allowed to do what and why, he says. "I've brought friends along to my classes and they've all loved it. It's just one of those things where you're allowed to be free."
At BU, Garcia plans to study business marketing and possibly design. Why design? One, because he's coming in with enough credits to have a double major without overloading his schedule. And two, because it could help with a business venture he's been kicking around: he recently created a one-piece pole outfit for himself (with the help of his instructor) after realizing there was a dearth of pole attire for men in the United States. He'd love to explore starting his own brand and learn how to get a business off the ground, he says. Plus, it's a perfect way to combine his joint passions—fashion and pole dancing—both of which he plans to continue pursuing in Boston.
"I want to create something of or for myself," Garcia says. "A degree from BU is the first step to everything."
He's also looking forward to being on his own in a city for the first time. "I've rarely traveled outside of my hometown," he says. "Boston is so different from Miami; it has such a vast amount of cultures that I really appreciated" when he visited for Orientation. "I can't wait to be in a whole new city and explore the environment. I'm really excited for that, to be honest."
One nonnegotiable, however? "As soon as sophomore year hits, you're going to see me in a single!" Garcia promises.