Can Capitalists Profit While Helping the Marginalized and the Planet? Yes, Says Questrom's Social Impact MBA Program
Yes, says Questrom's Social Impact MBA program
Organizational Behavior
Can Capitalists Profit While Helping the Marginalized and the Planet?
Yes, says Questrom's Social Impact MBA program
The question assigned the 40 MBA students, broken into small groups around the classroom, touched on a never-ending business quandary: how to turn a profit without being a !@#$$%.
David Stolow, a Questrom School of Business senior lecturer in management and organizations, had created a scenario for his Business, Society, and the Natural Environment class that sent the students back in time to the HIV-AIDS crisis ravaging Africa. A pharmaceutical company has developed lifesaving drugs against the disease, which should be good news at the upcoming shareholders meeting. The bad news is that people are "calling you a murderer" for insisting on patent protections for your medicine while desperately poor Africans are dying, Stolow said. What strategy do you offer the shareholders?
In the last five years, many business schools have debuted programs to teach commerce within the guardrails of sustainability and social equity. They're playing catch-up with Questrom, which has had some iteration of its Social Impact MBA since 1975, said Stolow, the program's co–faculty director. In his recent session on HIV, each student group designated a member to present its strategy to the full class of "shareholders."
One speaker pledged "to reevaluate our perspective on business.…We're prioritizing saving lives. We're going to allow for generics at lower cost, so we're going to become a partner for everyone that we're serving. We're going to also collaborate with NGOs and make our drugs more accessible."
"Shareholder" Taylor Foehl (Questrom'23) had a question: "You said that you're going to reevaluate your perspective on business. I'm wondering if you think I'd be better off selling my shares on E-Trade or having my broker do it?"
The class laughed, but Foehl's tongue, while firmly in cheek, conveyed capitalism's enduring tension between doing financially well while doing moral good. (One analysis last year found socially aware businesses outperforming other firms.) That issue is personal for classmate Christopher Lee (Questrom'23), who like Foehl is studying for his Social Impact MBA.
"I'm on a medication that, if I didn't have a government subsidy…I would not be on," Lee said. (He takes an HIV prophylactic.) "I've never really understood what it's like to be socially responsible as a business—what does that really mean? And that's what [with] this course, I'm getting out of [it]. How do you make sure that…your company's financially viable, but also make sure that you're doing well with the planet, and people and society as well?"
---

Our biggest world problems have to be solved in conjunction with the private sector. Because I don't think capitalism in America is going away any time soon.

---
The Social Impact MBA program has encouraged such questions throughout its almost half-century existence, evolving in content, and name, with changing student interests.
The leisure-suit era Public Management Program drew students who mostly attended nights after working day jobs in city and state agencies. "The perception was, as challenges were outstripping the traditional preparation of public policy programs or political patronage, agencies…needed a new kind of manager and leader," Stolow told BU Today.
During the '80s and '90s, interest in government service waned as students flocked to nonprofit work. "The program evolved from being the Public Management Program to the Public and Nonprofit Management Program," he said. Then, in the 21st century, "more and more students were looking for opportunity in the for-profit world to align with their social values, and to pursue constructive social values."
Voilà—four years ago, the program got its current name and curriculum. It includes the same core business disciplines studied by regular MBA students, but additionally requires Stolow's class and at least four social impact electives, covering such topics as philanthropy, environmental sustainability, and social entrepreneurship.
Stolow's AIDS-focused class heard from someone who isn't your run-of-the-mill MBA guest lecturer: Joel Curtain, director of advocacy at Partners in Health, the Boston-based nonprofit mourning the unexpected death of founder Paul Farmer just the week before. Curtain connected the moral conundrum of the AIDS crisis with COVID-19, calling the former a "cautionary tale" of medical inequity in which the developing world lagged the United States in controlling death rates.
Such problems matter to enough Questrom students that roughly 20 percent of each MBA class earns the social impact degree, up from 12 to 15 percent a few years ago. "At Questrom, you will never have to apologize or explain yourself for wanting to integrate social impact and your social values into your MBA education," Stolow said, adding that social impact graduates take jobs spanning "for-profit, nonprofit, governments large and small, companies and organizations global and domestic."
Paris Alston (Questrom'23) embodies that career diversity. (The part-time student is a journalist, the new cohost of Morning Edition at National Public Radio's GBH in Boston.) "Every time I'm in this class, I've got a feeling like, oh my God, everything is so messed up," she chuckled during an interview. She recalled another case study earlier in the semester about Nike's exploitation of child labor abroad, remedied only when bad PR crimped the company's bottom line.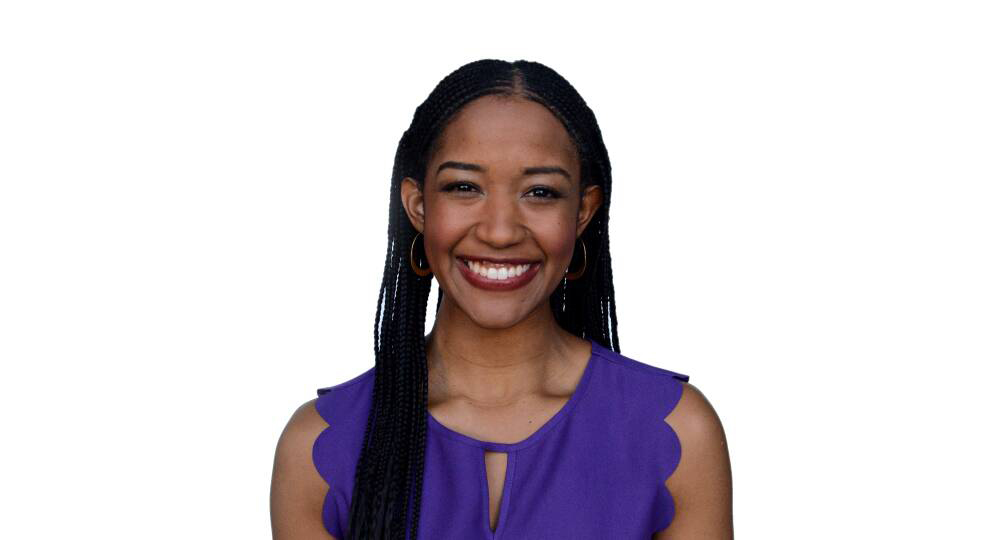 But the fact that the Social Impact MBA stresses hitting the pause button on that profits-over-people instinct sold Alston on Questrom over pursuing a public policy degree, which she had also considered. "Largely, my view of not only business, but business school was about maximizing profit," she said. "It's been really refreshing to kind of probe that thought a little bit and…challenge that idea."
The class offers "reminders of capitalist greed over and over, but also a glimmer of hope," Alston said. "Our biggest world problems have to be solved in conjunction with the private sector. Because I don't think capitalism in America is going away any time soon."
The class already is informing the stories she tells and the questions she asks as a journalist. "Down the road," she said, "I could see myself in a consulting role, even going into newsrooms and talking about more ethical coverage of different subjects."
Career diversity is a hallmark of Social Impact MBAs, Stolow said. "We have graduates who go to work at IBM and Fidelity and Nike," motivated by interest in corporate and financing impact on areas like climate change and sustainability. "And we think that's great. Those are powerful companies that are shaping our world, and they need to have leaders who are going to bring their social values to work.
"And we also have graduates who work at Partners in Health and at a charter school network in New Orleans. And that's wonderful, too, because those organizations need outstanding leaders and managers as well."