BU to End Asymptomatic Testing in May, but Keeps Masks in Classrooms for Now
Commencement is happening, but with the Omicron BA.2 subvariant taking over in New England, how will BU roll with future surges?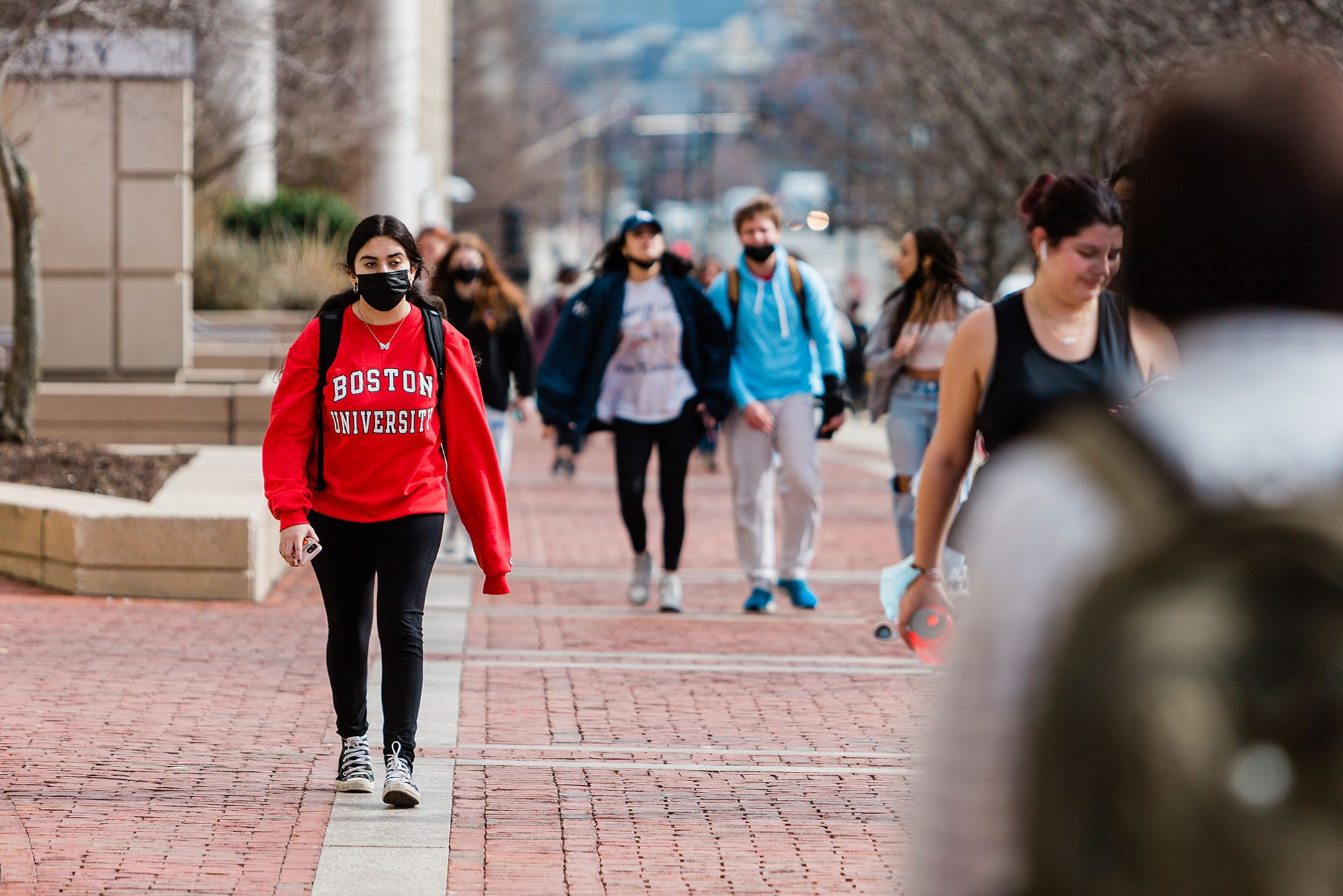 COVID ON CAMPUS
BU to End Asymptomatic Testing in May, but Keeps Masks in Classrooms for Now
Commencement is happening, but with the Omicron BA.2 subvariant taking over in New England, how will BU roll with future COVID surges?
Despite easing some of its COVID-19 protocols in February and largely ditching masks in March, Boston University has continued to see coronavirus cases stay low. Between March 16 and 22, 0.81 percent of tested students were positive for COVID. Faculty and staff are no longer required to test, but of those who did, 0.68 percent of staff and 0.39 percent of faculty were positive, according to BU's public-facing COVID-19 data dashboard.
In a letter to the University community on Thursday, Judy Platt, BU's chief health officer and executive director of Student Health Services, quoted those "favorable trends"—combined with "little to no indication of severe illness or hospitalizations due to COVID-19"—in announcing updates to on-campus pandemic protocols. Many of the changes don't kick in until the end of the semester:
Testing: Big changes are coming on May 23, the day after BU's Commencement, when the University will end asymptomatic testing—after that date, only symptomatic testing will be available. Students are required to continue weekly testing until May 13 or until they leave campus. Weekend testing will end after Sunday, April 3. Faculty and staff are still not required to test—but can continue to take advantage of asymptomatic testing for the next two months.
Isolation housing: The University's East Campus isolation accommodation will stay open until June 1. After that, on-campus students will be required to isolate at their assigned residences.
Summer programs: The University's usual summer offerings—courses, programs, orientations, and camps—are returning. There will be no arrival or routine COVID tests.
Commencement: The big event is on for May 22, and will be held in person. Masks will be optional and vaccination is strongly encouraged for all guests.
Masking: No changes here. The University had previously said it may consider ending masking in classrooms after April 4—that isn't happening. Masks will continue to be required in classrooms (and in health facilities and on the BUS) for the rest of the semester—but remain optional just about everywhere else.
---
Despite the low rates of transmission on campus and in New England, many public health experts are predicting that the lull in cases won't last. With numbers rising again in Europe and Asia—and the highly transmissible Omicron BA.2 subvariant beginning to dominate in New England—The Brink asked Platt and Gloria Waters, BU vice president and associate provost for research, why they feel confident announcing these changes now. And what it might take to bring masks back.
Q
&

A
with JUDY PLATT AND GLORIA WATERS
The Brink:
No masks required in most places on campus, students back from Spring Break. What's that done to the University's case numbers?
Platt: We had a reasonable degree of certainty that with cases decreasing in the country, and even worldwide in most places, we would be in good shape. We've thankfully—and I'm knocking on wood here—kept our seven-day average less than 1 percent. We've certainly seen some cases, and there were some clusters we were aware of—groups that traveled together over Spring Break—but we did not see a huge spike. We're still watching.
The Brink:
Can you talk about BA.2, this Omicron subvariant that seems to be spreading around the world?
Platt: We know some areas of the world, as well as the United States, are seeing increases due to BA.2. Our sequencing, which we've been doing since the Alpha variant came on the scene in January 2021, indicates that anywhere between 30 and 50 percent of our cases are due to the BA.2 subvariant, which I think is a good sign, in that we haven't seen a surge in cases as a result of this. We may see an increase before we start to get to a plateau over the summer months when everyone is outdoors, but overall, we're in a good spot right now. BA.2, at this time, seems to be more transmissible, but there is currently not consistent evidence that it is causing more severe disease, thanks to natural immunity and vaccine-induced immunity.
The Brink:
How many faculty and staff are continuing to test? Does not having results from them paint a misleading picture of COVID on campus?
Platt: We were concerned that with required testing ending for faculty and staff, the only people who might test would be those who were either symptomatic or a close contact. Although roughly half of faculty and staff are no longer routinely testing, which could cause the percent positivity to increase, we haven't seen that yet.
The Brink:
Previously, the University had suggested it might lift the classroom mask mandate on April 4. Now you're saying it'll be in place for the rest of the semester. What changed?
Waters: We've done so well, and we want the students to be able to finish the year out—the last thing we want is to have a surge and the students not be able to participate in their final exams, end of year projects, and research. Some universities lifted both the mask mandate and the testing mandate at the same time, which seems to me to be really challenging, because then you don't know what's happening in the community. Keeping the testing in place for the students until the end of the semester is an important part of our protocols. And speakers in the classroom may unmask when presenting.

Platt: In-person classes are required, class sizes vary widely, and physical distancing is not possible in most classroom settings—these were all factors in deciding to keep the mandate in place. Even though it may feel that we're moving more quickly than some members of the community would like us to, we have tried to be gradual. We've been fortunate to see no classroom transmission since COVID started and we'd like to end on that note.
The Brink:
Most of the other changes you've announced begin in the summer. What makes you feel confident about making those changes then—and about announcing them now?
Platt: We know that sometimes the virus has thrown us curveballs before, and so we want to be careful about not making announcements too far in advance. But we also understand that everyone is underway and planning for summer sessions, camps, orientations, and that we need to give guidance. We know that even before there was widespread vaccination, the summer tends to be a time of lower case counts overall. We are anticipating that we will see that seasonality aspect of this virus play out again and that's making us feel comfortable making those announcements now.
The Brink:
After more than a year of swabbing our noses, the end of asymptomatic testing feels like a big deal. With reduced testing on campus, will we even know whether we're seeing a rise in cases in the future?
Platt: There will be symptomatic testing after the surveillance testing or the community testing goes away. If anything, we're just focusing on a subset of individuals who we think are more likely to be positive. The thought that we will no longer have any idea of what's happening on our campus is not true.
The Brink:
Europe and Asia are experiencing rising COVID cases and many public health experts are warning the United States will be next. Instead of rolling protocols back further, was there consideration that BU expand masking and testing now and get ahead of any potential surge?
Platt: We have always looked locally, at the state level, at the national level, internationally, as we think about what makes sense for our campus. I can appreciate those concerns. The big factors that seem to be driving those rises are a rolling back of protocols and countries that previously hadn't seen large burdens of disease now seeing it. But I do want to underscore that we are not yet treating this like the flu: there is quarantine, isolation, we are requiring vaccination, we are requiring boosters. There are a number of protocols that are still in place, so I think it's important as we roll back masking and some testing, that the community not forget that we are still moving forward with vaccination—and being up-to-date with your vaccines—as a primary prevention strategy.

Waters: It is also a good reason why we have kept masking in the classroom and testing for students in place [for now]. And it's interesting that a lot of people are still wearing masks—although they're not required for faculty and staff. If people are nervous about the fact that numbers are increasing in Europe and other places, they're welcome to continue to do once-a-week testing. If all the things that people might be concerned about are still in play at the end of the semester, then we'll see where we are then.
The Brink:
What are the markers you'll be looking at to decide whether to reimpose some protocols, like wider masking and testing?
Platt: We still have targeted contact tracing: for clusters or areas that we are concerned about, there is case investigation. That's an important piece that we will keep in place and that helps us get an idea about how illness is being transmitted on our campus. Once we're past May 23, we will look at case counts, how transmission is occurring on our campus, what we're seeing around the state and country, booster efficacy—and whether or not we need to start offering second booster doses. That will all help us make plans as to whether or not something gets reimposed. One of the easiest things to do is masking—within one day, we can restart and we know it has been very effective, especially when people wear high-quality masks. There are levers we can pull to help decrease transmission if we see there is an increase that is beyond what we expect to have as protocols are loosened.
The Brink:
What other questions do you expect to get asked the most about the forthcoming changes?
Platt: Students who have isolated in place. Isolation in place is something that we started during Omicron. What we have seen from the hundreds of students who have isolated in place is that the majority of roommates and suitemates have not contracted COVID. Good hygiene practices and good masking can actually allow people to safely isolate in place, whether it's here on campus or in their homes. Students have been cautious and conscientious—and we also have a boostered campus.

Waters: The community is taking really good responsibility for itself. Our community has taken this very seriously and it has made a difference for a university this size to be able to keep our case counts and percentages where they are—just being really thoughtful, responsive, and caring about our entire community.
Have more COVID questions? Visit Back2BU for the latest on BU's pandemic protocols.