Live from Space, BU Alum and Astronaut Bob Hines Talks Gravity, Lasagna, NASA Careers
Science & Technology
Live from Space, BU Alum and Astronaut Bob Hines Talks Gravity, Lasagna, NASA Careers
University event lets high school students and others ask questions of astronauts on the International Space Station
How is being in space different from Earth?
On the International Space Station (ISS), "you lose something, and you give up on finding it, and two weeks or a month later, it just comes floating by," NASA astronaut Bob Hines told a Boston University audience Wednesday on a live downlink from the ISS, as he floated weightlessly in front of the camera. "It's actually one of the funnier things that happens up here."
Wearing a red Terriers hockey jersey he brought along on his trip to space, Hines (ENG'97) talked about the joys of living in orbit—just looking out the window, for one thing—and demonstrated by turning slow-motion somersaults in midair.
"This could be you," he told the approximately 500 junior high and high school students in summer science programs at BU and around the Boston area who had gathered in the George Sherman Union Metcalf Ballroom for part of a daylong STEM (science, technology, engineering, and math) outreach program, along with some BU and BU Academy students. "Don't be afraid to set big dreams and go after them and keep reaching for the stars."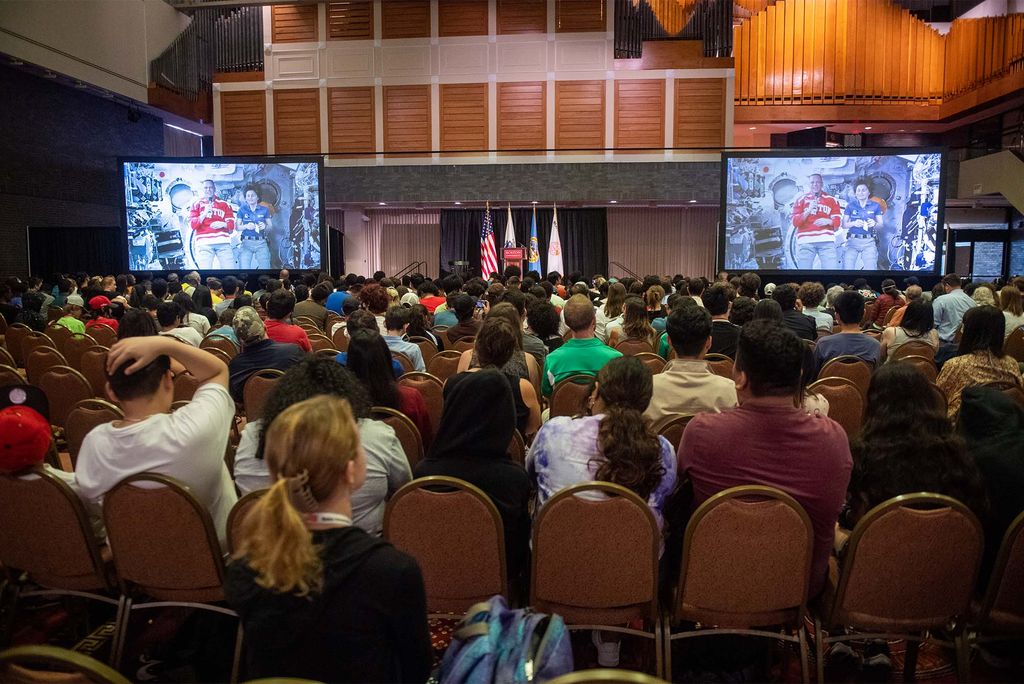 The live link to the ISS "was a little hard for me to wrap my mind around," said Nicky Mosharaf, a rising senior at Belmont High School, who has spent the summer working at a BU biology lab as part of the Greater Boston Area Research Opportunities for Young Women (GROW) program. "I never thought about a career specific to space work, but now I have a lot more curiosity."
"It was so cool," said Salma Jabri, a rising senior at Excel Academy Charter High School in East Boston, who's working in a BU neuroscience lab this summer through GROW. "I want to pursue a career in space science."
"The whole point is to give students a chance to see how fun STEM can be and how important it can be," said Sheryl Grace, a College of Engineering associate professor of mechanical engineering, who organized the event with NASA, "so they know what they might do if they study these things in school."
Grace taught Hines in the 1990s, when he earned a BS in aerospace engineering, and recalls him as a great student, with his heart set on flying planes. He eventually joined the US Air Force, and when he was named an astronaut in 2017, she reached out to him. She got a tour of NASA astronaut-training facilities in Houston, Tex., with Hines, and later helped coordinate a Zoom session between Hines and BU students.
"I'm always trying to get people who are alums to interact with the students we have now," Grace says. Last fall, when Hines was assigned to pilot NASA's SpaceX Crew Dragon spacecraft to the ISS, she got to work planning Wednesday's event.
Many of those in the GSU were high schoolers attending the Calculus Project, Upward Bound, and other programs, both at BU and at several Boston-area communities. Questions from them, and from the BU and BU Academy students, were prerecorded on video and answered during the downlink by Hines and Italian astronaut Samantha Cristoforetti, whose vertical hair may have been the best demonstration of the zero-gravity effect.
Question: Do you get dizzy in space?
"The answer is yes," Hines said. "It's a different kind of dizzy to me, though, without gravity in there. It lasts a little longer." He had headaches during his first few days on the ISS, too, perhaps because of fluids in the body reacting to the change.
How do you drink liquids in space?
"I'll show you," Hines said, producing a plastic bag of water with a protruding straw and squeezing a couple of droplets loose. He then proved to be willing to get silly for science, drifting after the droplets as they floated in midair and gulping them down.
A former Air Force test pilot and combat pilot with 76 missions, Hines is the first BU alum in space, joining a very select group—fewer than 600—who've ventured beyond Earth's atmosphere. Fewer than 400 Americans have gone into space, and an even smaller number have gone into orbit.
Hines, Cristoforetti, and their fellow Expedition 67 crew members—NASA's Kjell Lindgren and Jessica Watkins—spend much of their time conducting experiments to determine the effects of what is technically called microgravity, as well as maintaining and repairing the ISS with their three Russian counterparts onboard.
During the approximately 20 minutes of live connection from the ISS, Hines and Cristoforetti answered questions ranging from the food on the space station—rehydrated lasagna is his favorite—to the education you need in order to become an astronaut.
"It was super cool, to talk to them—kind of—and kind of know what it's like to be on [the ISS]," said Zachary Luxama, a rising sophomore at Newton South High School, who attended as part of the Calculus Project and asked a question about astronaut qualifications.
Hines' answer, emphasizing the importance of calculus and other STEM subjects, reinforced the message of the day's STEM outreach activities around campus. The students were also treated to tours of BU's Engineering Product Innovation Center (EPIC) and the robotics lab, a peek through the Coit Observatory telescope, on the roof of the College of Arts & Sciences, and hands-on science projects at the BU Academy gym, where the students made film-canister rockets powered by Alka-Seltzer and water—a few of which soared near the ceiling.
"The goal is to make sure students are pursuing it [STEM] because they know about it," Grace says. "A lot of times in grade school and high school, students don't know what you can do with this stuff, and they get bored with their math or bored with their science because they don't really see the end. Everything we're doing is a celebration of science and technology, and they're seeing some cool things and being challenged to use their ingenuity."
BU President Robert A. Brown, US Senator Edward Markey (D-Mass.) (Hon.'04), and several other dignitaries spoke at the event. But the most exciting part of the day for the students, besides hearing from the astronauts, was the space trivia game on the Kahoot! app that Grace led when the downlink was over. Most of the students in the ballroom grabbed their phones, and nearly 400 answers were received for each question, tallied on the big screens to cheers.