BU Alum Robert Hines Is on a Mission—to the International Space Station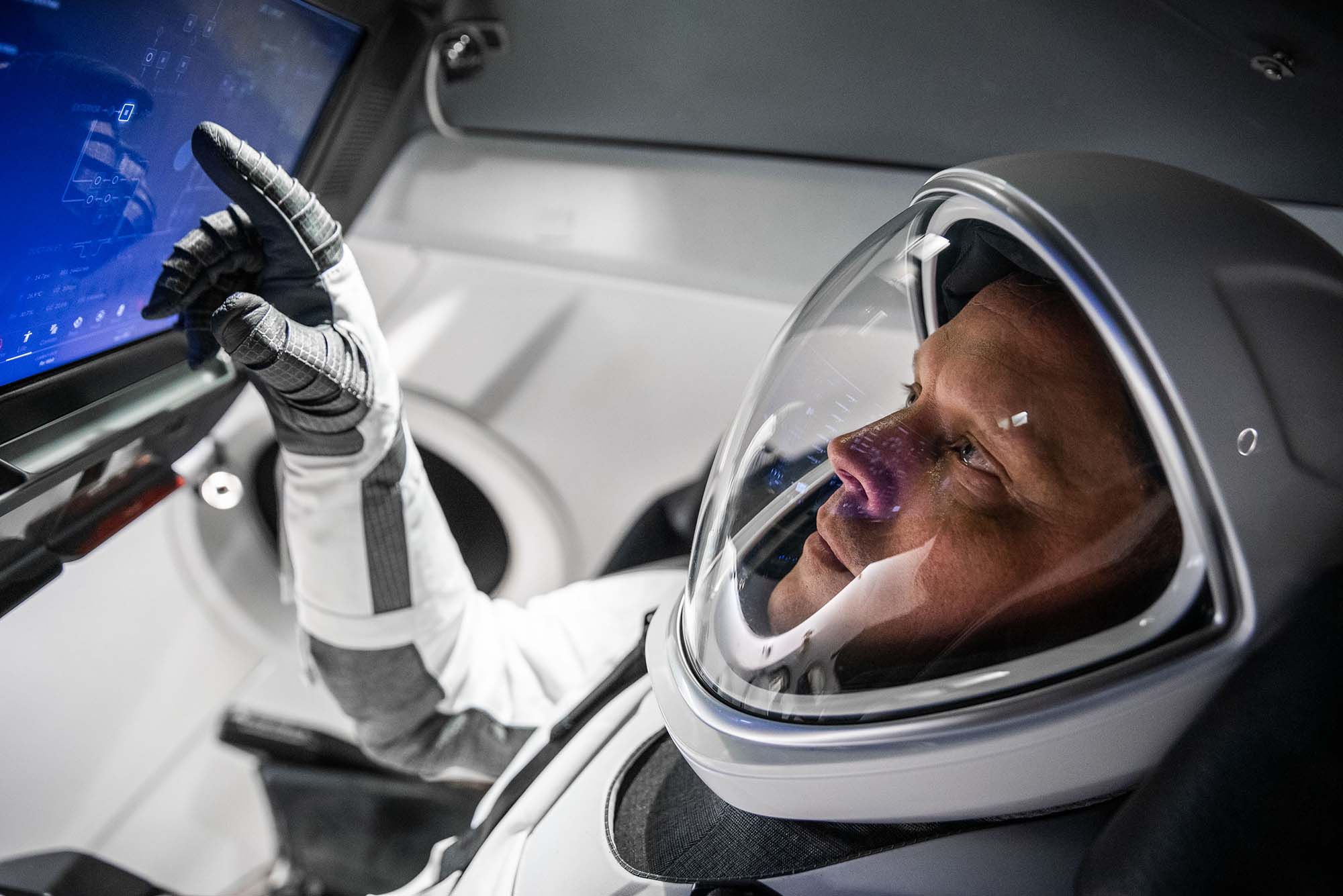 Space
BU Alum Robert Hines Is on a Mission—to the International Space Station
NASA pilot is one of four crew members scheduled to launch from Kennedy Space Center
NASA is about to send a Terrier into space.
Astronaut Robert Hines will pilot NASA's SpaceX Crew Dragon spacecraft to the International Space Station, where the crew of four will study microgravity—the condition in which people or objects appear to be weightless. Hines (ENG'97) is set to become the first BU alum in space, joining a minuscule slice of humanity—fewer than 600—who've ventured beyond Earth's atmosphere. Fewer than 400 Americans have gone into space, and an even smaller number have gone into orbit.
Hines and his fellow crew members—NASA's Kjell Lindgren and Jessica Watkins and European Space Agency's Samantha Cristoforetti—were scheduled to launch from NASA's Kennedy Space Center in Florida on April 23 and dock to the space station on April 24. On Thursday, NASA announced the delay of the launch: "no earlier than April 26" (with docking the next day). Both the launch and docking are scheduled to air live on NASA Television, the NASA app, and the agency's website. The four astronauts will be in space for approximately six months.
Sheryl Grace, a College of Engineering associate professor of mechanical engineering, says she'll wake up early both mornings to watch the launch and the docking. One of Hines' former professors, she says he took her aerodynamics course and was an intelligent and motivated student with dreams of flying airplanes. A year after NASA chose Hines as an astronaut candidate, he gave Grace, her two boys, and her brother a private tour of Johnson Space Center in Houston, where he was stationed in the early days of training.
"He was still in that 'I can't even believe they chose me' mode," Grace recalls. "He knew many of the other candidates, and they're all amazing. He was just very honored and humbled by it."
Hines, 47, earned a BS in aerospace engineering at BU before going on for master's degrees from the US Air Force Test Pilot School and the University of Alabama. He flew 76 combat missions in the Air Force, mostly in Iraq and Afghanistan, including a combat patrol mission over Baghdad during the execution of Iraqi dictator Saddam Hussein in 2006.
T-7 days! Our spacecraft, FREEDOM, made it to Pad 39A where it is going thru final processing and will be stacked atop the its Falcon 9 rocket. Just a few days before head to the Cape for Dry Dress Rehearsal, Static Fire and…finally Launch. It's getting close! pic.twitter.com/Nk58hU0upx

— Bob "Farmer" Hines (@Astro_FarmerBob) April 16, 2022
In 2012, he was selected as a research pilot at Johnson Space Center; five years later, he was chosen by NASA as one of 12 astronaut candidates from a pool of more than 18,000 applicants. In an interview with Bostonia in 2017, he recalled that when he started working at NASA, the agency's mission "was probably at the bottom of the bathtub," as the space shuttle program ended. "The parking lots were pretty empty."
But with the range of upcoming missions, he told Bostonia then, "The space world is our oyster right now."
According to NASA, the April 2022 mission is the fourth crew rotation to fly on a SpaceX Crew Dragon spacecraft and Falcon 9 rocket and the fifth SpaceX flight with NASA astronauts, including the Demo-2 test flight in 2020 to the space station, as part of the agency's Commercial Crew Program.
Hines may be the alum going into orbit, but graduates of BU are all over the Crew-4 mission in other ways. More than two dozen University grads now work at SpaceX, the aerospace manufacturer that designed and built the Falcon 9 rocket and Crew Dragon spacecraft Hines will pilot. Jennifer Gruber (ENG'99) has worked in mission control at Johnson Space Center since 2002, most recently on the agency's human landing system. And in 2021, Janet Petro (MET'88) became the first woman to lead NASA's Kennedy Space Center when she was named its 11th director.
"The students who leave BU all have big dreams, and a lot of them accomplish a ton," Grace says. "The thing that [Hines is] doing just happens to get so much press and is such a very unique thing, but it really highlights, I think, how amazing our students are in general."
On July 20, Hines is scheduled to participate in a live question-and-answer session, called a downlink, with members of the BU community in the George Sherman Union. Stay tuned for additional details.