Baccalaureate Speaker Marylou Sudders (CAS'76, SSW'78, Hon.'22) Reflects on Pandemic's Lessons
Commencement 2022
Baccalaureate Speaker Marylou Sudders (CAS'76, SSW'78, Hon.'22) Reflects on Pandemic's Lessons
Massachusetts Secretary of Health & Human Services commended BU's role in pandemic response
"As odd as it may sound to you, 50 years later, Boston University is still part of my safety net," Marylou Sudders (CAS'76, SSW'78, Hon.'22), Massachusetts Secretary of Health and Human Services, told Class of 2022 graduates and their families gathered at Marsh Chapel Sunday morning for the annual Baccalaureate Service.
Sudders noted how the School of Social Work "embraced an alumna who became the first social worker to serve as Massachusetts commissioner of mental health and now as secretary of Health and Human Services." Sudders received an honorary Doctor of Laws at BU's 149th Commencement later in the day.
"The school reached out and offered encouragement during lonely moments after vitriolic verbal attacks and negative public comments were lobbed in reaction to decisions I made during the pandemic," she said. "Who knew that 'mask' would become such a four-letter word, if you know what I mean."
Sudders, a veteran mental health advocate, was appointed by Governor Charlie Baker in 2015 to direct the Massachusetts Executive Office of Health and Human Services. Introducing her, Rev. Robert Allan Hill, dean of Marsh Chapel, called Sudders "a fierce advocate for social justice" and noted that as secretary, she restructured MassHealth and confronted the opioid epidemic while delivering essential services and managing 22,000 employees. "An exceptionally tall order," Hill noted—and then came the pandemic.
Emotional support from the School of Social Work wasn't all BU provided during the pandemic, Sudders said.
"As the person at the epicenter of this state's pandemic response, I am grateful to Boston University and President Brown for leadership and commitment to the health and safety not only of the University's community but to the entire state," Sudders said.
In the earliest days of the pandemic in 2020, she said, a small group of Massachusetts college and university presidents, among them BU's Robert A. Brown, gathered virtually to piece together the facts and to join with the state to rapidly develop testing capacity and protocols. They also collaborated to ensure that the healthcare system stayed strong and partnered to enact "cohesive and coherent" communication strategies.
Sudders said the pandemic has brought home four lessons: "that our globe is a very small place….and that we collectively have a local and global responsibility for one another"; that systemic effects of racism permeate our country and our nation's institutions, as COVID has had a disproportionate impact on people of color; the importance of behavioral health alongside physical health; and the value of interdisciplinary scientific collaborations in developing vaccines and teaching the highly competitive healthcare industry to work together.
"If there is a silver lining to this pandemic, perhaps [it's that] it serves as an inflection point that some of these lessons, ephemeral in the past, will be galvanized for sustained progress," Sudders said.
She noted that no one was unscathed by the pandemic itself, whether devastated by the loss of loved ones or economic insecurity. "All of us were untethered by the disruption to our daily lives and rhythms, the isolation of a prolonged pandemic, the uncertainty of when this would ever end," she said. And everyone, she continued, wants to know, when does this end? Her answer: "We are all weary and 'over it,' but COVID zero is not possible."
She told the several hundred listeners at Marsh Chapel that we are slowly transitioning to an endemic, with the tools to manage COVID, as the science continues to evolve, from vaccines and therapeutics to testing and other mitigation strategies that have advanced greatly since March 2020. The reality, she said, is that we are adjusting to a new normal.
"Look around, we are here—together," Sudders said. "And what you have been through the past two-plus years, certainly not the academic experience you envisioned, but a formative one. To be here today proves your strength, grit, and resilience."
Amie Grills, associate provost for undergraduate affairs and a Wheelock College of Education & Human Development professor, read Ecclesiastes 3:1-8, which famously begins, "For everything there is a season." Brown read from Paul's epistle to the Romans, chapter 12, verses 1-2 and 9-13, which urges: "Do not lag in zeal, be ardent in spirit, serve the Lord."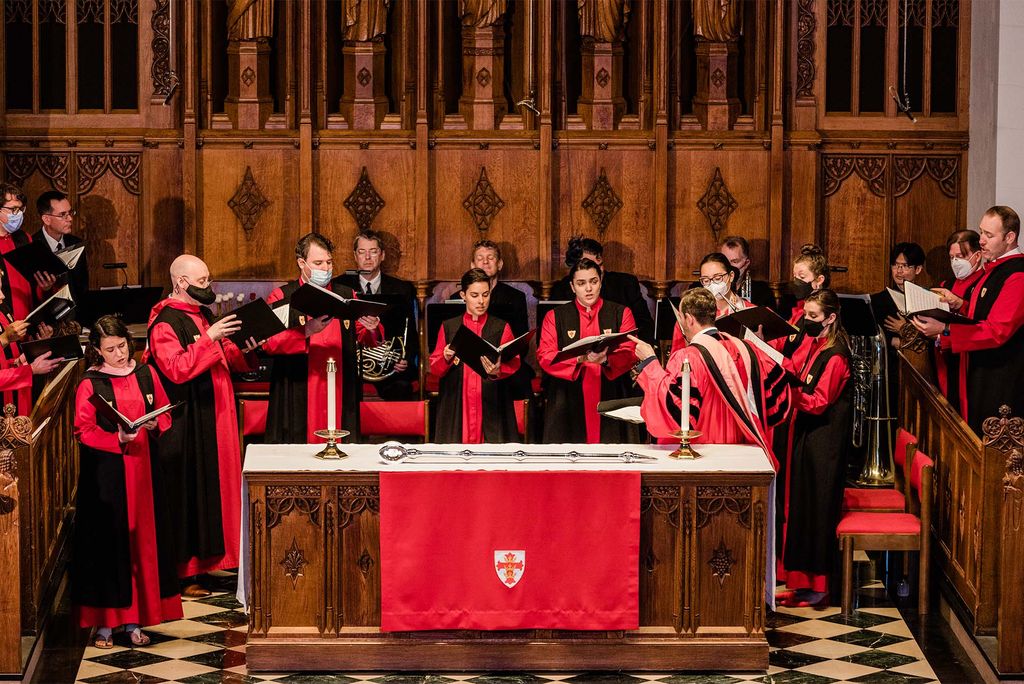 The music opened with the Marche pontificale from Charles-Marie Widor's Symphonie No. 1, performed by the Marsh Chapel Choir, conducted by Scott Allen Jarrett (CFA'99,'08), Chapel director of music, with organist Justin Thomas Blackwell (CFA'09), associate director of music. The choir was accompanied at various points by the Boston-based Majestic Brass Quintet.