A. E. Stallings, Whose Poems Use Classical Allusions to Explore Modern Life, Headlines Tonight's Lowell Poetry Reading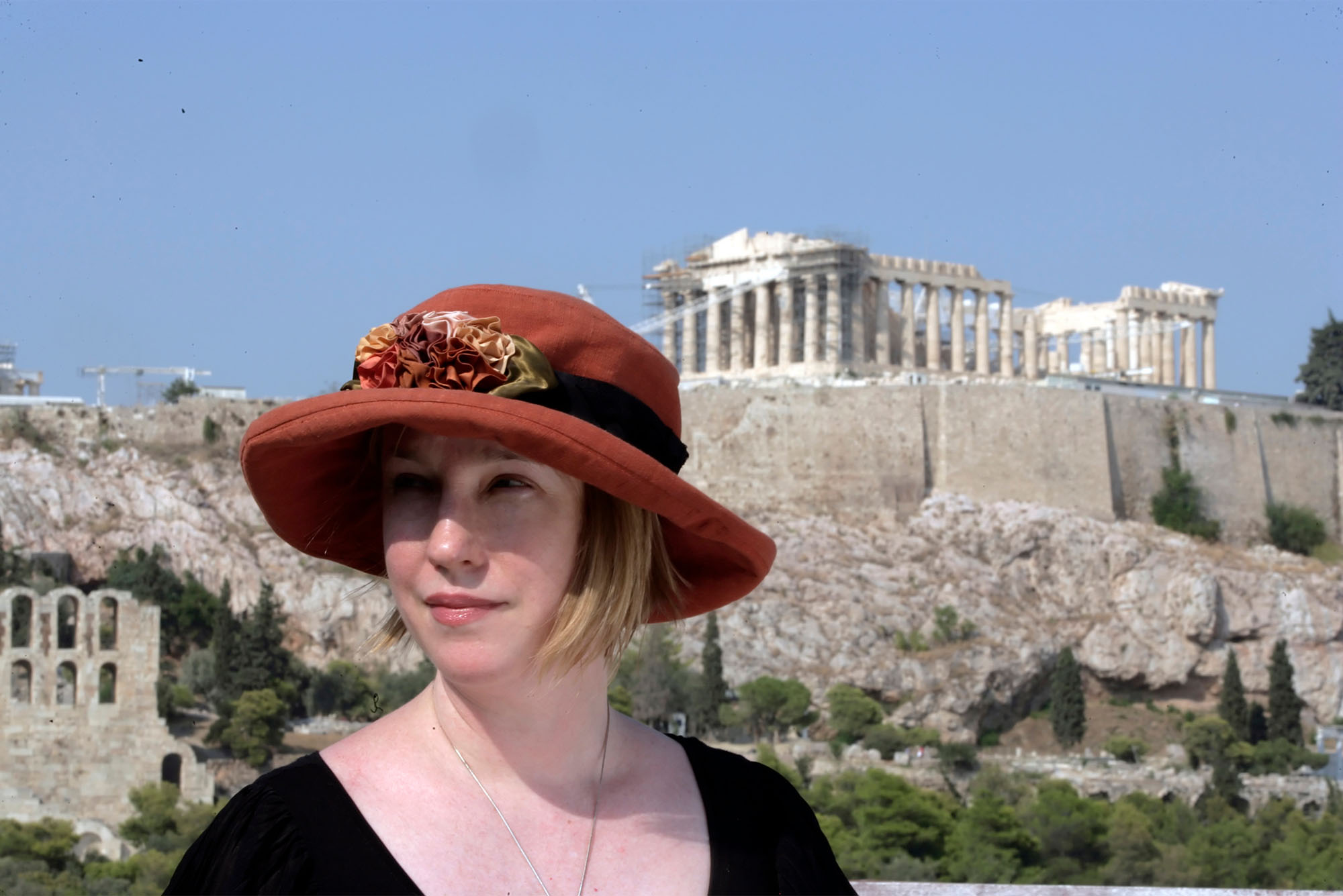 Poetry
A. E. Stallings, Whose Poems Use Classical Allusions to Explore Modern Life, Headlines Tonight's Lowell Poetry Reading
Award-winner will be joined by Zimbabwean poet Togara Muzanenhamo (GRS'22)
At a time when most modern poets are writing in free verse, A. E. Stallings' work is distinct. She is arguably one of the finest formalist poets working today. Over the last quarter century, she has earned a reputation for poems that dexterously employ meter and rhyme and adhere to traditional verse forms: sonnets, couplets, quatrains, villanelles, ghazals, and sestinas. In her poem "Cardinal Numbers," "glorious" is paired to rhyme with "uxorious." A classicist by training, who now lives in Athens, Greece, her poems are also notable for their allusions to classical Greco-Roman mythology. She reaches back to antiquity to explore contemporary life, often invoking the persona of a Persephone, Pandora, or Penelope to examine the truths of what has been called the poet's "archaeology of the domestic"—marriage, parenthood, etc.
The John D. and Catherine T. MacArthur Foundation cited her "mastery of highly structured forms…and consummate skill in creating new combinations of meter, rhyme, and syntax into distinctive, emotionally compelling verse" when naming her winner of one of its "Genius Award" in 2011.
The author of four acclaimed collections, including 2018's Like, a Pulitzer prize finalist, Stallings will read from her work at this semester's Robert Lowell Memorial Poetry Reading tonight, Tuesday, November 15, at 7:30 pm at the Leventhal Center, followed by a reception and book signing at the Castle. Her latest book, This Afterlife: Selected Poems, will be published by Farrar, Straus and Giroux next month.
Recent Creative Writing Program alum Togara Muzanenhamo (GRS'22), who grew up on his family's farm in Zimbabwe and later went on to study in The Hague and in Paris and now resides in Cambridge, will join Stallings at tonight's reading. Muzanenhamo has written three collections of poems, the most recent, Virga (Carcanet Press Ltd., 2021), features historical events woven together by weather phenomena. The poetry reading is free and open to the public.
Stallings' poems are renowned for their wit. "I love wordplay, I love puns. I love etymology," she says. "I write for some ideal reader who also loves these things. Look at Shakespeare—just roiling with puns and wordplay; anyone who thinks this goes against depth or sincerity is wrong. It's a way of packing more meaning in, and more pleasure."
BU Today spoke with Stallings in advance of tonight's reading about her love of rhyme, the ways that mythology can be used to explore contemporary domestic life, how she approaches a poem, and her work as a translator of classical texts.
This interview has been edited for length and clarity. 
BU Today:
You grew up surrounded by books: your father was a professor and your mother a librarian. When did you first discover poetry and at what point did you know you wanted to be a poet?
Stallings: My father used to recite a fair amount of verse walking around the house—things like the opening of Longfellow's "Hiawatha," or Coleridge's "The Ancient Mariner," or Edgar Allan Poe's "Annabel Lee." We had a big book of nursery rhymes I loved, The Real Mother Goose. The children's bedtime prayer, "Now I lay me down to sleep" always gave me a little chill (or thrill?), since it meant imagining my own death. I loved tigers and subsequently loved William Blake's "Tyger, Tyger."

I knew I wanted to be a writer very early on. I was making little books before I could read or write—stapled pieces of old perforated computer paper with my own crayon illustrations and I would then dictate the story to my mom… Even in my 20s, I tried my hand at fiction. But I became pretty serious about poetry in my teens, and started publishing then, in places like Seventeen.
BU Today:
Your work is renowned for the way you plumb mythology to illuminate contemporary life. Can you talk about that?
Stallings: Mythology is often centered on the domestic and on family relationships—I think Freud showed us that!—and as such, is often a useful way to talk about the domestic and familial relations. We live our lives out on a mythological scale—life is mythological in its sweep—birth, growth, acquiring wisdom (or not), parenting (or not), love, death. I like the distance a persona gives me from my own life, allowing me to explore truths that might be more difficult otherwise. But I also like escaping into another figure or narrative.
BU Today:
You are one of the foremost formalist poets working today. Why are rhyme and meter so important to you? Can you talk about the pleasure you get in experimenting with them?
Stallings: I think everybody gets some pleasure out of rhyme. Kids love it. I think we train ourselves out of liking it, to show off our sophistication or some such. Likewise, who doesn't love rhythmical speech? Just look at rap and hip-hop. But these obvious points aside, I like rhyme partly for the way it draws me through a poem, often towards something surprising. The rhyme opens the door for the reason. I like the discipline of meter, how it makes you make difficult choices, and how both these things play with and against syntax. I like working against formal restraints, as I find it paradoxically freeing. Some choices are made for me—if I'm writing a sonnet, it's going to be 14 lines—leaving more interesting choices up for grabs.
BU Today:
Your poems have a wonderful colloquial quality that invites readers in. How do you make a formal poem conversational?
Certain lines kind of speak themselves in my mind and I listen to them—perhaps an inner voice. But I am also a big believer in performing poems before an audience and "listening" to the attention of the audience. I usually know what to cut when I have read a poem aloud—you can feel the poem go slack, and correspondingly, a wandering of attention in listeners.
BU Today:
Can you talk about how you approach a poem initially and the role revision plays in your work?
It depends on the poem. Some arrive pretty much all at once and only need minor tinkering. Others take months or even years and total rewrites. Some languish for years because they need something, and it takes me a long time to figure out what. I do love revision, though, because it feels like magic when changing a word or a phrase or a line or a rhyme pair completely shifts the poem from something mediocre and passable to something strong and alive. Working in form often means that revision is pretty surgical. If you have a workable villanelle [a poem comprising five tercets followed by a quatrain, with two repeating rhymes and two refrains], but it isn't quite up to where you want it, it is usually a matter of tinkering with individual lines and rhymes rather than tearing the whole thing down. In a formal poem, sometimes you have a placeholder line or word or even image, and so the revision is about taking them from placeholder to something vital and inextricable to the poem as a whole. That is the challenge, and also the fun.
BU Today:
You're also a noted translator, having published a verse translation of Lucretius' The Nature of Things and Hesiod's Works and Days, among other works. Does your work as a translator inform your poetry and vice versa?
Yes, I think so. It helps you keep your craft in good trim, even if you aren't writing yourself. It also allows you to explore other identities, other personalities, other subject matter than you would otherwise do. It is a way of escaping yourself and time.
BU Today:
Your first edition of selected poems, This Afterlife, is about to be released. How did you go about deciding which previously published poems to include?
Occasionally, you realize a poem that made it into a book wasn't ready for prime time, and so those I chose to take out. As for what I chose to include, a lot of those are greatest hits or heavy in rotation at readings. I also asked a bunch of people what they wanted to see included. So I tried to walk a line between being exclusive (keeping only the best poems) and inclusive (including what people wanted to see). But I am constantly doubting or changing my mind about poems, even now.
The Robert Lowell Memorial Poetry Reading, featuring A. E. Stallings and Togara Muzanenhamo (GRS'22), is tonight, Tuesday, November 15, at 7:30 pm in the Leventhal Center upstairs auditorium, 233 Bay State Road. The readings will be followed by a book signing and reception at the BU Castle. The event is free and open to the public. Find more information here.
The Robert Lowell Memorial Reading series was established by Nancy Livingston (COM'69) and her husband, Fred M. Levin, through the Shenson Foundation, in memory of Ben and A. Jess Shenson.
Listen to A. E. Stallings read her poem "On a Greek Proverb," from her 2012 collection Olives, on a PBS NewsHour December 21, 2012, broadcast here. She wrote the poem as a response to frequent queries from friends asking "How long are you staying in Greece?"