A Left among Rights: A Progressive Student's Week at a Conservative Think Tank. What Did He Learn?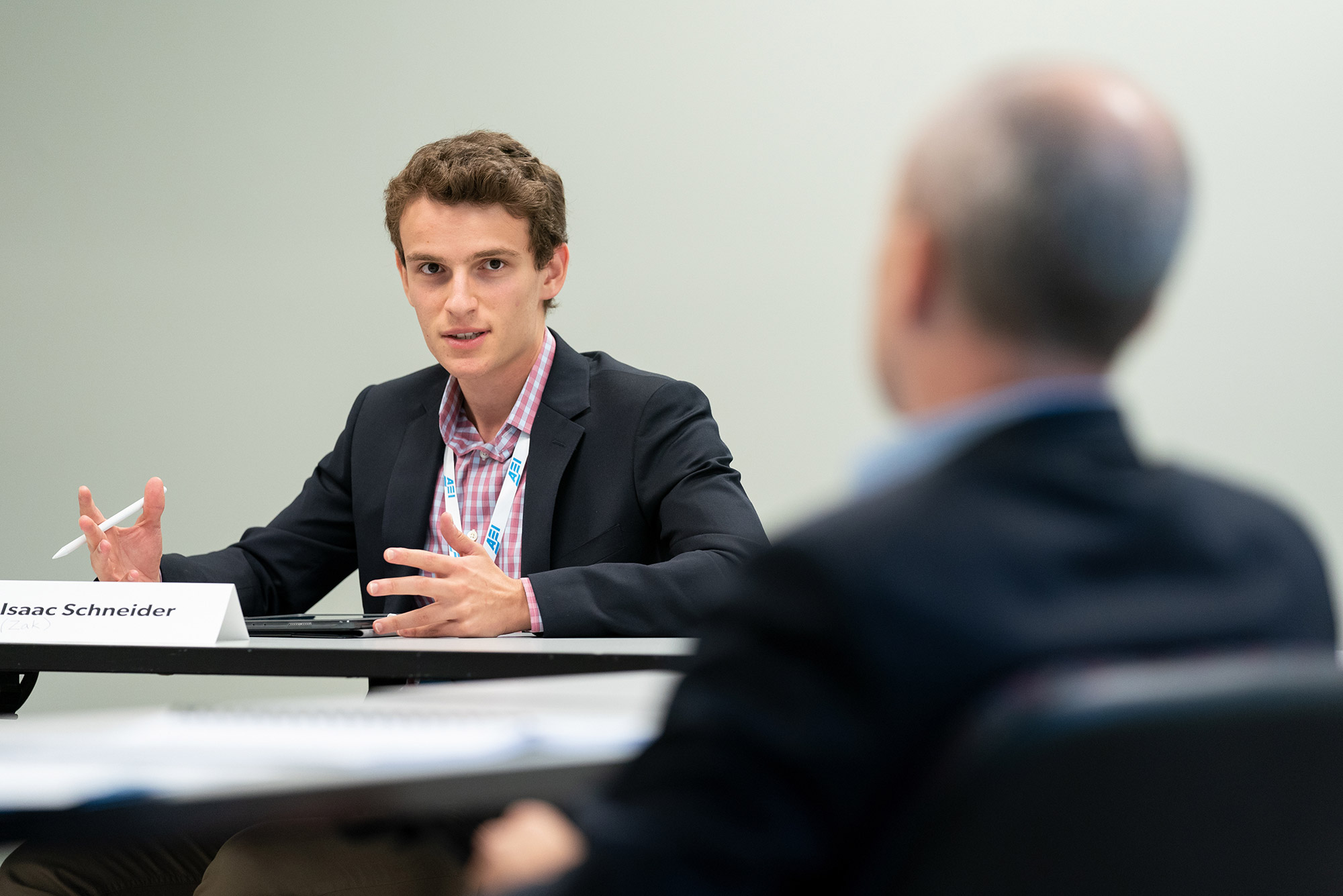 Student Voices
A Left among Rights: A Progressive Student's Week at a Conservative Think Tank. What Did He Learn?
In his own words, Zak Schneider (CAS'22, Pardee'22) recounts a week with right-leaning peers: "I came to this realization that I was wrongly worried"
Zak Schneider (CAS'22, Pardee'22) describes himself as "Elizabeth Warren in theory and Pete Buttigieg in practice, solidly left on economic and social issues." For one week over the summer, however, at the suggestion of Graham Wilson, a College of Arts & Sciences professor of political science, Schneider volunteered for a week's immersion in the Summer Honors Program at the right-leaning think tank American Enterprise Institute (AEI) in Washington, D.C. The double-major, in political science and international relations, learned a surprising lesson, which he shared with BU Today.
We had a cohort of about 60 people. They were college students from around the country: from people who grew up on rural farms in Wisconsin to people from the Deep South to people who lived in Manhattan. As someone who's writing a senior honors thesis on democracy, I've learned how important a respectful, responsible opposition party is. My anxieties were rooted in the "own the libs" phenomenon [a political strategy focusing on upsetting political liberals, used by some US conservatives], this culture war by conservatives. I was afraid of that mindset going in, of people who weren't open-minded, just trying to score points for their team.
I remember first coming in there on Sunday afternoon and having a conversation with someone over dinner. That someone turned into the 10 people who were sitting at my table. And that 10 people turned into 20 people who were all sitting around us. They all just engaged in this lively conversation until like 10 o'clock, about everything under the sun: lowercase "l" liberalism, secularization, inequalities and social justice, foreign policy, the role of religion in society, finding the good life and happiness.
The very first night, I came to this realization that I was wrongly worried. I was in a room with other people who shared this intellectual curiosity and genuine interest in hearing other people's perspectives. None were Trump conservatives. These people are grounded in reality, facts, a shared understanding for liberal democracy. These are not people coming into politics trying to gain for their race, culture, or ethnicity. It was about 25 percent left like myself, 25 percent conservative, and 50 percent middle-of-the-road. They were willing to see the validity in the other side.
The schedule during the day was class for three hours. I was [taught by] Yuval Levin, a scholar of American political consciousness. He has written many books on the roots of the left and right. My class was Freedom, Progress, and Tradition. Then they would have panelists for an hour and a half and a career workshop of some sort for another hour and a half. The rest of the day is loosely regulated, things like watching a documentary or having conversation over dinner.
It's not for everyone, for sure. Conversations lasted hours on end. On Thursday night, we stayed up until about 5 a.m. There were a couple of points at which it got heated, naturally. We talked about systemic inequalities, and that was a tough issue. It's becoming a partisan issue. One of the concerns from the liberal students was those on the right are overlooking history; inequalities in our society have existed until this day. I think that presents a tricky problem for conservatives that always look for what makes this country great and tend to skim over things that aren't so flattering. But this was not a bad-faith argument trying to devalue somebody else's experience.
The AEI Executive Council Program, which I'm going to try to found at BU, sends scholars to talk about important issues, and we get to debate them. This weeklong program inspired me to do that.
The main lesson I learned is, take other opinions seriously. In order for our country to climb out of this hellhole that we're in, we need to think about looking at each other as other human beings. The only way of doing that is having deep conversations about what you want out of life, what you think the government should do for you. One of the things that frustrates me with my fellow people on the left is that they are becoming close-minded as well. Sometimes my friends don't want to engage with people who they disagree with. It's uncomfortable, and sometimes it's physically displeasing. Not everyone can sustain 16-hour days going head-to-head.
But it is important to engage with opinions you don't agree with, and this goes for both sides. The intellectuals at AEI verbalized some of the key differences in the way we perceive the world. These differences have to do with preconceived notions about how society should look and what the good life actually is. Disaffected Trump voters have trouble coherently expressing their exact grievances with society. This not due to stupidity, but to a frustration and long-held dissonance with the liberal democratic order. My conservative friends at AEI, on the other hand, recognize these differences. The way to have good discourse between our two polarized sides is mainly through meeting people where they are at—putting each other in the other's shoes.