Tributes: Wheelock's Gaylen B. Kelley, Miriam A. Marecek, CAS' James D. Purvis, and SDM's David A. Russell
Tributes
Tributes: Wheelock's Gaylen B. Kelley, Miriam A. Marecek, CAS' James D. Purvis, and SDM's David A. Russell
Also, alumni F. Lee Bailey (LAW'60), Charles Cosmo Clemente (CGS'60, COM'62), and Richard M. Doyle, Jr. (CGS'83, CAS'85)
Gaylen B. Kelley (Wheelock'54,'59)

Wheelock College of Education & Human Development Professor Emeritus
Gaylen B. Kelley, who taught at BU for four decades, died February 3, 2021. He was 90.
Kelley served in the Army as a medical aid instructor at Fort Sam Houston in Texas. After transferring to the Army Reserves in Maine, he earned a bachelor's degree at the University of Maine. He received his master's and doctoral degrees at BU and began his teaching career in 1958 at what was then the BU School of Education (now Wheelock).
For many years, Kelley divided his time between what was then called BU Media Services, which he launched, and teaching. As the University grew, he supervised the design of several technology-friendly classrooms and lecture halls, according to the B.U. Bridge.
In 1987 he became a full-time professor, coordinating Wheelock's Educational Media & Technology program. He taught in the areas of facilities design and media program development, traveling the world as a consultant for schools, universities, and corporations, according to the Bridge.
The school recognized Kelley's legacy in 2002, when it dedicated the Gaylen Kelley Distance Education Laboratory at 2 Silber Way.
Miriam A. Marecek

Retired Wheelock College of Education & Human Development clinical assistant professor
Miriam A. Marecek, whose home was filled with children's books, artwork, handwritten letters, and photographs, and who was known as the "Children's Book Lady," died October 23, 2020. She was 80.
Marecek was born during World War II in Prague, Czechoslovakia. Her mother was an opera singer, a linguist, and a teacher, and her father was a journalist, scholar, and diplomat who represented the Czech government. In 1948, as Soviet domination of Czechoslovakia was established, her father was in danger as a political dissident, and the family escaped to the United States. Marecek, who was eight, knew just a few words of English. She went on to graduate from Earlham College and to receive her PhD from Teachers College, Columbia University.
As a young teacher in Port Washington, N.Y., who loved to inspire her students, her imaginative classroom was known as "Miss Marecek's Magic Room."
She became a professor of education at Boston University, Harvard, and Tufts, and served as president of children's literature for the International Reading Association. She worked with school systems, school administrators, parents, teachers, caregivers, and pediatricians across the country and internationally, and consulted with film and television productions, including A Likely Story, Words that Cook, and several of Weston Woods' adapted children's book films. In the late 1990s, she hosted the Book Talks at Lincoln School in Winchester, Mass.
Despite persistent challenges—she battled multiple sclerosis for 20 years and used a wheelchair—she maintained the optimism and determination she acquired as an American immigrant and never lost her passion for connecting children to books.
James D. Purvis

Retired College of Arts & Sciences Professor of Religion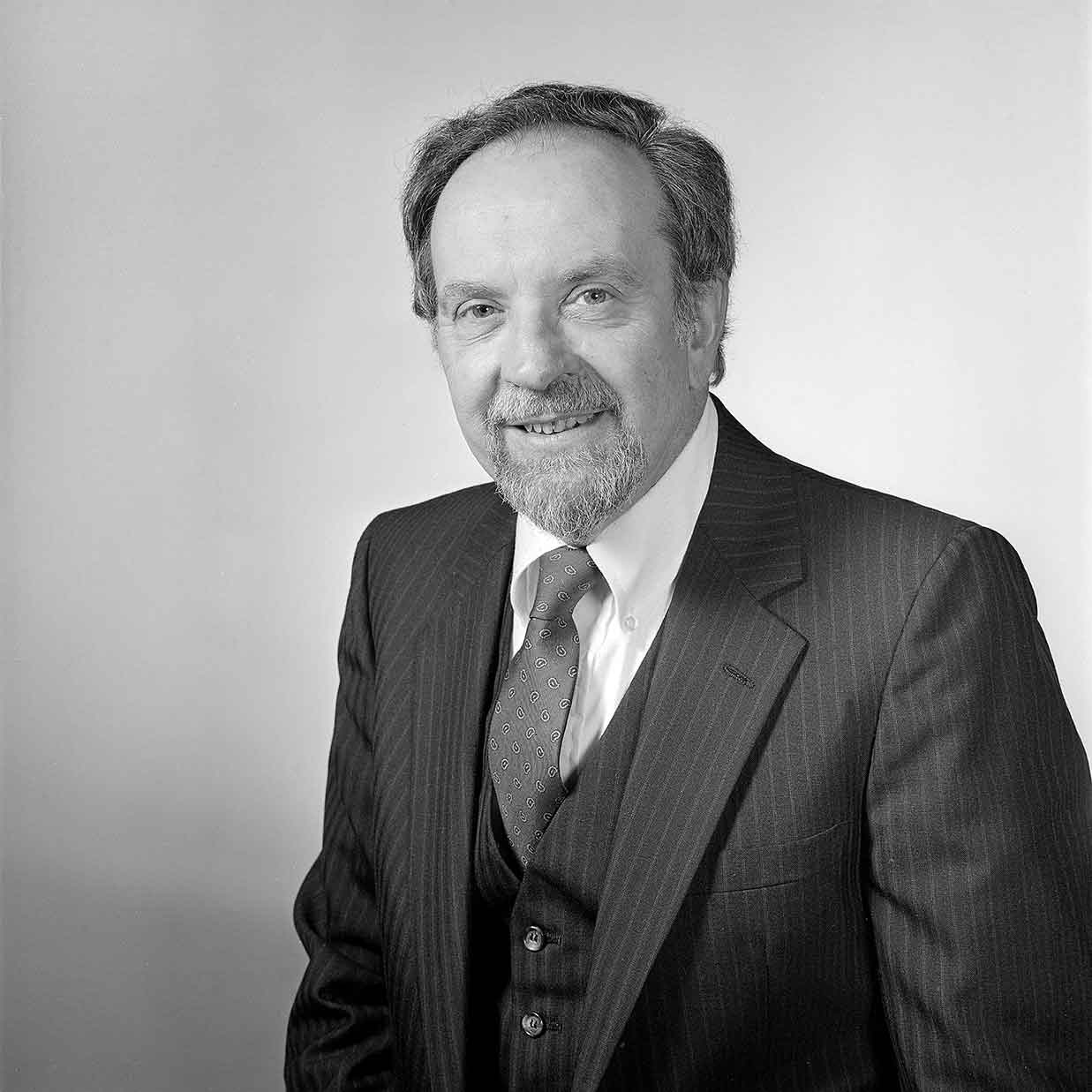 James D. Purvis, a scholar of the Bible, a linguist, and an archaeologist, died November 11, 2020. He was 88.
Purvis joined the BU faculty in 1966 as chair of the CAS religion department. In 1986, he was honored with the Metcalf Award for Excellence in Teaching. According to the citation, Purvis combined "meticulous scholarship with immense enthusiasm in the teaching of biblical and Near Eastern subjects. One of his students, a sophomore, has written, 'Dr. Purvis' energy and passion are absolutely contagious, and one cannot help but be swept away by his brilliant unraveling of ancient mysteries and puzzles.'"
In addition to his teaching, Purvis did field archaeology in Israel and Cyprus at Tel Gezer, Tel Dor, and Idalion, published his research on the Samaritan sect of Israel, and created a video series based on his interdisciplinary course, The Holy City: Jerusalem in Space, Time, and Imagination, which he taught in Boston and in Jerusalem. A student quoted in the Metcalf citation said, "With him as our guide and mentor, we explored Israel's past, present, and future, gaining a deep sense of understanding and love for both the city and our teacher."
In 2013, Purvis was awarded the Samaritan Medal for Peace, Humanitarian and Academic Achievements for his research and promotion of the Samaritan people as descendants of the ancient Israelite nation.
Purvis earned a doctorate in Old Testament studies at Harvard University and began his career at Connecticut College (formerly Connecticut College for Women). He retired from teaching in 1997.
David A. Russell

Henry M. Goldman School of Dental Medicine Assistant Dean for Admissions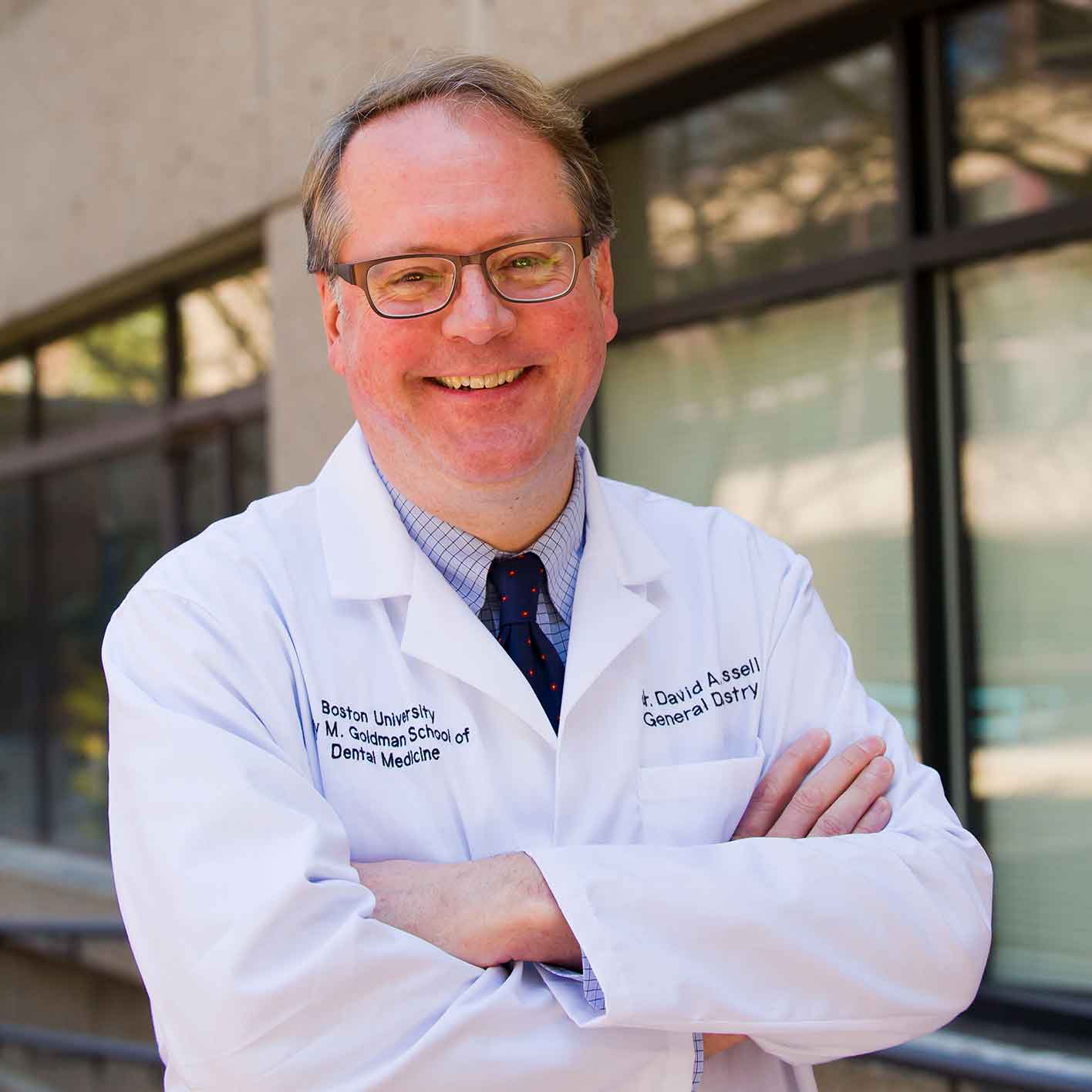 David A. Russell had a long career in dental medicine as a practitioner and an academic and public health leader.
Russell, an SDM associate clinical professor of general dentistry, died January 9, 2021, at 63.
He received a BA in theology and music at Boston College, a DMD from Tufts University School of Dental Medicine, and an MPH from Tufts University School of Medicine. Following a 24-year career at Tufts University School of Dental Medicine, and four years in the private sector, he was appointed to the SDM faculty in 2012 as a clinical associate professor of general dentistry and director of the Group Practice Experience & Team Leadership initiative. In 2016, he was promoted to assistant dean for patient care and, in 2017, was appointed assistant dean for admissions.
As assistant dean for admissions, Russell was one of the first people at SDM whom applicants met, and he provided steady and inspirational leadership for hundreds of students taking their first steps into dentistry.
"Over the course of his career, David influenced the lives and careers of countless dental students, and was a supportive friend and colleague to all who knew him," says Jeffrey W. Hutter, who retired as SDM dean in March. "He had an incredible presence, and will be deeply missed."
In lieu of flowers, contributions may be made to the David A. Russell Endowed Scholarship Fund at Boston University Henry M. Goldman School of Dental Medicine, Development & Alumni Relations, 85 East Newton St., 10th Floor, Boston, MA 02118.
F. Lee Bailey (LAW'60)

Criminal Defense Attorney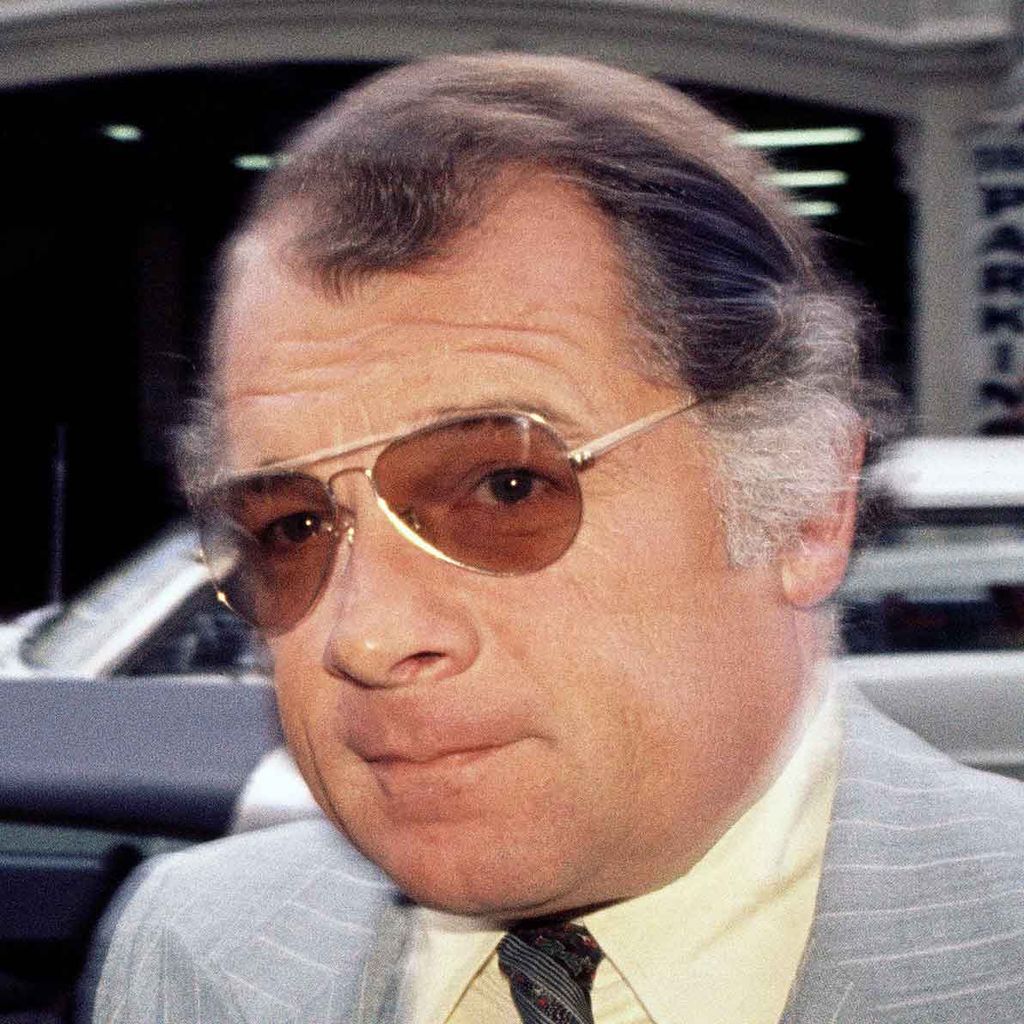 F. Lee Bailey (LAW'60), a criminal defense attorney who represented former football star O.J. Simpson and other high-profile clients, died June 3, 2021, in Georgia. A native of Waltham, Mass., who graduated at the top of his BU School of Law class, he was 87. The Boston Globe described Bailey as "the model of the modern gun-for-hire criminal defender, a brilliant, pugnacious counselor whose courthouse presence all but guaranteed legal fireworks." Bailey was part of the legal team defending Simpson, who was acquitted in 1995 in the murders of his ex-wife, Nicole Brown Simpson, and her friend Ron Goldman. Bailey also represented the kidnapped newspaper heiress Patty Hearst, convicted in 1976 of armed bank robbery, and Albert DeSalvo, who'd confessed to being the Boston Strangler. Bailey had his own legal troubles, and was eventually disbarred for misconduct in Florida and later in Massachusetts.
Charles Cosmo Clemente (CGS'60, COM'62)

Technology Industry Leader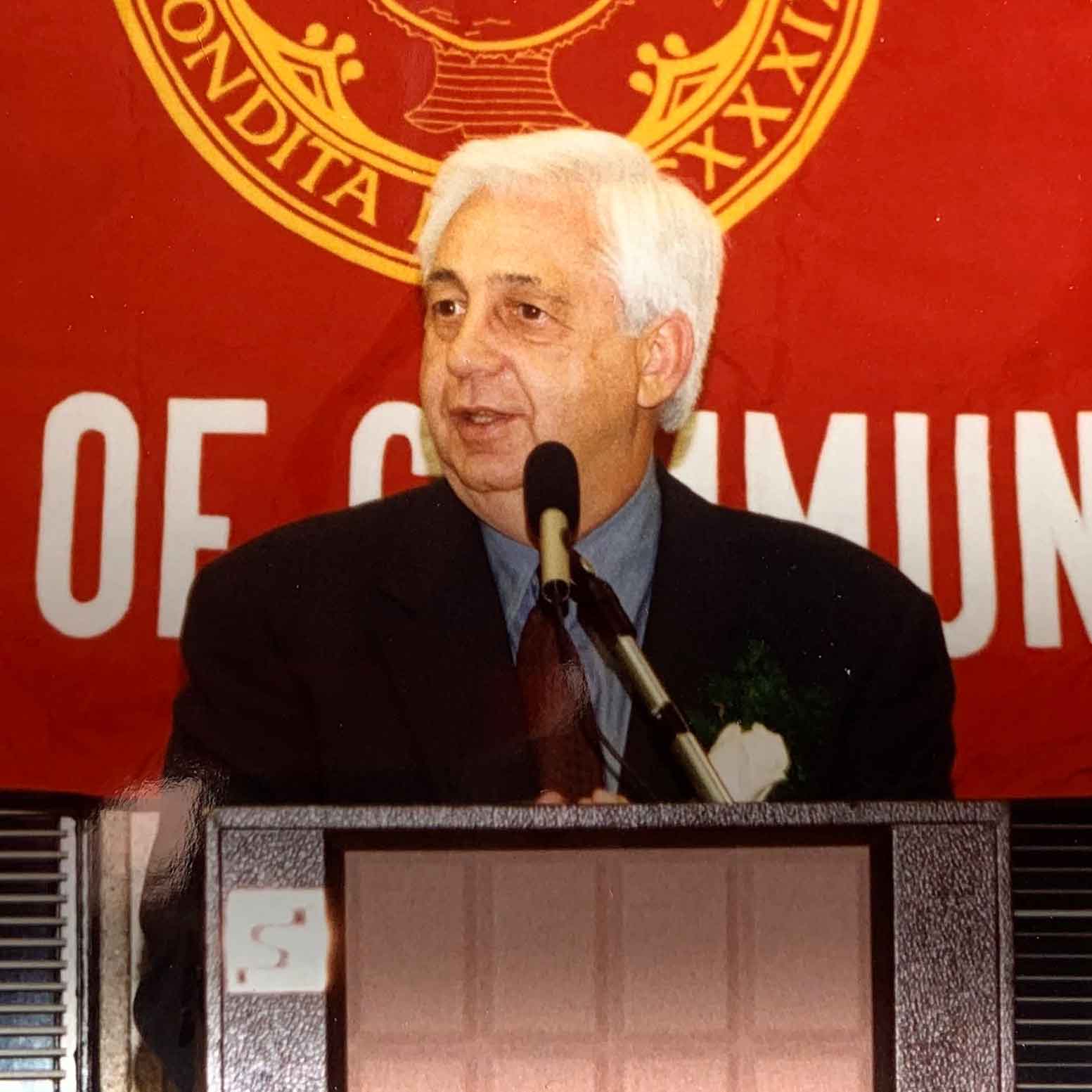 Charles "Chuck" Cosmo Clemente (CGS'60, COM'62), a technology industry leader and an entrepreneur, died February 14, 2021. He was 85. A former BU trustee and recipient of a College of Communication Distinguished Alumni Award, he was the retired chief operating officer of media giant America Online/Redgate Communications. There, and at other companies, he used a combination of operating management and hands-on counseling in strategic marketing and positioning to evangelize new media, helping to redefine the digital age. Previously, he was involved in marketing and communications with Digital Equipment Corporation, Gray Stratton International, and Hill+Knowlton, among others, and was a consultant in strategic marketing and positioning to a variety of companies, from Fortune 100s to start-ups to leading international corporations such as IBM.
Richard M. Doyle, Jr. (CGS'83, CAS'85)

Criminal Defense Lawyer
Richard M. Doyle, Jr. (CGS'83, CAS'85) died March 21, 2021. He was 59. At BU, he was a political science major and a member of the BU rugby football club (he was known as "The Ratman" and as the team prankster). After graduating, Doyle earned a JD from the New England School of Law, in 1988. He was a member of the Massachusetts Bar Association and the Massachusetts Association of Criminal Defense Lawyers. For more than 30 years, he was a criminal defense practitioner in the Trial Court of the Commonwealth of Massachusetts.