Swati Rani's CAS Class Explores Being Asian and Building Community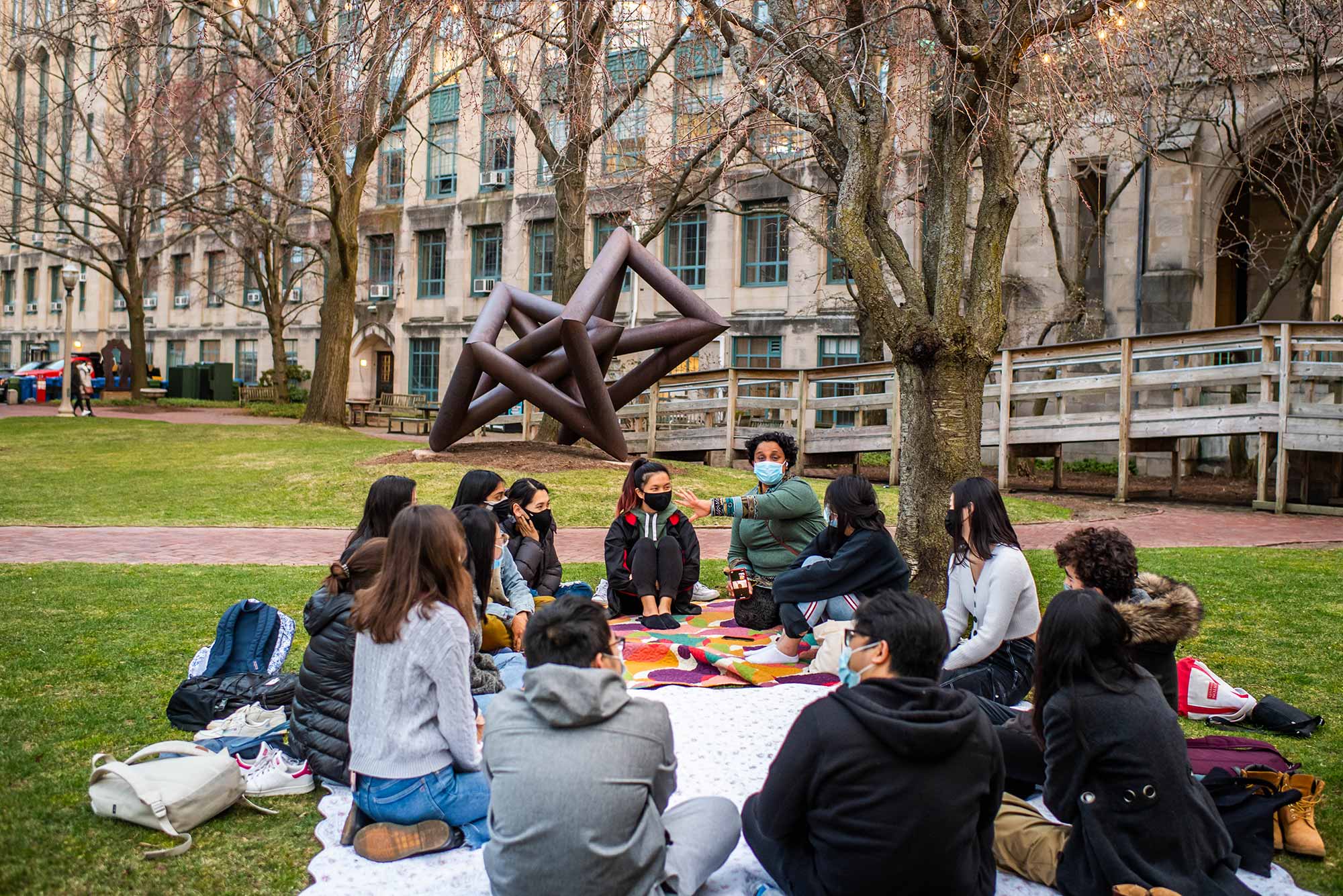 Writing
Swati Rani's CAS Class Explores Being Asian and Building Community
From one student: "Here I feel completely at ease. It's so comforting to realize, hey, I'm not the only one."
It's a chilly evening in early April. Bundled up in sweaters and sweatshirts, 15 Boston University undergrads sit in a circle on blankets on the grassy BU Beach. Swati Rani's class, Asians Are People of Color, Race Relations and Writing, is meeting in person for only the second time this semester.
Kevin Nguyen (CAS'24) explains how Rani has turned their class into a community, despite the pandemic and social distancing. "Having a teacher that's a little loud and energetic puts that energy into us as well," he says, glancing at Rani as his classmates nod in agreement.
Rani, a lecturer in the College of Arts and Sciences Writing Program, lets out a burst of laughter—a loud burst. "Go ahead," she urges, "say whatever you want."
Other students speak up. In this class, Asians and Asian Americans are overwhelmingly the majority. A few are international students, including Anisha Misra (COM'23), who calls Singapore—where her family is—home, but was born in India and grew up in Hong Kong and Singapore. Most are Asian American, the children of immigrants from Vietnam, India, China, Korea, Singapore, and Hong Kong.
"There's a wall, a guard I put up, in my other classes," says Xinyi Yang (CAS'24), who grew up in Manhattan and considers herself a New Yorker as well as an Asian American. "I look at the ratio and decide if I want to participate and how much I want to participate. But here I feel completely at ease. It's so comforting to realize, hey, I'm not the only one."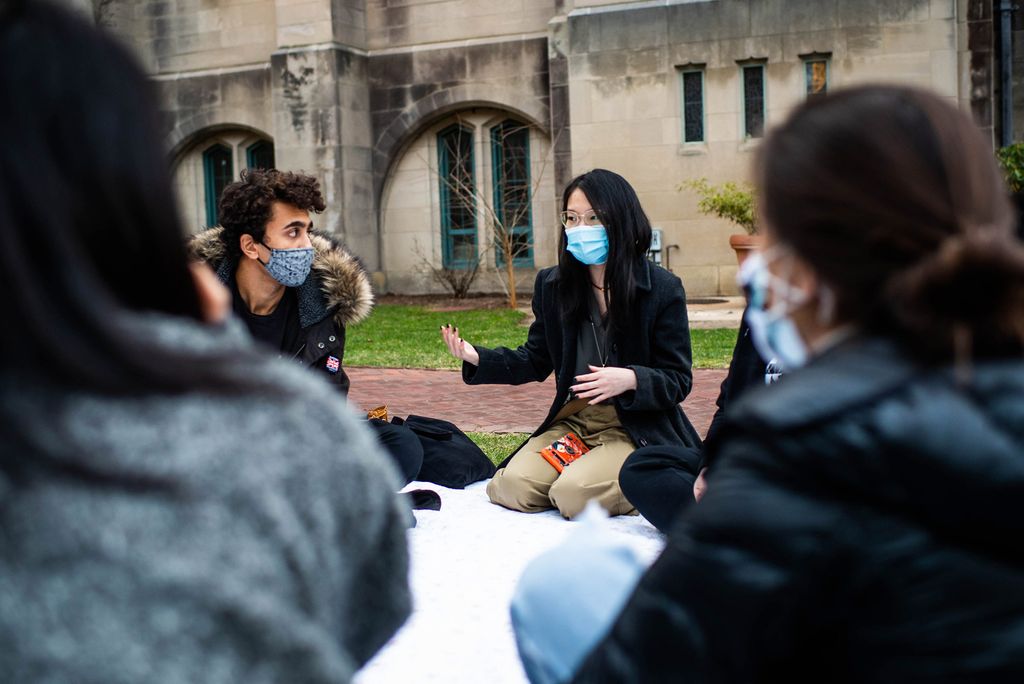 That is Rani's goal—to create a community of writers. "This semester students need community more than ever," she says. The Asians and Asian Americans in her class are coping with the social isolation imposed by the coronavirus pandemic while at the same time being assaulted by news of attacks against Asians and Asian Americans.
It took the killing of eight people in Atlanta in April, six of them Asian American women, to get the public "to finally talk about violence against Asian Americans," says Kristen Chan (COM'24). "Dr. Rani is able to help us talk through these emotions, to foster pride, dignity—our voices as Asian Americans."
The success of Rani's course, which she has taught for two years and always has a waiting list, is one of the reasons she is being honored May 5 as one of two BU faculty recipients of the 2021 Susan K. Jackson Award. Jackson, a longtime faculty member and CAS associate dean, who died in 2017, was known for her mentoring, and the award recognizes students, faculty, and administrators who create community at BU.
In a letter congratulating Rani on the award, Stan Sclaroff, dean of Arts & Sciences, cites her teaching, mentoring, and work as chair of the Writing Program's Diversity, Equity, and Inclusion Committee. Quoting colleagues who nominated her for the award, Sclaroff writes that Rani is "devoted to the well-being of [her] peers, and community building as a form of social justice."
Rani, whose parents immigrated to the United States from India before she was born, created the class as a way to look at Asian American history, immigration, politics, and arts and culture through the lens of decolonization and writing. The students began the semester by watching the PBS five-part series Asian Americans. They dove into multimedia antiracist research projects, which range from an analysis of how broadcast media covers race by Sam Petruccelli (COM'24) to dinner table conversations—via Zoom—between premed major Aimee Chau (CAS'24) and her parents, who immigrated to the United States from Vietnam and live in Colorado.
"I've learned things about my parents and their past I didn't know, and they've learned things about me," Chau says. "The conversation will continue."
The students read How to Be an Antiracist by Ibram X. Kendi, BU Center for Antiracist Research director, and poet Cathy Park Hong's Minor Feelings, where Hong writes about coming of age as the daughter of Korean immigrants in a country that views Asians as a monolith and perpetuates the stereotype of the "model minority" that is "next in line to whiteness."
As much as Hong's writing about internalized racism has resonated, says Chau, and as much as she's learned about Asian Americans and identity, one of the best things about Rani's class is that "it's a place where I can just be.
"I don't have to explain myself—my heritage," says Chau, who is an officer in BU's Asian Student Union. "We talk about our cultures, but we also talk about our day, about being a BU student. Sometimes I just want to talk about a test and how hard it was."
For Gwyneth Williams (Wheelock'24), one of two white students, the class has been a different kind of learning experience. "This is the first time I'm in the minority," she says. "It was slightly uncomfortable at first, but I realized it's something most of my classmates have experienced their entire lives, especially at BU. I've learned that there are certain scenarios where it's best for me to stay quiet so other people can speak."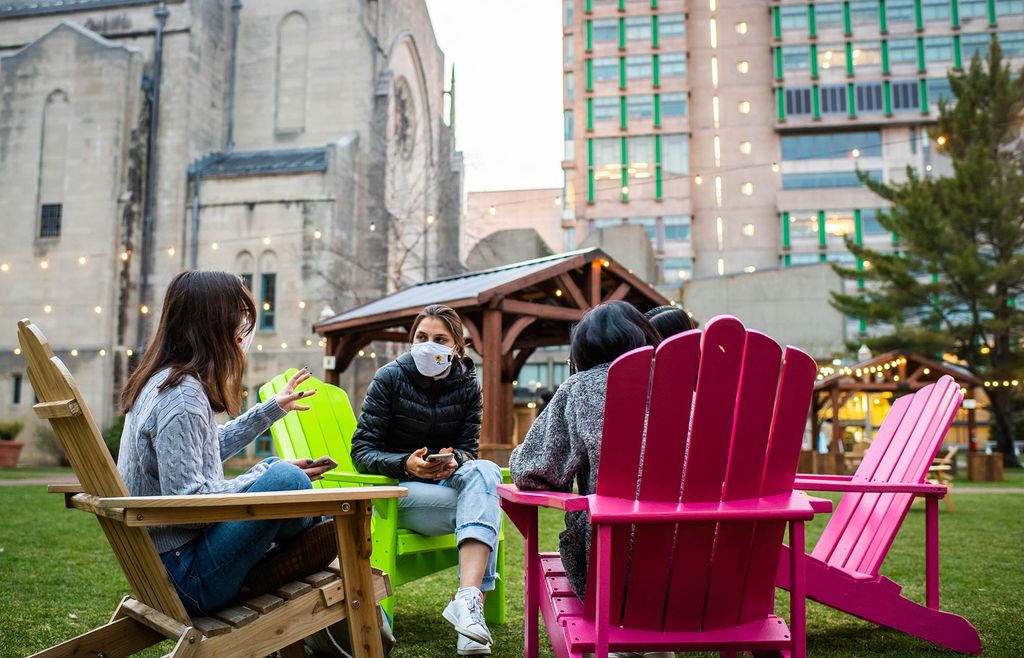 "In this class we're writing counter-narratives to the white master narrative," Rani says.
After weeks of difficult, probing conversations about race, Rani lightened the mood with a unit on Asian Americans in comedy. And now, under the twinkle lights strung between the BU Beach trees on this April night, it's stand-up improv night. The students huddle in small groups, talking through the comedy sketches they will perform to end the class.
Rani provides cues for the sketches: "Campus. COVID-19, one year later—now. Racial microaggressions."
"Have fun," she says. "You're just playing—play on the whiteness and the stereotypes around Asians and the stuff we've learned."
Rani, who as her students know is the single mother of a five-year-old daughter, is, as usual, multitasking, talking to the class in front of her—and through her earbuds, to the three students who are Zooming in, two from China, one from another state.
"It's great that Kevin said I'm loud," Rani says, referring to the discussion at the start of class. "Asian American women aren't supposed to be loud."
She's showing her students that it's okay to be loud. "It's about having a voice, asserting yourself, with writing being the vehicle," she says.
Then, to her students, "Ten more minutes."
They return to the blankets, which Rani has brought from home. One by one, each group performs their sketch—standing up—to laughter and applause. The performative obsession of "woke" white people with their overpriced boba, or bubble tea, and poke bowls is mocked. So is the Atlanta law enforcement official's initial description of the gunman who killed eight people, as reported in the media: "He was having a bad day."
For her group's sketch, Yang acts out a white male teacher who is approached at the end of class by two Asian American students. Brooklyn resident Vivien Jiang (Sargent'24) is Sarah, from New York, in the sketch. Kristen Chan, who grew up in New Jersey, plays Julie, from Pasadena.
"Hi, girls," the teacher says. "You look so much alike. Are you cousins?"
"Actually, we just met," says Sarah.
By the end of the skit, the teacher is still mixing Sarah up with Julie. He's asked each of them, several times, where she's from. And even though Sarah has patiently answered New York, and Julie Pasadena, their teacher still seems unable to comprehend that they are Asian Americans.
Rani is laughing so hard she can barely hold her cell phone steady. She's using it to record video so she can post it on the class Facebook site. The students are laughing, too, many in recognition.
"That skit definitely encompassed things a lot of us have experienced," Chau says.