Staff and Faculty React to BU COVID-19 Vaccine Mandate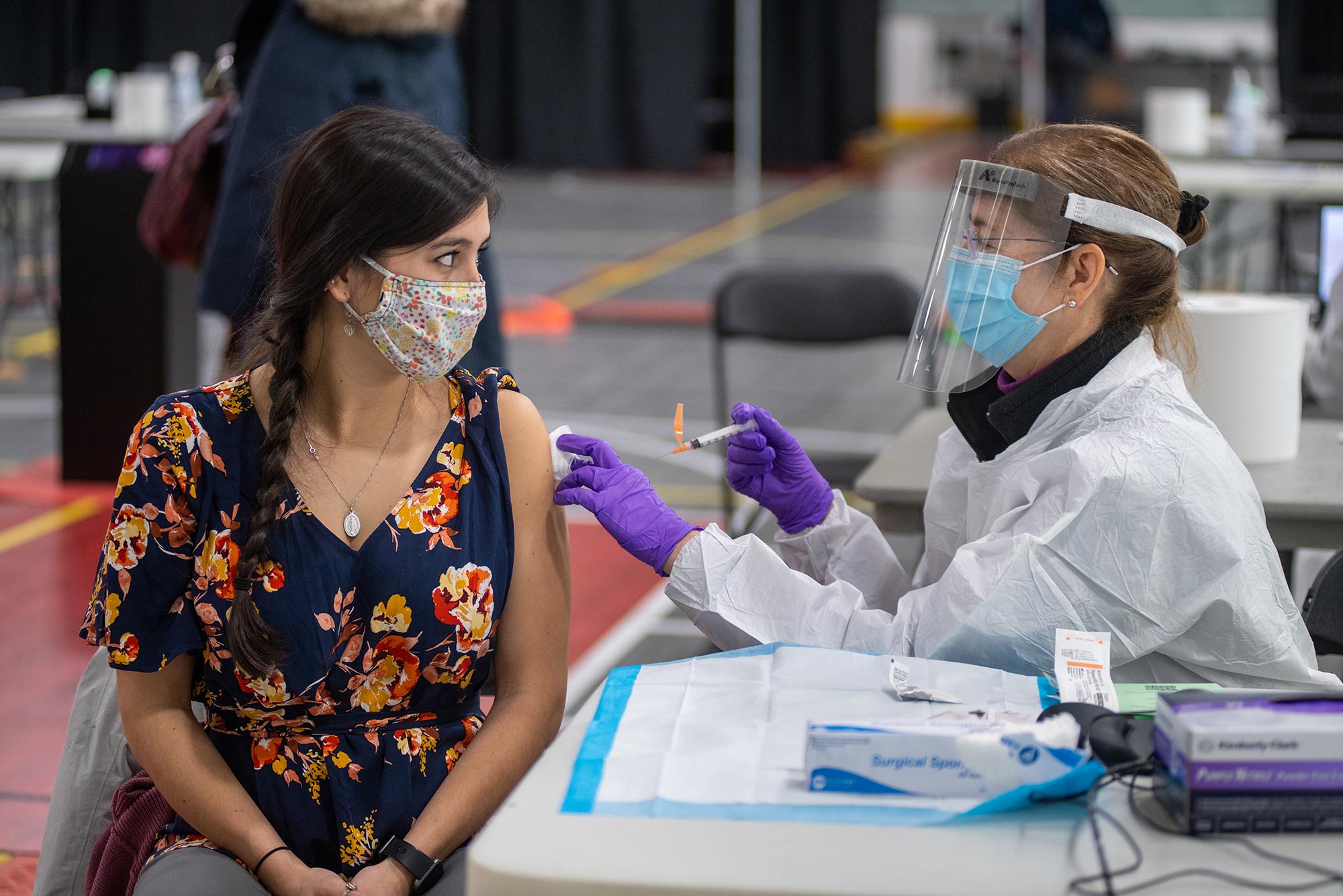 Faculty & Staff
Staff and Faculty React to BU COVID-19 Vaccine Mandate
Initial responses seem in favor—"a great gesture," "the right decision"—but some dissent
Reaction was swift on Monday to BU President Robert A. Brown's announcement that faculty and staff would be required to be vaccinated against COVID-19 by September 2. Vaccination had already been required for students, but Brown had hoped the vaccination rate among employees would be higher without a mandate.
Instead, in a letter emailed to faculty and staff, Brown says a survey had revealed that only 71.3 percent of faculty and 73.6 percent of staff are currently vaccinated, or will be by August 1. He describes that as "significantly below" the level needed to ensure a safe return to in-person classes this fall after more than a year of the coronavirus pandemic.

BU Today reached out to faculty and staff across the University to ask their reaction to the news.
"I think that's great," says Andy Sellars, School of Law clinical associate professor of law and director of the BU/MIT Technology Law Clinic. "It's a really good way to ensure the safety of the BU community. All evidence indicates that the best way to protect a population is to have a very high vaccination rate.
"In general, the fear of community spread is still real," says Sellars, who received the Pfizer vaccine in the spring. "For some in our community who have family members who are immunocompromised or otherwise at higher risk for the infection turning into a very serious thing, their biggest concern would be coming to work and then bringing home something extra. This is a great way to ensure the risk stays low."
As for BU offering walk-in vaccination clinics on campus, he says, "obviously it's much easier to get the vaccine now than it was in the spring, but for people who have to be on campus, this is a great gesture."
Bonnie Brown (COM'04), Center for Anxiety and Related Disorders nurse administrator and health communications specialist, says that as a nurse, she fully supports the mandate.
"I believe, to date, BU faculty vaccinations are reportedly lower than those of employees, although this may be a reflection of not yet having uploaded supporting documentation," Brown says. "I do believe the majority will support vaccines, as education and science are generally more in line with those in academic environments, and it is becoming more evident that the Delta variant is spreading quickly and resulting in greater risk of negative outcomes for those who are unvaccinated."
She says she was fortunate to have been among the first to be vaccinated at BU, given her healthcare credentials. "I immediately worked towards identifying external vaccine site sources for faculty and staff as quickly as they became available," she says.
Ari Trachtenberg, College of Engineering professor of electrical and computer engineering, has been outspoken in his criticism of a vaccine mandate from the BU administration.
"I am profoundly disappointed by BU's vaccination mandate, both for students and for faculty, which is an abrogation of our moral high ground to financial and phobic interests," Trachtenberg emailed to BU Today. "The COVID vaccines have proven extremely efficacious, but long-term and rare side effects are yet unknown. Ethics derived from the Nuremberg doctors' trial have long required that medical intervention must be (i) voluntary, (ii) informed, and (iii) in the best interests of the recipient. Perhaps BU should reconsider its motto: Learning, Virtue, Piety."
For Sarah Davies, College of Arts & Sciences assistant professor of biology, the decision was heartening for both professional and personal reasons: "I think it showcases that we value and trust science. I will feel much more comfortable on campus this fall knowing that those who I interact with are vaccinated, and this is especially important to me given that I have a two- and a four-year-old at home who obviously cannot be vaccinated yet. I applaud BU for taking this step and showing the community that they prioritize public health and value science."
Similarly, Anna Lawless-Collins, LAW associate director for systems and collection services, Fineman and Pappas Law Libraries, says news of the requirement put her at ease.
"Given the new variants, I'm relieved to have so much less potential exposure, especially as the parent of a child too young to be vaccinated," says Lawless-Collins, who, like Davies, is the parent of a young child. "It's such a relief to know it's that much less likely that I'll bring it home to him."
On social media, the story also quickly caught the attention of BU employees.
Jonathan Levy, School of Public Health professor of environmental health, tweeted: "Bravo to @BU_Tweets for announcing today that #COVID19 vaccine will be mandatory for all faculty and staff this fall (along with previously announced student mandate)! This will make our university community and the surrounding communities safer. Clearly the right decision."
Shiney James, BU director of orientation, says it makes sense to have the same requirements for students and employees.
"It demonstrates a continued commitment to our overall safety and well-being," James says. "The announcement also helps lessen—not completely relieve—my nervousness about attending in-person meetings without physical distancing. Every in-person meeting I attend will have people in the room who have been vaccinated or asked for an exemption that was approved by the University. It is a step forward."
Paul Shafer, SPH assistant professor of health law, policy, and management, also expressed relief on Twitter: "Many of us have unvaccinated children (<12) and/or immunocompromised family members, so reducing risk to and from them by making all faculty and staff get vaccinated who can be just makes good sense."
"I am personally much happier to know that every student and colleague I come into contact with is vaccinated," tweeted Joshua Goodman, Wheelock College of Education & Human Development associate professor of education and economics. "It's not as much for my safety (I'm vaxed and therefore very low risk) but because we need to curb further spread in order to keep schools/businesses open."
Aaron Goldberg, College of Fine Arts lecturer in music, director of Athletics bands, and conductor of Big Band I, acknowledges that not everybody will agree with Brown's decision: "The University is already requiring our students to be vaccinated, and this now creates a full measure. Though there will likely be some who are upset by this, I believe that this is the best way for us to take care of ourselves, each other, and our community. We are one big team, and teammates must take care of themselves and their teammates equally."
Allyson Baughman, School of Social Work Center for Innovation in Social Work and Health project director, had a number of questions about the decision. Why was it made so soon in the summer, and two weeks before the deadline BU employees have to upload their vaccination status? If the percentage of community-wide vaccination was too low, as Brown says, what would have been an acceptable figure?
"Finally, I have no idea the extent to which vaccine hesitancy contributes to the numbers reported in the statement, but I would encourage President Brown to use what we are learning about vaccine hesitancy to inform BU policy," Baughman says. "One main takeaway is that people have legitimate questions and concerns about vaccines."
Listening first and then acting to address questions and concerns is a key part to helping people overcome hesitancy, she says.
"When I saw President Brown's announcement this morning I was comforted to know that BU faculty and staff will be doing our part to keep our entire community safe," says Sarah Sherman-Stokes, LAW clinical associate professor of law and LAW Immigrants' Rights and Human Trafficking Program associate director. "I'm excited to be back in the classroom full time, knowing that we can learn as safely as possible."
"Strictly speaking as an individual BU employee, I support the Office of the President's decision to make our campus as safe as possible for faculty, staff, and students by requiring vaccinations," says Gregory Stoller, Questrom School of Business senior lecturer in strategy and innovation. "That being said, I acknowledge that several people across the commonwealth, the United States, and in the world feel differently, often grounded by their respective personal, political, or religious viewpoints."
Stoller says to more thoroughly discuss the disparate aspects of a "vaccinate or not" decision, his fall podcast and video cast, Language of Business, will begin interviewing the first of several guests from inside and outside the BU community.
"Protecting our collective health is absolutely a priority," says Randi Rotjan, a research assistant professor of biology at the College of Arts & Sciences. "There are so many other mandated health requirements; requiring a COVID vaccine doesn't feel any different to me. Given the safety and efficacy of the vaccines, and the race against time for mutations, requiring vaccinations seems like the most logical way forward for our community."
Kính Vũ, CFA assistant professor of music, says for him, the mandate is about being responsible to neighbors. "Living in Kilachand Hall as a Faculty-In-Residence heightens my responsibility to neighbors who call BU Residence Life settings their home," he says. "I support the vaccination requirement for faculty and staff, particularly since the University's science/medical community (especially Dr. Judy Platt and team) has done such an amazing job protecting our BU community during the previous 18 months. The coming semester promises to be joy-filled; I welcome the University's decision to keep everyone safe."
Jessica Chicka (STH'07,'11,'19), Marsh Chapel chaplain for international students, hopes the mandate will make in-person worship services more possible. "Ultimately, this is the best thing for our BU community," she says. "It takes into consideration the common good of us all, creating spaces that are as safe as possible for faculty, students, and staff. Additionally, requiring vaccination opens up opportunities for us to resume in-person activities, like worship services and religious gatherings, which we have so dearly missed in the past year and a half."
Ziba Cranmer, BU Spark! director, says that it's important for BU to do whatever it can to reduce infection rates. "At a time when we are seeing rises in COVID cases and deaths—what is being called a pandemic of the unvaccinated—now is the time for us lead by example," Cranmer says. "We have a collective responsibility to act, especially to protect the most vulnerable among us, many of whom in Massachusetts have lower rates of access to the vaccine. For me, this means doing whatever we can as a society, as an institution, to get as many people vaccinated, as soon as possible. Given this, I support the University's decision to do our part not only to create a safe environment on campus but to prevent further spread and death in the broader community."