Remembering Former BU President Jon Westling
Obituaries
Remembering Former BU President Jon Westling
Friends, colleagues recall his roles as medieval scholar and civil rights activist, his love of motorcycles and rock 'n' roll
Jon Westling, a motorcycle-riding scholar of medieval European history, onetime Freedom Rider, and president emeritus of Boston University, died last week at age 77. Westling's career at BU spanned 46 years and included several top leadership posts, although his most lasting avocation was teaching students about the history of Europe. He came to the University in 1974 to work on a project to produce films for the US Bicentennial. While that project never materialized, John Silber (Hon.'95), then BU president, took notice of the 32-year-old and drew him into his administration. He was named provost in 1984, and later became executive vice president. Westling (Hon.'03) served as president of the University from 1996 to 2002.
BU President Robert A. Brown pointed to Westling's "significant role in the history of Boston University" in a letter sent to University leadership. "He was deeply engaged in the University's initiative in the school system in Chelsea," Brown wrote. "The FitRec project was launched on his watch, as was the construction of the residence at 10 Buick Street [StuVi-1]. Those who worked directly with him describe him as the most exacting editor they ever encountered."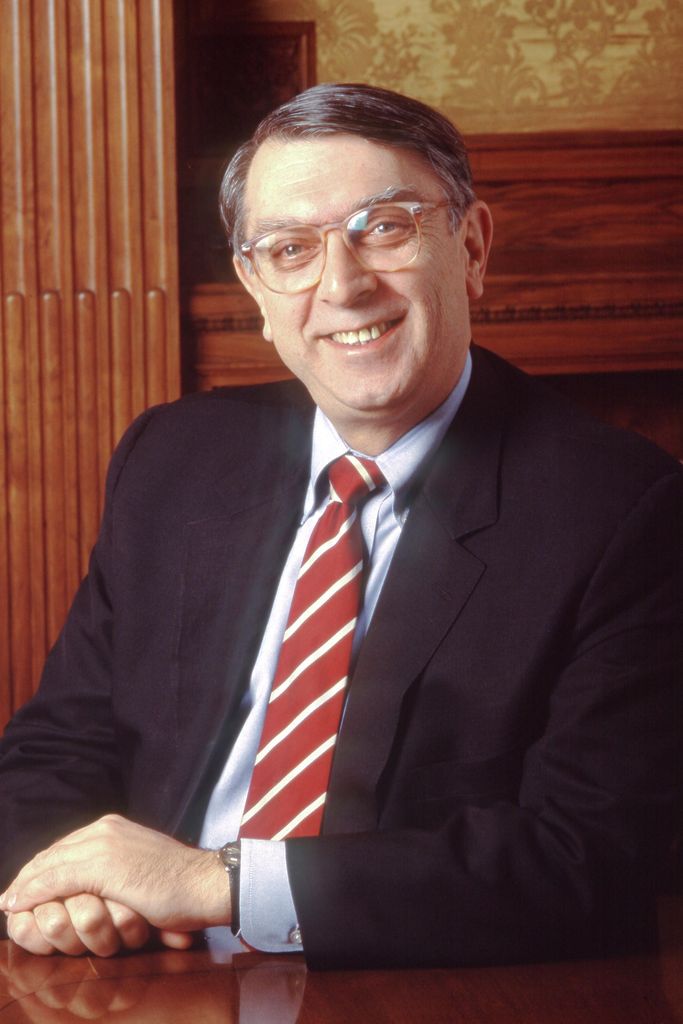 One of those close colleagues is Joanne Evans, Westling's executive secretary for 35 years. "If Mr. Westling's staff presented a typed letter with grammatical mistakes, occasionally one might find a letter returned with 'wake up!' and cigarette burns poked through the paper to accentuate his point," Evans recalls. "And yet at the close of every day, he steadfastly thanked his staff for a job well done. He was a remarkable leader with the highest standards."
Westling served in several executive positions for more than 20 years, working closely with Silber. He was acting president of the University when the president was out of office, either on sabbatical or on the campaign trail when Silber was running for governor of Massachusetts. In 2002, after six years as president, Westling returned to his true avocation: teaching.
Richard Towle, a former BU senior vice president, says Westling's effort to make University a world-class institution was second to none. "Jon was a tireless worker with a powerful intellect," Towle says. "As president, he launched a comprehensive effort to improve the quality of all services to students, including the recruitment of top-notch faculty members and a new effort to listen to the needs of students in the areas of administrative services and student life. His special focus on student-oriented programs led to the development of the University Service Center and commissioning the development of the John Hancock Student Village, including the FitRec, Agganis Arena, Track & Tennis Center, and the Student Village dormitories. And as provost under John Silber, he played a pivotal role in the recruitment of four Nobel Prize winners to the faculty."
Brian Jorgensen, a former assistant to Silber and founding dean of the University's Core Curriculum, says Westling was learned, wise, and cultured. "There was also a great kindness about him," Jorgensen says. "People could sense that."
One other of Westling's gifts was also readily apparent: he was a great dancer. "If you put on some rock music, he could really dance," says Jorgensen. "He brought BB King and Bob Dylan to campus. It was the best entertainment we ever had. And he also rode an impressive motorcycle and handled it well, nothing wobbly or tentative, just mastery and panache."
Westling was raised in Yakima, Wash., and graduated from Reed College in Oregon. He was awarded a Rhodes scholarship and studied history at St. John's College, Oxford University. He was proud of his activities as a Freedom Rider, including participation in a sit-in in southern Virginia in 1963 that earned him several days in jail.  
In 2002, when Westling delivered BU's Commencement address, he offered the graduating class some advice that today seems disturbingly prophetic. Speaking eight months after the events of September 11, he compared the United States with the fledgling nation of 1783, an experiment that many expected to collapse. "In fact, it came close to failing: it struggled; it teetered," Westling said. "Yet it survived." Not only did it survive, it prospered remarkably in the 20 years following the Revolutionary War. He urged the graduates to do their part to not only preserve, but to build on the nation's democratic institutions. "You, the Class of 2002, face a grave challenge," he said, "but you also have the opportunity to invent a freer, more just, more secure society, and a better, deeper, and more fulfilling culture for America and for all humanity."
Clifford Backman, a College of Arts & Sciences associate professor of history, says that even though he and Westling often clashed over administrative matters, Westling always shared a personal warmth.
"That was something that was perhaps not seen by everyone," says Backman. "As a fellow medievalist, I got to interact with Jon in ways that most of my colleagues did not. We spent many hours enjoying a friendly rivalry in medieval trivia. Jon knew, for example, that the Vikings were the first people in Europe known to skate on ice—they used cows' shinbones as blades. I will miss his deep laugh, his stories about motorcycle adventures, and our occasional, and very nerdy, exchanges of email in Latin."
James C. McCann, a CAS professor of history, says it was clear to all who knew him that Westling truly loved being in the classroom. "Even in recent years," says McCann, "when his health was failing, he continued to teach. He was very serious about that."
He recalls a meeting many years ago with the US Ambassador to Ethiopia at the time, who, it turned out, had gone to high school with Westling. "He told me the two of them used to play ping-pong," McCann says. "One doesn't easily imagine Jon Westling playing ping-pong."
Westling leaves three children, Emma (CAS'02), Matthew (CGS'04, CAS'06), and Andrew (CGS'06, Questrom'08). The University has no immediate plans for a memorial, but administrators expect to eventually have a service or celebration at Marsh Chapel.