Capturing a Year Unlike Any Other
Campus Life
Capturing a Year Unlike Any Other
Photo Gallery provides a visual record of how pandemic transformed BU
One year ago, Boston University was transformed, seemingly overnight, by the COVID-19 pandemic. Students were sent home to finish the spring semester remotely, nonessential staff told to work from home, and a bustling campus suddenly eerily quiet.
In the intervening months, the University has managed to return to some semblance of normalcy, thanks to an aggressive testing and contact tracing program. But it's been a year unlike any other—marked by social distancing, masks, a hybrid learning system, and now, the advent of vaccines.
For this one-year anniversary, we've selected 14 images—from each month since the pandemic struck—that are a visual testament to how COVID-19 has reshaped life at BU. Take a look.
March 17, 2020: Binyomin Abrams, a College of Arts & Sciences chemistry senior lecturer, teaching his 200 chemistry students remotely from the Metcalf Science Center. Photo by Cydney Scott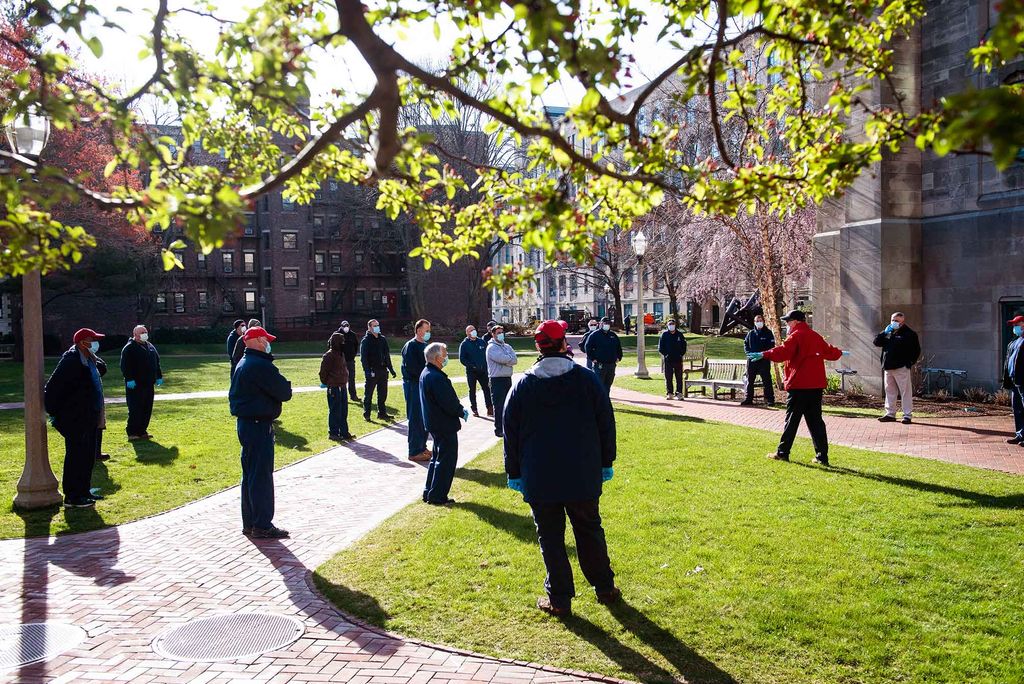 April 29, 2020: A Facilities Engineering & Building Automation Systems team meeting outside by the School of Law. Photo by Jackie Ricciardi
May 16, 2020: Joe Besser (Questrom'20) and Michelle Goltsman (COM'20) walking through campus on Commencement weekend. The pandemic postponed the 2020 BU Commencement, and thousands of others. Photo by Cydney Scott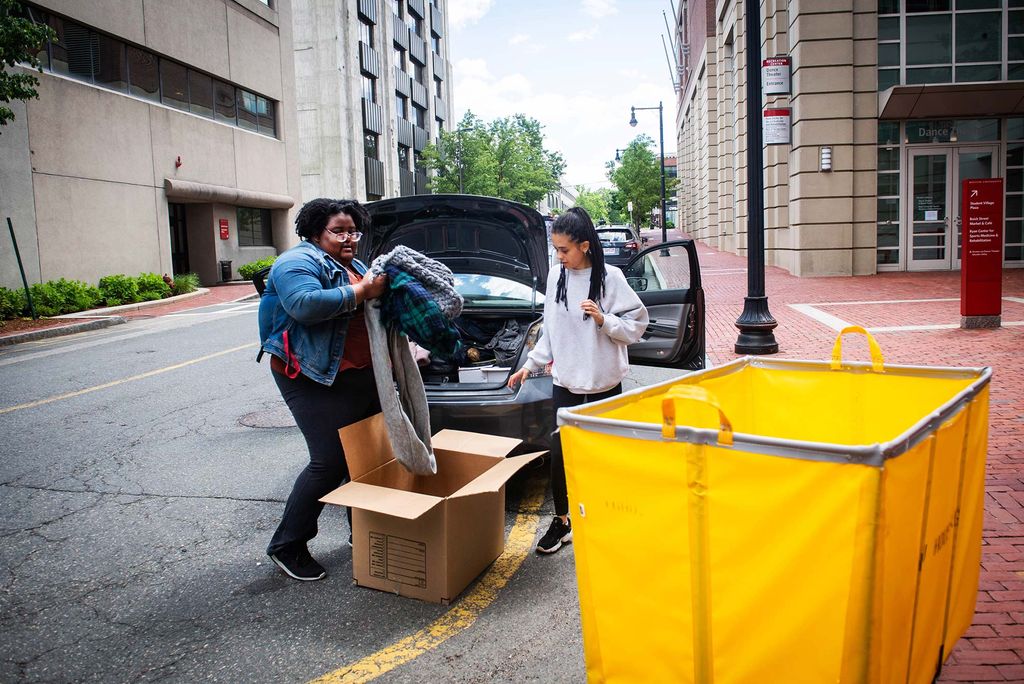 June 1, 2020: Robyn Volcy-Lee (Sargent'20, SPH'21) (left) and Katerina Chew (MET'20) loading up their car when students got the go-ahead to to pick up their belongings left on campus. Photo by Jackie Ricciardi
July 2020: Tsewang Gyalpo of BU Facilities packing up a student's Sleeper Hall room. Photo by Jackie Ricciardi
August 25, 2020: A socially distanced practice of some of the 150 members of the BU Pep Band on Marsh Plaza. Instrument bells were fitted with shields to prevent droplet spread. Photo by Cydney Scott
September 14, 2020: Samantha Haas (COM'22), the lone student in College of Communication lecturer Mike Proulx's advertising class. Photo by Jackie Ricciardi
September 22, 2020: Sarah Wolf (ENG'24) (foreground) in her first-year writing seminar Planet Ocean, focused on ocean science, taught by Emily Chua (GRS'22). Photo by Cydney Scott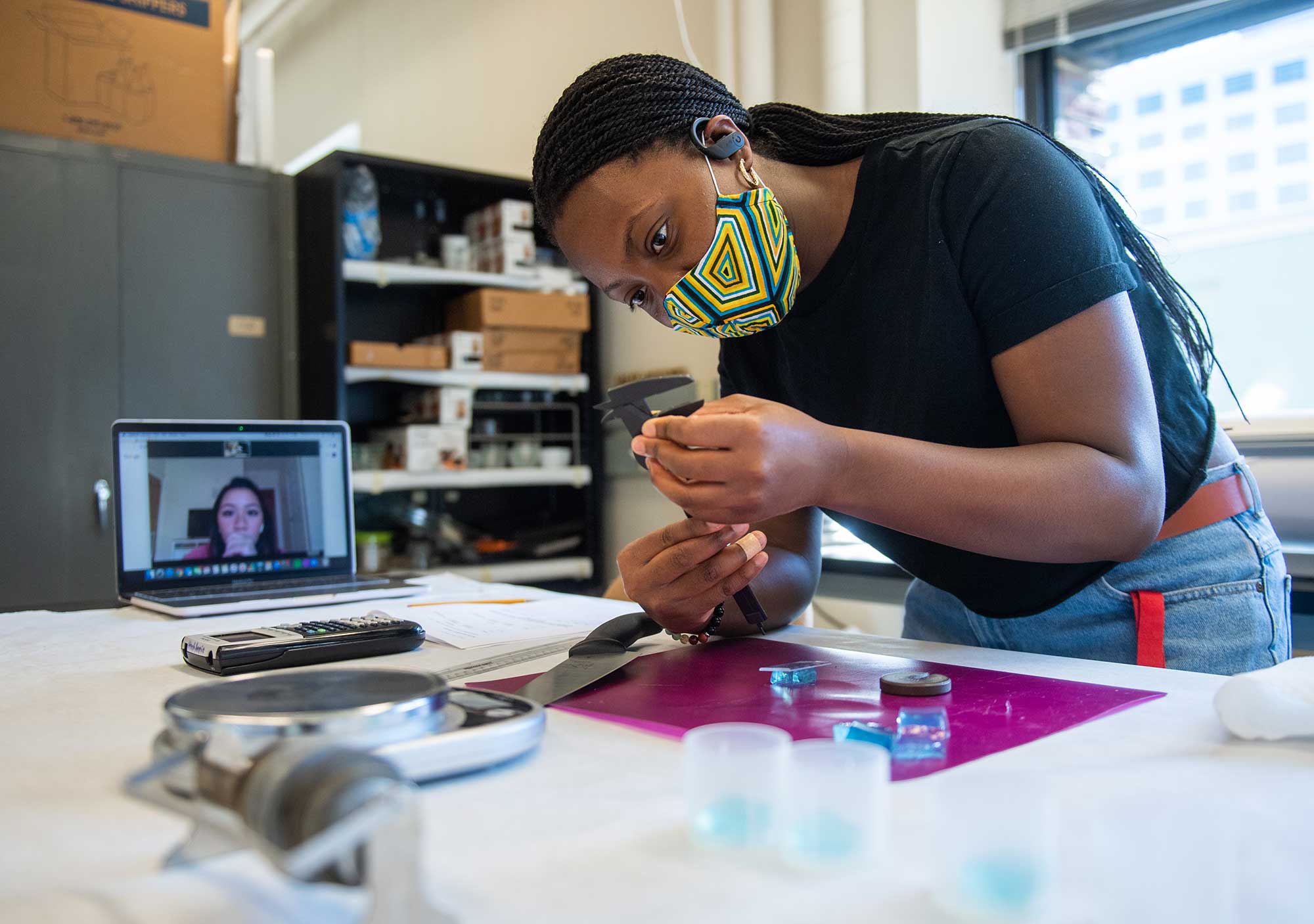 October 15, 2020: Stephanie Joseph (COM'23) makes her way through the steps for measuring the elastic properties of Jello in her Physics of Food and Cooking lab, observed by her (remote) lab mate via Zoom. Photo by Cydney Scott
November 5, 2020: Beezus Ramona (right) keeping Megan Nocivelli, a Metropolitan College adjunct marketing professor, company at their Marshfield, Mass., home. Nocivelli and Beezus Ramona were photographed for a BU Today piece about the BU community's hobbies during the pandemic. Photo by Cydney Scott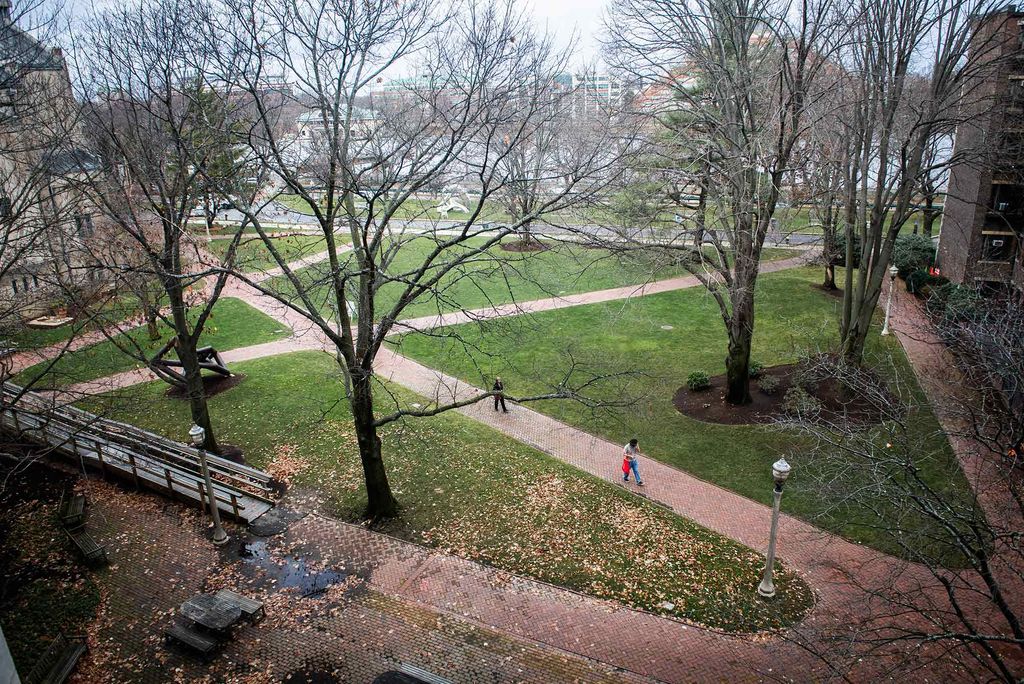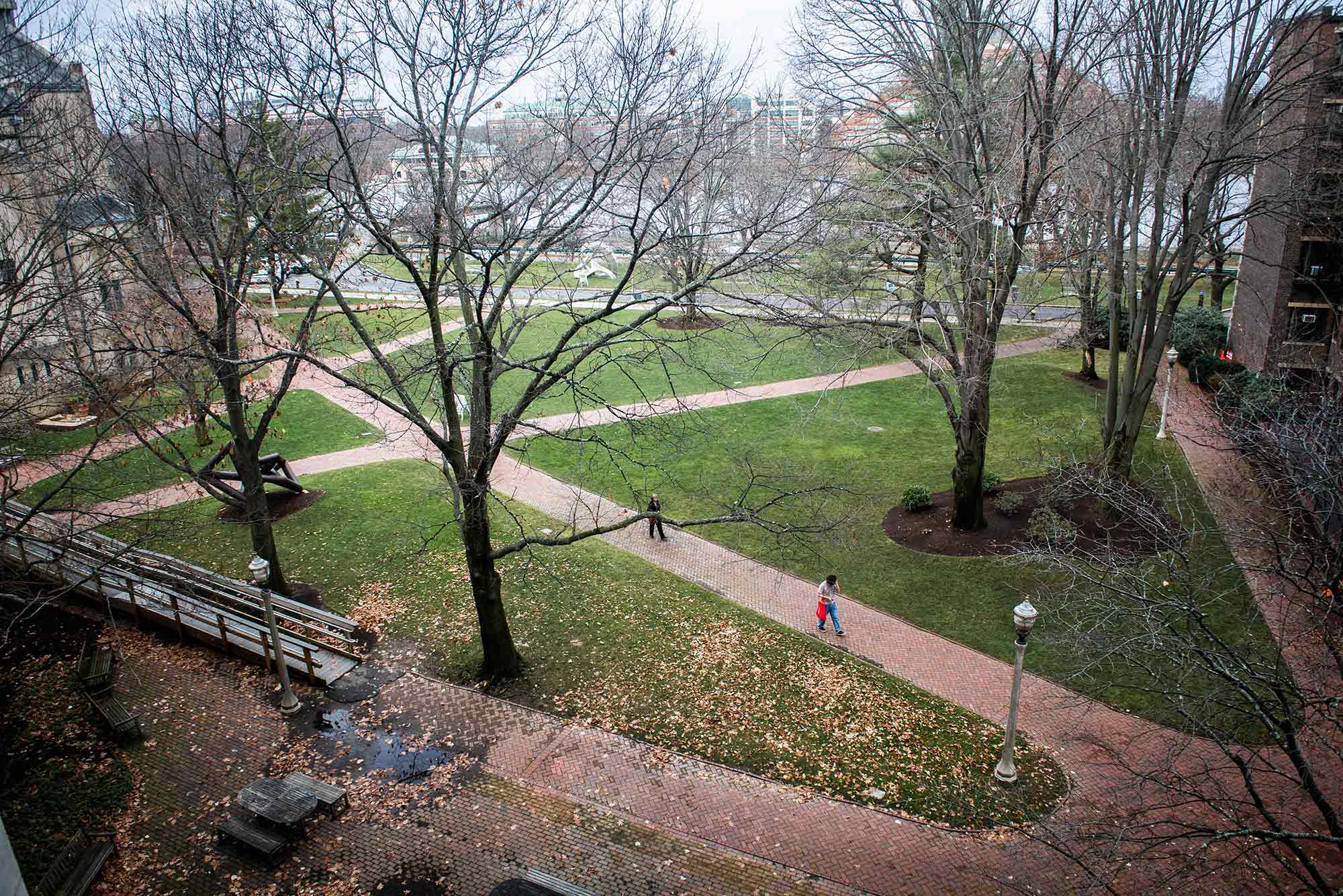 December 1, 2020: The BU Beach in late fall. Photo by Jackie Ricciardi
January 15, 2021: Athletic trainer Emily Gibb (Sargent'10) being vaccinated with the Moderna COVID-19 vaccine by Anne Patey, Student Health Services director of nursing, at the vaccine clinic at FitRec. Gibb was one of the first on the Charles River Campus to be vaccinated. Photo by Cydney Scott
February 21, 2021: Laith Hijazi (CGS'21) and his water polo club team were back in the water at FitRec after club sports were allowed to resume February 19. Teammates were mask-free in the water, but followed University-approved health and safety protocols. Photo by Cydney Scott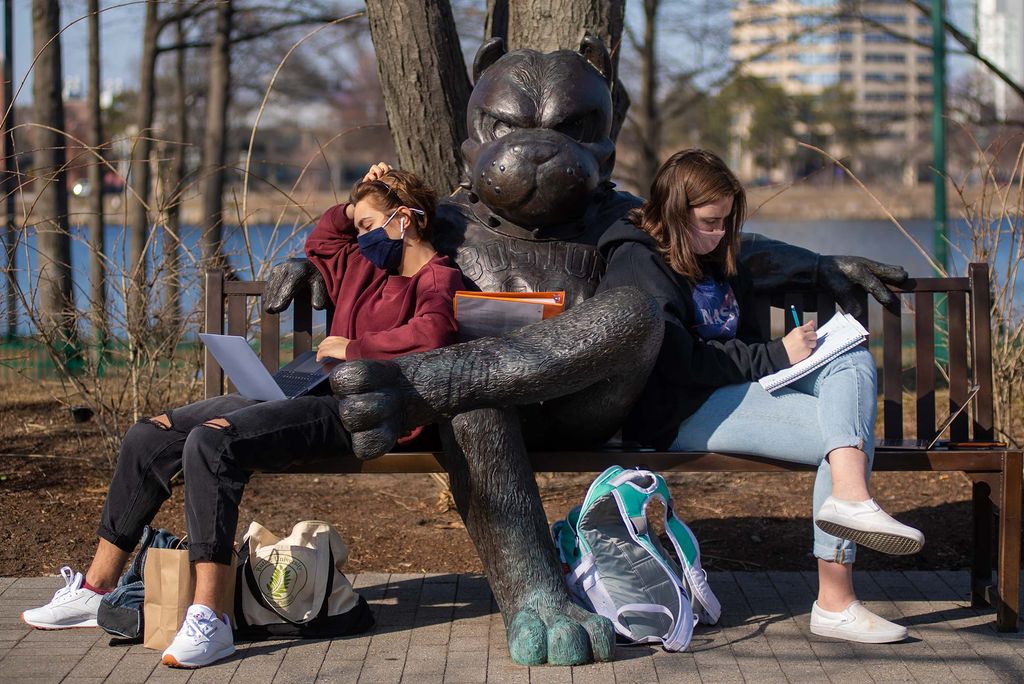 March 11, 2021: Alice Hotimski (CGS'22) (left) and Eleanor Paul (CAS'24) snuggling up with the University's beloved mascot during a spring-like day near the BU Beach. Photo by Cydney Scott
April 23, 2020: This drone footage is a stark reminder of how COVID-19 altered life on the Charles River Campus in the early days of the pandemic. Normally bustling sidewalks are nearly deserted and Commonwealth Avenue is devoid of most vehicular traffic. Video by Above Summit; edited by Chris Palmer, BU Productions