Kids 5 to 11 Show Strong Immune Response to Pfizer COVID Vaccine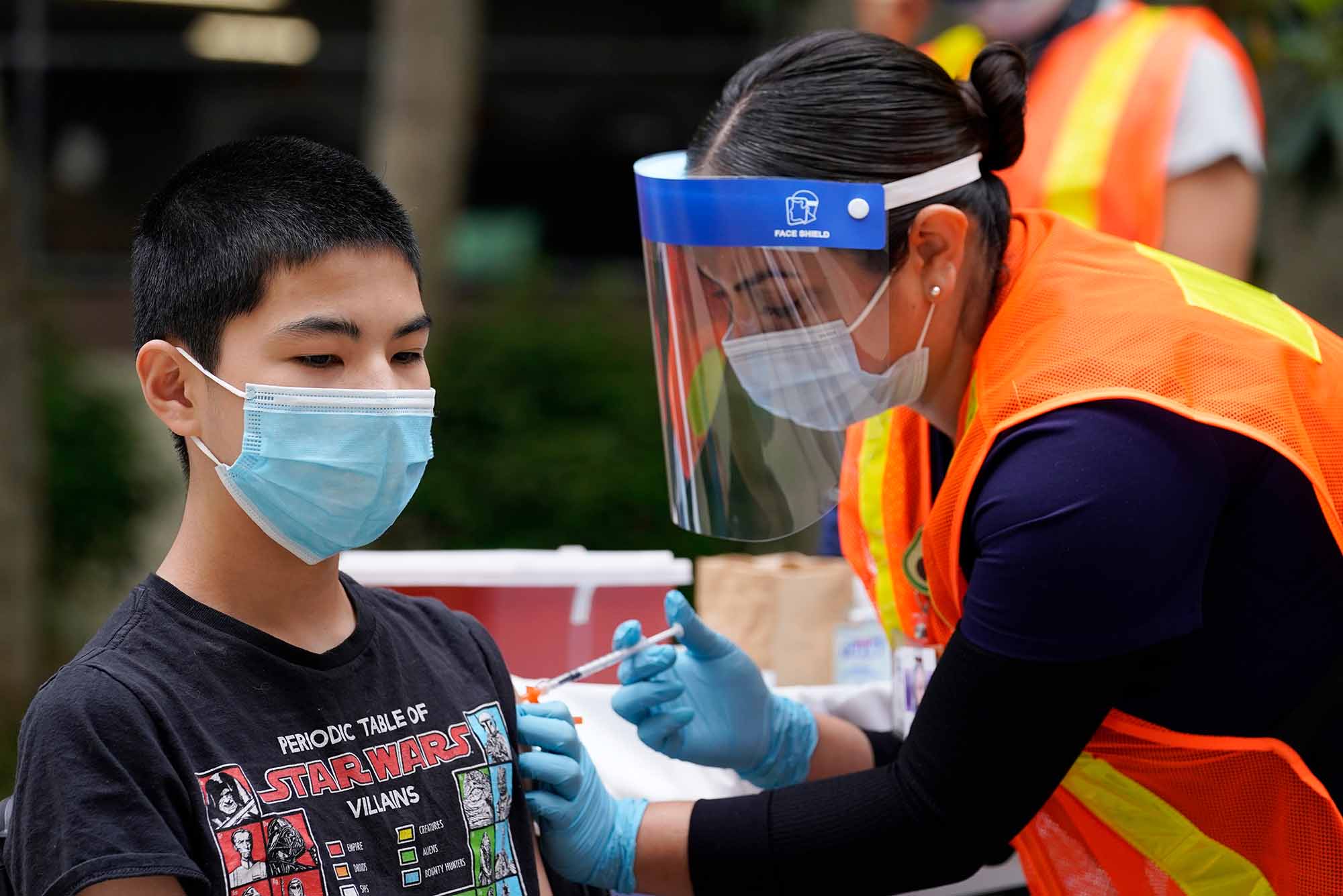 COVID Vaccine
Children Show Strong Immune Response to Pfizer COVID Vaccine
If FDA authorizes use quickly, children ages 5 to 11 could be vaccinated by Halloween. Two MED experts weigh in.
The news many parents have been waiting for came Monday when Pfizer-BioNTech announced that children ages 5 to 11 showed a strong immune response to the coronavirus with its vaccine in a trial, and that it intends to apply for approval from the Food and Drug Administration by the end of September for children in that age group to be inoculated.
The news comes just as anxiety-ridden parents of young children sent them off to school with masks on their faces and fingers crossed. According to the Centers for Disease Control and Prevention, children now make up more than one in five new cases of COVID-19, and more children have been hospitalized with the virus because of the highly contagious Delta variant than at any time during the 18-plus-month pandemic.
If the FDA approval process goes as quickly and easily as it did for adults and children 12 and older, millions of elementary school students could have their first shots before they don different kinds of masks—for Halloween. Pfizer's trial included 2,268 participants, 5 to 11 years old, and administered two vaccine doses, 21 days apart, to two-thirds of them (the remaining third received a saltwater placebo).
BU Today asked two experts for their insight and reaction to the development: Elizabeth Barnett (MED'85), a BU School of Medicine professor of pediatrics, who is nationally recognized for her work in pediatric infectious diseases, is a member of the American Academy of Pediatrics Committee on Infectious Diseases, and is a leader of the Center for Immunization Safety and Assessment at Boston Medical Center; and Sabrina Assoumou, a MED assistant professor of medicine and of infectious diseases and a Boston Medical Center physician.
Q
&

A
With Elizabeth Barnett & Sabrina Assoumou
BU Today:
Why is it so important for children under 12 to become eligible for COVID vaccines when the impact on children has not been as dramatic or severe as with adults?
Barnett: Although children have not had as high rates of hospitalization and death due to COVID as adults, a number of children have experienced these terrible outcomes. Children also may transmit infection to other people, including those who may be unimmunized in the community and suffer severe consequences. Children who contract COVID, even if they are not terribly ill, will miss out on school and other activities during their illness. In order to end this pandemic, we will need to immunize a significant proportion of the population of all ages.
Assoumou: Although children under 12 are less likely to have severe disease, we have seen an increase in the number of cases and hospitalizations related to COVID 19 during the Delta surge. The Delta variant is more transmissible than prior variants, and it is causing an increase in infections in the community. This in turn is leading to an increase in cases among children, as they are not yet eligible for vaccination.

In addition, vaccinating children under 12 would increase the level of immunity in the community and therefore decrease transmission. This would enable all of us to get to a sense of normalcy.
BU Today:
Do you anticipate parents will be eager to get these younger children vaccinated, or do you think they will be wary and have to be convinced of the safety?
BU Today:
Barnett: There will be a range of responses. Many parents will see vaccination of children as the next step toward ending this pandemic, reducing their children's risk of COVID and also reducing the risk of spread to others in their family and in the community. But some parents will be reluctant to allow their children to receive the vaccine.
Assoumou: With the availability of vaccines to children as young as 12, we have seen that some parents had some concerns and were not eager to get their children vaccinated. Therefore, it is going to be very important for health-care professionals to continue to address parents' concerns. We have evidence that the vaccines are safe and provide a robust immune response among children between 5 and 12 years of age. It is going to be critical that we convey these important findings to parents and answer any questions.
BU Today:
Why is the focus now on vaccinating children starting at age five and not younger? What about the very young children in day care?
Barnett: COVID vaccines are and will be studied in younger children. Enrollment of children from six months through four years of age in the Pfizer trial began later than enrollment of the 5-11 year age group, so data are not available yet for that group.
BU Today:
Is it expected that children would receive the same dose as adults, or is that still being studied?
Barnett: The dose that was used in the study for children ages 5-11 was 10 micrograms, which is lower than the 30-microgram dose used in adults.
BU Today:
Is there enough of the Pfizer vaccine to handle the young population, or do we need Moderna's vaccine to be approved as well in order to reach that population in full?
Barnett: In order to end this global pandemic we will need many different, safe, and effective vaccines in order to immunize everyone.
Assoumou: It would be great to have multiple options in our toolbox, so we are eagerly awaiting data from other companies, including Moderna.