My Big Idea: Shaun Chavis
LVNGbook combines tech, behavioral science, and delicious recipes to help people with chronic diseases create lasting lifestyle changes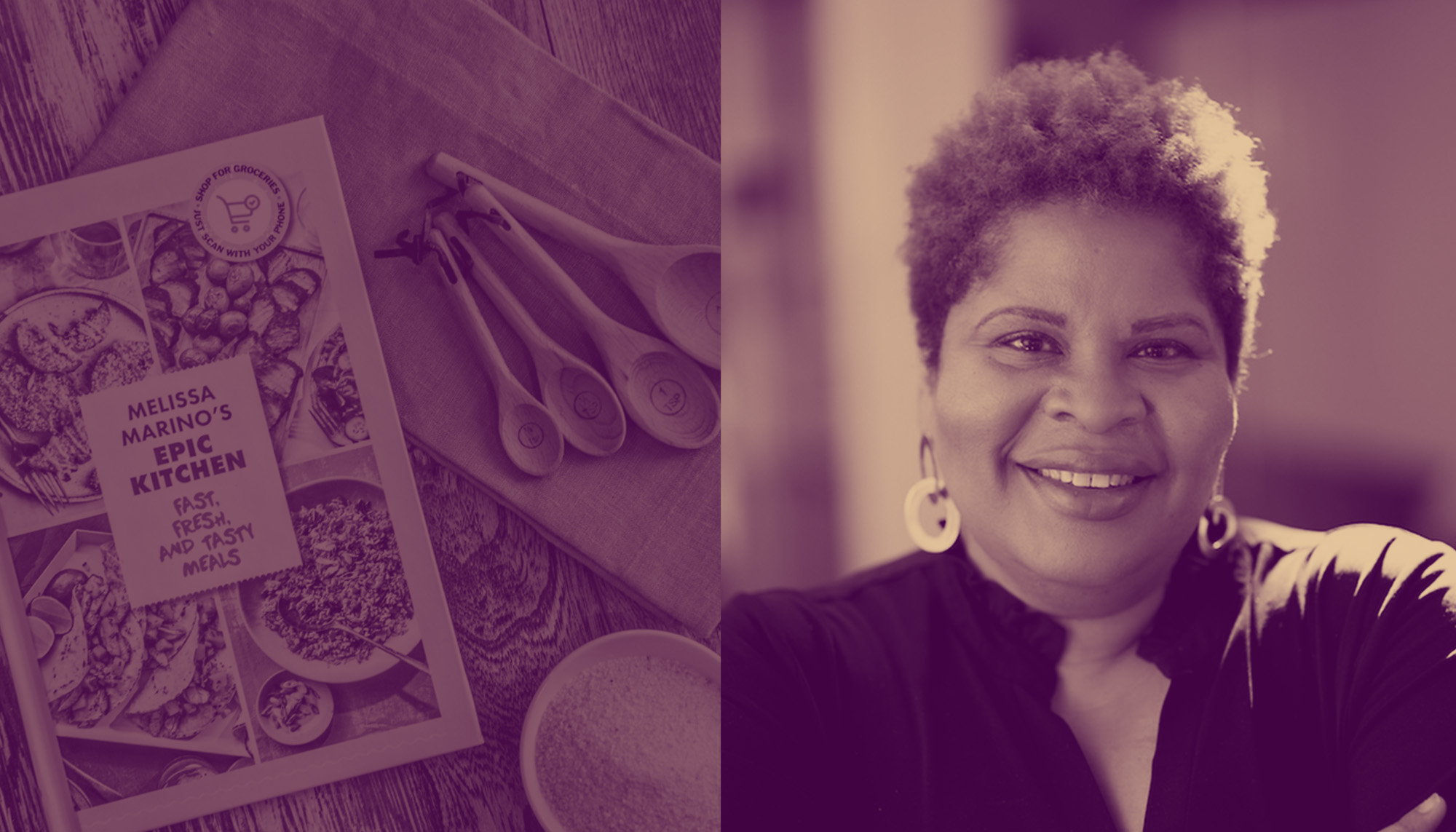 Entrepreneurship
My Big Idea: Cookbooks Customized for Your Health Needs
LVNGbook combines tech, behavioral science, and delicious recipes to help people with chronic diseases create lasting lifestyle changes 
In our series My Big Idea, we bring you interviews with BU alums and other members of the University community who have launched a business, built a new product, or solved problems big and small. We ask them how they got the idea, what were their biggest stumbling blocks, and what's next for their big idea.
Shaun Chavis remembers the day a good friend walked out of the doctor's office with a diagnosis of an autoimmune disorder—and a long list of foods she could no longer eat.
Her friend was distraught. "She was like, 'You've got to help me. I don't know what to do with this list.' She knew if she could start eating well, she would feel better tomorrow—she had suffered for a long time," Chavis recalls. "So, I did what I could to help her, but in the process, I thought, it should not be this hard to change the way you eat for your health for the rest of your life. It should not be this traumatic. You should have way more support."
A cookbook editor, journalist, and innovator with a culinary arts degree, Chavis (MET'06) envisions a world where a diagnosis doesn't have to be so devastating to someone's diet choices. With her new cookbook platform, LVNGbook, she has begun building that future, recipe by recipe.
Combining the convenience of tech with the allure of printed cookbooks, LVNGbook has customers input their dietary needs, allergies, and cooking style into the platform, and then sends them a personalized hardcover cookbook with recipes that match their unique profile. (Cookbook cost: $49 apiece.) For added convenience, each recipe has a QR code that links to a grocery list customers can then send to the online grocer of their choice. Recipes reflect a variety of culinary traditions—such as Cuban black beans and rice⁠, Moroccan chicken with couscous, and seared shrimp with fennel, orange, and red onion salad—and all are vetted by a registered dietitian. Currently, the platform supports recipes for common food allergies, heart disease, diabetes, and the DASH diet for high blood pressure. Eventually, Chavis says, customers will be able to input faith-based dietary considerations, as well as their favorite foods.
---

My vision is to bring culture back to healthy eating.

---
Throughout her career in food and food media, Chavis has anticipated major industry trends, particularly in the healthy eating space. She was working as a newscast producer at a TV station in North Carolina when digital food media began replacing glossy magazines. Chavis dreamed of combining her twin passions (food and media) to work as a food journalist, and moved to Boston in 2004 to pursue a culinary arts degree and a master's in gastronomy at BU. Before she left the TV station, she wrote to the station's parent company, ABC, saying, "You really need a food journalist," and asked if they would support her studies. She got no reply. "Not even five years later," Chavis says, "everybody did get it." Food journalism had then become much more than just restaurant reviews.
Upon graduating, Chavis landed a job as a food editor at Health magazine and launched the magazine's inaugural diet section, later switching to Time Inc.'s cookbook division, where her work with Cooking Light, Southern Living, and Weight Watchers earned a 2015 James Beard Award for Focus on Health, among other accolades. She later shifted gears, leading her own culinary content marketing company for three years before founding LVNGbook in early 2019.
For LVNGbook's customer research and marketing strategy, Chavis enlisted the help of fellow gastronomy alum, frequent collaborator, and founder of ShahSquared Consulting, Priya Shah (MET'12).
Together, Chavis and Shah conducted more than 100 interviews to better understand the culinary and social barriers people living with chronic disease face when trying to make long-term lifestyle changes. With support from Google For Startups Black Founders Fund, AARP's Innovation Labs and AgeTech Collaborative, and the Microsoft Black Partner Growth Initiative, Chavis says, they're in the process of testing LVNGbook's digital platform, and hope to "hit the ground running" in early 2022.

Chavis and Shah recently talked with Bostonia about how their previous experiences led them to LVNGbook, the challenges they faced launching during a pandemic, and how they hope LVNGbook can make people's lives better.
Q
&

A
with Shaun Chavis and Priya Shah
Bostonia:
How did you get the idea for LVNGbook?
Chavis: LVNGbook is a pivot from a previous agency I had, [Saltshaker Marketing & Media], a content marketing agency specialized in food, and toward the end, we really started specializing in brand cookbooks. (For example, one client made barbecue grills and they gave away a free cookbook with every grill, so we did the cookbook.) It was really fun work, [and] it paid well, when we got [paid], but the problem was the cash flow was up and down. If you're doing a brand cookbook, you're only doing one maybe every two or three years, and so there was a long sales cycle and it was hard for me to hire people full time. I was doing everything, I was trying to be the creative director on the projects, plus do the business development and everything. So, I was looking for a way to stabilize the cash flow, because it was just not sustainable. And people kept saying, "Shaun, you need to own the content."

At the same time, I had a really good friend who had just been diagnosed with a rare chronic autoimmune disorder. Her doctor gave her this really long list of foods that she couldn't eat anymore. She looked at the list and called me, crying.

I thought, what if we had a platform where instead of getting a list from the doctor, you could create a profile with your health needs and preferences, and get a personalized cookbook of recipes already modified for your needs? All you have to do is cook; you don't have to figure out how to change all of your favorite recipes and where to find the products. That's how I pivoted.
Bostonia:
How did your previous jobs and experiences influence the founding of LVNGbook?
Chavis: When I worked at Time Inc., the number one thing I worked on was healthy cookbooks. Time Inc. (which has since been bought by Meredith) used to license recipes to clients, such as the Mayo Clinic or Duke University Health Systems, [and] there's a high barrier to entry [with that model]: you need to be a giant company that can plunk down tens of thousands [of dollars] to get access [to healthy recipes]. There are a lot of smaller corporate wellness programs or community health–based programs that could use recipes to help people eat healthfully, but don't have tens of thousands of dollars.

A lot of those recipes I worked on [at Time Inc.] were for a Eurocentric audience. Or, if they do look at [non-European] cuisines, it's coming from a Eurocentric, touristy lens. We all know in this country [that] the people who are experiencing chronic disease at a disproportionate rate are people of color, particularly Black Americans, Latino Americans, and Indian Americans, who are experiencing heart disease at a really shocking rate. I felt like there [was] a need to develop and provide healthy recipes for those cuisines, so that people don't feel like they have to give up the food that they love, and the food that they grew up with, to follow a healthy diet.

[During] our customer discovery, [we found] that the rate at which people stick to [doctor-recommended diet changes] is as low as 20 percent, which is really bad for chronic disease. Part of [the issue] is that [the diet] doesn't fit people's lifestyle, it's not family-friendly, and it's not culturally relevant to them. A lot of people are cooking two meals at night: people are cooking the Eurocentric [recommendations] they got from their dietitian or doctor for themselves, and also making a traditional meal for the rest of their family. That's just not sustainable: it's extra time, extra money, and there's a sort of sociocultural isolation that, in my mind, is not a full picture of health.
Bostonia:
What challenges did you have to overcome to launch LVNGbook? Would you do anything differently?
Chavis: I bootstrapped LVNGbook. I sold a family farm to be able to pay to build the tech platform. That was a scary thing to do.

The other thing is that when we finally got our platform—or the responsive app that builds the books—we launched it right after COVID started. And in some ways, we thought, okay, everybody's into healthy cooking now, this is a good time. But in other ways, we really wanted to talk to care providers about using LVNGbook, and nobody was talking to anybody; doctors were limiting access to their offices because of COVID. Some of that is still going on.

In addition, we started out as a B2C [business-to-consumer] product. I looked at other wellness companies—like Headspace, PlateJoy, and eMeals—that all started out selling directly to consumers before they went to health insurance companies or corporate wellness [markets]. Those clients want to see that you have some clinical validation, that you know your solution really does impact health outcomes. And so I thought, okay, that's a great way. We can sell to consumers, give ourselves some time to build clinical validation, and then we'll be able [to also enter that market]. But we learned that consumers really don't want to spend money on health, unless it's like cosmetics or mental health. We did some panels, and people totally got the value proposition of LVNGbook, but said they wanted it to come from corporate wellness programs, a doctor, or an insurance company. So, we're having to make that pivot, and that's been really challenging. Because, you know, the farm can only stretch so far [laughing]!
Bostonia:
What impact do you hope LVNGbook will have? How will it make people's lives better?
Chavis: My vision is to bring culture back to healthy eating.

I envision a world where you get diagnosed or your doctor says, "You're on the brink of getting heart disease and you've got to change the way you eat now," and there's a whole support system that you get shuttered into. It [would] give you a personalized cookbook with your name on it to remove that stigma of "this is terrible!" and to help you create positive associations with healthy eating. The system helps you find what you need to eat, and it's food that you love, you relate to, and you're excited about. That was the magic of Cooking Light magazine. Cooking Light made people excited to eat healthy food, it was beautiful and aspirational. So, that's what's missing—that magic that Cooking Light had is missing from the way that care providers talk to people about healthy eating.

One of the big testimonies we get from people who bought LVNGbook is that it helps them recruit their family's support. We know that if everybody in the house is eating similarly, the person with a chronic disease is more likely to succeed at change. It doesn't mean everybody has to eat exactly the same stuff—some people might have different sides or a little extra cheese, or some other garnishes—but if everybody's eating similarly, then it helps that person [succeed]. And for diseases like heart disease that have genetic influences, it makes sense for everybody in the family to be eating healthfully anyway, and to teach kids good habits.
Shah: [A lot] has happened culturally in the last two years, [in terms of] finally getting some things talked about in the mainstream media around diversity, equity, inclusion, belonging, and some of the disparities that have always been there, but were pushed to the forefront…. One of the disparities [the media] has started to talk about, not just from a medical perspective, is the way in which we approach people and [underrepresented populations] when it comes to food and nutrition.

One of the things Shaun and I are passionate about, given our personal backgrounds, is [the fact that] there's so much diverse, amazing food all over the world. We love celebrating culture. But, when it comes to your everyday living, there is, for some reason, this mindset that the only way to be healthy is to eat an incredibly bland, boring diet. But that's not true, because there are cultures all over the world that have been [eating healthfully] for centuries. And we don't acknowledge that these traditional foodways are actually healthy options. So, that's what inspired me about LVNGbook, and why I really wanted to join Shaun—to be able to amplify and share that with the world. Nutrition is changing, the way we eat is changing, but there are still some traditional things that we shouldn't let go. And that's what's been really fun working with LVNGbook.
This Series
Also in
November 28, 2022

October 12, 2022

September 20, 2022