MED's Biology of the Lung Funded through Its 50th—Yes, 50th—Year
School of Medicine
MED's Biology of the Lung Funded through Its 50th—Yes, 50th—Year
BU's longest running federally funded training program began in 1975
When the School of Medicine training program called Biology of the Lung: A Multidisciplinary Program began, on July 1, 1975, Gerald Ford was president, all four Beatles were alive, and gas cost about 50 cents a gallon.
"I was in elementary school when this started, so I wasn't spending a lot of time thinking about lung biology or pulmonary disease or anything else," Joseph Mizgerd, now program co–principal investigator, says with a smile.
The National Institutes of Health (NIH) has funded Biology of the Lung from the beginning and has just renewed it for five more years, taking it through years 46 to 50 of training predoctoral and postdoctoral scientists, both PhDs and MDs, in lung biology and pulmonary disease. The $4.1 million renewal will fund stipends and other expenses for a dozen trainees a year until 2026. 
While Biology of the Lung appears to be the longest running grant-funded training program at the University, the scientists who run it would much rather talk about the innovative idea at its core.
"There are certain well-worn, traditional paths in training a doctor or a researcher, and this program is not one of those. It's very different," says Darrell Kotton, who joined Mizgerd as a co–principal investigator on the grant this summer.
Mizgerd, the Jerome S. Brody, MD, Professor of Pulmonary Medicine, is a MED professor of medicine, microbiology, and biochemistry and BU Pulmonary Center director. Kotton, the David C. Seldin Professor of Medicine, is a MED professor of medicine and pathology and founding director of the Center for Regenerative Medicine (CReM).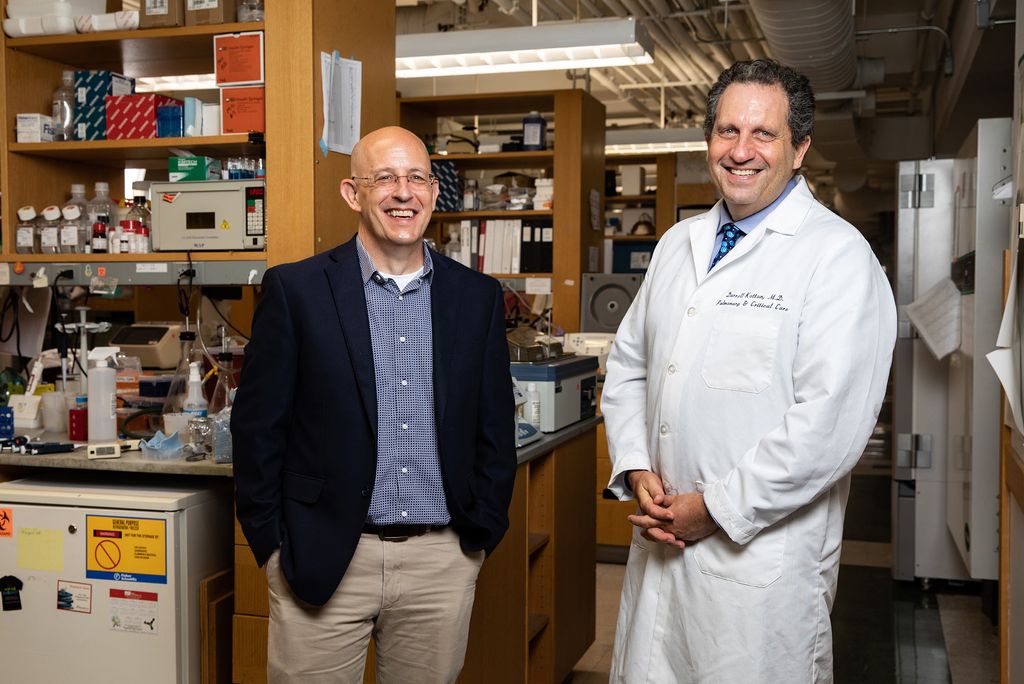 But zoom in: Kotton is an MD. Mizgerd is an ScD. Their partnership mirrors what the program is about.
"The well-worn paths are: if you decide to become a doctor, you go through medical residency and a fellowship and get a job as a clinician," Kotton says. "If you decide to be a researcher, you get a PhD in grad school and go through a postdoc and get a job in a company or a university as a researcher. This program is neither of those. It's the synergy of the two, the interface of the two."
Clinical and research trainees are thrown together in the same laboratories and seminar rooms, start talking, and ultimately train each other. Each is also assigned a faculty mentor. The result is greater than the sum of its parts.
The PhD scientists learn about the clinical questions that are most vexing for physicians, what sorts of clinical materials might be available to help empower their biological research, and how scientific discoveries can powerfully impact the prevention, diagnosis, or cure of pulmonary diseases.
"You have these unique researchers that get an impressive breadth of understanding of what are the clinical issues that a patient suffers from and what is the true biology that's going on in the lung when things go wrong in patients, and come up with some really interesting ideas in the lab about how to make them go right," Kotton says.
On the other side, Mizgerd says, by working with the basic scientists, the MDs learn the application of scientific rigor and how best to ask research questions like: "What genes do when they get turned on or off in the lungs, and how that affects pulmonary diseases, such as which immune cells get summoned in response to infections or allergens or pollutants, why some lung cells get too twitchy in asthma, or which cells are responsible for the stiffening of fibrotic lungs."
"I was 100 percent a clinician at the time I arrived on campus in 1998," says Kotton, who graduated from this same program he now coleads more than two decades later. "They gave me a lab opportunity that unexpectedly attracted me to basic science research. I changed my career as a result of this program, to a physician/scientist track, and so it has really affected my life and experience in delivering care and research to the community."
Like a kid in a candy shop
Of course pulmonary specialists have been much in demand—and in the news—since COVID-19 arrived on the scene, but the two PIs say that the SARS-CoV-2 virus wasn't really a factor in the grant's renewal. There was already a tremendous need for more lung disease researchers, a high priority for the NIH.
Many prominent pulmonary scientists at BU and elsewhere first passed through the Biology of the Lung program as trainees.
"The training grant had a huge impact on my career trajectory," says Avrum Spira (ENG'02), BU's Alexander Graham Bell Professor in Health Care Entrepreneurship, a MED professor of medicine, pathology, and bioinformatics, and the global head of the Lung Cancer Initiative at Johnson & Johnson. "It allowed me to go back to school and get training in the emerging field of bioinformatics, which in turn catalyzed the launch of my career as a physician-scientist in the field of computational genomics."
Others include Sharon Rounds, a Brown Medical School professor of medicine and of pathology and laboratory medicine and a past president of the American Thoracic Society; Rebecca Kusko (MED'15,'15), Immuneering Corporation vice president, business development and corporate affairs; and Alicia Wooten (MED'19), a Gallaudet University assistant professor of science, technology, accessibility, mathematics, and public health biology.
"When I came out of residency, I already knew I was looking for a research-oriented fellowship, but I wanted one that would give me excellent clinical training too," says Burton Dickey, Clifton Howe Distinguished Professor of Pulmonary Medicine and for 20 years the chief of pulmonary medicine at the University of Texas MD Anderson Cancer Center in Houston, who was a trainee in the program in the 1980s before briefly joining BU's faculty.
"I was like a kid in a candy shop, taking a course in biophysics one semester and learning the structure of lipid bilayers, and another semester taking a course on drug receptor interactions," Dickey says. "There were so many outstanding basic scientists and so many opportunities to learn from them. I was so busy going from one to the next."
Training doctors and researchers
Some fellows have found themselves on the front lines in the pandemic.
"My dissertation research actually focuses on filoviruses—that's Ebola and Marburg," says Ellen Suder (MED'26'26), a PhD candidate in microbiology and a program trainee who has been doing a lot of COVID-related work at BU's National Emerging Infectious Diseases Laboratories (NEIDL) high-containment labs. "Over the past year and a half, I've picked up a lot of research on SARS-CoV-2. It's been a really amazing experience to be involved with all that."
The NEIDL lab where she works offered virology help to scientists around the Boston area last year as soon as the seriousness and duration of the outbreak became clear. "We ended up accruing 20-plus collaborators at a bunch of labs in the Boston area—a lot of BU labs, a lot of other universities, some companies," Suder says. "It was very much an all-hands-on-deck situation. I just started volunteering to take on samples that needed to be generated and things like that.
"The biggest project that our lab did last year was this collaboration with Darryl Kotton's lab at the CReM. We came up with all of these potential drug targets and curated a list of drugs that were either approved for something else entirely or were in clinical trials, and tested if they would be viable in preventing this infection. What we found out that was really cool was in the cell-type model we normally use they weren't terribly effective at preventing infection, but in the actual stem cell–derived lung cells, they worked a lot better.
"Now I'm really interested to see what I can do with these lung cell models," she says, "studying the viruses we normally study."
Among the training program's benefits is its openness to a wide variety of research interests within the pulmonary field, says Nathan Mesfin, an MD, a MED clinical instructor, and a Pulmonary Center fellow, who was recently accepted into the School of Public Health Master of Public Health Program. He is studying how to optimize goals-of-care conversations between patients and providers, both in the ICU and outpatient settings, including end-of-life conversations.
The Biology of the Lung program has allowed him to better learn the methodology of epidemiology, take SPH courses, and build foundational knowledge in biostatistics. "It leads you on the road to becoming an independent researcher," Mesfin says.
Mesfin's mentor is Renda Wiener, a MED professor of medicine. Like Kotton, she was a program trainee before becoming a mentor.
"For me, a lot of it is being a role model and them seeing what the job of an academic scientist looks like—doing the work, having a team of people that are pitching in to move the science forward," says Wiener, who is also associate director of the VA Boston Healthcare System Center for Healthcare Organization & Implementation Research. "I really like helping people find and develop what they feel passionate about, what they want to do for the rest of their lives, and help them get there."
Being part of a half-century-old program "is a very humbling experience," Mesfin says. "To know that there are so many people that have gone through this process and have become very successful, like Dr. Wiener, who were sort of raised through this program. Nearly 50 years running—it is amazing."
In the beginning
Jerome Brody, a MED professor emeritus of medicine, founded the Biology of the Lung program with several other faculty members and was its first principal investigator. He ran the program for 25 years, passing the baton in 2001 to David Center (MED'72, CAS'72), Gordon and Ruth Snider Professor of Pulmonary Medicine and a MED professor of medicine and biochemistry, who ran it until 2011, when Mizgerd joined him as co-PI.
When Brody was told of the grant extension this week via Zoom, his response was, "Wow…that's fantastic," but he's quick to share credit with the other faculty from the 1970s and those who have come along after him. "A lot of people contributed," he said. "It's a good group, very smart, very dedicated, and usually right on target."
"The goal was to train the PhD scientists side by side with the MD scientists," says Center, "so the PhDs would learn the clinical relevance of the research with respect to human health, and the MD scientists would learn the techniques and rigors of PhD science. We still use that as the opening line of the grant, which has been pretty good to us over the years."
In the early days of the program, new tools included molecular biology. Transgenics came along later, followed by big data, RNA sequencing, and clinical outcomes analysis. The latest techniques include gene editing, stem cells, and regenerative medicine.
"I imagine five years from now it'll be a completely different conversation again," Kotton says, "but what won't be different is the innovative nature of this cross-disciplinary training program that really breaks conventional boundaries and silos."
"The whole idea here is that this is an investment in the future of science," Center says, "and NIH believes that this is one of the major ways that young scientists can be trained in environments that will give them the rigor to succeed subsequently. We've trained a lot of people who've gone on to make major contributions to our understanding of lung diseases and lung health.
"That's why they keep investing in us," he says. "We're flattered, but that doesn't mean it isn't hard work."