Law School Is Hard, but Not Usually This Hard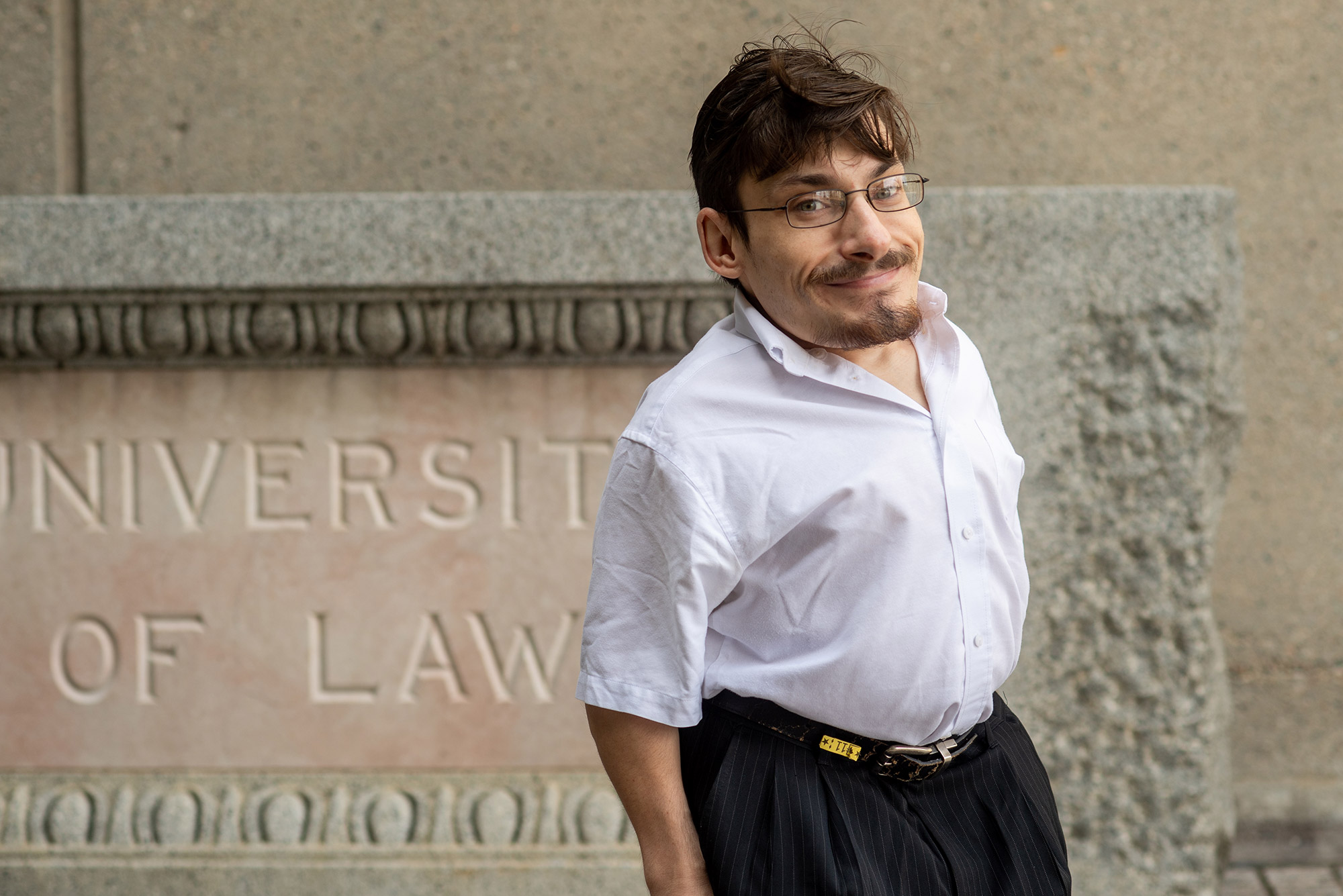 Student Profile
Law School Is Hard, but Not Usually This Hard
Genetic disorder, poverty, and losses couldn't hold Gaetano Mortillaro (LAW'21) back
If you see Gaetano Mortillaro (LAW'21) at Commencement this weekend, you might go out of your way to congratulate him. He's about four feet tall, so he'll be easy to pick out in a socially distanced sea of red caps and gowns, even if you aren't familiar with his wry smile.
But you won't be able to see everything he has overcome to get there.
From poor son of a Gloucester lobsterman to law school graduate is a story that any University would be proud to tell, but the obstacles Mortillaro has surmounted are the stuff of Shakespeare—with the last act set during a pandemic, too.
"Throughout it all, Gaetano demonstrated the kind of grit and groundedness that comes only from a deep sense of purpose," says Angela Onwuachi-Willig, dean of the School of Law and Ryan Roth Gallo and Ernest J. Gallo Professor of Law. "I have no doubt that he has a successful and fulfilling career ahead of him, and that he will make a remarkable impact on the world."
"My father told me the reality of the situation," Mortillaro says, "where I wasn't going to be able to work a physical job, and if I wanted to get out of poverty, it would take a lot more effort than it does for the vast majority of people, and that includes being able to advocate for myself."
A world of hurt, literally
A rare genetic condition has limited Mortillaro's height and mobility and burdens him with severe pain at times. Spondyloepiphyseal dysplasia congenita is a bone growth disorder that affects everything from his spine to his joints. His father and brother were born with it as well, and it ended his father's career in the fishing industry. He and his brother had numerous surgeries at Nemours Alfred I. duPont Hospital for Children in Delaware, which specializes in treating the condition. His father drove them there again and again, in hopes that their lives would be easier than his.
"The condition results in deformed joints, where movement destroys cartilage at a high rate, so by the time my father was 30 or 35, his joints were beyond repair," Mortillaro says. "That's in large part what motivated him to take us to Delaware. I've never met someone as dedicated to protecting his kids."
Mortillaro first entered LAW in 2017, but a health crisis forced him to take a leave of absence and start over a year later. He gets around on an electric bike, but has needed accommodations to make school work for him, both at Salem State University, where he earned a bachelor's degree in political science, summa cum laude, and at LAW, where he has earned a law degree and is finishing up a master of laws in taxation. Those accommodations range from special seating to extra time between classes, and pre-pandemic, speeding up the delivery of the videos of classes when he could not attend in person. Others arose at an off-campus internship, which he reached by bike even in the winter because he couldn't afford a T pass.
"He came to us first year of law school with a lot of requests," says Stacey Harris, associate director of BU Disability & Access Services. "There were lots of different things we had to overcome. And then when COVID hit, there were additional challenges because of the way his body can (or can't) move to look at different screens and manipulate things."
Life with a disability can be frustrating, but Mortillaro has developed ways of explaining his predicaments and negotiating for what he needs.
"If you presume the best possible interpretation and give people the benefit of the doubt, but are also steadfast in advocating for yourself," he says, "it tends to produce the best possible results.
"My father had such a steadfast commitment to us. The strength of advocacy came from him. He showed me and told me the level of consistency and persistence you actually need to overcome systems because you have a disability, and they don't necessarily have changes that they can make to help you unless you are willing to advocate for them."
Mortillaro always tried to solve issues on his own before calling for help, Harris says: "He doesn't need a lot of backup.
"He is fiercely independent, as we find with students who have significant disabilities," she says. "When you have a student that's never had a burden, they can fall apart when something bad happens. But when you've had a life of challenge, you're like, 'OK, here's another challenge.' And then you find a way to address it. Which is a wonderful but hard way to have to exist. He has navigated all of it."
A difficult life on Cape Ann
Postcard images of sunsets over Gloucester Harbor don't convey how hard life can be around the docks, or how common poverty, substance abuse, and domestic violence are in the community. Mortillaro grew up in subsidized housing. His mother was abusive, he says, and has been out of his life roughly since he was in middle school. His brother is also not in his life at the moment.
Then in fall 2019 his father was diagnosed with pancreatic cancer, and he died last May.
"Gaetano was the primary caretaker for his ailing father and yet insisted on continuing his studies, as was his father's wish," says David Webber, a LAW professor of law and associate dean for intellectual life. "My understanding is that Gaetano Zoomed into some of our classes with his father listening beside him."
His father urged him not to put his studies on hold to be a full-time caretaker. "He said if I did that, I couldn't come home," Mortillaro says, with a smile. "He didn't mean it."
"Gaetano took on primary responsibility for caring for his father, all while continuing to pursue a rigorous degree program, fulfilling his responsibilities as a resident assistant, and grappling with the added stress of the global pandemic, not to mention the emotional toll caused by his father's declining health," Onwuachi-Willig says.
Sometimes, though, life has a way of offering timely compensation. A few years ago, talking politics on the internet, he met Rockport inventor and industrial designer Nathaniel Mulcahy, who became a close friend, lending him a variety of support, particularly during his father's illness.
---

If you presume the best possible interpretation and give people the benefit of the doubt, but are also steadfast in advocating for yourself, it tends to produce the best possible results.

---
"He struck me as being incredibly well-informed on a number of issues," Mulcahy says. "Within the political sphere, there are a lot of people who like to argue. But unfortunately, the arguments tend to be an echo chamber, and rarely are well-informed. I had yet to find somebody who would say, 'I don't agree with you, but let me research what you're saying and I'll get back to you.' Gaetano was the first person who did that, ever. I thought it was astounding.
"And because it was in a forum, I had no idea that he was physically different than anybody else," Mulcahy says. "To me, this is just somebody with a really big brain who is willing to question, willing to explore, and eager, if not desperate, to learn and to become a better person."
"He had no reason whatsoever to help me," Mortillaro says. "He gained nothing, yet he chose to do so. He is my family, without hesitation."
Mulcahy says he and his wife and four-year-old twins feel the same, and he can't imagine how Mortillaro has done what he has done: "It is a testament to his strength of character and sheer will and determination to live a better life than what he has witnessed."
Things continue looking up. Mortillaro has secured a job, beginning in October, as an international tax associate with the professional services giant PwC, which he says will bring him both professional fulfillment and an unfamiliar financial security. He plans to take the Massachusetts bar exam this summer.
"I know that the fact that Gaetano is graduating on time and has a super job to start his career is something that would have brought his father immense pride, joy, and no small amount of relief," Webber says. "I am filled with admiration for what Gaetano accomplished, and I am proud of him."
In the future, Mortillaro says, he might seek a government policy job, or even—he grins when told this is not a huge surprise—run for office.
"I began paying more attention to politics and policy discussions because if you're relying on a lot of different support programs because your whole family is disabled, then small alterations in policy when politicians don't necessarily understand your situation can really affect your life," he says. "A $30 cut in food stamps can mean you begin missing meals.
"I wanted to become educated in these topics so I can advocate for myself, and also figure out what's the reality of the situation," he says. "There was always a disconnect between the discussions in Congress and the reality of the poverty I've seen in my life."