Playoff Host BU Going for Third Consecutive Softball Title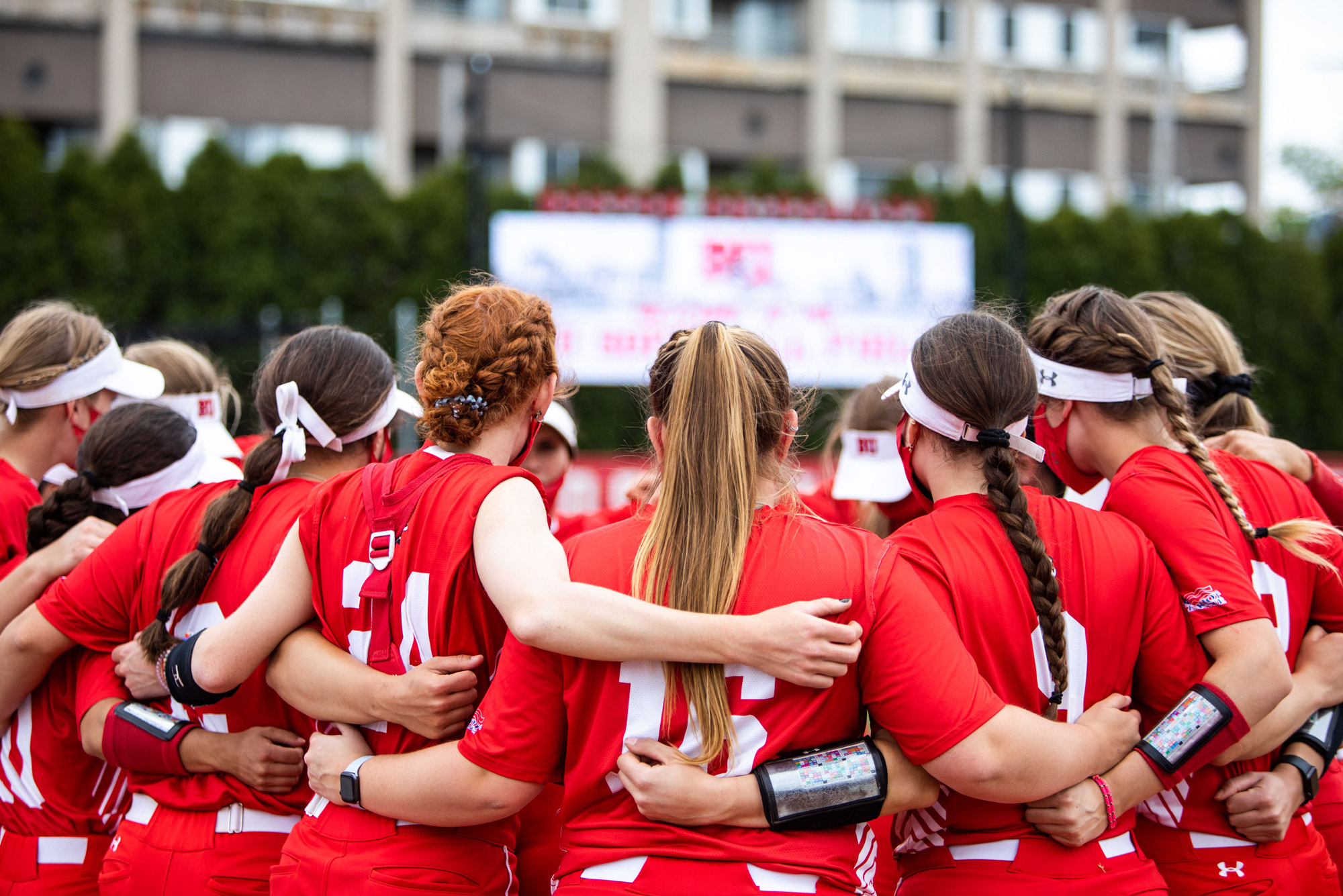 Varsity Sports
Playoff Host BU Going for Third Consecutive Softball Title
Patriot League championship begins Thursday
The Terrier softball team has had great success since Ashley Waters became head coach six years ago, but this season has topped them all. Going into the 2021 Patriot League tournament, Boston University has 33 wins in 35 games, setting a program-record .943 winning percentage.
"I can't complain too much," Waters says. "I'm really proud of what we've done thus far."
Running away with the 2021 regular season title, BU is hosting the four-team double-elimination tournament today, Thursday, May 13, through Saturday, May 15. As the home team and two-time reigning champions, the Terriers won't be satisfied with anything less than another trophy, Waters says.
"Our job's not done," she says. "We might have a target on our back or whatever, but we always feel like we have to show up and show what we're actually made of."
The Terriers finished the regular season with a Patriot League record of 21-1, 7 wins ahead of second-seeded Lehigh. The only Patriot League foe to beat BU this season was Army West Point, which enters the postseason as the fourth seed, with third-seeded Colgate rounding out the field.
When the Terriers take the BU Softball Field to defend their Patriot League crown, pitcher Ali DuBois (ENG'21) is expected to lead BU from the circle. The senior recently won her second consecutive Mildred Barnes Award as BU's top female student-athlete, leading the league with a 0.69 earned run average, 137 strikeouts, 131 innings pitched, and a perfect 22-0 record.
Preparing for her third postseason, DuBois says the sense of anticipation never goes away.
"I think the nerves are just the same as my first career game," she says. "I don't think it ever changes that way. I still feel like I have something to prove, no matter what year it is."
DuBois attributes the team's strong showing this year to the entire squad. "If you look down our team, you can't pick out one single great player," she says. "We have a team of star players this year."
Offensively, BU ranks atop the conference with a .322 team batting average, 215 runs scored, 291 hits, and a .409 on-base percentage. Lead-off hitter Caitlin Coker (CAS'23) tops the league with 39 runs scored and 47 hits, while core bats Nicole Amodio (Sargent'22), Aliyah Huerta-Leipner (CAS'22), and Jen Horita (Questrom'21) also rank in the Patriot League's top-five in multiple hitting categories.
DuBois says pitching for such an offensively dangerous team makes a major difference. "It's really awesome to have run support," she says. "I think any of our pitchers can tell you that we all pitch differently when we're ahead."
DuBois isn't the only Terrier who has dominated the pitching statistics. Emily Gant (Sargent'22) has a 1.06 earned run average and .172 opposing batting average, while Allison Boaz (ENG'23) has a .155 opposing batting average.
With the team's depth both in the batter's box and in the circle, Waters says, playing time in this week's big games will come down to "whoever's hot at that moment.
"The best nine are going to play, and they know that," she says. "For me, it's about who's going to step up this week, who's ready to go, and who can handle the pressure."
The Patriot League softball tournament begins Thursday, May 13, at noon, when the Terriers take on Army West Point on the BU Softball Field. Colgate will play Lehigh immediately after, at 2:30 pm. The tournament will then follow a double-elimination format, with games Friday, May 14, at 11 am, 1:30 pm, and 4 pm. It concludes Saturday, May 15, starting at noon. All games will be streamed on ESPN+ and can be followed on Twitter at @BUGameDay. The winning team will earn a spot in the NCAA Tournament, which begins Friday, May 21.