BU Athletics Honors Top Athletes at Annual Rhetty Awards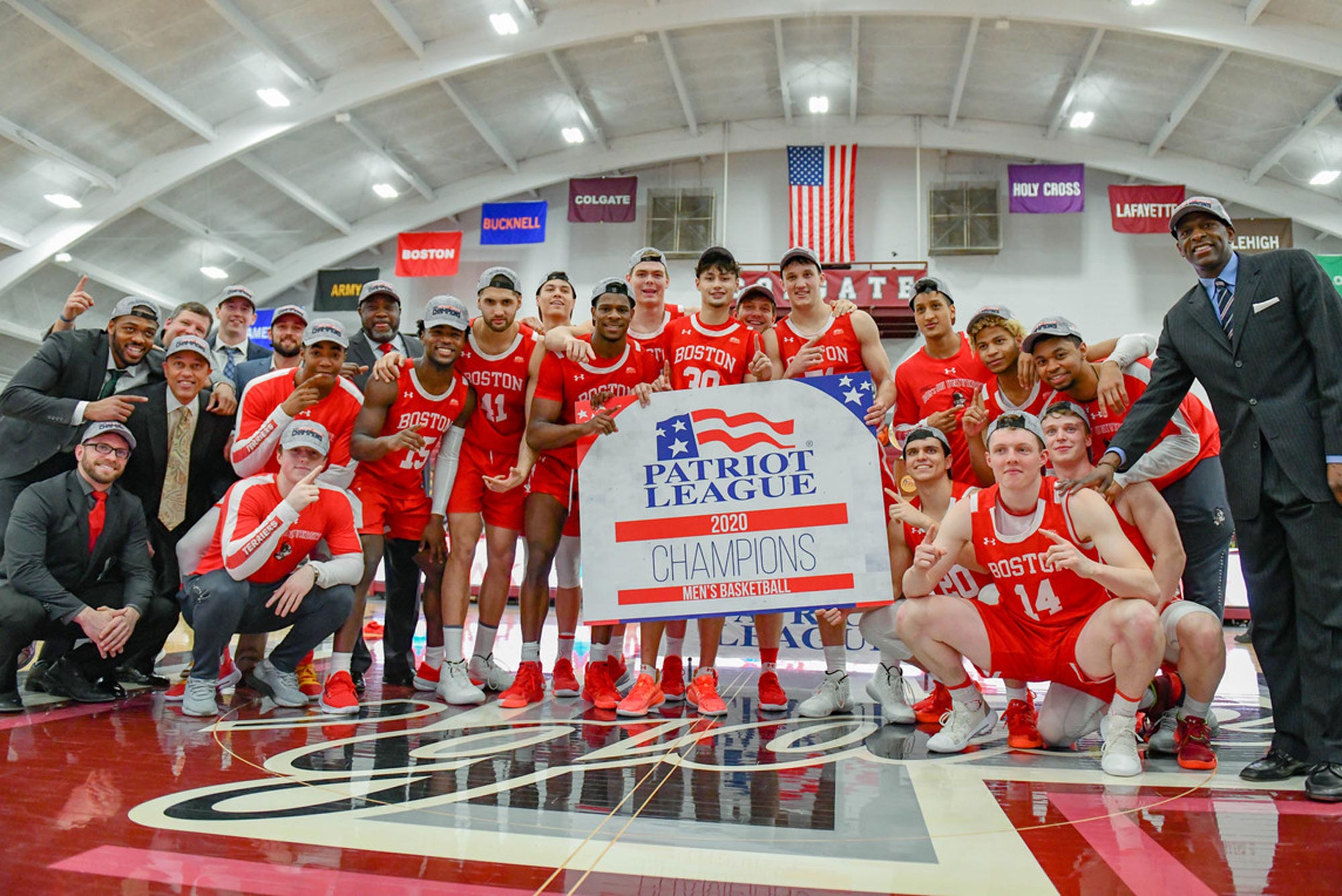 Varsity Sports
BU Athletics Honors Top Athletes at Annual Rhetty Awards
Monday night's ceremony was held virtually this year
In an annual rite of spring, Boston University Athletics handed out its annual Rhetty awards, honoring the best Terrier athletes, on Monday night.
But in a year that saw many varsity teams' seasons cut short because of the COVID-19 pandemic, the Rhettys, like many events this spring, were moved online. Usually held at the GSU, this year's ceremony was on YouTube, with awards and acceptance speeches all coming from the homes of student-athletes, coaches, and administrators.

Those honored Monday night during the 2020 Rhetty Awards:

Major Awards

Mildred Barnes Award

Given to the top female athlete of the year; two winners chosen this year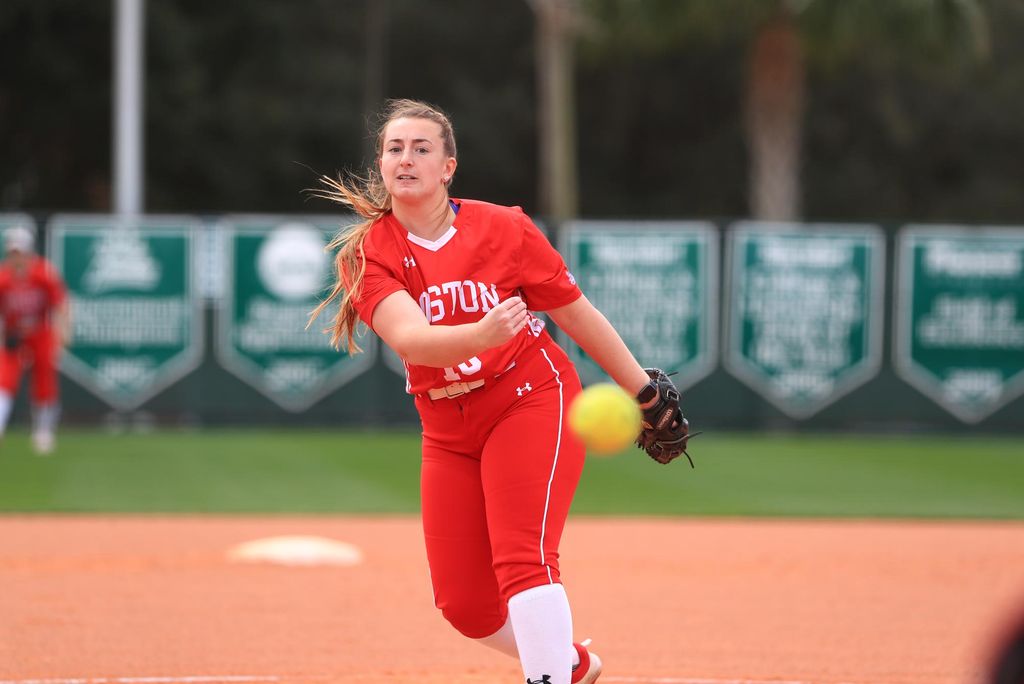 The Patriot League Pitcher of the Year in her first two seasons, DuBois earned all four Patriot League Pitcher of the Week awards she was eligible for in the 2020 season. She had a 1.44 ERA and 95 strikeouts across 87.1 innings pitched.

Abigail Gugel (Questrom'20), cross country

The 2019 Patriot League cross country champion, with a 21:21.2 time in the 6K race, Gugel earned Patriot League Female Cross Country Scholar-Athlete of the Year honors. Gugel was also named BU Athletics 2020 Woman of the Year.
Mickey Cochrane Award

Given to the top male athlete of the year
Max Mahoney (Questrom'20), men's basketball

A 2020 Patriot League All-Conference First Team and All-Defensive Team selection, Mahoney led the Terriers to their first conference tournament title since 2011.
E. Ray Speare Award

Given to the top male scholar-athlete
Joe McSorley (Questrom'20), men's lacrosse
A three-time Patriot League Academic Honor Roll member and two-time Academic All-Patriot League selection, McSorley earned two conference Goalkeeper of the Week awards before the season was cut short.
Gretchen Schuyler Award

Given to the top female scholar-athlete
A four-year All-Patriot League selection, Soares earned All-Academic Team honors this season. She also holds four school records, in the individual 200 breaststroke and three relays.

Paul Lewis Student-Athlete Service Award

Given to a senior student-athlete who demonstrates a commitment to serving BU, the Athletics department, and the larger Boston community over his or her time at BU
A three-year Hockey East All-Academic Teamer, Calderone earned a career-high six assists in her final year at BU. She has been an avid volunteer in various outreach projects sponsored by BU Athletics.

John B. Simpson Award

Given to to a male and a female senior athlete who demonstrate enthusiasm and leadership
Lexi Lewis (Questrom'20), women's lacrosse
Lewis recorded a career-high 35 points on 25 goals and 10 assists as a junior. She ended her senior season leading the team in draw controls, ground balls, and caused turnovers.
Greg Pelose (CAS'20), men's cross country
Pelose competed in cross country and indoor and outdoor track over his four seasons with BU. As a senior, he finished 26th (26:25.1) and aided the team to a third-place finish at the Patriot League Championships.
Woman of the Year

Given to the female athlete who best exemplifies a commitment to service, leadership, athletics, and academics over her career
Abigail Gugel (Questrom'20), cross country

Gugel broke through as a senior in leading BU cross country to the Patriot League title, and was named Patriot League Female Cross Country Scholar-Athlete of the Year. She also competed in track and field during her career. She is a corecipient of the 2020 Mildred Barnes Award, given to BU's top female athlete.
Bruce Lehane Coaching Award

Given to a head or assistant coach who best embodies a holistic, values-based caring approach
After 35 seasons as head coach of men's soccer, Roberts retired following the 2019 campaign. During his tenure, he earned eight conference Coach of the Year Awards and guided his teams to 14 NCAA Tournament appearances.
Team GPA Award—Golf (3.62)

Given to the program with the top average GPA
Joseph P. Mercurio Campus Community Recognition Award

Honoring an individual who provided "invaluable and limitless" support in the past year
Elswit (LAW'73) is associate general counsel in the Office of the General Counsel, which he joined in 1982. In that capacity, he has represented BU Athletics. He is retiring after this year.

---
Athlete Choice Awards

Unsung Hero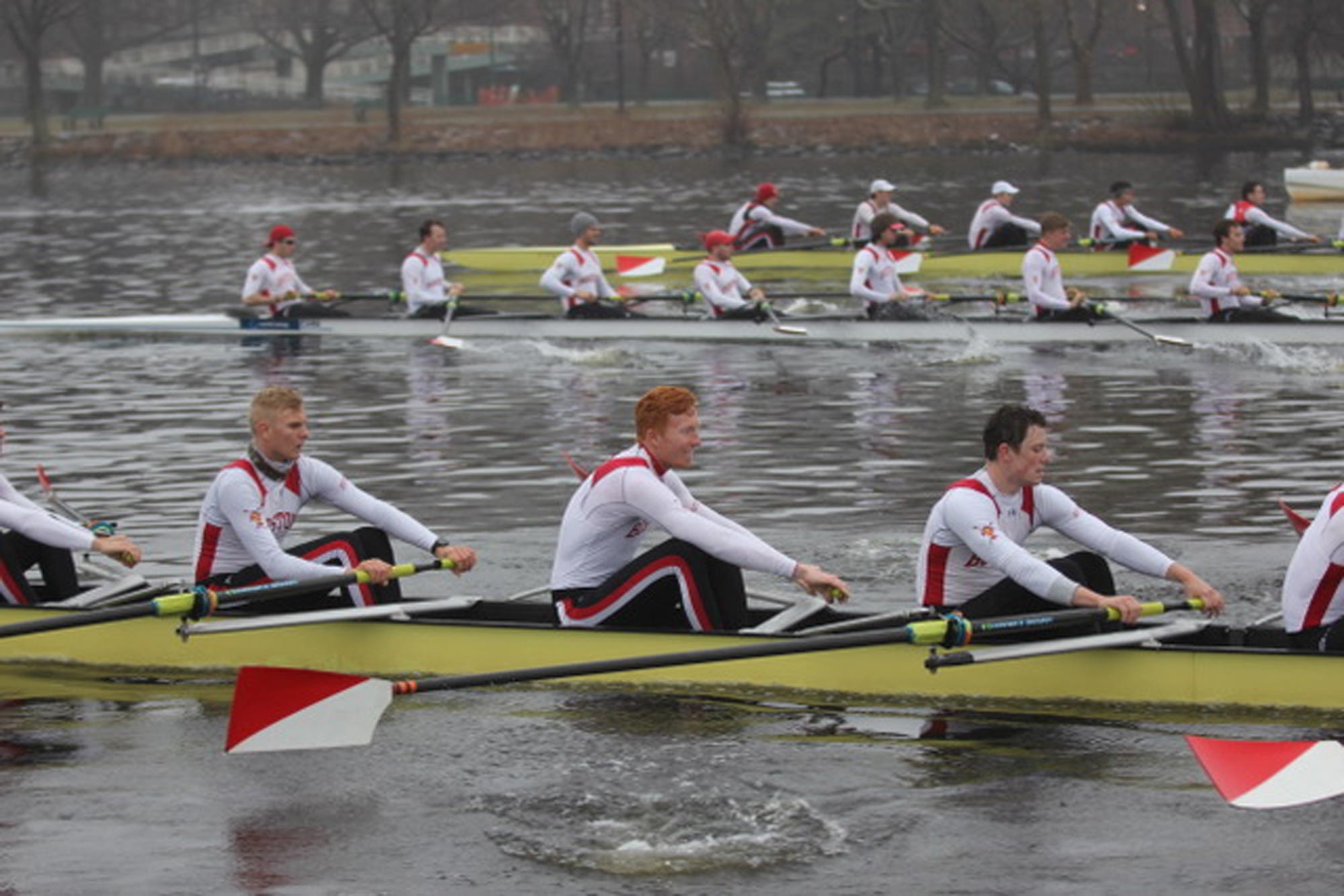 A varsity eight rower, Boudreau (center) helped the Terriers to many top finishes during his BU career.
Cocaptain Gallagher earned her third straight All-Patriot League Second Team award as a senior and played in the 2019 NFHCA Division 1 Senior Game. She was a part of two Patriot League championship teams.

Rookie of the Year
Maggie Pina (CAS'23), women's basketball
Named Patriot League Rookie of the Year this year and an All-Patriot League Third Team selection, Pina burst onto the scene to average 11.5 points per game. She is credited with helping the Terriers advance to the Patriot League tournament semifinals before the tournament was canceled.
Zegras made an immediate impact this year as a freshman: he was selected to the Hockey East All-Rookie Team and named a Hockey East Third Team All-Star. In addition, Zegras was twice named Hockey East Rookie of the Week and was a finalist for Hockey East Rookie of the Year. After the 2019-2020 season ended, he signed an entry-level contract with the National Hockey League's Anaheim Ducks.
Breakout Athlete
Walter Whyte (CGS'19, CAS'21), men's basketball

After an injury caused him to miss last season, Whyte earned All-Patriot League Second Team honors and was able to help guide the Terriers to the top—the Patriot League championship.
Keefe led the team with three goals as a senior last fall, earning All-Patriot League Second Team honors. She scored two goals against American.
Trifecta: Moment of the Year, Play of the Year, and Upset of the Year—Men's Basketball
Men's basketball swept all three of these awards: the Upset of the Year when the Terriers beat Southeastern Conference powerhouse South Carolina on November 19, the Play of the Year was captain Max Mahoney's blocked shot against Bucknell in the Patriot League semifinals, and the Moment of the Year was winning the Patriot League title.