From Seminary to Short Ribs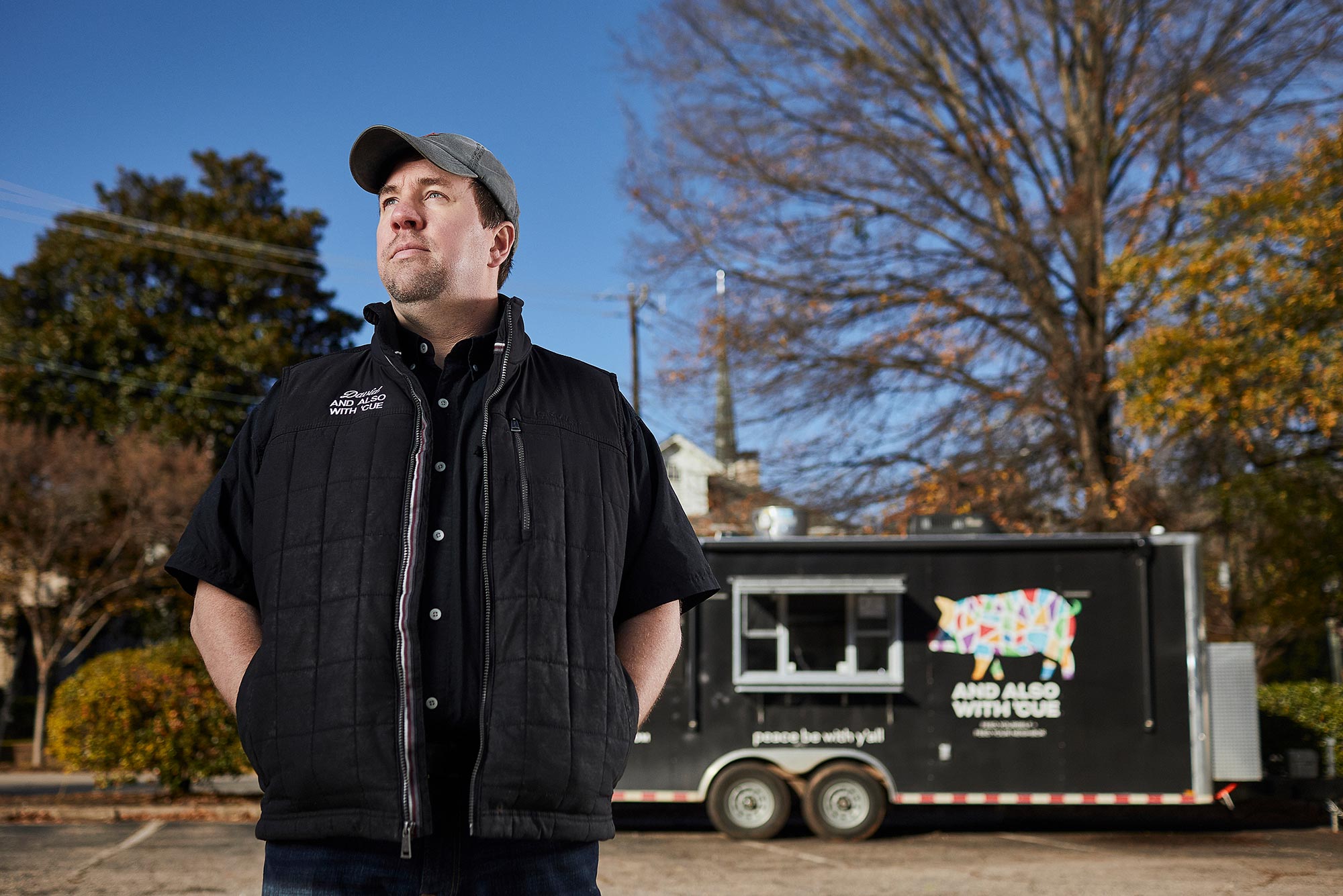 Alumni
From Seminary to Short Ribs
STH alum has a plan to reverse shrinking church budgets—and it starts with mouthwatering BBQ
During the summer months, BU Today is revisiting some of the past year's favorite stories. This week, we feature alumni, faculty, and student profiles. 
Much of David With's workday is spent in the driveway of his home outside Raleigh, N.C., in the back of a black food truck emblazoned with a colorful mosaic pig.
Around two in the afternoon, he fires up a stack of apple and hickory wood in a smoker mounted to the back of the truck. He brings the temperature up to 225 degrees and lays in seasoned slabs of pork shoulder. They cook for 18 hours. Brisket goes in next and cooks for 12. With's methods borrow from across the BBQ spectrum and include Eastern North Carolina's vinegar-based sauce and Texas-style slow-cooked beef brisket. This is no typical BBQ business, though. It's With's ministry of meat: a food truck run in partnership with a local church to fund their mission and help people in need.
With (STH'20) opened And Also With 'Cue in October 2019 while completing his doctorate at the School of Theology. And just over one year in, despite a global pandemic clearing the weekday lunch crowd out of Raleigh, his experiment in funding church programs with a for-profit business is paying off. He's posted profits every quarter, donated hundreds of meals to people in need, and provided his partner, First Baptist Church of Raleigh (FBC), with a source of revenue.
The STH student looked at the financial struggles facing many churches even before the pandemic and saw the need for a creative solution. "Revenues are down, giving is going down, and millennials are strapped for cash," he says. In Raleigh, BBQ has provided a solution.
Cooking with Purpose
With leaves his pork and brisket to smoke all night, then he's up early the next morning to drive downtown. By 7:15 he's parked behind FBC, where he stuffs chicken and ribs into the smoker. Then it's on to mixing side dishes like sweet and tangy slaw, smoked beans, and Southwest corn salad (special ingredient: Chili Cheese Fritos). At 11 am, he opens for business. Then it's back home to refire the smoker and begin again.
And Also With 'Cue caters to the employees at the North Carolina State Capitol and other downtown government buildings. Many of the customers come for the award-winning food, but others are drawn to the business' charitable story. Each lunch purchase pays for a sandwich to be donated to someone else. Customers can further pay it forward by buying a token for a future meal that With will provide to someone who comes up to the truck asking for food. Proceeds also help to fund FBC programs and pay his salary.
"As giving trends change and shift, churches are going to have to begin thinking outside of the typical tithing box," says With's primary liaison at FBC, Leah Anderson Reed, the church's minister with community. "This is an innovative approach to ministry that meets so many needs we have."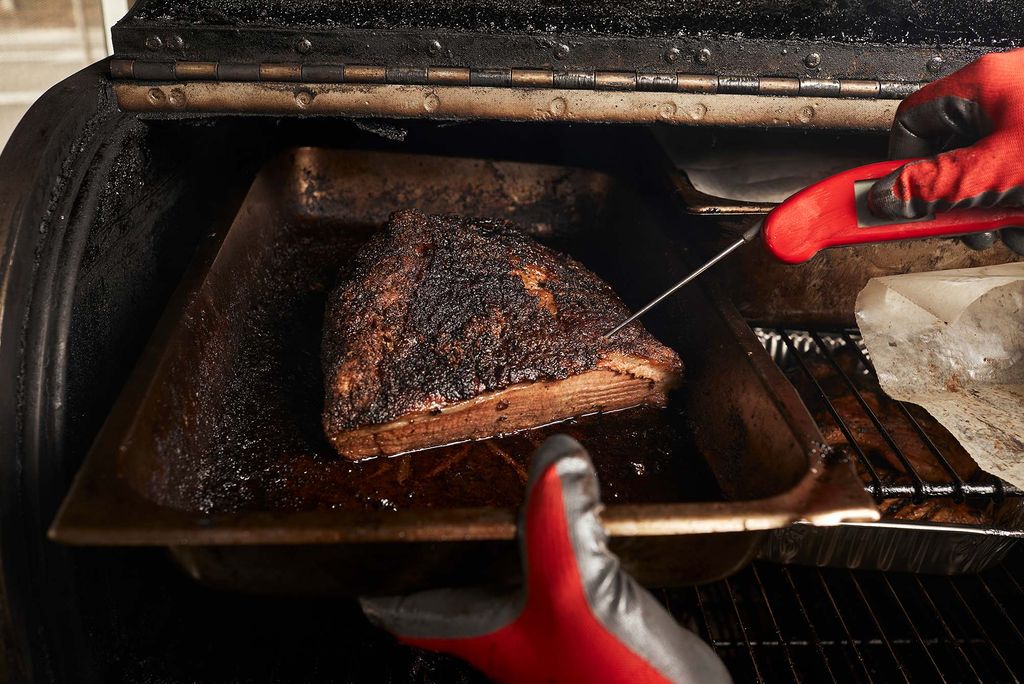 With first floated the idea of pairing ministry with for-profit enterprise when the staff at the Baptist church where he worked during the Great Recession were told that their budgets, salaries, and healthcare benefits were all being cut. Even after those cuts, With, a student minister and associate pastor at the time, was expected to take kids on international trips for missional experiences, so he started looking for other ways to bring in money. "I asked the question: would it be possible for us to start a little business?" But, "I got shut down," he says. "That idea didn't float with that crowd."
Around the same time, he had begun cooking in BBQ competitions—a continuation of the hobby he'd picked up while tailgating at Wake Forest football games when he was in the university's School of Divinity. "I told people, 'I'll get there at six in the morning. Y'all come around three and it'll be ready,'" he says. "And it was awful—the food I was cooking was terrible." But he enjoyed the process, and when he graduated, his parents paid for a weekend BBQ workshop. The food began to improve, and when he and a friend entered their first competition, they placed 2nd out of 85 teams.
"BBQ was a way for me to sit in my driveway and just chill out and not have to think about the funerals that were performed that week or the people I had visited in the hospital," he says. Then he realized that if he could find a way to make his BBQ meaningful to other people, he wouldn't have to work at a desk again.
So he headed to BU to study BBQ, beer—and theology.
Success in the Face of Adversity
For his doctoral thesis, With searched for churches that used a for-profit model to fund their programs, but he couldn't find any in the Protestant world. What he did find were Trappist monks. So he spent several weeks in 2019 traveling through Belgium, France, and Germany, visiting abbeys that brew internationally known beers like Orval and Chimay.
Rather than capitalism contradicting their lifestyles, the monks he met spoke of business as a means of spirituality and prayer. "They look at profit not as coming out of greed, but as a gift of one's work that you can then use to give back to others," he says. After his business idea had been shot down a few years earlier, this was affirmation With needed to hear. His thesis, the 155-page Post-recession mainline church revenue: how a for-profit BBQ restaurant might transform a post-Christian ministry, just might be the most heavily footnoted business plan in BBQ's long history.
He approached FBC, where one of his divinity school professors serves as pastor, and proposed his idea. A simple partnership resulted: the church bought the shell of the truck, With bought the cooking equipment. They shared a vision of the business not only providing revenue, but also benefiting the community—and if it didn't work out, it would be easy to split up and go their separate ways.
---

There's a theology of service aspect to it: The whole idea of bringing people together to socialize through food and to provide a really positive experience is a big part of my satisfaction.

---
One of their ideas was for church volunteers to serve free meals around the city, breaking bread with people they didn't know. Then COVID-19 hit. FBC had to pause that program, and although With had to close the business for only three days—due to a meat shortage—his business plan had been flipped upside down. The bustling lunch crowd was suddenly working from home and weekday business plummeted about 70 percent. Almost as quickly, though, residents, unable to go to restaurants, began booking food trucks to visit their neighborhoods.
"We've seen our private event revenue quadruple," With says. "So it's balanced out."
In its first year And Also With 'Cue donated nearly 1,000 meals, most of them to the Helen Wright Center for Women, an emergency shelter for women experiencing homelessness, and families who visit the FBC Raleigh clothing closet. Plus, FBC got a return on its investment and With was able to support himself. Even in a year of unprecedented challenges to the food industry, his idea proved viable.
He acknowledges that the schedule is a grind, and he would like to eventually step into an advisory role to have more time with his wife and two young children. He also wants to take his idea to a bigger audience. He was invited to speak at the Cooperative Baptist Fellowship annual conference in 2020, but that was canceled because of the pandemic. "There were going to be representatives from churches all across the country," he says.
After years of study and working in the church, With has found peace working in the truck, joining his personal, professional, and spiritual lives. "There's a theology of service aspect to it: the whole idea of bringing people together to socialize through food and to provide a really positive experience is a big part of my satisfaction," he says. "But even more fulfilling is being able to do this in a way that helps the community."