Meet the Class of 2025: Tyler Johnson
Student Profile
Meet the Class of 2025: Tyler Johnson
Posse Scholar, varsity soccer player, social justice crusader broke down walls at his predominantly white Silicon Valley high school
Wondering what the BU Class of 2025 looks like? For starters, the 4,023 entering freshmen are members of one of the largest classes in recent history. They hail from 48 states (sorry, South Dakota and Wyoming) and 73 countries and regions (23 percent of this year's freshmen are international students). The class is 56 percent female and 44 percent male, 17.7 percent are first-gen students, and 15.2 percent are from underrepresented groups. They boast an average GPA of 3.9 and nearly half (43.5 percent) were admitted Early Decision.

But those are just statistics. To give you a better sense of the Class of 2025, we introduce you this week to four of the class members. Check out their inspiring stories.
Tyler Johnson, Posse scholar, soccer player, and president of his high school senior class and Black Student Union, wanted a college that excelled in athletics and academics—and especially in communications and African American studies.
Boston University checked all the boxes, and then Johnson's mother told him about something—or rather, someone—else that BU also offered that all but sealed the deal.
"My mom's like, 'Ibram Kendi's at BU—you should check it out,'" says Johnson (COM'25), who is a forward on the men's soccer team.
This fall Kendi is teaching his first BU class on campus. He joined the University in July 2020 to launch the Center for Antiracist Research. With only 75 slots in Kendi's class, Introduction to Antiracism, Johnson landed on the waiting list when he registered in July. He was already reading Kendi's National Book Award–winning Stamped: The Definitive History of Racist Ideas in America (Nation Books, 2016). His uncle gave the book to him, his brother, and their cousin in 2020, amid the national reckoning on race that followed the murder of George Floyd by a white police officer in Minneapolis.
"Now I see the connections," Johnson says of Stamped. "It's brilliant. It's a hard read, but I would say the more difficult the journey, the more beautiful the destination."
Johnson underwent a racial awakening of his own during his junior year at Burlingame High School in San Mateo, Calif., an affluent city in Silicon Valley. In August 2019, shortly before the start of school, his family had moved from Miami, where as a high school sophomore he had led his soccer team to the regional finals, to San Mateo, where his father had a new job with a tech company. "San Mateo was not what I expected at all," says Johnson. "I'm imagining Los Angeles—lots of different people, lots of different colors."
---

Stamped is "a hard read, but I would say the more difficult the journey, the more beautiful the destination."

---
In Miami, Johnson had attended schools with students who were Asian, Latinx, Black, and white, which reflected the city's demographics. "Miami is the melting pot of the world," he says. "It's so filled with different cultures. It's good that people are different. You don't want the same bland thing."
His new high school, with 1,500 students, was overwhelmingly white. Some students drove to school in Mercedes Benzes. "There were only five Black students," Johnson says. "I stuck out like a sore thumb."
That didn't stop him from being his gregarious, charismatic, self-possessed self. He comes by his love of talk and socializing from his parents and their large, extended family. "Growing up, our house was always full of people," he says. "I put relationships over everything."
Johnson was an overnight celebrity at Burlingame. "Everyone wanted to be friends with the cool Black kid," he says. His soccer prowess didn't hurt. "I wanted to get to know everybody and that's what helped with breaking down walls. I talked to the popular kids, the weird kids, the nerdy kids, the quiet kids. I don't like to exclude people at all. I get that from my dad. So if I'm hanging with my friends and I see a kid eating alone, I have to befriend that person."
"Tyler embraced the school," says Paul Belzer, Burlingame's principal. "He drew people to him. He carries himself with a warmth and genuineness."
Johnson was surprised when he learned Burlingame hadn't had a Black Student Union (BSU) for a number of years. "How can you not have a Black Student Union?" he says. "Everyone has a Black Student Union."
In October 2019 someone vandalized Burlingame, spray-painting homophobic, anti-Semitic, and racist slurs and white nationalist slogans across the walls of the interior courtyard. Amid the outcry over that event, Johnson restarted the Black Student Union, welcoming anyone who wanted to join. "I wanted to be a difference maker," he says. "The administration had my back 100 percent. They definitely saw the need for change."
"Tyler brought kids together who were looking for a place to connect around issues of race and culture. He elevated the voice of students," Belzer says.
As February approached, Johnson recalls, "I was like, 'What did you guys do last year for Black History Month?' They're like, 'Oh, we're supposed to do something?'"
Johnson and the BSU turned Black History Month into a major event. They got on the school television channel every morning to share stories about Black leaders from history. They put up Black history posters in the hallways and held Black history trivia contests.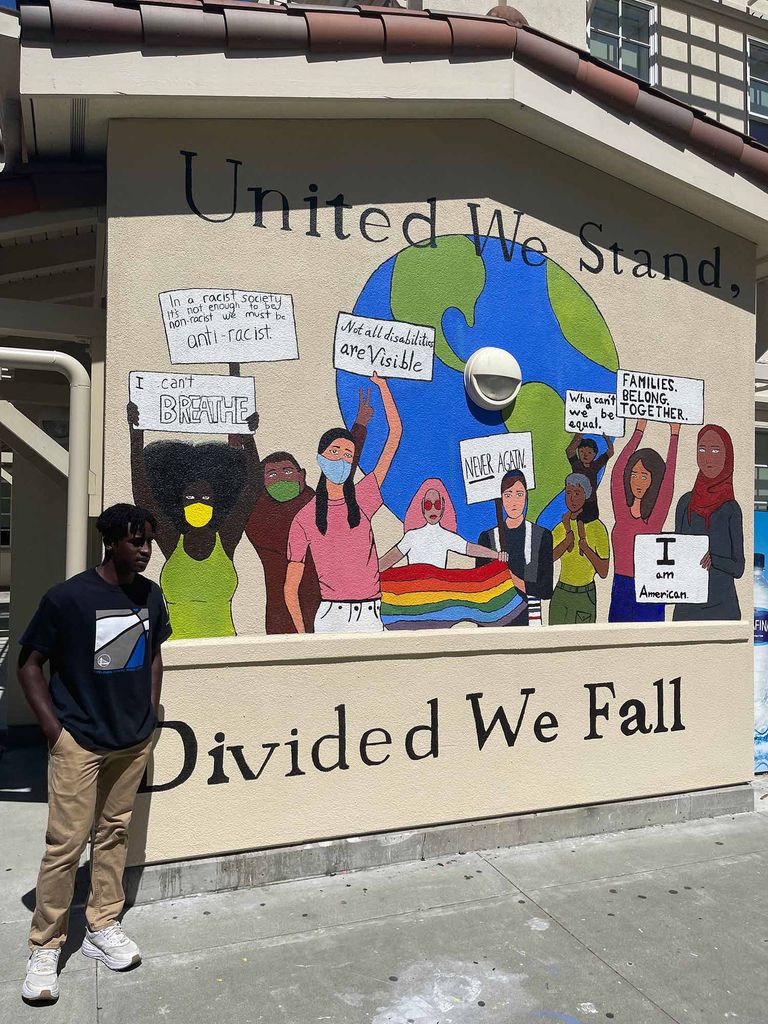 As a response to the racist graffiti, Johnson proposed that in its place the BSU paint a mural celebrating equality, racial justice, diversity, and inclusiveness. Murals have to be approved by the school district, and the BSU's proposal was making its way through channels in spring 2020, when Burlingame went to remote schooling because of COVID.
Johnson persevered, staying in touch via Zoom with his fellow BSU members—and Belzer and the teachers who were BSU allies. The completion of the mural, titled United We Stand, Divided We Fall, was the culmination of Johnson's senior year. "We wanted to make a permanent mark on the school—this is our response to hate," he says.
"Now we have a physical example of the kind of community we aspire to be," Belzer says. "Tyler was essential in that conversation."
In his senior year, Johnson was selected a Posse Scholar by the nonprofit Posse Foundation and was awarded a scholarship to BU along with nine other Bay area Posse Scholars. The foundation selects students from diverse backgrounds and with outstanding leadership skills.
"Posse is an amazing program," Johnson says. "I'm getting to meet nine new people [the BU Bay area Posse Scholars] and go to a new place and meet more new people. That's my thing." (BU hosts a total of 20 new Posse Scholars each year, 10 from the Bay area and 10 from the Atlanta area.)
Johnson says he's looking forward to getting involved with social justice issues at BU. As for COM, the college seems like a natural fit. "It's the art of talking and just communicating with people—that's me," he says. "My dream job would be hosting a talk show, like Trevor Noah."
More immediately, Johnson is excited about the chance to study with Kendi, the University's Andrew W. Mellon Professor in the Humanities. In mid August, he got good news: he was off the waiting list and in Kendi's class.