Zooming in to African American Theater
Theatre
Zooming in to African American Theater
CFA Dean Harvey Young's class brings (remote) close encounters with top theater-makers
Not many theater undergrads would ping one of the hottest playwrights in the country for their input on a class assignment, but Ireon Roach wanted to talk to Jeremy O. Harris, who wrote the acclaimed, and controversial, Slave Play.
"I struggled with the journey of Slave Play and the meaning of its notoriety," Roach (CFA'21) says. "Yet I couldn't deny the impact of his work and the birth of Jeremy O. Harris as an entity of African American theater."
Slave Play garnered 12 Tony nominations for its fall 2019 Broadway run, including best play, a record for a drama. (Plans for the 2019-2020 Tony Awards ceremony are still pending.) Because of the big names who'd already Zoomed in to her African American Theatre class this semester, Roach felt empowered to reach out to Harris on Twitter.
"To my surprise, he responded about six minutes later with laughter and openness," says Roach, a leader of Boston arts organization The Jar. "I will admit that my tweet made very clear my conflicted feelings on his work, but was still met with a readiness to start a conversation with a critical undergrad—I was counting on this. What was supposed to be a 15-minute Q&A for a class presentation became a 45-minute open and honest conversation."
"That's everything I want this class to be, right there," says Harvey Young, dean of the College of Fine Arts, who created and teaches African American Theatre.
"She comes up to me after class," Young says, "and she's like, 'Is it OK if I exceed the 10-minute limit so I can share more of these excerpts from the conversation?' And I was like, 'Absolutely!'" Young designed the class to put students in conversation with top theater-makers, learning to establish professional networks that might help them after graduation.
Among the other guests who Zoomed in to class this semester: actor, director, and playwright Ruben Santiago-Hudson, a Tony winner who adapted the screenplay for the Netflix film adaptation of the August Wilson (Hon.'96) play Ma Rainey's Black Bottom and will be performing and directing separate shows on Broadway this year; playwright Ike Holter, who won a Writers Guild Award for his work on the TV show Fosse/Verdon; playwright and former BU faculty member Lydia Diamond (GRS'09), whose Stick Fly was produced on Broadway; and Tarell McCraney, Yale School of Drama Eugene O'Neill Professor in the Practice of Playwriting and Playwriting Program chair, who won an Oscar for best adapted screenplay when his play Moonlight became a film.
"So you have these amazing, very active, of-the-moment theater-makers, who are on Broadway, winning awards everywhere, and they're talking to the class about what it's like to be an artist today," Young says. "I always tell our students I want to make the world of professional theater feel smaller."
By the time they graduate, he hopes, they will have lost the feeling that it is overwhelming. That doesn't make success come any easier, but it gives them a comfort level with that world. Maybe a hair too much at times, as when Santiago-Hudson visited.
"They're like, 'Ruben! Hey!'" Young says, laughing. "They are quite quick to go to the first name with all our guests. In fairness, I know all the guests really well, so I think the students take their cue from me."
Young, a CFA professor of theater and a College of Arts & Sciences professor of English, says teaching makes him a happy person and a more effective dean, a post he has held since 2018. "It allows me to understand what students are experiencing, and to reconnect with my own research, and I love having those conversations about theater and the arts in the world," he says.
He has taught the African American Theatre course on and off since 2002, starting when he was a professor and chair of theater at Northwestern University. "A lot of students have never studied Black theater before—in most cases they get like, a week," he says. Among those who took his class when he was at Northwestern: Meghan Markle, now the Duchess of Sussex, then a double major in theater and international studies.
"I really appreciated this class as a Black woman and a Black actress," says Mya Ison (CFA'22). "No class is ever just about African American theater in general, and this is a semester-long deep dive, chronologically, into every AA theater movement. It is just so uplifting and inspiring. I see myself, which I don't that often."
In addition to contemporary plays, the class moves through a century and a half of theater made by, and often for, African Americans. The main text is The Cambridge Companion to African American Theatre (Cambridge University Press, 2013), edited by Young.
"When I first taught the class, there weren't that many books or resources out there, and it actually inspired me to create a book that people could use to learn about African American theater," Young says.
"I'm a specialist in Black theater, but I never studied it in college or graduate school because there was no one teaching it. So I learned how to do it myself. I learned it by reading the plays, by doing the work, and by slowly writing and publishing and putting that scholarship out into the world. So I decided to create this book."
He recruited a mix of established voices and emerging talents, both scholars and critics, to write chapters, several of whom also visited the class via Zoom, including Faedra Chatard Carpenter, an associate professor of theater at American University in Washington, D.C., who talked to students about topics that included whiteface in plays by Adrienne Kennedy and Suzan-Lori Parks.
"It's one thing to come and visit and have the opportunity to share ideas or insight with students," Carpenter said after her visit. "That's always a nourishing thing to do—but to have students that ask such thoughtful and generative questions is particularly energizing."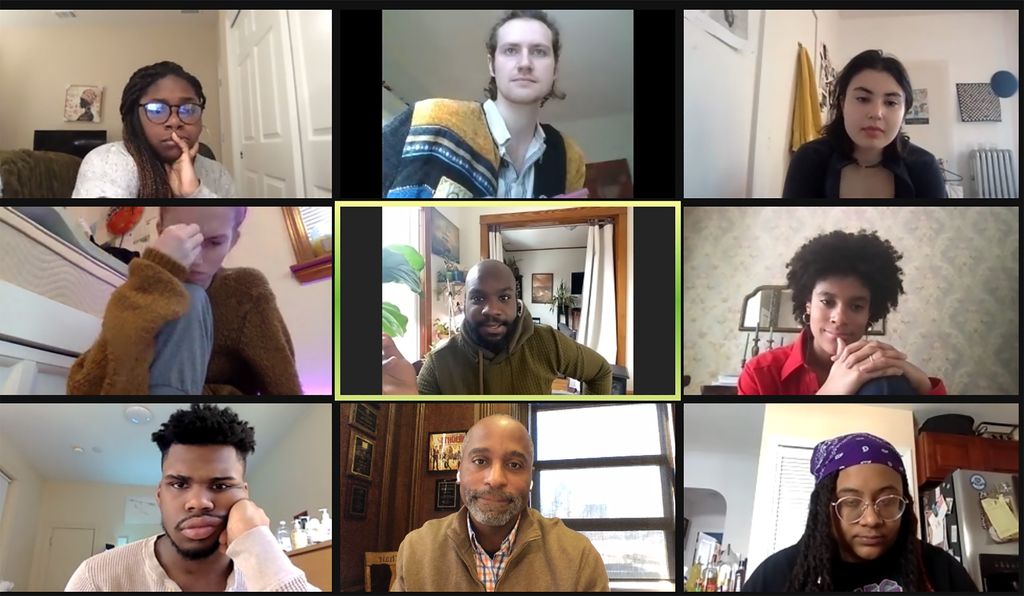 Young also is well aware of how expensive college texts can be. Because it's in the Cambridge Core collection, students can get The Cambridge Companion to African American Theatre free through the BU Libraries, and he has made it even easier by downloading the PDF there and posting it to Blackboard.
He notes that most people think African American theater began with Lorraine Hansberry's 1959 play A Raisin in the Sun, but it goes back to the mid-19th century and "goes hand in hand with the rise of American theater." Black theater companies were emerging in the late 19th century and became more mainstream in the 20th century, with people like writer and activist W.E.B. DuBois chronicling the lives of Black Americans through theater.
"By the time it gets to the 1930s, you had the American Negro Theatre Company that launched a whole bunch of people—Alice Childress, Sidney Poitier, Harry Belafonte—and those plays began to transfer to Broadway," Young says, "and that set the stage for Lorraine Hansberry and all of those that followed."
With the pandemic easing its grip, Young says, he won't be teaching the class next year, as he has dean stuff to do, including travel to connect with alumni, but he plans to bring it back to the syllabus in 2022-2023.
He's also organizing an updated edition of the book, with three or four new chapters, to appear in 2023.
"This week's conversation with the students was, 'OK, what needs to be in this book that's not currently in it?" he says. "And they're like, 'We need more about arts and activism in the 21st century, and a lot more in terms of the Black gay and Black transgender drama and playwriting that has come along."
Oh, and he's got to get Hamilton in there.
"What I tell the students is to look at the history generationally," Young says. August Wilson in the 1980s was inspired by the Black Arts Movement of the 1960s, he says, just as the Black Arts Movement artists were inspired by the stories of the generation who were making theater in the 1930s and '40s, and just as they were in turn inspired by the New Negro artists of the 1920s.
"There is today, somewhere," Young says, "a young kid of color who has seen Hamilton and is like, 'Hey, I can be that.'"