Inside The Jar with Ireon Roach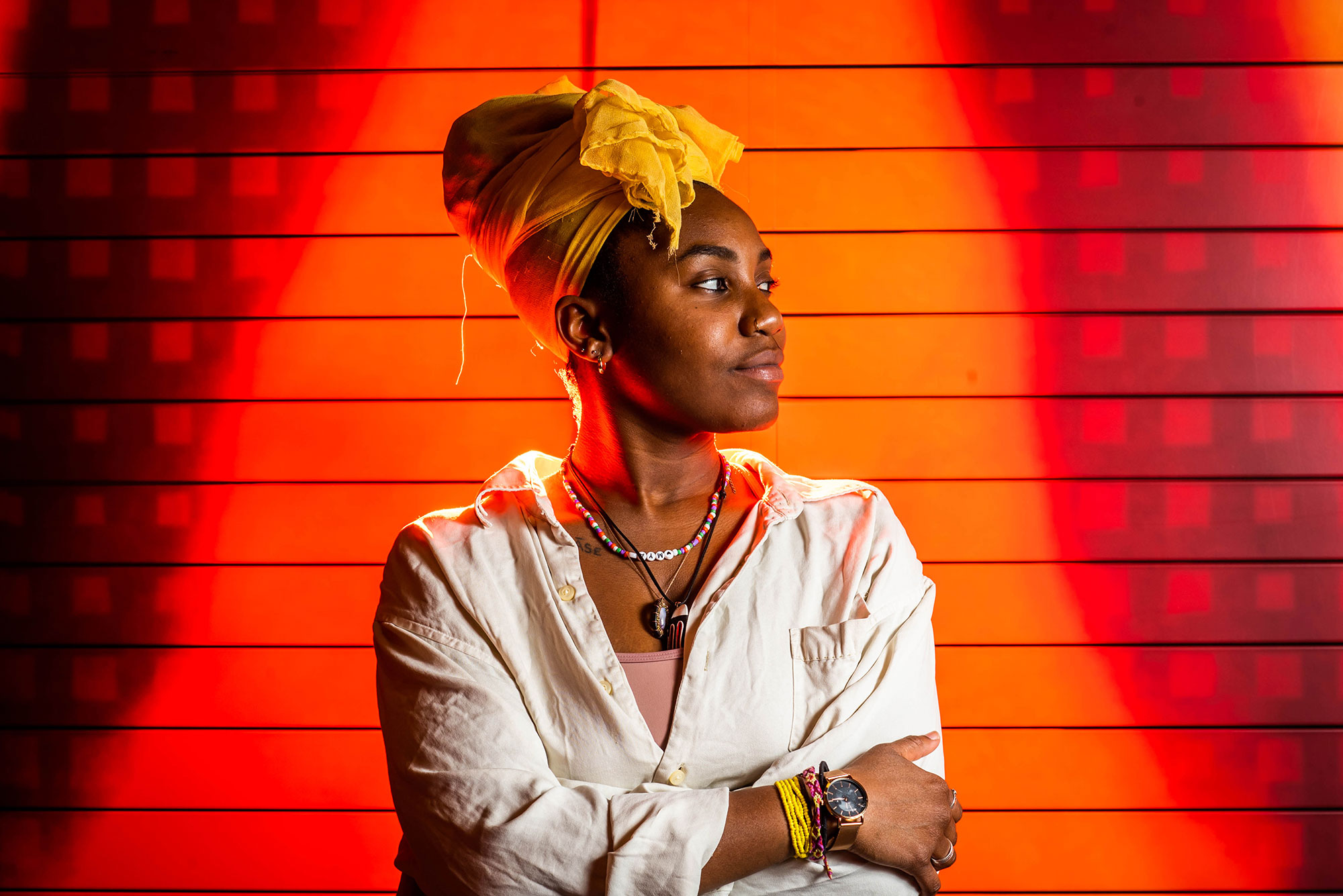 Arts & Culture
Inside The Jar with Ireon Roach
CFA student helps to foster community-building through the arts
When you jump into The Jar, it means you're down for art, positivity, and community. The nonprofit is a different kind of arts organization, founded to both broaden the audience for theater and foster community among audience members and artists. One of the leaders making that happen is theater major Ireon Roach (CFA'21), its curator-in-residence and soon-to-be codirector.
"Meet Ire and you're just blown away," says The Jar's interim board chair Samantha Tan, an executive coach and fellow of the Simmons University Institute for Inclusive Leadership.
In fall 2019, The Jar held an event featuring the play Alma by Benjamin Benne, a two-hander about a Mexican immigrant mother and her US-born daughter, just after the 2016 election. The cast consisted of New York actor Ceci Fernandez and Roach, a BU student from Chicago, where she was a member of The Yard theater company and a veteran of that city's slam poetry scene. Guy Ben-Aharon, The Jar's founding director, had seen Roach perform with Boston's SpeakEasy Stage in School Girls.
"I think she was surprised to see how diverse The Jar's audience was," Ben-Aharon says, "and she stuck around for the dialogue because she couldn't not. It was so electric in the room."
After a second event a few weeks later, Roach was hooked.
"I was blown away by the depth of the conversation afterward," Roach says. "They all jumped right into that conversation from such a deeply vulnerable place, a place conversations normally take weeks to get to."
As The Jar moved entirely online during the pandemic, she became a mainstay, starting its World in Progress series, where theater-makers, musicians, writers, and other artists share their works in progress with online audience members and dialogue afterward. The emphasis is not, how perfect is my art? says Tan. It's, how does my art move you?
"That's the bread and butter of The Jar," Roach says. "Guy and I are both theater people, but we are not about putting on a play every week. We are putting together a space that uses art to center a community and allow people to see others in themselves a little more clearly and authentically."
"We are rooted in radical vulnerability," she adds, to set aside differences and "just be a person with another person. The more I say that and the more I practice it, it's becoming a little less radical and a little more normal—I can't wait until that isn't a radical idea. And that's what The Jar is working on."
Roach goes by Ire, pronounced "I-ree," as in "irie," the Jamaican word for good, happy, pleasant. As a writer and host, she is not afraid to tackle tough topics like race and her father's incarceration. But on a recent Thursday, her smile was bright and her vibe positive as she welcomed about two dozen Bostonians to Zoom to hear and discuss a new work by a Roxbury singer-songwriter.
Your typical Boston theater evening does not begin as she began this one: "A moment of silence, a moment of joy, to bring your mind's eye to something good within you."
Broadening the audience
"The Jar came out of this question of, what could community look like around the arts?" says Ben-Aharon from Tel Aviv, Israel, where he's been riding out the pandemic with family. "The Jar was really born to provide people an opportunity to rehearse the world they want to live in. If they want to experience culture within a diverse, vibrant community, let us help them find their way towards that."
Ben-Aharon, who has dual US-Israeli citizenship, came to Boston to study at Emerson College. A decade ago, while still an undergrad, he created Israeli Stage and other critically acclaimed series bringing international plays to unusual venues around the city—and got an up-close look at the way US theater works.
The Jar also was intended to address the nonprofit arts world's problem with diversity. Ben-Aharon says, "older, wealthy, white men tend to call all the shots, and therefore the audiences that we're finding are pretty divided. It also creates a pretty lonely experience for a lot of people walking in."
The Jar's 10-person board is 80 percent people of color and draws from all economic classes. None of the board members is an arts professional. Even more unusual is the organization's in-person audience model, pre-pandemic—and, they hope, post-pandemic. The Jar launched in 2019 with staged play readings it called "convenings," because of what Ben-Aharon calls "this crazy collaborative audience model."
Each audience member is tasked with bringing along not just their own guest, but four more people: two who they might have gone to a play or a gallery with before, and two who they know, but would never have expected to share an evening out with—"people who may not look like them, love like them, pray like them," Ben-Aharon says. In those few months before the pandemic, it was a raging success. The first event, at a South End bookstore, drew a highly diverse group of more than 90 people. The organization hopes to return to the format soon.
Ben-Aharon says he "remembers one of our founding board members, LaTasha Sarpy, in her welcome statement, glancing around and saying, 'Look what Boston can do. This is what Boston can look like.'"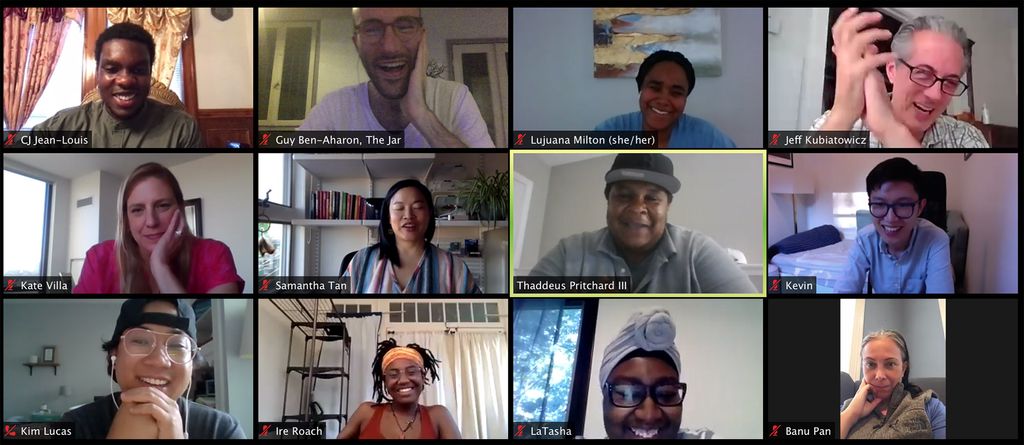 "We're not an arts institution," he says, "we're a community-building organization, and the arts is just a vehicle for that. The arts, we find, are the best way to bring people together."
After a study abroad trip last winter that was cut short by the pandemic, Roach got more deeply involved in creating The Jar programs for the COVID-Zoom era. In summer 2020, the George Floyd killing supercharged the discussion about race and inequality in America. Ben-Aharon asked her what The Jar should do. She wrote a message to The Jar community that brought hundreds of responses—and she took the time to respond to every one.
"I texted her, saying, 'Hey, Ire, I'm so amazed by this, what do you want to do with The Jar? What would you like to imagine of The Jar?'" Ben-Aharon says. They had a series of conversations that led to the World in Progress series. Soon he started floating the idea to the board—what about Ire as codirector? They loved the idea.
"She is this incredible, wise, funny, smart, young woman, graduating into her first job to co-run a company and be an empowered leader," he says. "I am encouraging her to dream big as to what this thing could look like." She is learning from him and board members about financial literacy for nonprofits, meeting with donors and partner organizations, getting the nuts and bolts of the job.
The plan now is that on July 1, Ben-Aharon will become codirector of culture and Roach will be codirector of programming. But they're not about the titles.
"All systems we live within force us to build walls between us and a person that's different," Roach says. "This organization is about—maybe if just for an hour on Zoom—you getting to poke out one of those bricks in the wall and peek through and see the person on the other side, and maybe see yourself a little more fully, because you have more room to be."
The Jar's next virtual event will be an April Fool's Day program on Thursday, April 1, at 7 pm, featuring The New Yorker's Jason Adam Katzenstein, comedians Tehran, Kellye Jue, Dewayne Perkins, and Francesca Fiorentini. Following the artistic program, participants will gather in breakout sessions to explore what role foolishness plays in their lives. Find details here.