Wellness Challenge Imagines Ways to Help BU Heal from the Pandemic
Finalists in Innovate@BU competition dreamed up wellness center using psychedelic plant-based medicines, free professional clothing for students, and more
Strategy & Innovation
Wellness Challenge Imagines Ways to Help BU Heal from the Pandemic
Finalists in Innovate@BU competition dreamed up wellness center using psychedelic plant-based medicines, free professional clothing for students, and more
One group came up with an organization that hands out free professional clothing for needy BU students. Another is working to provide gender-affirming products to transgender and nonbinary BU students. And a third wants to premiere a short film about BIPOC (Black, indigenous, people of color) mental health, accompanied by a day of wellness, with therapy dogs and counselors.
These projects were conceived for Innovate@BU's second annual Community Impact Challenge, a contest where student teams dream up innovative ideas focused on emotional, social, and physical well-being, areas that have been disrupted during the COVID-19 pandemic. This year's challenge, titled Wellbeing: Reimagined, Renewed, Revitalized, was cosponsored by the Wellbeing Project and BU Student Government. The two-month-long challenge culminated Thursday, November 18, with the Finalists Showcase for the BU Community.
The goal for this year's event, according to the challenge website: "We know that the global pandemic is far from over, but we hope that the ideas generated through this challenge help the BU campus and other communities continue down their long healing journeys."
In addition to the $500 each of this year's finalists received, the event was a chance for one group to take home an additional $500 audience choice award. The finalists delivered a one-minute elevator pitch to the approximately 50 people gathered in the BUild Lab about why their idea had the potential to have the greatest impact on students' lives. Audience members then voted for their favorite.
The audience winner was Amor Plantae, a team comprising Questrom School of Business MBA students who proposed a wellness center that will handle mental health disorders and emotional trauma through the use of psychedelic plant-based medicines, adaptogenic mycelium and non-THC minor cannabinoids.
In her remarks, Blake Sims, Innovate@BU social innovation program director, said the purpose of this year's challenge was to focus on the mental strain of the transition back to campus life and help students feel like they really belong. Nyah Jordan (CGS'20, COM'22), Student Government president, said that Student Government wants to highlight wellness this year, after hearing from so many students saying they felt isolated from campus life during the lockdown and are continuing to experience some of those same feelings because of ongoing COVID-19 restrictions.
"What I think is so magical and what's really humbling about what all of you are doing is that you are all bringing your own twist, your own identity, and your own role on campus to these ideas," said Carrie Landa, Student Health Services newly appointed executive director of student well-being. "To see the ways that our community is really looking to support each other—not just out for the individual, but helping the entire community—is really what we want to do here on campus."
The challenge, which was open to all BU students, kicked off September 25, with the deadline for the first round of submissions October 25. A panel of faculty, staff, student leaders, and external professionals then whittled down the 17 submissions to 11 finalists.
During their pitch Thursday night, the Amore Plantae team said that in the United States, 8.9 million adults suffer from major depressive disorder, 15 million adults have PTSD, and 40 million have anxiety disorders. Meanwhile, they noted, about one-third of this population is treatment-resistant to the use of medication.
"These scarring experiences often lead to social isolation and self-medication, most frequently with alcohol, tobacco, and opiates," said L. George Sulak (Questrom'23), an MBA student on the social impact track. "Pharma treatments have significant rates of recurrence, whereas plant-based treatment, specifically psychedelics, in clinical trials now, are showing that one treatment cycle can have long-lasting effects."
After his team was announced as the audience favorite, Sulak shared with those attending that he and his two teammates, Alan Mui (Questrom'23) and Christopher Sanchez (Questrom'23), have varying levels of experience with psychedelic assistant treatment for various mental health and emotional issues. "The big thing that's groundbreaking is in treatment-resistant issues, which comprise almost a third of PTSD, major depressive disorder, anxiety disorders, and even substance abuse," he says, "they're showing in MRIs that it's [this treatment] directly leading to new synapsis growth."
Mariana Mezzacappa (Sargent'25) pitched Moving With Maya, a fitness business she is forming to help the disabled community feel comfortable in a gym setting. The topic is personal for Mezzacappa: at age three, she was diagnosed with the rare genetic bone disease multiple hereditary exostosis, characterized by benign cartilage-capped bone tumors that greatly affect mobility. Mezzacappa is creating accessible workouts and one-on-one gym sessions, which she plans to lead.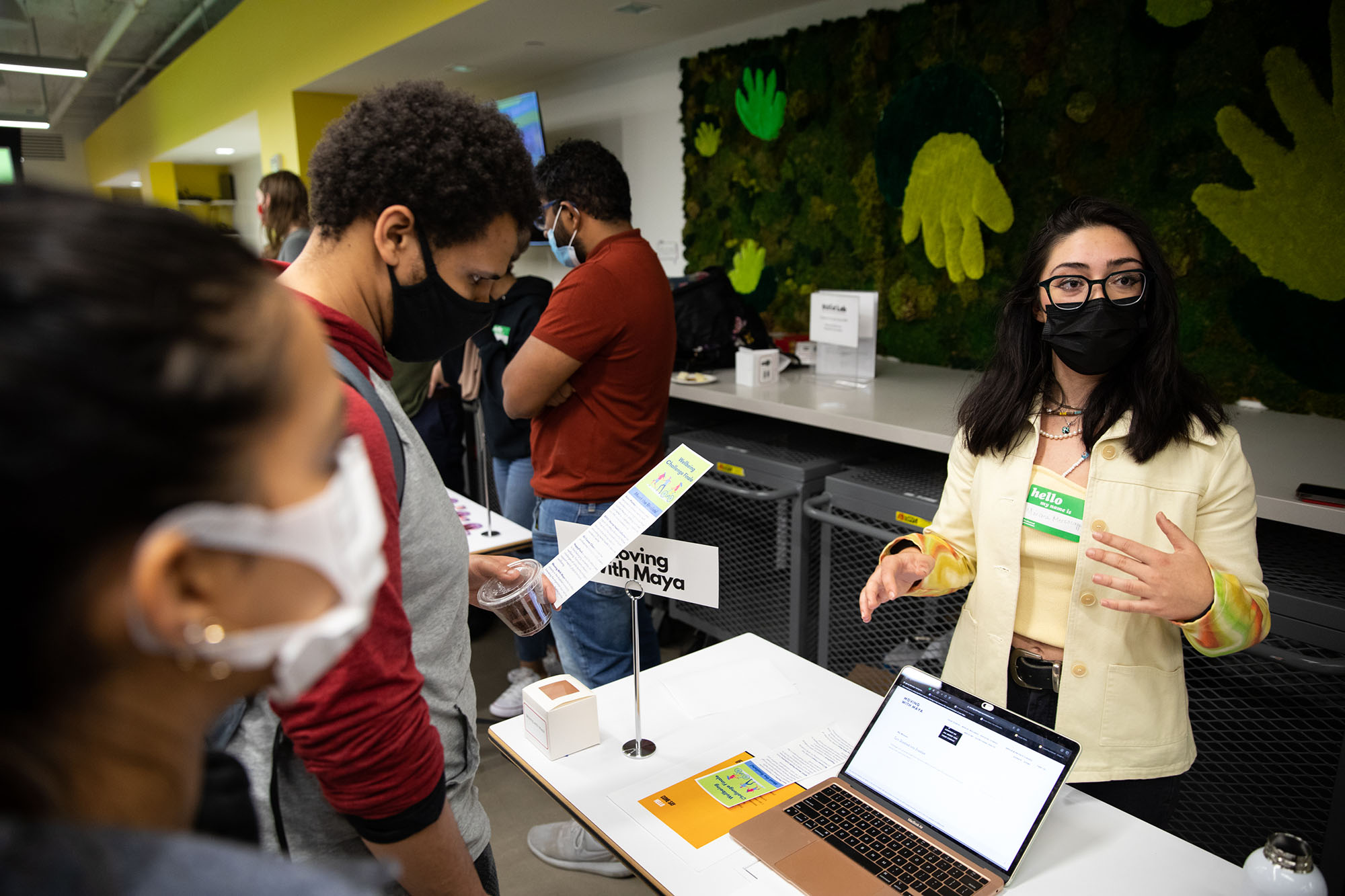 Nesa Huda (COM'22), an MFA screenwriting student, used her initial $500 to help produce her short film Taboo. Filmed in Huda's hometown of Toronto and nearly complete, the film is about a Muslim girl dealing with the aftermath of her best friend's suicide attempt. "Suicide is a cardinal sin in Islam, so it becomes a difficult conversation in the family and in the general community," said Huda, who drew from her own experiences supporting a friend with depression. "The idea around it is to explore, why aren't we able to talk about these things? BIPOC communities are already facing racism, working to figure out our identities. So add mental health to that and it becomes very challenging. I really want to create a safe space that is more open."
Next semester, Huda says, she wants to organize an event centered around BIPOC mental health that would include the premiere of Taboo, a de-stress station staffed with counselors and therapy dogs, and a panel talk with BIPOC mental health professionals from the Greater Boston area.
The runner-up for the audience favorite award was Tima Dasouki's BU Career Closet, a nonprofit offering BU students free professional clothing for job interviews and internships. Dasouki (Pardee'22), a first-generation college student, says having access to professional clothing for interviews and other events helps level the playing field and builds a student's self-confidence and self-worth. "Just being able to walk into an interview and know that you have an equal chance of being hired as anyone else is huge," she says. "So I really want to make sure everyone has an equal chance at getting their dream job and not letting their appearance get in the way of that."
Her plan is for BU Career Closet to solicit donations through Boston-area nonprofits like Dress for Success as well as from alumni and to launch in the spring through a collaboration with the Center for Career Development. 
"I'm so proud of BU Career Closet," Dasouki said. "It's my passion project."