Congresswoman Ayanna Pressley (D-Mass.) and Moderna Cofounder Noubar Afeyan to Speak at BU's 148th Commencement
Senior Brunch
Congresswoman Ayanna Pressley (D-Mass.) and Moderna Cofounder Noubar Afeyan to Speak at BU's 148th Commencement
Honorary degree recipients, student speaker, and Metcalf teaching award winners also announced at Senior Brunch
This year, BU's annual Senior Breakfast became Senior Brunch.
On Friday, April 30, the Class of 2021 tuned in to the Zoom ceremony to toast one another and officially kick off Commencement 2021 festivities.
And, of course, to find out who this year's Commencement speaker would be. Because there will be two separate ceremonies on Commencement day, May 16—one for grad students and another for graduating seniors—word came that there will be two speakers: US Representative Ayanna Pressley (D-Mass.), a trailblazing politician who briefly attended Boston University, will be the speaker at the afternoon undergraduate ceremony, and Noubar Afeyan, cofounder and chairman of Moderna Therapeutics, Inc., will address students at the morning graduate ceremony.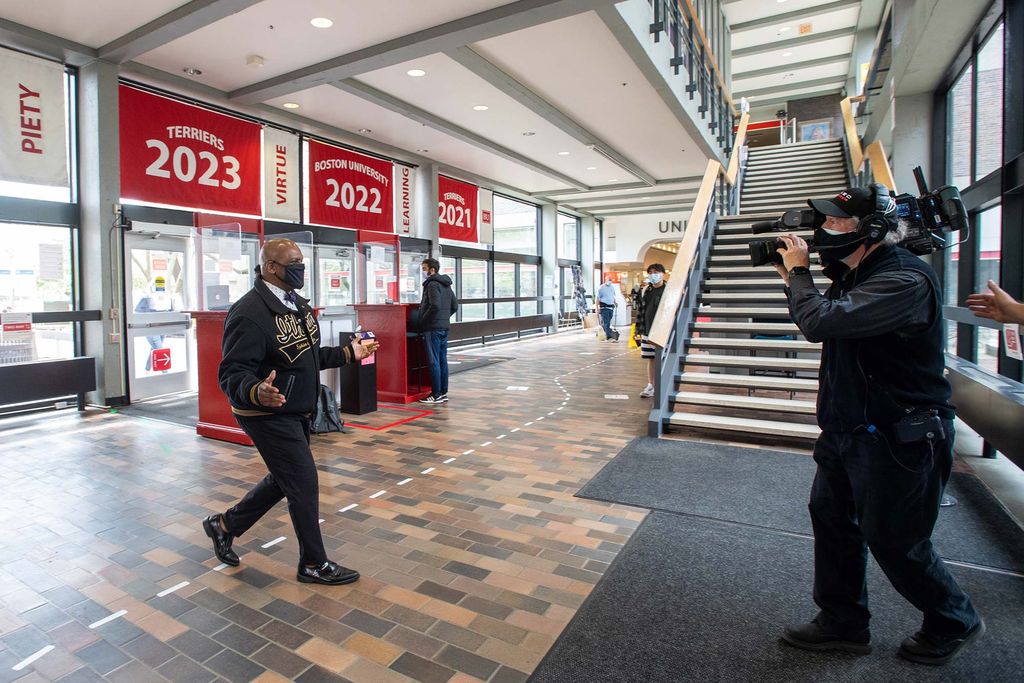 In keeping with tradition, Senior Brunch—pushed to the afternoon to accommodate remote students in different time zones—was emceed by Kenneth Elmore (Wheelock'87), associate provost and dean of students. The virtual event featured live music from the BU Pep Band and plenty of embarrassing "looking back" photos.
And what would a brunch be without carbs? On-campus seniors dined on brunch boxes prepared by Dining Services, which featured either a Yukon Gold potato-and-cheddar frittata or spicy vegan tofu tacos. Students were left to their own devices for drinks, but it's safe to assume that more than a few champagne corks were popped during the event.
After welcoming remarks from Elmore and an invocation by Robert Allan Hill, dean of Marsh Chapel, a "My Senior Year Was…" video was followed by Zoom bombs from celebrity alums. Actors Ashley Williams (CFA'01), of How I Met Your Mother, Russell Hornsby (CFA'96), of Fences and The Hate U Give, and Michaela Watkins (CFA'94), of SNL and Search Party, dropped in to offer advice to the Class of 2021—including admonitions from Williams that just because you've graduated doesn't mean your education has to be over, and that there's secret power in perseverance.
Class Gift Committee members Audrey Tran (CAS'21) and Beatriz Vianna Martins da Costa (COM'21) provided an update on the 2021 class gift. They stressed the importance of participation, rather than the dollar amount, thanking seniors for supporting the causes and programs that make BU unique. As of April 27, 1,242 seniors had donated $37,786.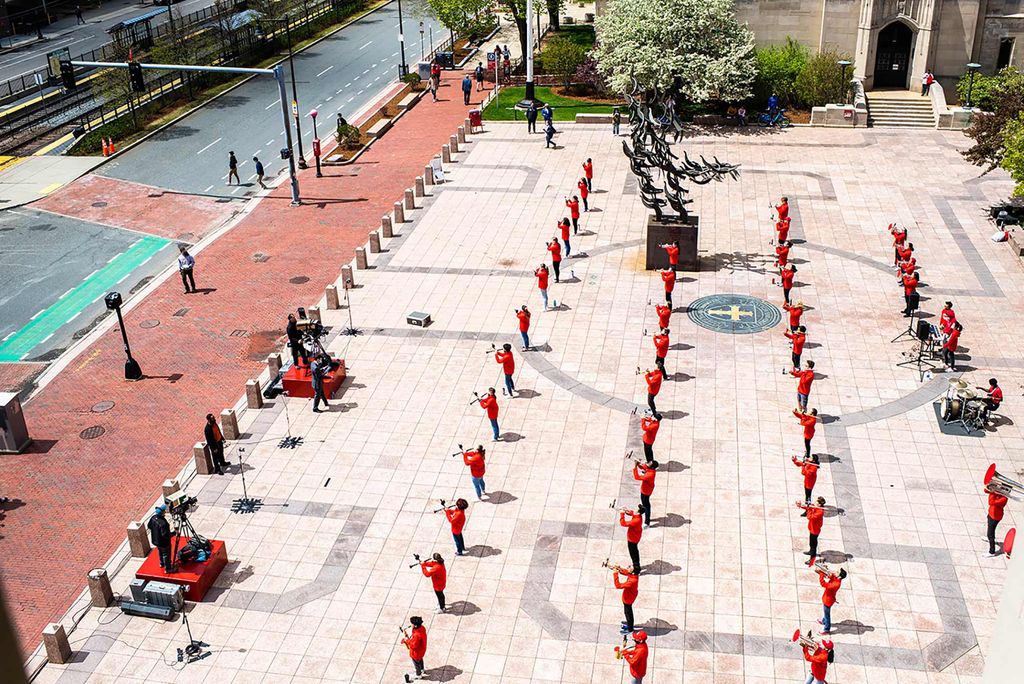 Next came the heart of the event—announcements of speakers and award recipients. First up: Archelle Thelemaque (COM'21), a Howard Thurman Center student ambassador and WTBU DJ, will be the student speaker for Commencement 2021. Zooming in from her room in StuVi 1, Thelemaque gave a brief preview of her speech: expect Meek Mill, Cardi B, and "Swag Surfin.'" 
President Robert A. Brown then revealed this year's Commencement speakers and honorary degree recipients. In 2009, Ayanna Pressley was the first woman of color to be elected to the Boston City Council, and nearly a decade later, in 2018, she became the first Black woman elected to Congress from Massachusetts, representing the state's seventh congressional district. In her three years in Congress, Pressley has made a name for herself as a fierce advocate for equitable and progressive policies. She is an original member of the Squad, alongside Alexandria Ocasio-Cortez (CAS'11) (D-N.Y.). Fun fact: Pressley also delivered the commencement address at her high school graduation. As this year's undergraduate Commencement speaker, she will be awarded an honorary Doctor of Laws from Boston University at the ceremony.
This year's other honorary degree recipients are Noubar Afeyan, who is founder and CEO of the biotech capital firm Flagship Pioneering as well as cofounder of Moderna Therapeutics, and Catherine D'Amato, CEO and president of the Greater Boston Food Bank. Both will receive an honorary Doctor of Humane Letters. D'Amato will also deliver this year's Baccalaureate address, and Afeyan will be the speaker at the advanced degree ceremony.
Afeyan, who was born in Lebanon and moved to Canada before coming to the United States, is known for his philanthropic work as well as his career as an inventor, entrepreneur, and CEO. D'Amato has led the Greater Boston Food Bank since 1995. Today, the nonprofit serves 82 million meals a year to people throughout Massachusetts.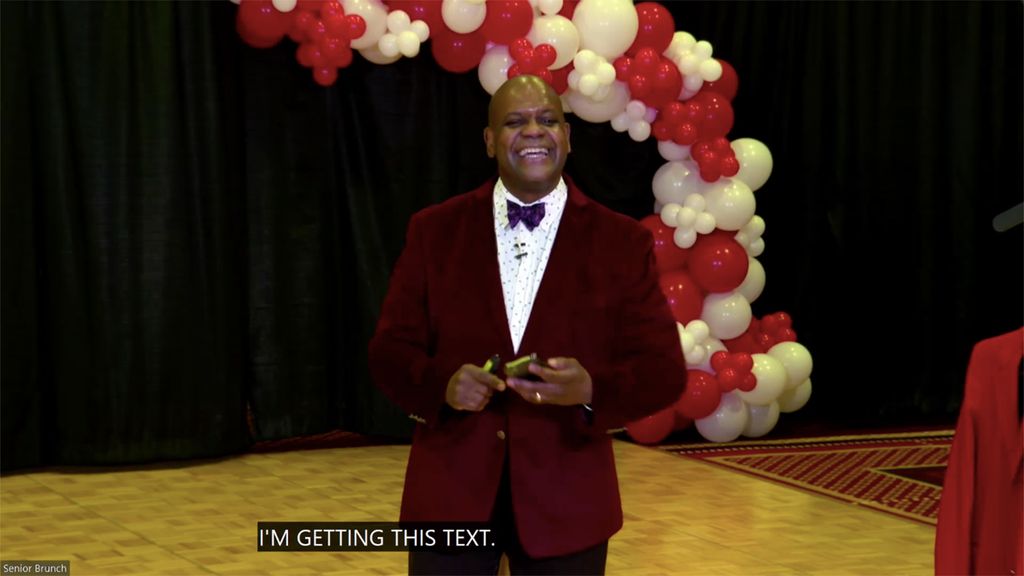 The president also announced the recipients of the University's highest teaching honors, the Metcalf Cup & Prize and Metcalf Awards for Excellence in Teaching. The top honor, the Cup and Prize, will be awarded to Steve Ramirez (CAS'10), a College of Arts & Sciences assistant professor of psychological and brain sciences. The Metcalf Award winners are Fadie Coleman (MED'16), a School of Medicine assistant professor of medical sciences and education and director of MED's biomedical laboratory and clinical sciences program, and David Sullivan, a College of Arts & Sciences master lecturer and director of the computer science department peer education and assessment. All three will be honored during Commencement.
During his remarks, Brown commended the Class of 2021 for their perseverance. "When I spoke to you at Matriculation in August of 2017, I never would have guessed that we'd be speaking to you today at Senior Brunch via Zoom," he said. "Your senior year has been like none other before you.
"Whether you participated remotely or returned to campus, you have adapted and persevered in the face of the most challenging academic year I could have ever imagined. You have done the impossible."