BU Students' Hackathon-Winning Project Could Help Combat a Neglected Tropical Disease
Infectious Diseases
BU Students' Hackathon-Winning Project Could Help Combat a Neglected Tropical Disease
Terriers create innovative pill pack to help prevent lymphatic filariasis
When it comes to the now-20 neglected tropical diseases (NTDs), some have better name recognition than others. NTDs impact the world's poorest populations and historically haven't received the same resources or attention as other infectious diseases. The public tends to know about the big NTDs—leprosy and rabies—but others, like Dengue fever, mycetoma, and Chagas disease, are less known, but can be just as dangerous. Also on the less known list is lymphatic filariasis, a parasitic disease sometimes referred to as elephantiasis. The mosquito-borne disease impacts more than 120 million people worldwide, with the highest concentrations in Africa and Asia. When left unchecked, lymphatic filariasis can cause painful swelling throughout the body, which leads to severe disfigurement.
Luckily, preventing the disease is simple: a yearly dose of the antibiotic pill albendazole kills the parasitic worms carried by mosquitoes that nest in a person's lymph vessels and cause swelling. But physically getting the pill to folks every year—and then getting them to take it—can be a different, and difficult, matter.
"NTDs affect almost two billion people worldwide—about one in five people on this earth—but that's not distributed evenly. They impact the poorest of the poor," says Malwina Carrion (SPH'11,'21), a Sargent College of Health & Rehabilitation Sciences lecturer in health sciences. "For the diseases we have treatments for, a lot of the time they're just not getting to people because it's a matter of logistics, like taking a canoe to a really remote area. Or if a treatment requires being hooked up to an IV every day, a lot of people would basically choose to die [rather than receive treatment] because they need to spend that time in the field or tending to children."
There's also the matter of local misconceptions surrounding NTDs and the medicines used to treat them. That's the issue four BU students tackled during a recent NTD-focused hackathon sponsored by the Task Force for Global Health.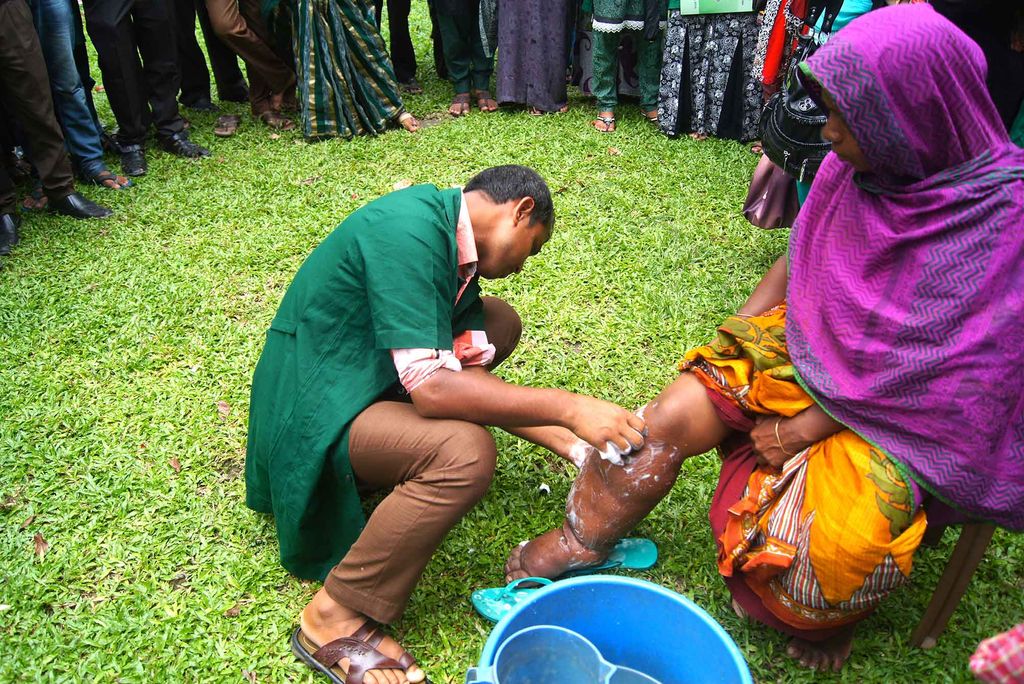 The virtual hackathon's theme? "Spread truth, not disease." The 12 participating teams were given 24 hours to come up with a product or service that combated misinformation surrounding either mass drug administration or seeking treatment. The BU team's winning idea: a specially designed pill pack for albendazole targeted at Tanzanians.
The team—Caroline Pane (Sargent'22), Bridget Yates (Sargent'22), Samuel Tomp (ENG'21), and Julia Hermann (Sargent'22)—came up with their concept after reading interviews with Tanzanian citizens who were supposed to be taking mass-distributed albendazole. The interviews—and the study they came from—revealed that only 45 percent of people actually took the drugs they were given. Inflexible distribution methods, distrust of the government and partner organizations, and unclear packaging all contributed to the dismally low rate: "One of the quotes we read was something like, 'You have to just trust the government and trust what they say a pill is for,'" Pane explains. "And I thought, well, that makes sense. I wouldn't want to take an unmarked pill either!"
Basing their concept on the interviews, the team designed new and improved packaging for single doses of albendazole. First up? Simply adding the name of the disease the drug treats. (There's no Swahili word for lymphatic filariasis, but mabusha refers to the swelling of testicles and matende to the swelling of limbs, which are common symptoms of the disease.) The team also realized that it was crucial to make clear that the drug prevents lymphatic filariasis, not treats it, and to list the common side effects so that no one taking the drug would be caught unawares.
Finally, the BU students incorporated visual aids. Using minimal language, they noted in their presentation, makes "future translation more feasible"—but it also makes complex concepts easy to understand. "A key component was a graphic explaining how the disease was transmitted, because there was a lot of confusion about that in the studies we looked at," Yates explains. Thanks to a suggestion from their Hackathon-appointed advisor, they modeled the graphic after a well-known Tanzanian cartoon, which helps create a sense of familiarity among the population.
For their concept, the team won $500 apiece and the opportunity to virtually present their winning project to NTD experts at the Coalition for Operational Research on Neglected Tropical Diseases annual conference in November. And when Carrion sent the students' work to her colleague Darin Evans (SPH'13) at the US Agency for International Development (USAID), he was so impressed that he invited the four to present to his NTD team, as well.
"The students' submission not only showed a creative approach to dispelling myths around mass treatment campaigns, but also revealed an understanding of the disease burden and the potential impacts of culture and behavior on the success of such programs," says Evans, a senior medical and technical advisor for USAID's NTD initiative. "While a real-world application of the proposal would require some modification, the fact that a group of undergraduates came up with an idea that might be on a par with proposals made by professional consultants in just 24 hours really impressed everyone."
The BU team members say they've been pleasantly surprised by the response to their project. "When we were putting the presentation together, I felt like we'd come up with something unique," says Tomp, "but I didn't necessarily know that it was going to be received as well as it was."
For Pane, Yates, and Hermann, all of whom are studying health science, participating in and winning the hackathon was also a cool opportunity to gain hands-on experience outside the classroom. "I'm more interested in going into clinical work in the future," Hermann says, "but it was really interesting to see the things we've learned about year after year actually come into play in real-life situations."
As for presenting to the NTD experts at the USAID? "It was pretty terrifying going into it," she says. "But overall it was a great experience."