BU Leaders Address Employees' COVID Concerns at Latest Town Hall
University News
BU Leaders Address Employees' COVID Concerns at Latest Town Hall
Campus vaccination rates high, caseload low
During a virtual town hall on Thursday, University leaders sought to assure anxious questioners that as BU repopulates for the fall semester, it will be, in President Robert A. Brown's words, "as safe as any place can be."
Brown and other panelists unfurled numbers to make the point: BU's vaccination mandate has been met already by 89 percent of students, 93 percent of faculty, and 86 percent of staff. The percent who are medically or religiously exempt from vaccination hovers at just around one percent for each group. Last year, before vaccines were available, the few cases of COVID-19 in the community involved "no cases of classroom transmission and relatively few cases of workplace transmission," with the latter mostly involving employees commuting or eating together, said Judy Platt, chair of BU's Medical Advisory Group and director of Student Health Services.
"I think we're well on our way to having a very highly immunized community" by the start of fall semester, Brown said. Students were to be vaccinated by August 1, while faculty and staff have until September 2.
Vaccination and exemption percentages are publicly available on the University's COVID Data Dashboard to maintain transparency, panelists reminded listeners. And other than social distancing, BU's array of safety measures—mandatory vaccination, indoor mask requirements, weekly testing for those on campus (twice weekly for the unvaccinated)—will remain in force for the fall semester.
Questions during the hour-and-a-half event revealed the degree to which employees are worried about the lingering pandemic and the virulently contagious Delta variant that has plunged the country and the world back into elevated case numbers unseen for months. Other questions centered around BU's new work-from-home policy, which permits certain employees to work remotely up to two days a week.
The panel said BU's COVID tests check for all virus variants, including Delta and Lambda, and that the University is working with the state and Boston Medical Center to obtain and offer booster-shot vaccines this fall. The Biden administration has recommended a third, booster, shot be taken eight months after full vaccination with the Pfizer and Moderna vaccines.
Mandating a booster shot will be discussed, Brown said, recognizing the difficulty of its having to be administered on a rolling basis, depending on when recipients completed their initial round of vaccination.
Jean Morrison, provost and chief academic officer, said that she doesn't anticipate a return to last year's wide-scale remote study and work, a complicated and "very significant pivot" made unnecessary this fall by "a very broad range of protocols to protect the community."
She said the "limited exception" to the indoor mask mandate for classrooms applies to lecturers who may address students, if all of them are masked, without being masked themselves. The University recommends social distancing and twice-weekly testing for students in this circumstance, she said.
Asked how students who must go into isolation (if they test positive for the virus) or quarantine (if they've had close contact with a positive-testing individual) should handle studies this fall, Morrison said: "We encourage faculty and students to do as they've always done when a student is faced with illness." That is, the student should alert their professors, ask friends to share lecture notes, and keep up with the syllabus assignments.
With large-scale congregations planned for the fall, including the early October COVID-postponed Commencement for the Class of 2020 and Alumni Weekend, one questioner wondered if BU would reimpose gathering and social-distancing limits. Brown said those currently appear unnecessary, but "if we see indications that we need to pivot…we will certainly do so."
Faced with the likelihood that some students will ignore the indoor mask mandate, Platt said the University is inspecting gathering spots like libraries and dining halls to suggest better signage and other alerts.
Morrison said her office and the Dean of Students office will shortly send an explanation of plans to enforce the daily symptom attestation requirement for students, involving a three-strikes policy—two notifications sent to persistently noncompliant students, followed by suspension until the person complies. Faculty may ask students to show their green digital attestation badges for classroom entry, but are not required to do so.
Much of the advice around the new work-from-home policy for staff boiled down to two points: certain details remain under review and will be announced in coming weeks. And employees should ask their manager, dean, or vice president if they have any questions about the policy or about seeking adjustments.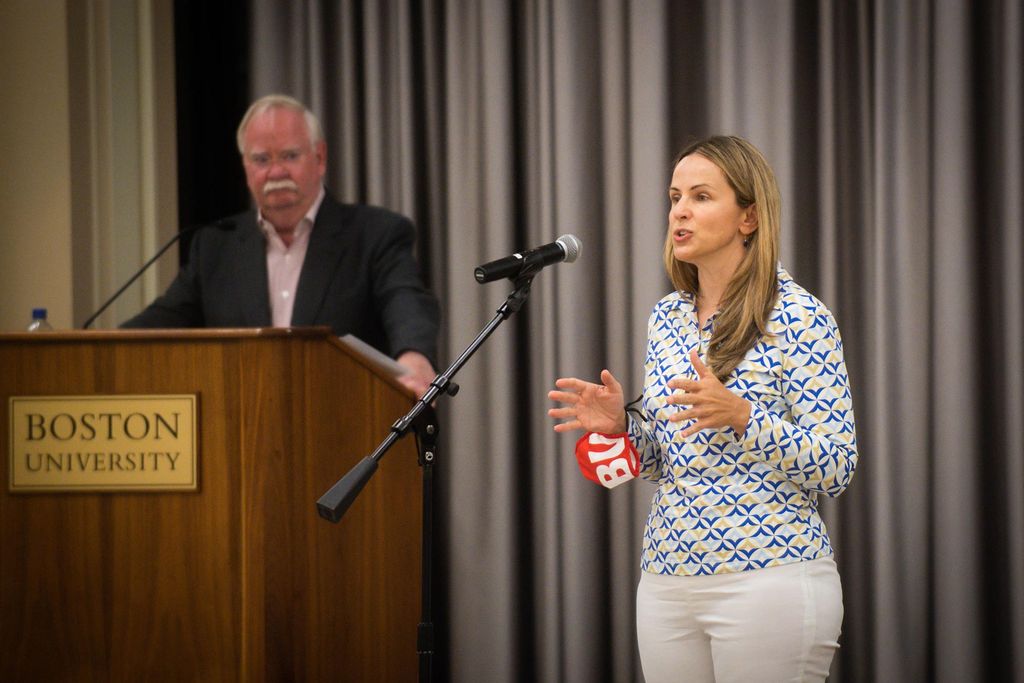 Morrison said faculty conversations with department chairs and deans would be especially crucial for professors with young children who aren't eligible for vaccination and will require at-home parental care if they become sick. She has spoken with mothers on the faculty, and she said that the pandemic has revealed that "our society has not tackled this problem of childcare and how we manage this critically important issue."
Patricia Sheehan, Human Resources executive director of talent management, said the recently emailed application for employees to specify which days they desire for remote work can be used to request more than that number. She said that whether to allow employees to switch to remote-work days in case of inclement weather was being reviewed.
While a blend of in-person and remote work will still permit collegial collaboration, modifications in guidelines are certain going forward, Brown predicted. "We are starting down a path that will undoubtedly change the University," he said. "Change is going to be inevitable."
A questioner asked for panelists' personal experiences of the pandemic. Brown offered his "deep sense of loss [of] personal connection" during last year's remote study and work. Platt, the mother of three children under 12 years old, said that after a COVID scare last fall, her family wore masks indoors and ate outside whenever possible.
"It was really challenging," she said of that experience, as has been her schedule overseeing campus health during the pandemic. "I don't think that I've ever experienced such a tremendous amount of work."