BU Lacrosse Teams Back on the Field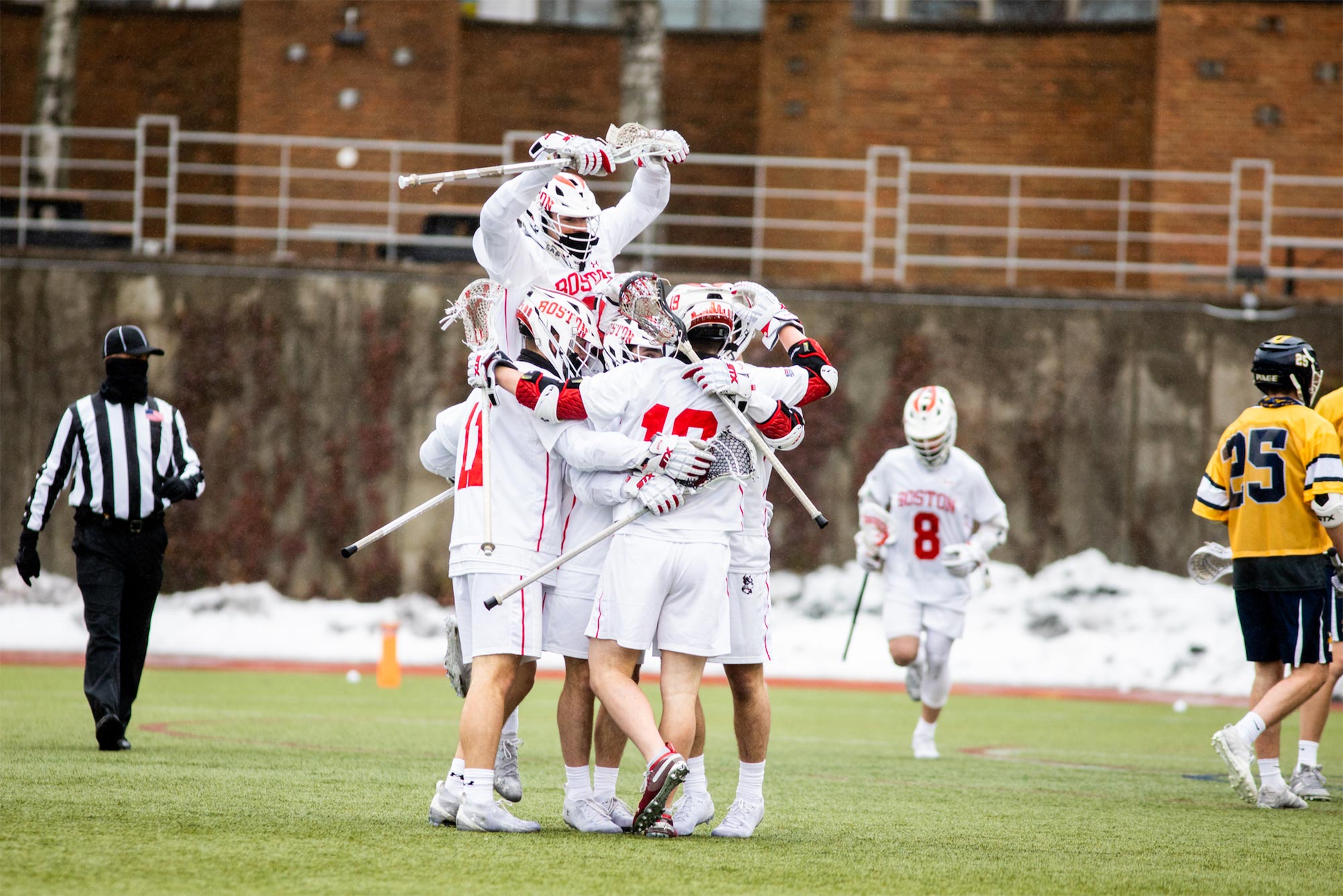 Varsity Sports
BU Lacrosse Teams Back on the Field
Terriers are three games into the 2021 season after 2020 was cut short
The Terrier men's and women's lacrosse teams are back on the field, and three games into the 2021 season, both are already seeing positive developments.
"We've gotten better every single game," men's head coach Ryan Polley says. "I'm really pleased, three weeks in, about where we are."
This time a year ago, the COVID-19 outbreak forced the Patriot League to cancel its lacrosse season, and all other spring sports. Both BU squads were 3-3 at the time of the season suspension, and were gearing up for conference competition.
"We were really optimistic about the season, and it just felt like the rug got pulled out from under us," Polley says. "The season got canceled, and then we were kind of just sitting there like, 'Now what?'"
For women's team member Makenzie Irvine (CAS'21), the path back to playing has been about making the most of every opportunity, especially during the fall.
"I think we really executed and took advantage of that time that we had together, even though it looked different," Irvine says. "That's going to set us up for a lot of success this spring, and I'm super excited to see how our team goes moving forward."
From practicing in pods to adapting to last-minute schedule changes, women's head coach Lauren Morton (CAS'08) says her team has demonstrated great resilience.
"We've been really impressed with how our team has handled it," Morton says. "You talk about going into the season knowing you have to be flexible, but I think being able to really do that is a different story."
Morton credits her team's ability to adapt to their veteran leadership. "The seniors have done a great job in terms of leading," she says. "There's no other class you can look to and say, 'How did they navigate this?'"
Both teams have faced early tests this season, and have responded well. After beating Merrimack and Pace to start the year, the men went toe-to-toe with No. 6/7 Army last Saturday, coming up just short, 12-10.
"It was tough that we lost, but it showed that we can hang with everybody," says Nick Mohler (CAS'21). "We've got a long season ahead of us to show that we're better than most people think."
The women's team started its season against a pair of ranked opponents, dropping contests to No. 6 Stony Brook and No. 20 UMass. Those losses had their benefits, though.
"We're able to really learn about ourselves against those opponents," Morton says, adding that the last time the Terriers started their season against two top-20 teams, in 2014, they reached the Patriot League title game.
The BU women got into the win column in come-from-behind fashion in their most recent game, scoring 9 of the game's final 10 goals to beat the University of Vermont 12-10 on March 7.
"The Vermont game showed us the grit and fight we had, and just kind of who we can be as a team," Morton says.
Back on the men's side, Polley says he's encouraged by what he's seen from his team so far this season. "I think we're pretty balanced," he says. "We have a pretty potent offense, led by some younger players, and on the defensive side of the ball, I think we have some experience down low."
Heading the men's offense is Timmy Ley (COM'22), the league leader in goals, with 13. Vince D'Alto (COM'23) has 8 goals and 14 points, and Louis Perfetto (Questrom'23) has a team-high 8 assists, with 11 points. In the back, Matt Garber (Questrom'23) has started in net in all three games, making 33 saves and posting a .569 save percentage, third best in the Patriot League.
On the women's side, Emily Vervlied (COM'21) is leading the way with 5 assists and 12 points, tied with Irvine for the team lead in goals, with 7. Jennifer Barry (CAS'23) has earned 19 draw controls, the second most in the league, and Kennady Smith (CAS'22) and Arielle Hammer (CAS'23) have split the net.
"We aren't an offense that just feeds off of one person," Irvine says. "All seven of us are so important, and it makes our offense so much more dynamic."
As they near the midpoint of their regular seasons, both teams are thinking big.
"We're all competitors," Polley says. "People came to BU to compete for a Patriot League championship."
Morton echoes her counterpart. "We have our eyes set on that Patriot League championship," she says. "We're really ready to start conference" games.
The men's lacrosse team will play Holy Cross in Worcester on Friday, March 12, at 6 pm, and the women's lacrosse team will play at Colgate on Sunday, March 21, at 1 pm. All Patriot League games can be streamed live on ESPN+.