Campus Reacts to BU's Commitment to Divest from Fossil Fuels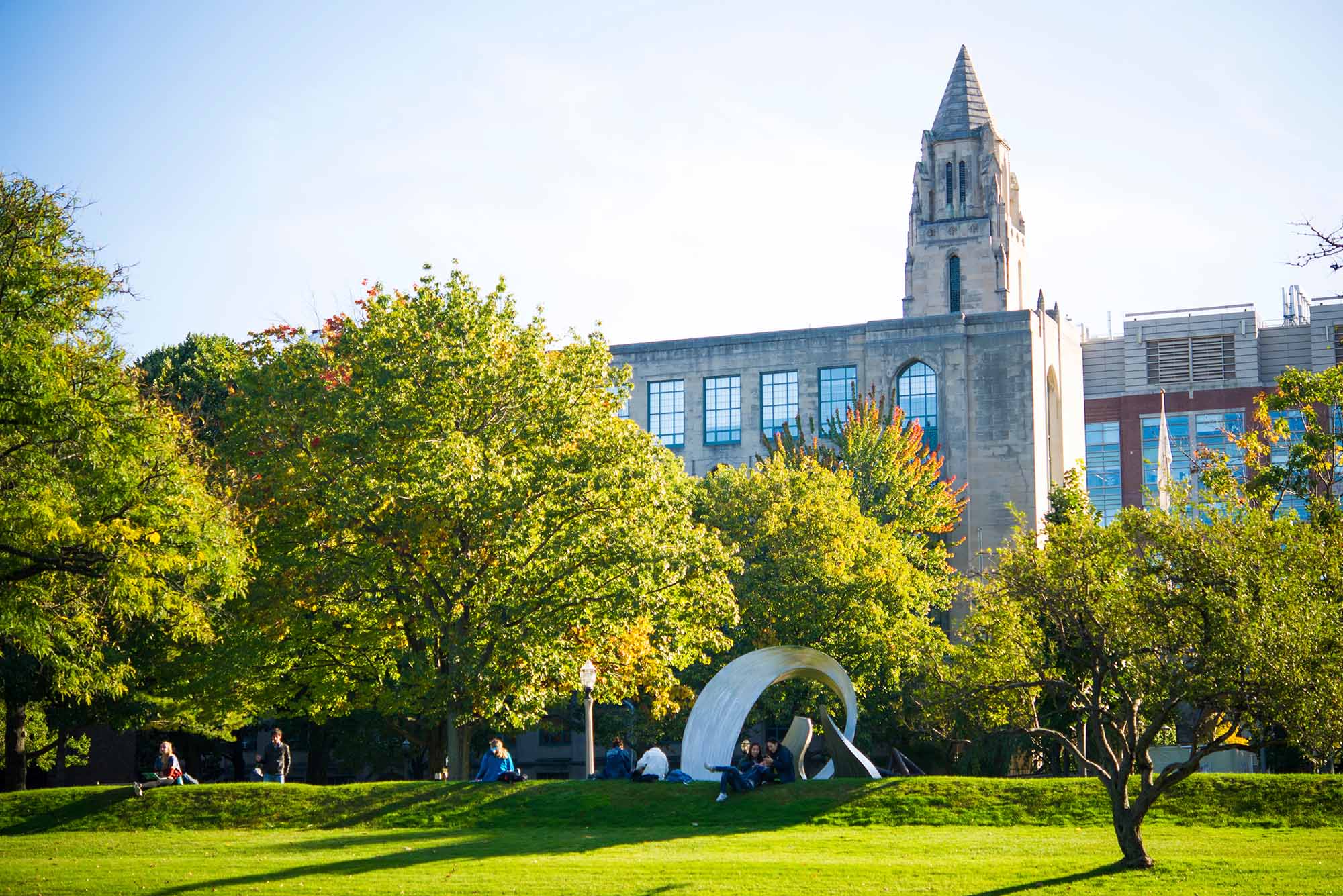 Fossil Fuel Divestment
Campus Reacts to BU's Commitment to Divest from Fossil Fuels
"Wonderful," "thrilled"—many credit student and faculty activism
The Boston University Board of Trustees voted Wednesday evening to adopt a plan to divest BU from fossil fuels, starting immediately, a move that aligns the University with a growing number of schools and colleges across the country. See our complete story here.
"This has been a long journey within the BU community and the Board of Trustees," President Robert A. Brown told BU Today. "This is putting us on the right side of history."
For many climate activists, from students and faculty to staff and alumni, the decision was a long time coming. BU Today reached out across the BU community for reaction to the news.
Kevin Gallagher

Frederick S. Pardee School of Global Studies professor of global development policy and director, Global Development Policy Center
BU is showing the world how we need to think globally, but act locally. This is more than a smart moral and science-based act of leadership, it is also a smart economic move as fossil fuels are fast becoming stranded assets in the global economy. I am swelling with BU pride today.
​​Ben Thompson (GRS'21)

Student who launched DivestBU in 2012
I thought back to 2012 and 2013, when a reporter asked me about the DivestBU campaign. I thought it made sense then, I thought it made sense now. I think this is a really important step for the University, not just because they are saying it's wrong to invest in fossil fuels. When you are investing, you are saying this has value. When you are divesting, you are saying we don't think these fossil fuel reserves are going to leave the ground. It was always tremendously heartening to see students keep this going, to see generation after generation of BU students talking about this issue and the reality of the climate crisis, and learning how to plan campaigns, and then going out into the world and doing that off the BU campus. I also want to thank all the students and faculty, who have been tremendous supporters, in providing some continuity over the years.
Lucy Hutyra

College of Arts & Sciences professor of earth and environment
I think it is wonderful, and it's overdue. I'm thrilled to see it happen…better late than never. BU took a very deliberate approach with this, with a lot of learning [and discussions] that happened across BU to make an informed decision. I participated in some of those sessions. I think this divestment is important because it's a high-profile and sustained commitment on behalf of the University's investments, but the investments [in fossil fuels] were rather small—this is just part of a portfolio of systemic changes at BU aimed at climate action.
Dennis Carlberg

Associate vice president for sustainability
This decision demonstrates the University's continued leadership on climate action at BU and beyond. Divestment from fossil fuels expands upon the progress we are making on implementing the Climate Action Plan.
Bill McKibben

Environmentalist, author, educator, and founder of 350.org
I think several things are happening. One, since it's clear investing in fossil fuels is a good way to lose money, the resistance from boards is decreasing. Two, the main customers for colleges and universities—18-year-olds—care about this more than any issue in the world, and it's hard to convince them you're a responsible institution if you're trying to make money off the end of the world. Three, the movements for divestment have been models of perseverance—administrators, I fear, count on passions cooling among students, and certainly not lasting longer than four years. But this decade-old campaign has never let up!
Neha Chinwalla (CAS'22)

Former Student Government director of environmental affairs and former Sustainability intern
I'm excited about this decision, which has been a long time in the making. Years of student organizing around a shared vision produced this outcome. When students come together, they have the ability to be heard and impact University policy. With persistence, we can build on this momentum to develop a more just, equitable University.
Katharine Lusk

Codirector and founding executive director of BU's Initiative on Cities
It's exciting because BU is one of the largest employers and landowners in the city [of Boston], and when you think about those two things together, it sends a meaningful signal for an important institution to take this step. Boston has a world-renowned reputation as being a leader on climate [science] and climate change, and when I think of BU being Boston's university, I think it's a reflection of BU's values aligning with those of the city.
Lisa Tornatore (CAS'02)

BU Sustainability director
I'd like to celebrate the students and faculty who have dedicated so much time and energy to the divestment movement for many years. Divestment from fossil fuels is a huge win for our community and BU's future. It is crucial that we all act on climate, as we are already feeling its impacts. BU's divestment shows that organizing can result in positive change.
Hessann Farooqi (CAS'22)

BU Student Government vice president and former BU Sustainability intern
I am thrilled that BU took this great step forward. Environmental justice is a top priority of the Student Government Executive Board, and divestment helps push toward a clean energy future. This victory is thanks in large part to all of the organizers across our community—the students and faculty who have worked so hard for so many years to make this a reality. As BU students, our organizing continues in our communities and around the world. I urge every college and university to follow BU's leadership by divesting from fossil fuels themselves.
Zachary Bos (GRS'16)

Administrative coordinator, CAS Core Curriculum
I believe in celebrating progress. That said, I regret the optics of the timing. Since Harvard just announced their divestment commitment, Boston University is rather likely going to be criticized as being a follower rather than a leader on this issue. I think that's unfair. Our institutional leadership has had fossil fuel divestment as an active agenda item under consideration and planning for nearly five years, and the topic has been an issue of advocacy among the student body and our alumni for much longer than that. All of those voices deserve to be credited for the influence they had on the University decision-makers.
We need to prepare for greater losses, more impactful harm, and more lasting change and human cost. A great university will find a way to cut through the improvident conventions of corporate public relations, and speak frankly about the challenges ahead. With this fossil fuel divestment commitment, the BU community has shown that it is willing to make changes and change course in order to do its part in mitigating the impacts of our carbon consumption.
Gregory Wellenius

School of Public Health professor of environmental health
This decision is a wonderful expression of BU's commitment to protecting the well-being of people and the planet. Divesting from fossil fuel industries is both hugely symbolic and materially important. The extraction and burning of fossil fuels is the leading cause of both continued climate change and ambient air pollution, with air pollution being responsible for more than seven million deaths globally each year. This divestment highlights the devastating impacts of fossil fuels and aligns BU's investments with the values of the BU community.
I'm proud that my alma mater Boston University has decided to divest from fossil fuels. It's the right thing to do for universities, for individuals, and for the Commonwealth of Massachusetts.

(h/t to @RepDylan who is heading up that last one) https://t.co/8hjCE2fxXo

— Tommy Vitolo (@TommyVitolo) September 23, 2021
Eileen O'Keefe

Sargent College of Health & Rehabilitation Sciences clinical professor of health sciences and chair of the BU Faculty Council
In April 2021, the Faculty Council held a Faculty Listening Session to hear faculty perspectives on BU divestment from fossil fuels, and we reported faculty perspectives to the Board of Trustees Advisory Committee on Socially Responsible Investing (ACSRI). Among BU faculty, there is overwhelming support for BU divestment from fossil fuels, based on evidence of its unacceptable environmental and social harm. The impact of climate change has massive inequities built into it. The Faculty Council fully supports the announcement by President Brown that BU will end its investment in fossil fuels. This full divestment is consistent with BU's bold Climate Action Plan, Strategic Plan commitment to social justice, our educational mission, and our responsibility to global citizens.
Nathan Phillips

CAS professor of earth and environment; involved in advocacy for divestment
Students deserve the biggest thanks and congrats. They led this struggle from the very start, and saw it through to today's momentous decision. With the accelerating urgency of the climate crisis, this sends an enormously powerful message to our current students that they hold the power to drive social change.
Adil Najam

Frederick S. Pardee School of Global Studies inaugural dean and professor of international relations and of earth and environment
This is clearly the right thing to do, and I hope this important step by the University will spur each one of us in the BU community to also up our game in terms of our own climate actions. The science is very clear in what is needed: action at every level, from the institutional to the individual. The signaling of such a move is important because it tells the BU community and the world what our values are. But to actually make a difference, each one of us will have to live those values, every day and in everything we do. Just as the University has made a decision to look at each one of its investments in how they impact global climate change, we too must do the same.
Cutler Cleveland

CAS professor of earth and environment and Institute for Sustainable Energy interim director
It is very gratifying to see the University align its investment priorities with the priorities of its faculty and students and staff. We've finally got to a point where the University's investment strategy is in line with what we teach in the classroom, as well as the stewardship we have on campus, and our commitment to clean energy. I feel like the forces are now aligned in a fundamental way, and this sets a great example for other institutions to divest.
I'm very happy for the students. This started over eight years ago really from students pushing…and they have been relentless in their pressure, passion, and knowledge on climate change. Many student-led initiatives go by the wayside because of the student turnover, but DivestBU has maintained strong leadership. If the seed wasn't planted over 10 years ago, we likely wouldn't be at this point. Two aspects of the report stood out to me—one is the annual reporting from the board to make sure we're on track or not to meet these goals. The second, as indicated in Bob Brown's letter, is that leadership will be monitoring the development of tools to measure greenhouse gas emissions coming from investments, something that will be crucial and an area for BU to contribute their expertise.
Randi Rotjan

CAS research assistant professor and senior lecturer of biology, BU Marine Program
I am so glad to see BU lend its voice to a small but growing chorus across universities calling for fossil fuel divestment. This issue is one that has been close to the hearts of many students and faculty, and I'm thrilled that the University has taken this important step. Kudos to the many, many students who brought this issue to the forefront! As a coastal, urban campus adjacent to a river, BU is situated both in the midst of the city of Boston and also among nature—I hope everyone at BU looks at the river and the sky today and takes a moment to note that this divestment is as much for them as it is for the community. Congratulations, BU!