BU's Masked Basketball Teams Attract National Attention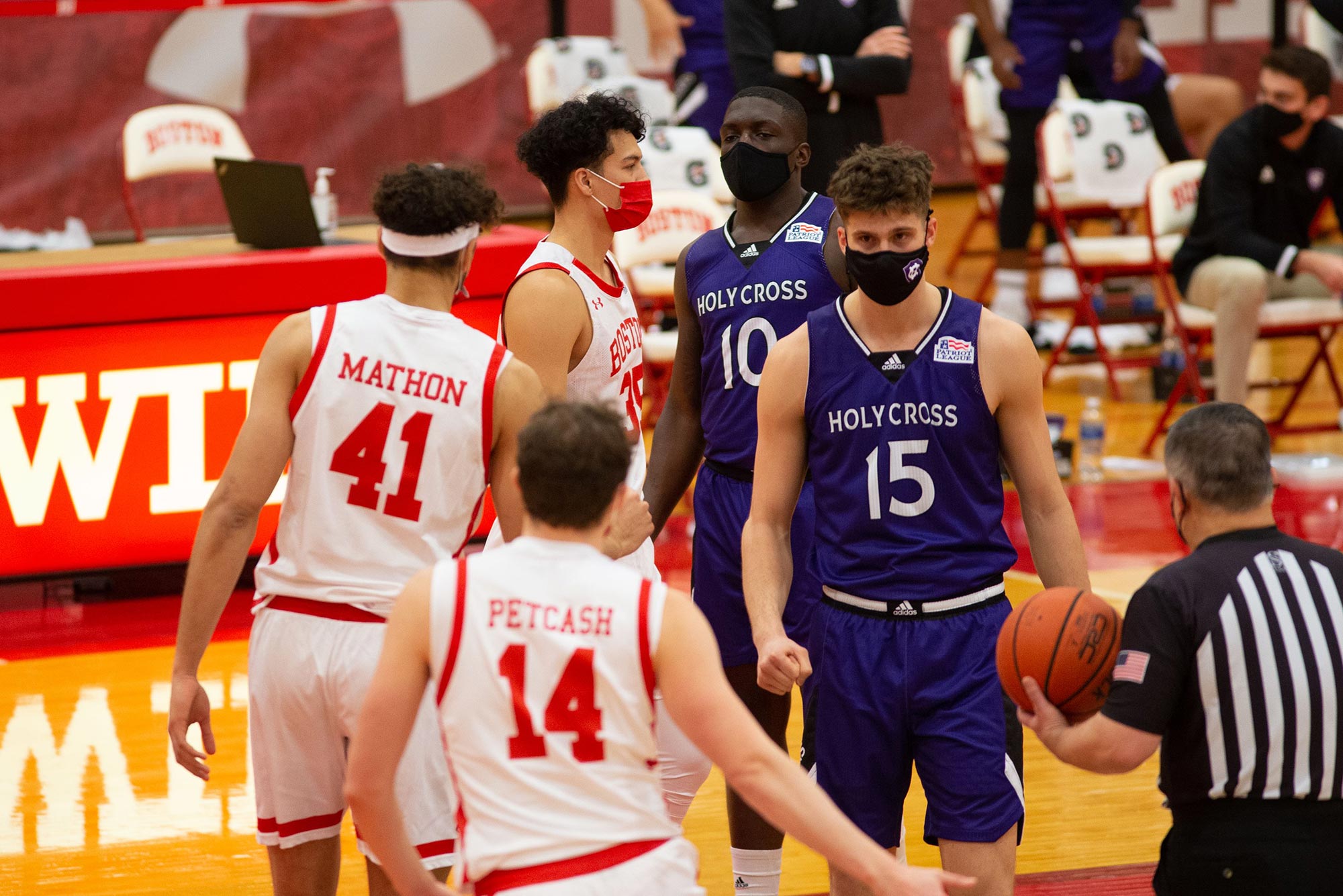 Basketball
BU's Masked Basketball Teams Attract National Attention
Terriers win three of four games against Holy Cross, but all the talk is about the BU requirement to mask up on court
After nearly 300 days away from competitive action, Boston University's men's and women's basketball teams returned to the court on Monday and Tuesday for back-to-back games against Holy Cross. Even though the Terriers won three of the four games (the men lost Tuesday's rematch at home), there was more talk afterward about the fact that BU players were required to wear masks on the court than about the basketball games themselves.
With the COVID-19 pandemic still raging, and numbers continuing to surge locally and nationally, BU's Medical Advisory Group recommended that student-athletes wear masks while competing not only in practices, but also in games. The BU men's program is the first NCAA Division I men's basketball program to mandate masks; this includes BU's opponents, who must wear masks when they visit the Terriers on BU's campus.
The decision by BU essentially was that BU Athletics should not deviate from the University's universal mask-wearing policy. One of the single most effective ways to avoid transmitting the virus is to wear a mask, especially during close-contact activities held indoors. "This is as much about protecting our players as it is their players," says Judy Platt, chair of the medical advisory group and director of Student Health Services at BU.
BU's Jonas Harper (CGS'22) knows he and his teammates are drawing attention for their masks. But he said Tuesday their focus is on playing the game, not on the masks.
"That's all outside noise," Harper says. "We just try to not worry about all the social media going on about it and just play our game."
Holy Cross men's basketball head coach Brett Nelson, BU's first home opponent, says the rule was a challenging reality to accept.
"It's unusual," Nelson says. "Everything we're going through is unusual."
On Monday, images of the BU men's team wearing masks on the road against an unmasked Holy Cross team circulated throughout social media, provoking mixed reactions from fans, reporters, and even professional athletes. Some Twitter and Instagram users labeled BU's decision as "stupid," "a health hazard," and "insanity." Others saw it as prudent and safe. "The @BU_Tweets Terriers WON a game today they played while wearing masks. If they can wear a 😷 for 40 minutes of basketball, we can can wear one when we need to leave the house. Stay home, and wear a mask when out for essential errands," read a tweet from Russell Carey.
BU opened its season against Holy Cross on Monday with wins for both the men's and women's teams. In Tuesday's rematches, the Terrier women were victorious again while the men lost by two points. BU men's basketball head coach Joe Jones does not think the masks influenced any games, the wins or the sole loss.
"Mask or no mask, I'm just happy that we're out here playing basketball," he says. "We're wearing them, let's just go play ball."
The Centers for Disease Control and Prevention advises wearing a mask when possible during athletic activity, especially when playing indoor sports and when it is difficult to maintain a six-foot distance between players. The NCAA is not requiring its basketball teams to wear masks while on the court, but does encourage it for coaches and players who are not actively playing. In a nod to the strange times, the NCAA announced this week that its March Madness 2021 tournament, which was canceled last year because of the coronavirus, will be played entirely in Indiana this year, in an attempt to create a bubble experience and contain the virus from spreading.
Katie Nelson (Questrom'21) of the BU women's basketball team says she will gladly follow the directions of the experts.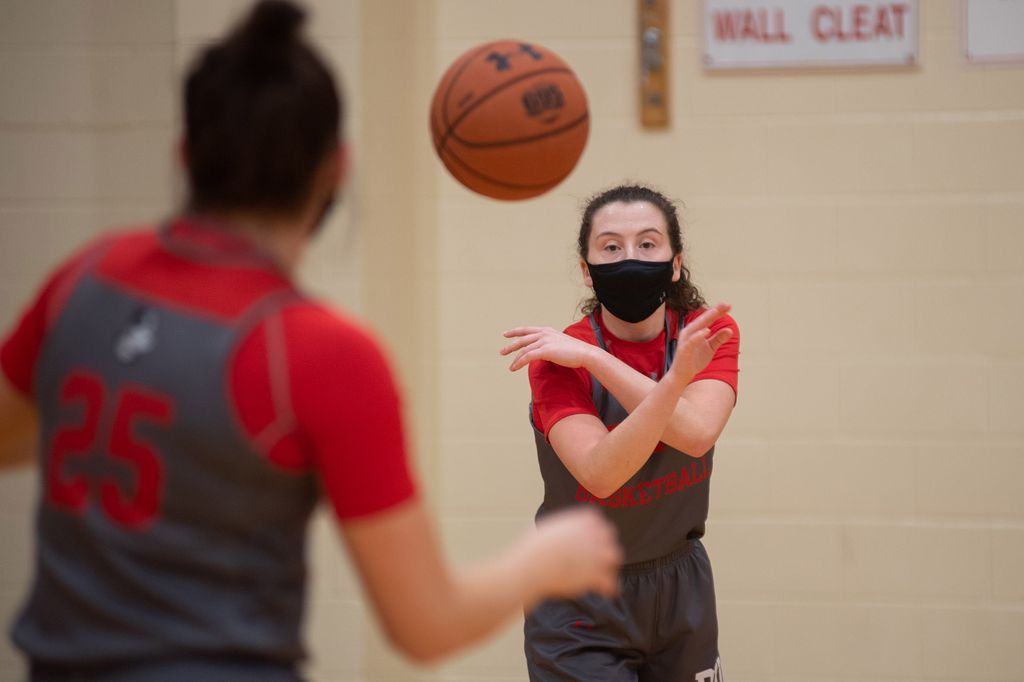 "If the medical community determines that wearing a mask will keep me safe and able to compete, then I am more than happy to comply," she says.
While other collegiate teams have worn masks at games, BU is believed to be the first to require it at all games across all sports. For Jones, the additional safety is more than enough reason to warrant the use of masks.
"I respect the decision for us to be wearing masks," he says. "If you can save one person from getting [COVID-19], then it's worth it."
All of BU's teams have been wearing masks while practicing, training, and playing since they returned to campus at the beginning of the fall semester. Harper says that the new equipment has required an adjustment, but is beginning to feel more comfortable.
"At first it was a little irritating, but now that I've used it more and more, I've been getting used to it," he says.
Holy Cross senior Austin Butler says he and his fellow Crusaders have also been wearing masks at practice. This was their first game while masked, though, and he says it wasn't easy.
"It's hard to breathe," Butler says. "Sometimes they fall down and they get sweaty and they're hard to [get to] stay up. It's definitely harder to play with them in a game."
Brett Nelson says he is glad Holy Cross doesn't require his men to wear masks during games regularly.
"I'm not going to consider wearing them for home games," he says. "I do think it's harder to breathe, and more than anything, a lot of times it's just a nuisance."
"Guys are jumping up and down, they're getting hit, so it's almost impossible to keep your mask up the whole game."
While the policy for wearing masks is not consistent across the league, the testing schedule is. All teams and players are held to the same standards of testing, regardless of the sport or school.
BU women's basketball head coach Marisa Moseley (CAS'04) says she values the opportunity to play under such difficult circumstances, and commends those who are making the season happen.
"We are so appreciative for all the work our administration and medical personnel have done to create a safe environment for us to play," she says.
As the season moves forward, the Terriers will continue wearing masks in all competitions, at home and on the road. The masks are here to stay, and for men's coach Jones, it's as simple as that.
"We're gonna do the best we can with them on," he says. "There's enough to worry about. I can't worry about the mask."